These 10 cookie box ideas will take your gift-giving game up a notch this holiday season! Check it out and get inspired!
Cookie boxes are a great gift to give for friends, family, and Dirty Santa parties.
They're fun to make and delicious to eat.
And there are so many ways to make the perfect cookie box.
You can use all the same cookies, a variety of cookies, or a combination of cookies and other sweets.
With so many options on the table, it can be hard to decide what to put in your box this year.
But fear not because we've compiled the best cookie box ideas (with home recipes included) to help you navigate the holidays this year.
Cookie Box Ideas
1 — Holiday Classics Cookie Box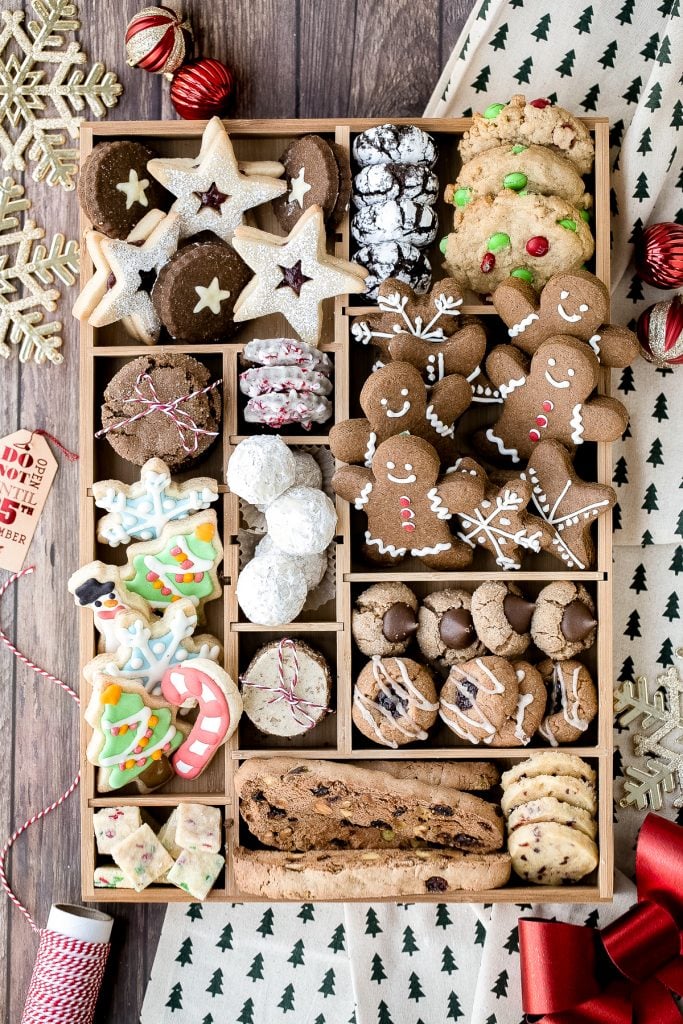 For this holiday cookie box, choose a shallow box with a lid.
Whether that's a disposable cardboard box, reusable cookie tin, or a wooden box is up to you.
Grab some cupcake liners, burlap twine and ribbon to wrap cookies with, and cardstock to make dividers.
It's easy to decorate an already festive box with Christmas-themed ribbons, gift tags, and ornaments.
This particular box sticks with holiday classic cookies.
2 — Themed Christmas Cookie Box
Sticking to a theme is a great way to personalize your Christmas cookie box.
For example, create an all-chocolate box for chocolate lovers, a variety of biscotti for coffee lovers, or a variety of shortbread for butternuts.
If they're nuts about nuts, incorporate different nuts (like these gingerbread candied nuts).
3 — Ultimate Christmas Cookie Box
Never done a cookie box before?
Fear not because this ultimate Christmas cookie box will get you on your way in no time!
Simply choose between 3 to 10 recipes with a variety of colors, textures, and shapes, and bake away!
Try to keep away from time-consuming cookies and stick with easy recipes.
Add in some pretty decorations inside to make the boxes extra festive such as mini pine cones, baking twine, and mini glass ornaments.
On the outside, add leftover decorations and ribbons.
4 — Christmas Cookie Box with Jolly Santa
This Jolly Santa cookie box is a great gift for any Santa fans.
This cookie box features:
— Chocolate ginger molasses cookies
— Coconut caramel stuffed chocolate covered pretzels
— Chocolate peanut butter cookies
— Chocolate caramel cookies
— Salted milk chocolate and peanut butter blondies
— And, of course, Jolly Santa Cookies
In case you aren't able to make the Santa cookies, add in a Santa figurine or ornament and stick with the snowflake shapes instead.
5 — Diet Restrictions Holiday Cookie Gift Box
Trying to give a gift to someone who is gluten-free, low-carb, keto, paleo, sugar-free, or dairy-free?
Then, this guide is your savior.
With a load of recipes available for each diet, it also guides you through its cookie box-making.
6 — One Dough Christmas Cookie Gift Box
This Christmas Cookie Gift Box is a great way to sample a variety of cookies.
But the catch is that it uses the same dough for all the cookies.
If you're using a box without a lid like this one, line your chosen box with parchment paper or tissue paper.
Then, stack the cookies together in the box.
Fold the parchment up over the top (make sure all of the cookies are covered) and tie a festive ribbon around the box.
Add a decorative tag, and you're good to go.
7 — Cookie Gift Box in a Cookie Tin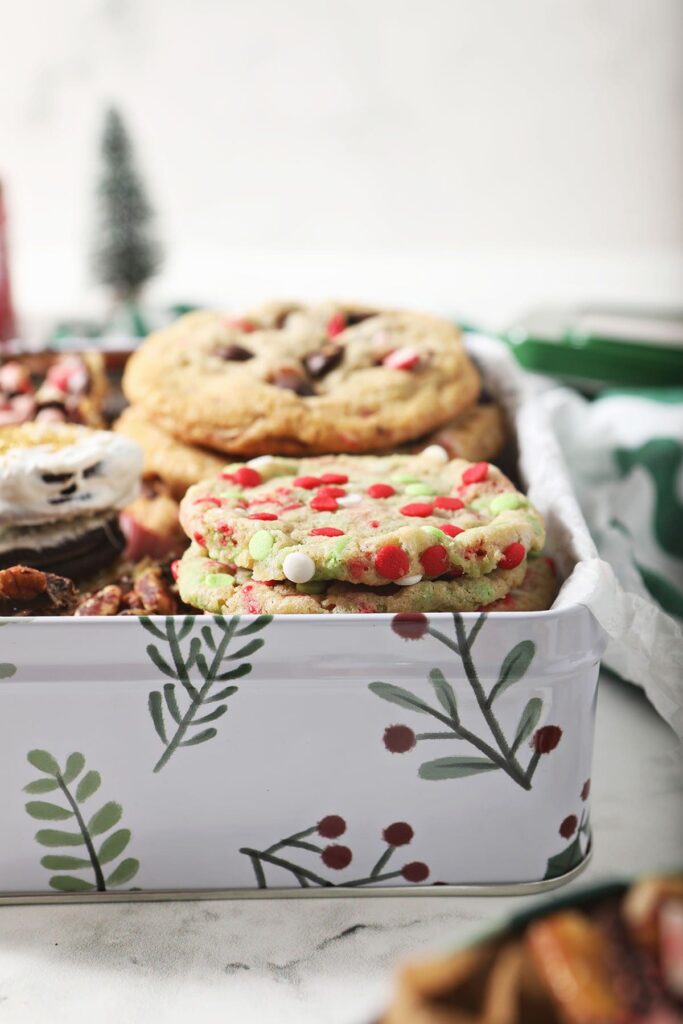 Christmas cookie tins are incredibly cute in design and make for a great airtight way to keep cookies.
The best tip from this cookie gift box in a cookie tin tutorial is to combine one extravagant cookie with 2 to 5 easier cookie recipes.
So you can have something like extravagantly decorated cut-out sugar cookies paired with simple round snickerdoodle cookies.
8 — No-Stress Cookie Box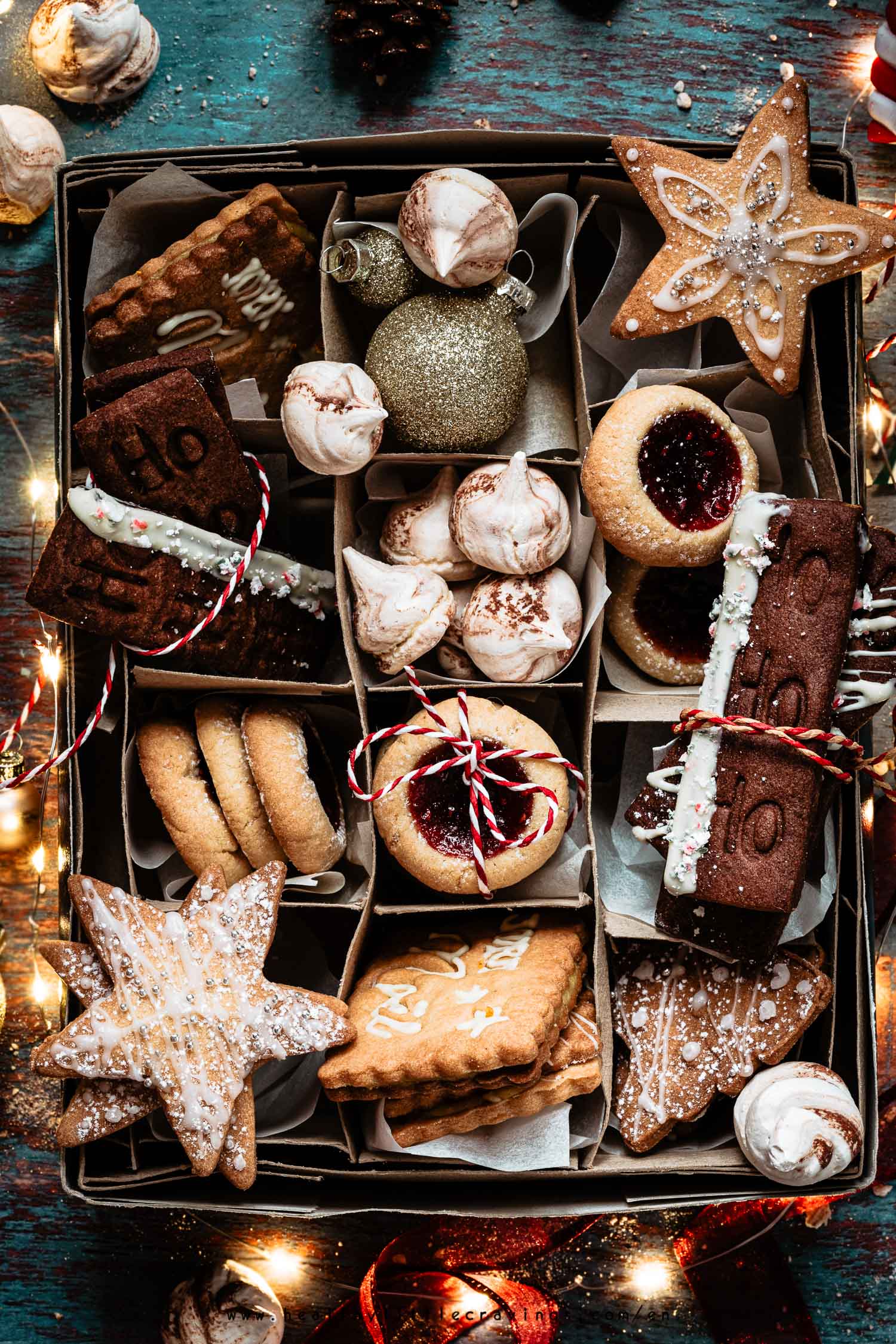 The holiday season is filled with stress.
So making a successful cookie box shouldn't add to it.
This no-stress cookie box combines Christmas cookies with basic icing, raspberry thumbprint cookies, peppermint cookies, orange curd cookies, and a few Christmas decorations.
Most of which can be store-bought if you're short on time.
This is a great box to ship to family and friends far away since the cookies last.
And when packed correctly, they (hopefully) won't break.
To help ensure the cookies don't break, wrap them in parchment paper and then cute cellophane bags.
Choose a paper box and line it with bubble wrap.
Place everything inside and seal it tight.
Put your box in another bubble wrap-lined cardboard box for shipment.
9 — Christmas Cookies in Wooden Box
If you have an old wooden box (even a cigar box) that you no longer use, make it your new cookie box!
If you're a great woodworker (or know someone who is), etch a holiday design into the top!
These Christmas cookies in a wooden box are a combination of:
— Honey caramel corn cookies
— Piped and jam sugar cookies
— Coconut ice cookies
— Sprinkle cookies
— Chocolate and vanilla sugar cookies with a vanilla bean marshmallow filling
— Ingredients for s'mores (Or you can make your own Christmas s'mores cookies instead.)
— Marshmallow Rocky road cookies with cranberries on top
10 — Family Friendly Holiday Cookie Box Idea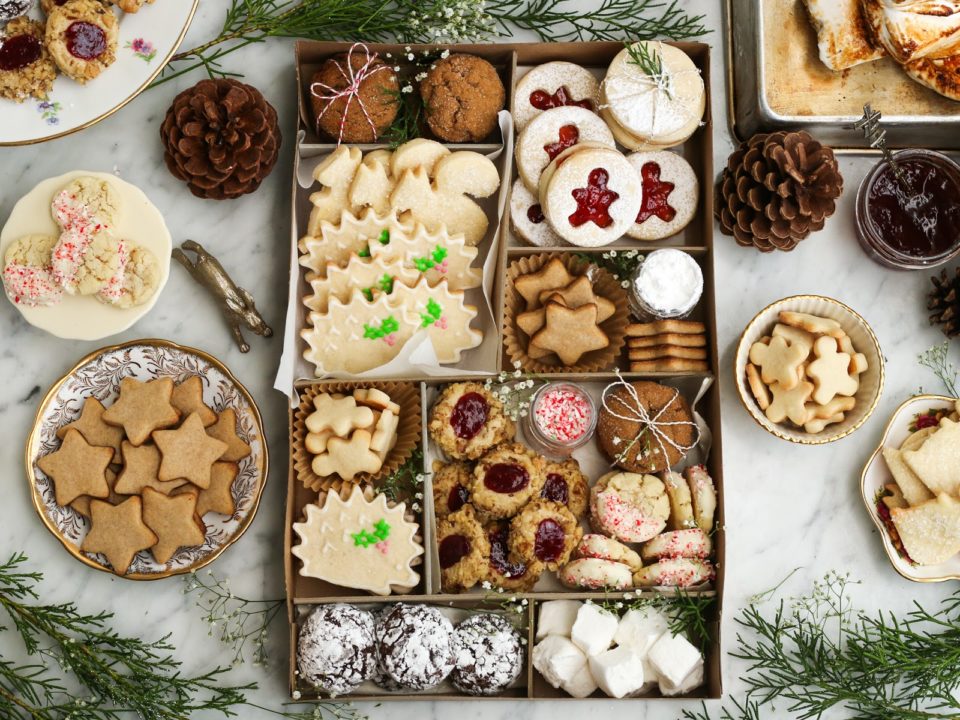 Want a holiday cookie box idea that's good for the whole family to make together, eat together and gift?
With so many easy cookies, everyone can participate, regardless of their age!
This cookie box features easy recipes for sugar cookie hedgehogs and sparkly squirrels, peppermint sugar cookies, Linzer cookies and more.
How to Arrange a Cookie Box
1 — Choose your cookie box.
The type of box your cookie box needs is entirely up to your preference.
You can opt for a wooden box, tin box, plastic box, heavy duty cardboard box or even just go with a bag.
Keep in mind that airtight metal and plastic boxes do tend to keep the cookies fresher longer.
2 — Combine the same type of cookies.
You obviously want variety when boxing cookies.
But you also want to be sure that your cookies don't lose their moisture or get their flavors combined when in the box.
So try to combine the same type of cookies in a single box.
For example, moister cookies (like chocolate chip cookies) or moist cakes (like almond cakes) could add unwanted moisture to crunchy or shortbread cookies.
That said, if you want to combine a mix of cookies together, box them together at the last minute instead.
Keep in mind that a cookie box doesn't have to just contain cookies.
Opt for other sweets and even items too!
For example, chocolate bars, coconut, maple-sugared almonds, or chocolate-covered fruit.
You could even try some Christmas-flavored Jello shots or ornament cocktails, depending on the size of your box.
For non-food items, try small ornaments, little figurines, or Santa hat stirrers.
3 — Vary the cookie sizes, textures, colors, and flavors.
Bringing a combination of sizes, textures, colors, and flavors to each box is a great way to make the cookie box even better.
So it's important to plan your box in advance.
Unique shape cookie ideas include funfetti reindeer-shaped cookies, holiday wreath macarons, and cookie haystacks.
Snickerdoodles and gingerbread are spicy flavors that you can incorporate too.
When it comes to pairing flavors, chocolate chip cookies always go well with mint or peanut butter cookies.
While gingerbread and butter cookies can go hand-in-hand.
For shapes and sizes, cut some cookies to be stars while others can be square, classic round, or even in balls.
For cookies that have powder (such as cocoa or sugar) on top, remove any excess powder before boxing it up.
4 — Layer the cookies and use separators.
You didn't make and decorate those cookies to have them break in transit!
If there's room, use separators depending on the type of box.
Then, layer them to add height and space to your box.
For example, place the same shapes together and separate the different textured cookies.
5 — Choose your decorations.
What theme do you want with your box? Winter? Reindeer? Santa? Candy Canes?
Does the outside theme match the theme of the cookies?
The possibilities are endless, but definitely something you need to think about before starting your box to make it extra special.
Cookie Recipes to Try