Mocha Swirl Meringue Cookies — These luxe cookie sandwiches are a dessert idea that are sure to impress guests!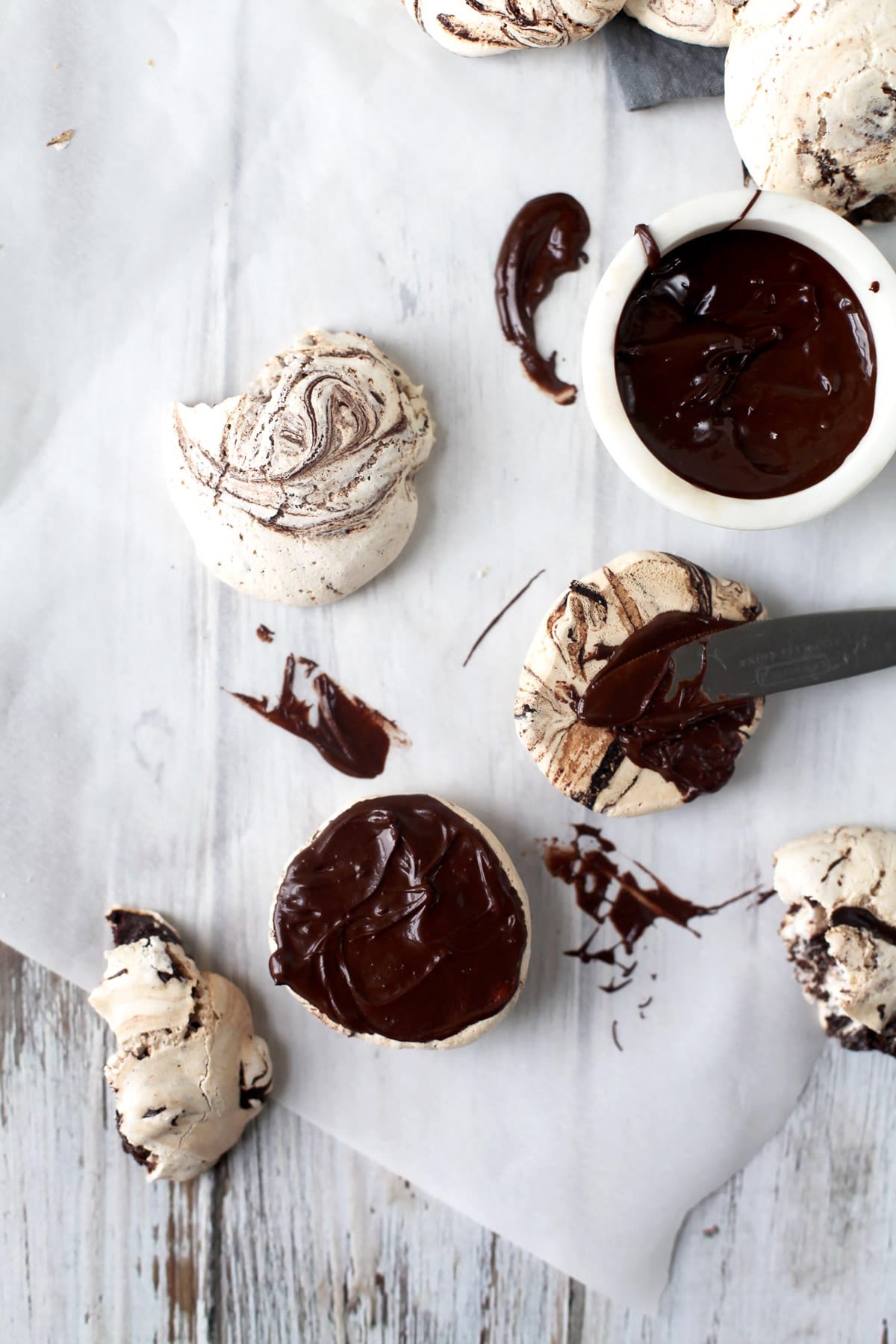 When it comes to desserts, there is no stopping my sweet tooth. It's a bit like a locomotive train running at full speed, basically destroying anything (in my case, sweets) in its path.
Unfortunately, there is also no stopping the impending bikini season. But having to choose between sweets or beaches is not a life decision that I, Alyssa want to have to make. So I don't…
Instead, I opt for meringues. Like these Mocha Swirl Meringue Cookies, which quite possibly could be my new favorite cookie. And that isn't an easy title to claim given my chocolate chip cookie addiction!
However, not only are they made without butter or flour, they also happen to be deliciously crunchy on the outside and ever-so-soft on the inside.
The nearly-flavorless egg white base makes them the perfect vessel for whatever flavor you're in the mood for.
I happen to never not be in the mood for chocolate or coffee. So for this particular batch, I settled on making them mocha swirled.
Chocolate may not be the healthiest of additions. But when you bite into a mocha swirl and discover it tastes a bit like a gooey brownie bite, you'll forget all about those extra calories. I promise!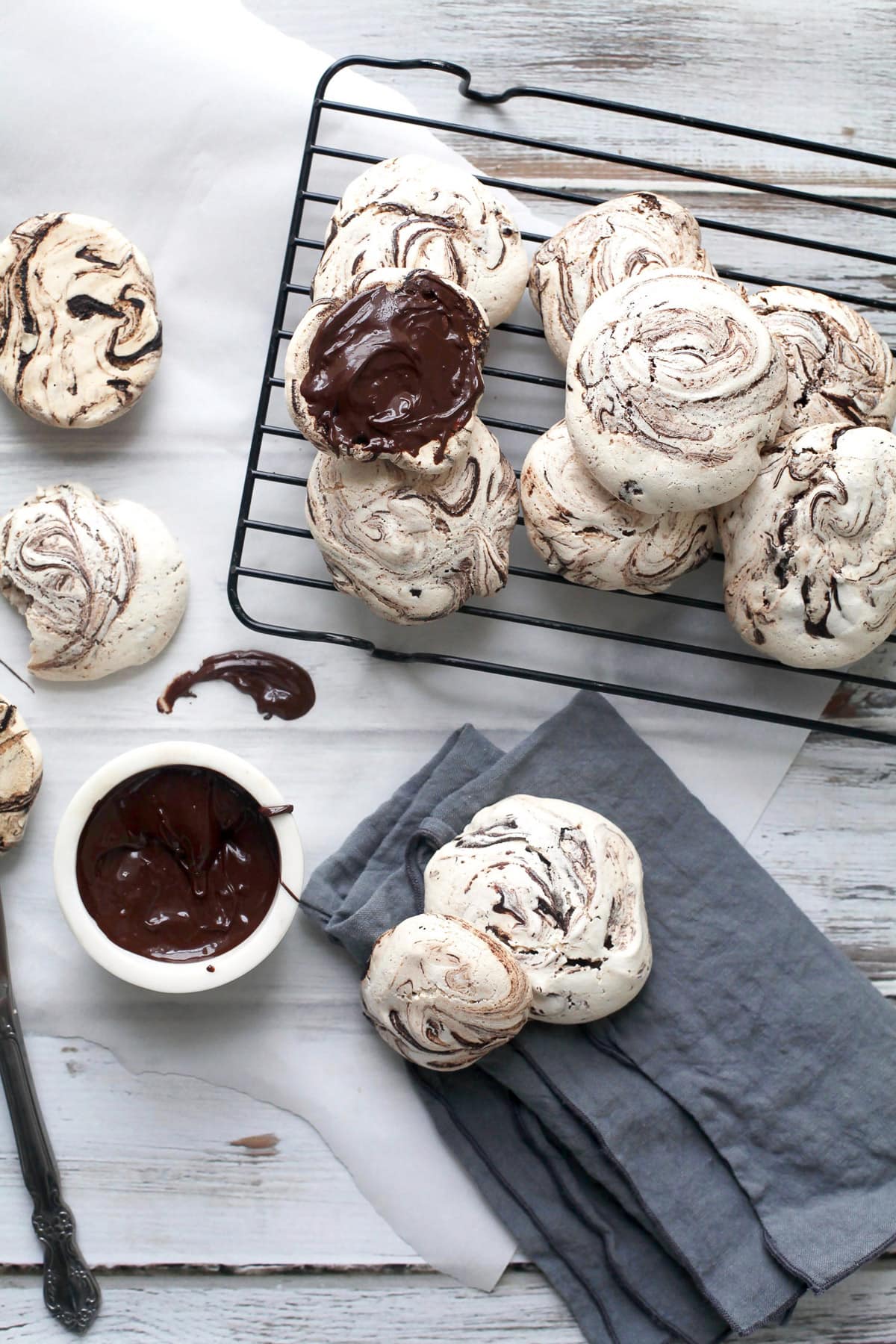 And because a little extra chocolate never hurt anybody, feel free to dip the bottom of the cookies in chocolate too. Because, ya know, why not?!
While the sugar and chocolate in these mocha swirl meringue cookies aren't exactly screaming healthy, these aren't total bikini busters either…
And for those of you who also don't want to choose between bikini or baked goods either, well, they are the perfect compromise.
Have you tried meringue cookies before? If so, what's your favorite flavor or add-ins?
How to Make Mocha Swirl Meringue Cookies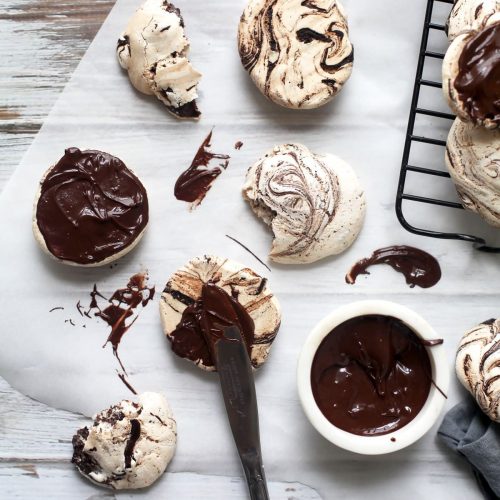 Mocha Swirl Meringue Cookies Recipe
These mocha swirl meringue cookies will definitely impress guests are your next dinner party!
Ingredients
2

cup

chocolate chips

2

tbsp

instant coffee

0.75

cup

egg whites

at room temperature

1.25

cup

granulated sugar

4

tbsp

powdered sugar

1.25

tsp

vanilla

1

tsp

lemon juice

1

pinch

salt

1

pinch

corn starch
Nutrition
Calories:
254
kcal
|
Carbohydrates:
45
g
|
Protein:
3
g
|
Fat:
7
g
|
Saturated Fat:
4
g
|
Cholesterol:
5
mg
|
Sodium:
49
mg
|
Potassium:
54
mg
|
Fiber:
1
g
|
Sugar:
42
g
|
Vitamin A:
67
IU
|
Vitamin C:
1
mg
|
Calcium:
37
mg
|
Iron:
1
mg
Instructions
Preheat oven to 275 degrees. Line a baking sheet with parchment paper and set aside.

In a small pan, set over low heat, melt 1 1/2 cups chocolate chips, stirring constantly. Once the chocolate is melted, mix in the instant coffee, then set aside.

In the bowl of a stand mixer, add the egg whites. Using the whisk attachment, turn the mixer on to medium-high speed and beat until the egg whites until stiff peaks form and the meringue does not slide around when the bowl is turned on it's side.

Gradually mix in the sugars, vanilla, lemon juice, salt and corn starch and continue beating for several minutes. You want the egg whites to be glossy and, when you pinch it between your fingers you should barely feel any sugar granules.

At this point, pour the melted and cooled chocolate and coffee mixture on top. Do not stir it in. Simply scoop spoonfuls of the mixture out and drop them on the lined baking sheet.

The chocolate will swirl in automatically as you do this. Depending on what size you make your cookies, you should be able to fit 9-12 on a sheet.

Bake them for 40-50 minutes, or until they're slightly golden brown and they can easily slide off the baking sheet. Remove cookies to a baking rack and allow to cool. Repeat this process until you've used up all of the batter.

If you'd like to add a chocolate bottom to your cookies, simply melt the remaining 1/2 cup of chocolate chips in a small pan over low heat, constantly stirring.

Once it's melted simply dip the bottoms of the cookies in and then lay them upside down on the cooling rack until the chocolate has hardened. You can also use a knife to spread the chocolate on the bottom of each cookie.

Once the cookies have cooled and the chocolate has hardened, store them in an airtight container.
KEYWORD:
chocolate, christmas cookie, cookies, dessert, meringue, mocha, recipe, sugar and cloth, swirl

Don't forget to share your meringue cookies with us on Instagram using the hashtag #sugarandclothloves. Looking for more quick and delicious recipes? Find them all right here with a few bites to go along with them!