Choose from among these delicious vegetable sides for Christmas dinner, which include dishes like broccoli, green beans, squash, and more.

Preparing for big meals like Thanksgiving and Christmas can be difficult.
It definitely has its fun side, but it's also a lot of work.
And depending on how much help you have in the kitchen, it can feel impossible at times.
A big reason for that is the side dish preparation.
With so many mini-dishes, it can get overwhelming to do them all at once.
Which is why we created a list of vegetable sides for Christmas to help you enjoy your holiday cooking more this year.
Vegetable Side Dish for Christmas
1 — Roasted Broccolini and Mushrooms with Salsa Macha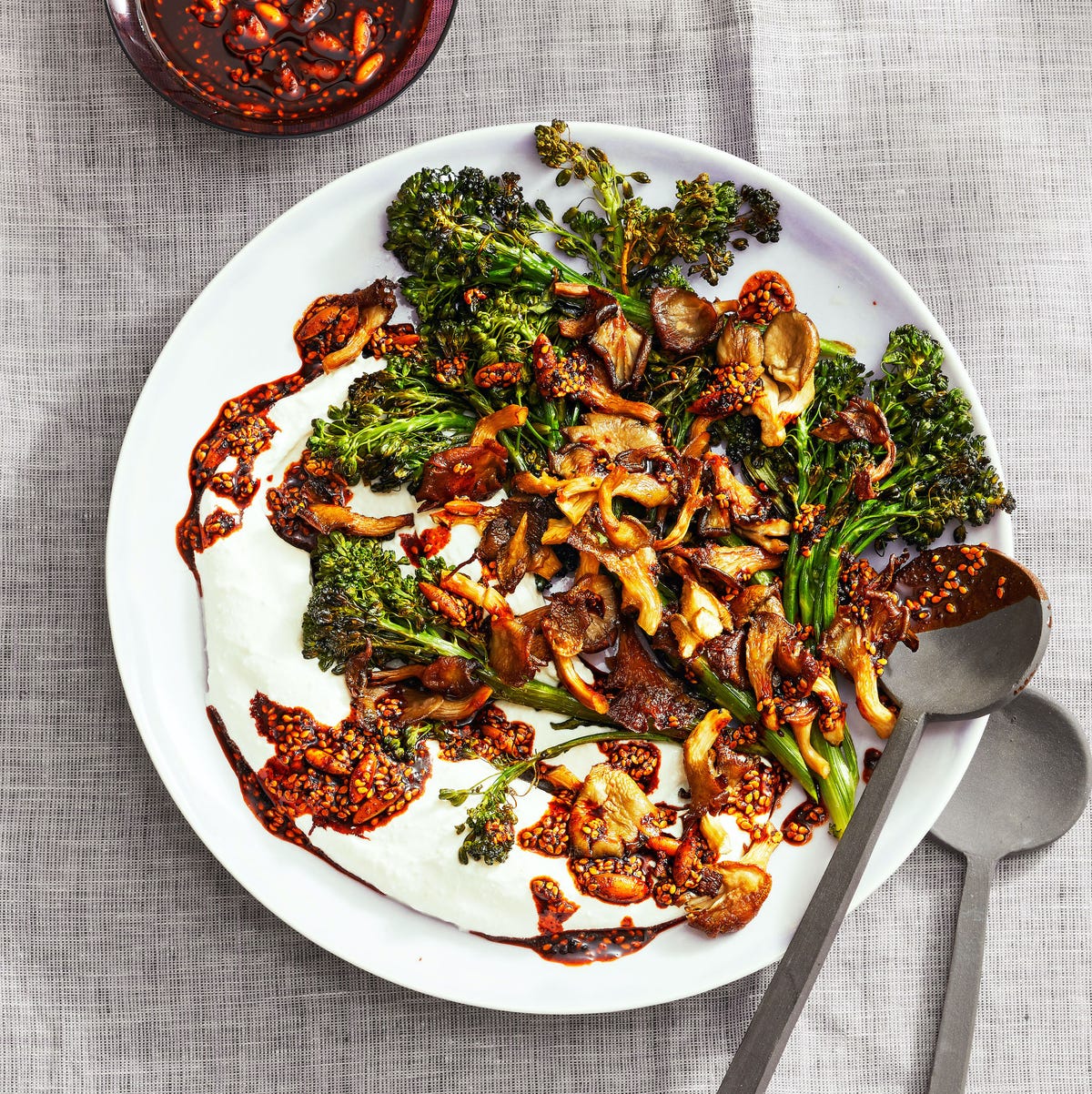 Get ready for a spicy roasted vegetable dish this year with roasted broccolini and mushrooms with salsa macha.
Made from oil, nuts, and dried chile, the salsa macha is really what takes this dish to the next level, thanks to its smoky flavor.
2 — Escarole Salad with Red Wine Vinaigrette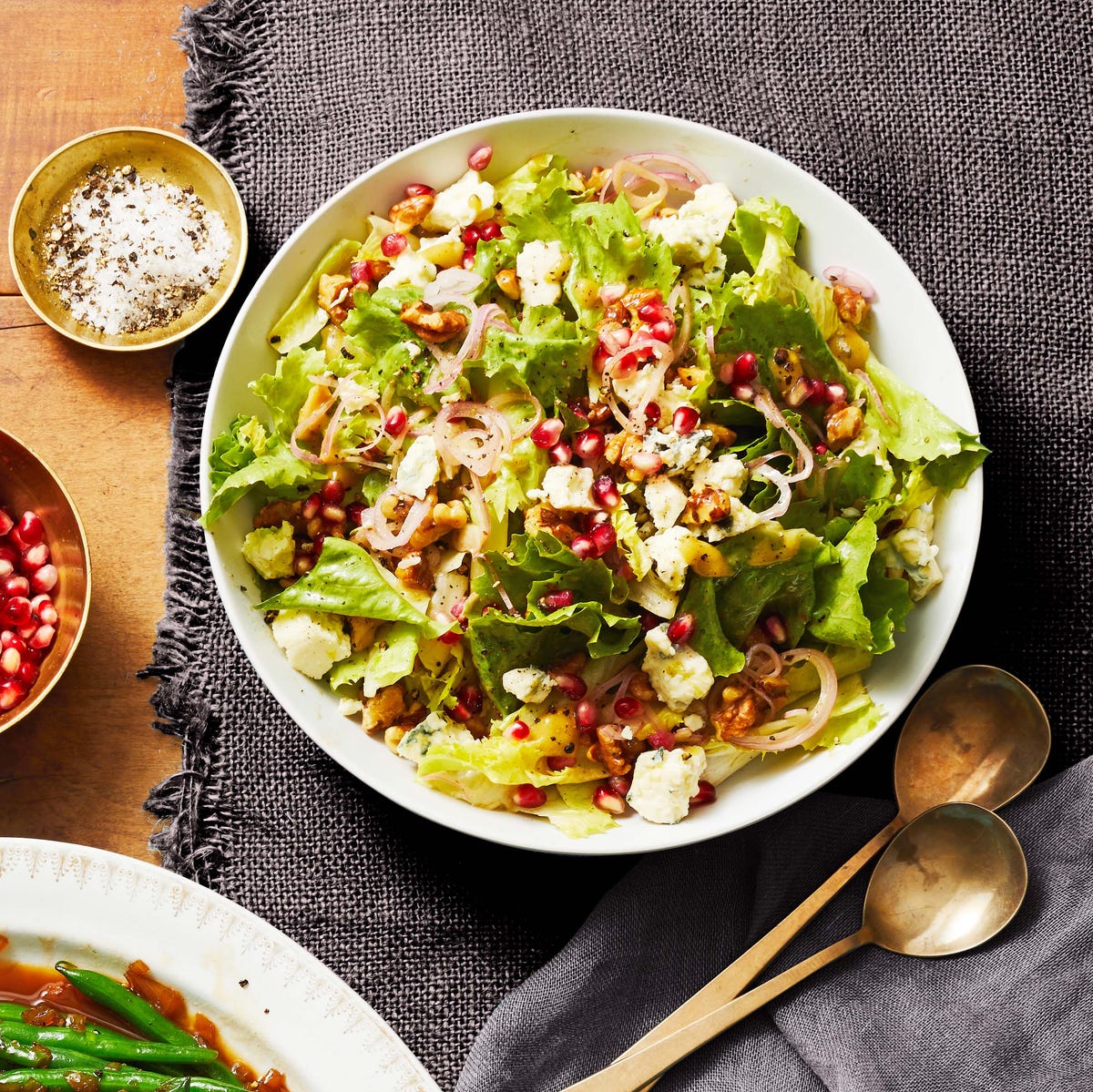 Looking for something easy to throw together this year?
This escarole salad with red wine vinaigrette is a great way to go.
While it does involve a bit of the oven, the salad preparation itself can wait until the last minute when most of the ingredients can be tossed together.
3 — Green Bean Casserole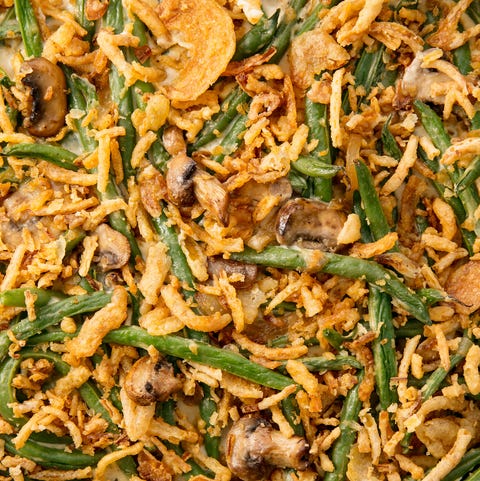 Casseroles always make great side dishes and are quintessential winter comfort food.
This green bean casserole follows that comfort food feeling thanks to its thick creamy sauce, soft green beans, and sauteed mushrooms.
If you're feeling a lot of people and love casseroles, make a low-carb Keto breakfast casserole ahead of time, so you don't have to prepare breakfast every morning for a hungry group of people.
4 — Brussels Sprouts with Pepitas and Figs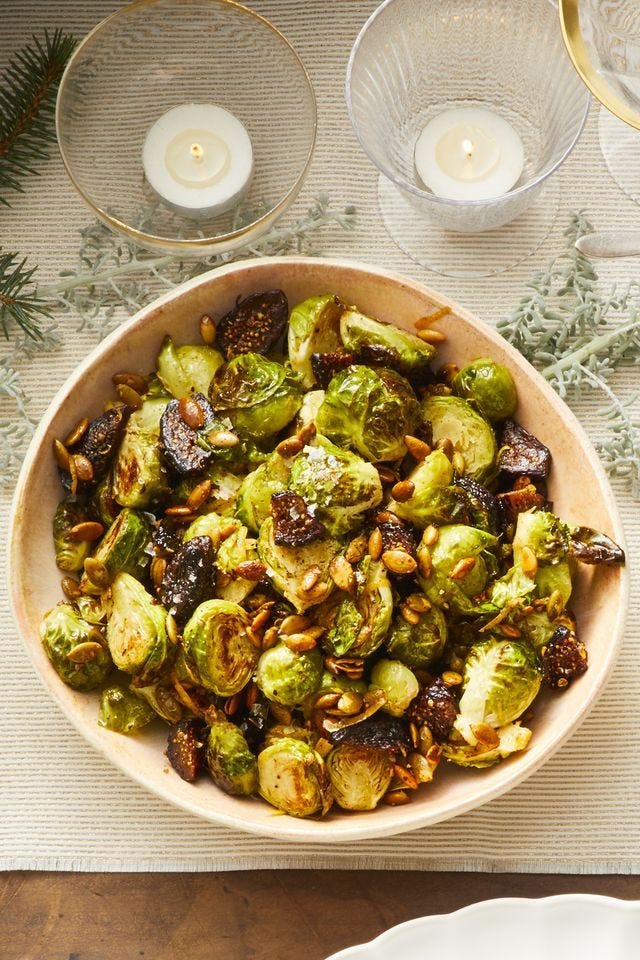 Love Brussels sprouts but are tired of adding bacon and maple to them?
Roast them up this year with this Brussels sprouts with pepitas and figs recipe.
While the Brussels sprouts bake, the pepitas are tossed in a buttered skillet with spices.
When it's done cooking, toss it in a bowl with figs, and you're ready to impress every guest.
5 — Roasted Kale and Mushrooms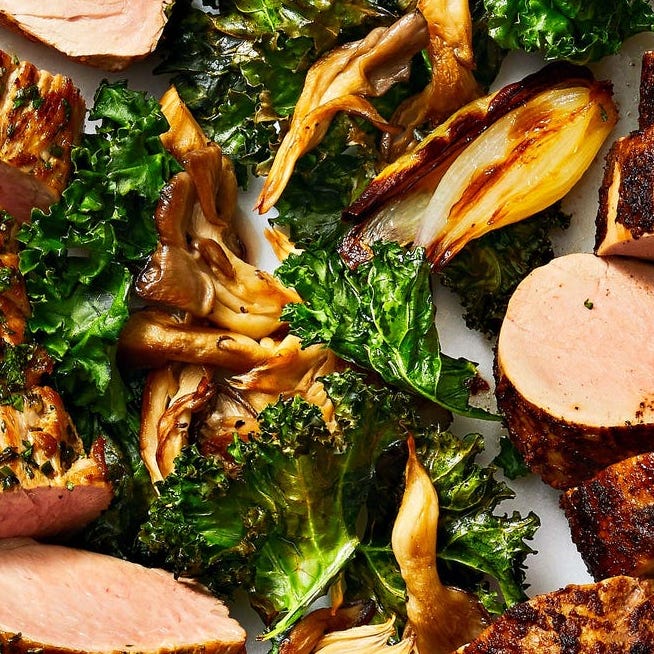 This roasted kale and mushrooms recipe combines the earthy flavor of mushrooms and the forest aroma and flavor of the kale, making it a great winter addition to any table.
6 — Winter Panzanella Salad with Honey Lemon Dressing
Even though a panzanella is a juicy summer salad, this Winter Panzanella Salad easily joins the competition.
It's filled with croutons, roasted Brussels sprouts, roasted squash, creamy feta, and cranberries.
It's easy to whip up.
But it does take time and an oven to prepare.
So make sure to plan ahead since this salad won't last for the whole day and should be made at the last minute.
7 — Kabocha Squash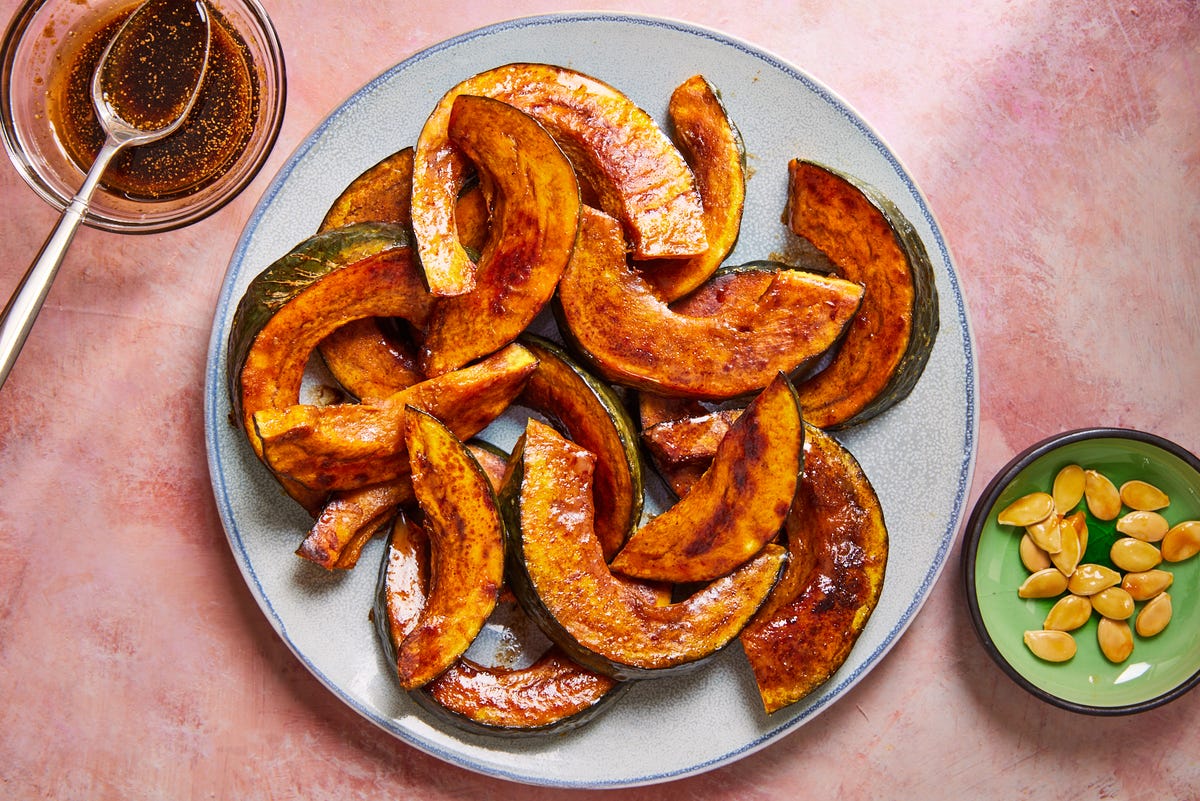 Looking for complex flavor in your side dishes this year?
It's nutty and savory and goes splendidly well with the caramelized maple-soy brown butter sauce.
It's the perfect side dish for any fall or winter occasion.
If you wanted to try and cook the squash in half instead of slices, you could serve it on a DIY wooden serving board instead.
8 — Fall Harvest Salad with Butternut Squash and Apple
Don't you have a favorite fall or winter salad recipe yet?
Stop right there because this is it.
This fall harvest salad with butternut squash and apples is loaded with butternut squash, crisp apples, toasted pumpkin seeds, sweet pomegranate seeds, and feta cheese.
It's tossed with kale and a homemade apple cider vinaigrette, making it healthy and nourishing.
Depending on the time you have to prepare, it can be served warm or cold too!
9 — Creamed Spinach and Parsnips
Looking to get in your greens besides another salad?
This creamed spinach and parsnips dish is a great way to cut down on prep the day of and also get in those greens.
It can be made up to three days ahead of time.
Plus, the tasty combination of creamy spinach and sweet parsnips can't be beaten.
10 — Vegan Stuffed Bell Peppers
Right the dinner bell because these vegan stuffed bell peppers are bringing home the cake… so to speak.
Stuffed with rice and veggies, these bell peppers are healthy and delicious.
They are quick to make, easy to reheat and keep their form.
So you don't have pepper all over your plate and the floor (unlike some stuffed bell pepper recipes).
Colorful dishes look great, surrounded by greenery.
Whether you're serving the food from the dining table or have a separate table altogether, having a great centerpiece is a must.
11 — Kale Salad with Apple Cider Vinaigrette and Spiced Pecans
This light winter kale salad with apple cider vinaigrette, spiced pecans, tangy goat cheese, and crisp apples is a great quick salad for any occasion, not just the holidays.
This recipe is great because it's very versatile and customizable: 1 bunch of your favorite leafy green, your favorite cheese, one crisp fruit, and crunchy nuts.
If you want to add protein, you could also add some chicken, salmon, or grilled shrimp.
Need a centerpiece to match? This DIY Faux Flower Bottle Brush Tree should do the trick!
12 — Cheesy Baked Asparagus
If you have frozen asparagus or are able to get your hands on some fresh asparagus during the winter months, prepare some cheesy baked asparagus this year.
Topped with some cream, garlic, and cheese, it's impossible to dislike this dish — a veggie lover or not.
13 — Air Fryer Green Beans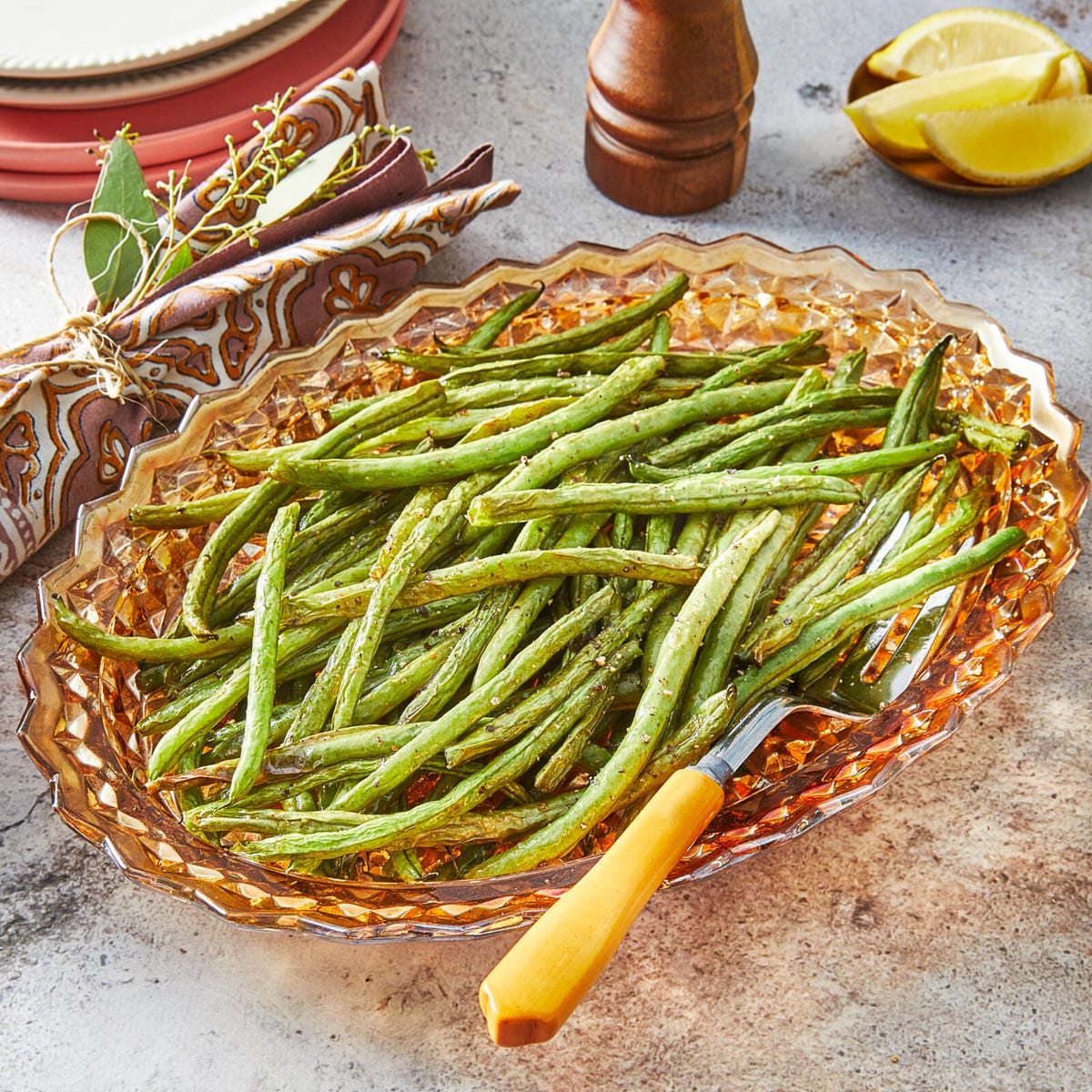 Love green beans that are blistered or feel fried?
Then look no further than these air fryer green beans.
They cook quickly and easily in an air fryer with only a little bit of salt and oil, making them a convenient last-minute yet healthy vegetable side dish for Christmas.
Can't get enough green beans? Check out more green bean recipes here!
14 — Cauliflower Gratin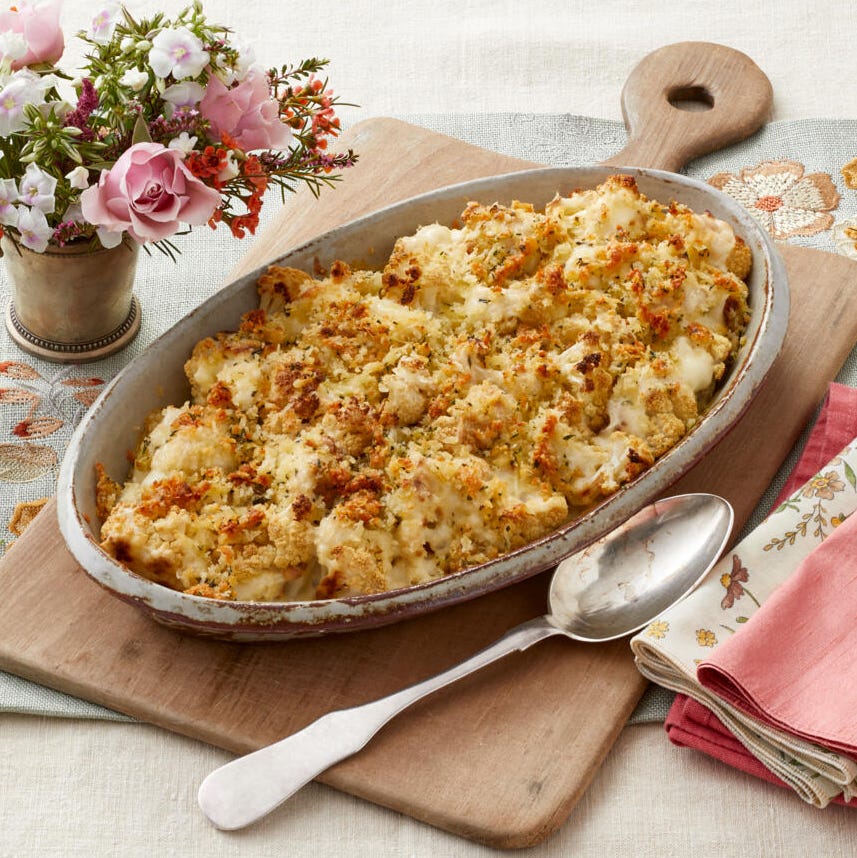 Inspired by potatoes au gratin, this cauliflower gratin is a great way to get in a cheesy side dish without all of the carbs from the potatoes.
It also has a delicious crispy breadcrumb topping.
Thanks to the fact that it doesn't involve potatoes, it won't be overkill to have mashed potatoes served right beside it either!
15 — Roasted Vegetables with Pecan Crumble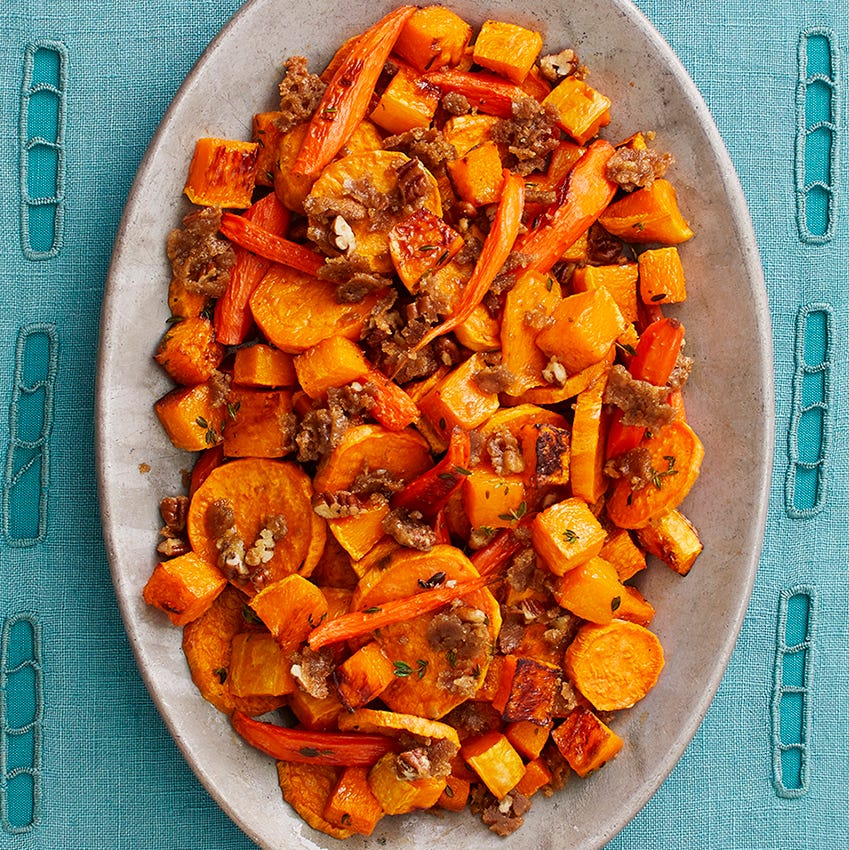 Caramelized brown sugar with roasted vegetables and pecan crumble? Yes, please!
Combining fresh thyme with sweet potatoes, butternut squash, and carrots, this recipe is a sweet side dish that is easy to prepare ahead of time.
The pecan topping is deliciously sweet but not over the top, thanks to the brown sugar (just don't use white sugar here).
You'll be giving out the recipe before the main course even begins.
16 — Honey-Glazed Carrots and Parsnips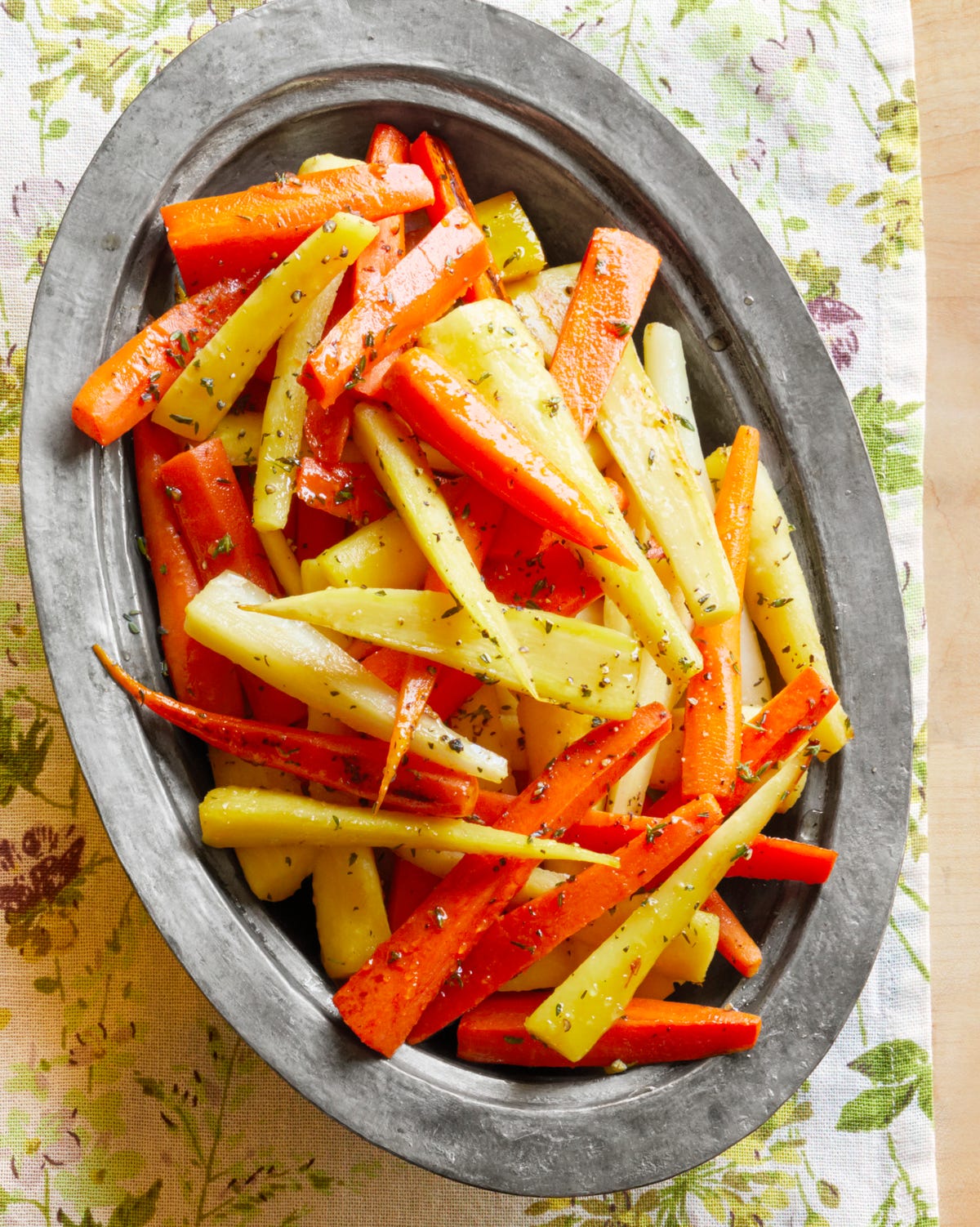 Just about anything honey glazed is delicious, but thanks to the fresh thyme this recipe uses, it's unbeatable.
This dish is savory, sweet, and full of great vitamins.
This recipe works as a great side dish for any holiday, Easter, Thanksgiving, and Christmas alike!
17 — Ultimate Winter Salad
Love summer salads but don't know much about winter salads?
Look no further than this ultimate winter salad.
It's colorful, fresh, and hearty.
Plus, it's easy to throw together since the only thing you need to chop is an apple!
Pro tip: Massage your kale with the oils and citrus beforehand.
By doing so, the kale leaves become softer and less bitter.
18 — Broccoli and Cheddar Casserole with Leeks
If you're a casserole fan, hop on the broccoli and cheddar casserole with leeks train.
This recipe takes a twist on the classic broccoli and cheddar role thanks to the crunchy crackers and toasted almonds baked on top.
19 — Brussels Sprouts and Broccoli with Cranberry Agrodolce
Get ready to grab a fork and start eating some smoky broccoli and golden brown Brussels sprouts.
This dish is tangy yet sweet, thanks to the shallots, cranberries, and Fresno chiles.
If you're looking for something easy this year, this Brussels sprouts and broccoli with cranberry agrodolce is a great choice.
20 — Citrus Salad with Roasted Beets
This citrus salad with roasted beets is a great way to take your usual salad up a notch.
The beets bring an earthy, tender flavor, while the puntarelle (or your preferred bitter chicory) keeps the salad crisp and bright.
If you love the idea of citrus salad, keep the party going with this winter fruit and citrus salad recipe.
21 — Roasted Celery Root and Carrots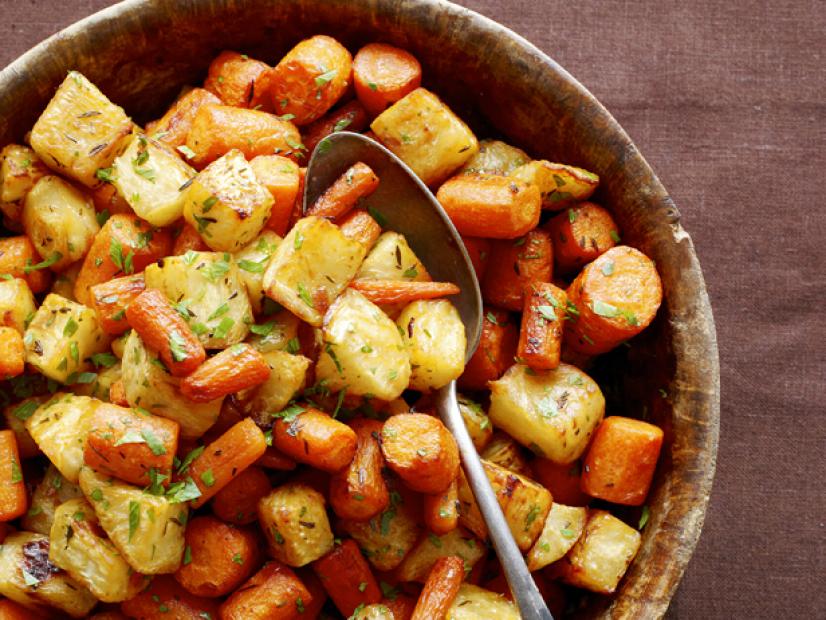 In less than one hour, you can have a scrumptious roasted celery root and carrots dish chock full of carrots, parsley, celery root, thyme, and paprika.
It's simple to throw together and delicious to eat.
22 — Braised Escarole with Olives and Raisins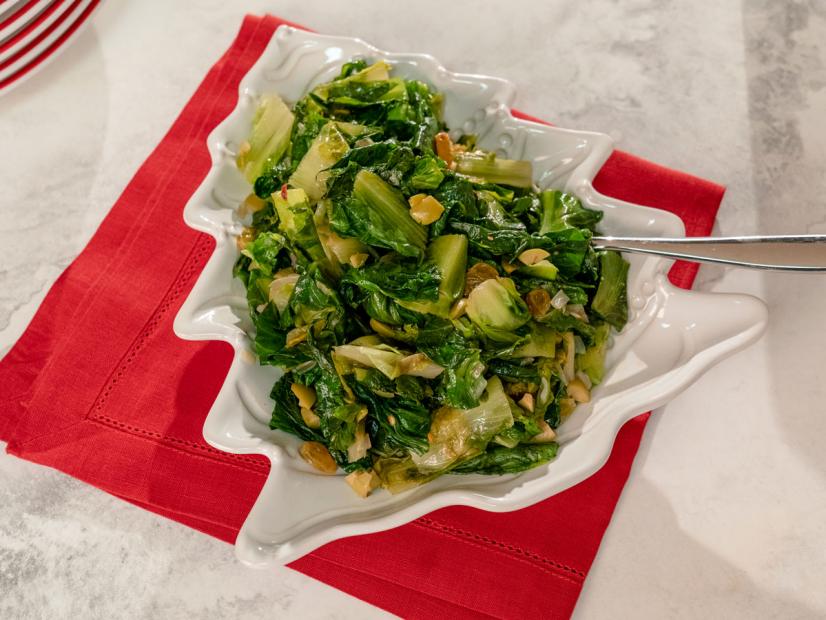 This high-fiber, gluten-free, and vegan-friendly side dish is a great way to get in your greens without hearing any complaints from vegetable haters.
Thanks to the sweetness of the raisins, the saltiness from the green olives, and the nutritious escarole, this braised escarole with olives and raisins dish is a great addition to any Christmas table.
Festive Christmas Cocktails to Try