Well friends, we're back with another bridal shower and this one's a floral doozy! I'm hoping that you aren't all shower-ed out since I shared the full details from mine last week, and my sister-in-law's just a couple months ago. What can I say? I'm a sucker for parties, especially where desserts and massive amounts of flowers are involved.
You may have caught a few glimpses of the behind the scenes from this one on IG stories over the weekend, but I'm excited to be sharing the peony-filled recap of the southern inspired bridal shower. We celebrated one of Kayla's good friends, Madi, and she's a big fan of all things vintage and classic.
The Studio HTX space was the perfect place to bring our ideas to life! It also didn't hurt that we only had to cart our goodies across the hall since we share a building, ha ha! It was fun to take a slight detour from our typically modern style and bring a little of the south into the decor. Let's just say there were plenty of biscuits involved too, haha…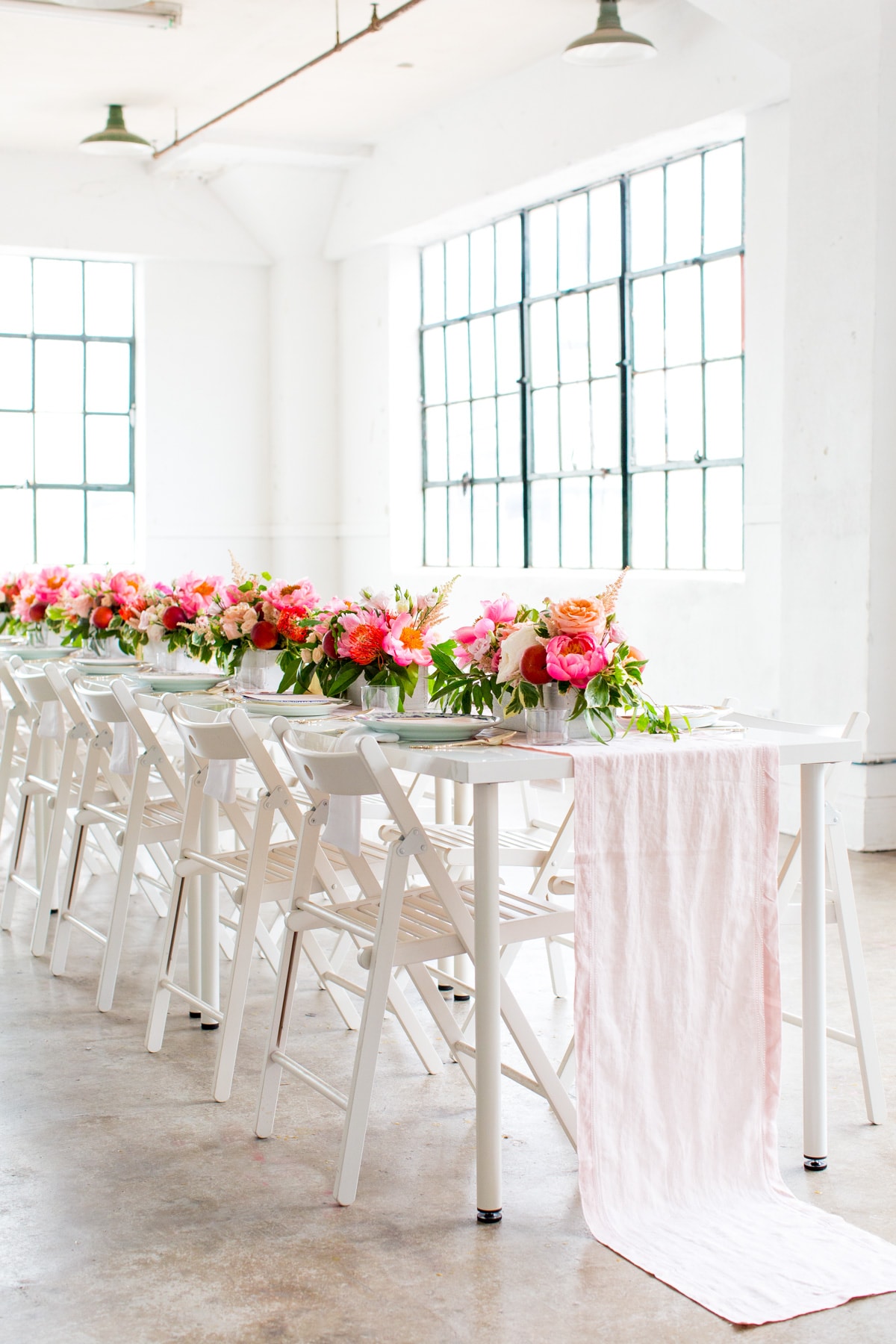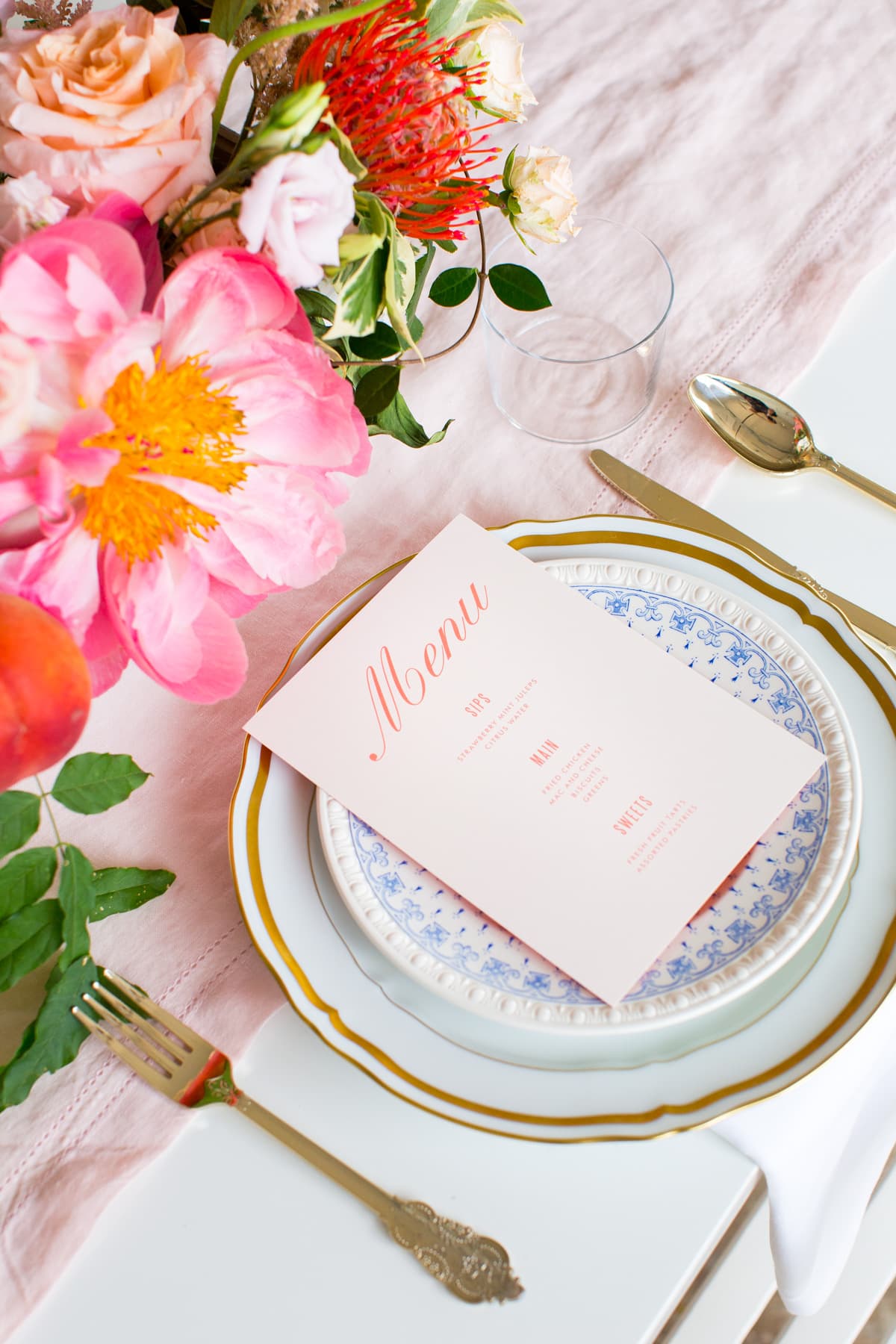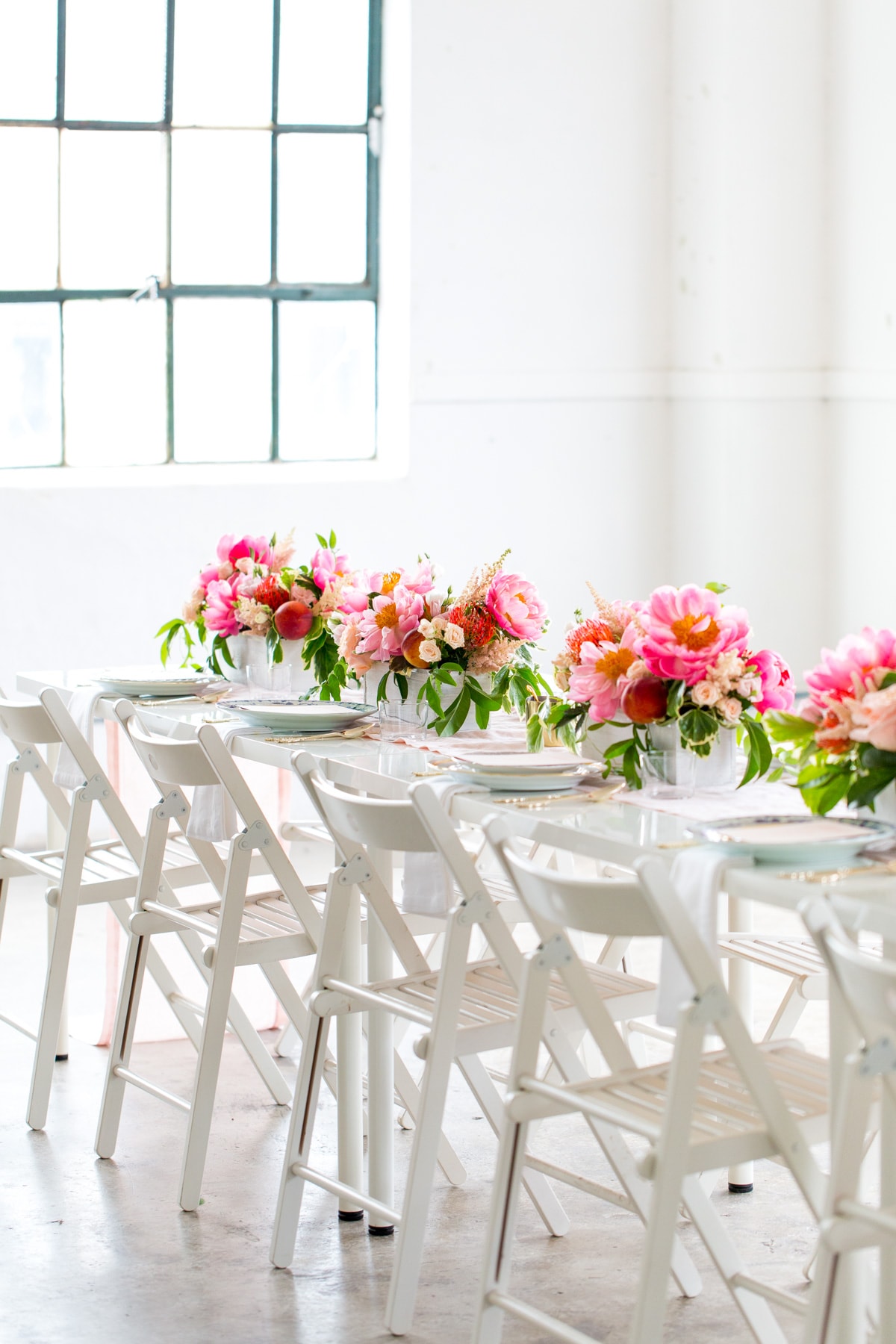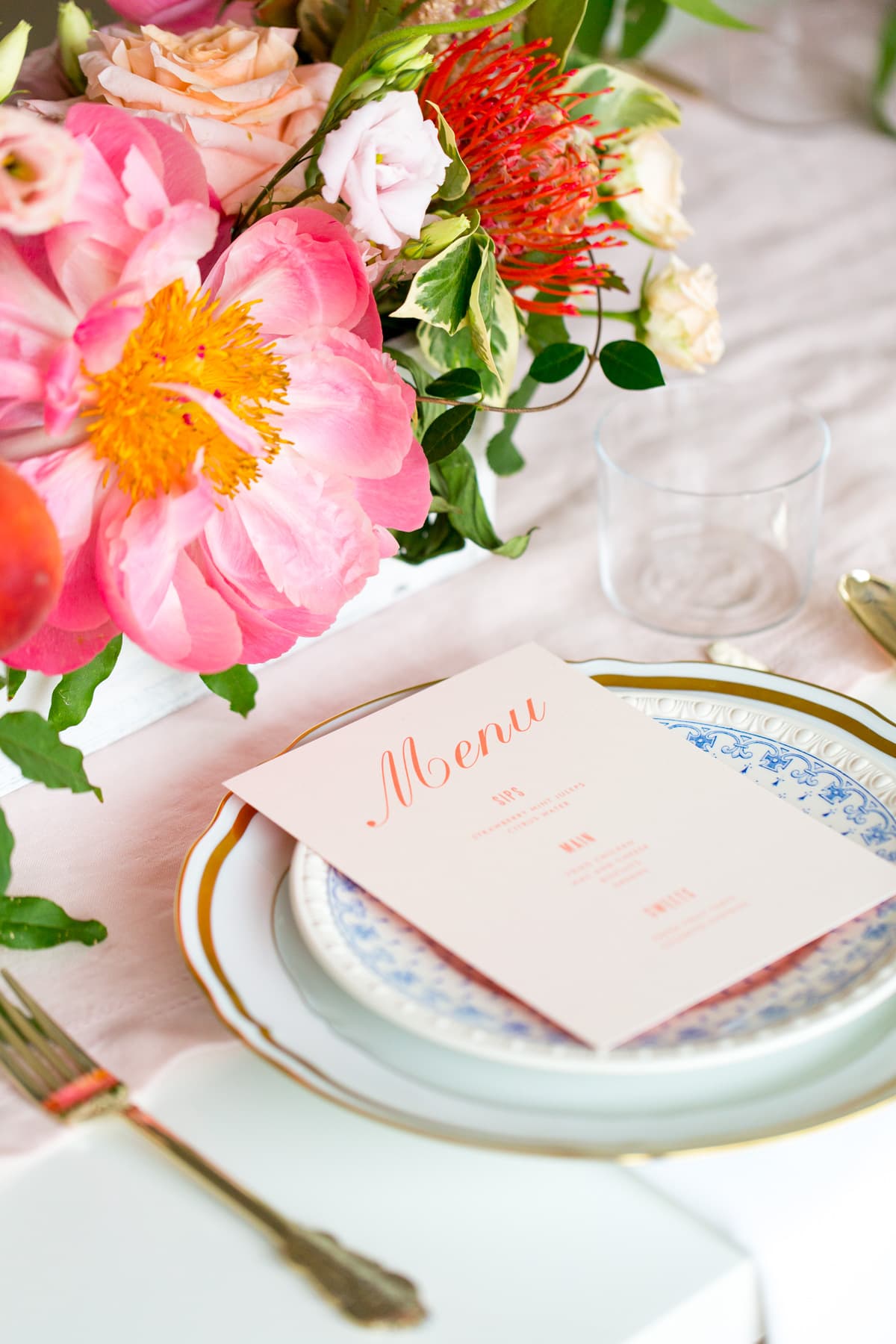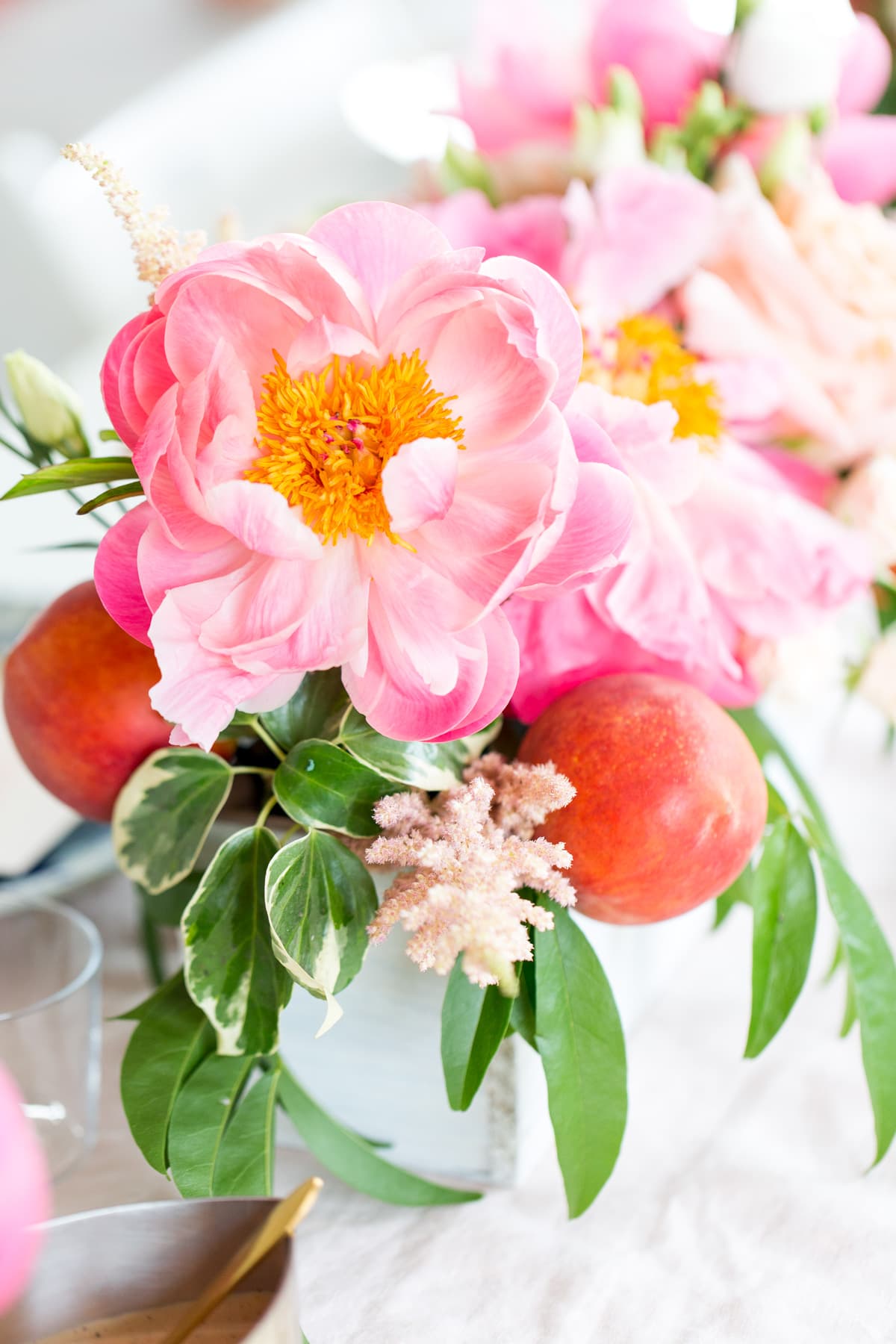 First of all, can we talk about these flowers?! Flower Muse hooked us up big time with tons of blooms and we teamed up with our favorite ladies, Blush & Vine, for all the arrangements! They seriously killed it.
I love the addition of fresh peaches, mixed with unexpected pops of color like the Proteas. It made for a very unique vibe.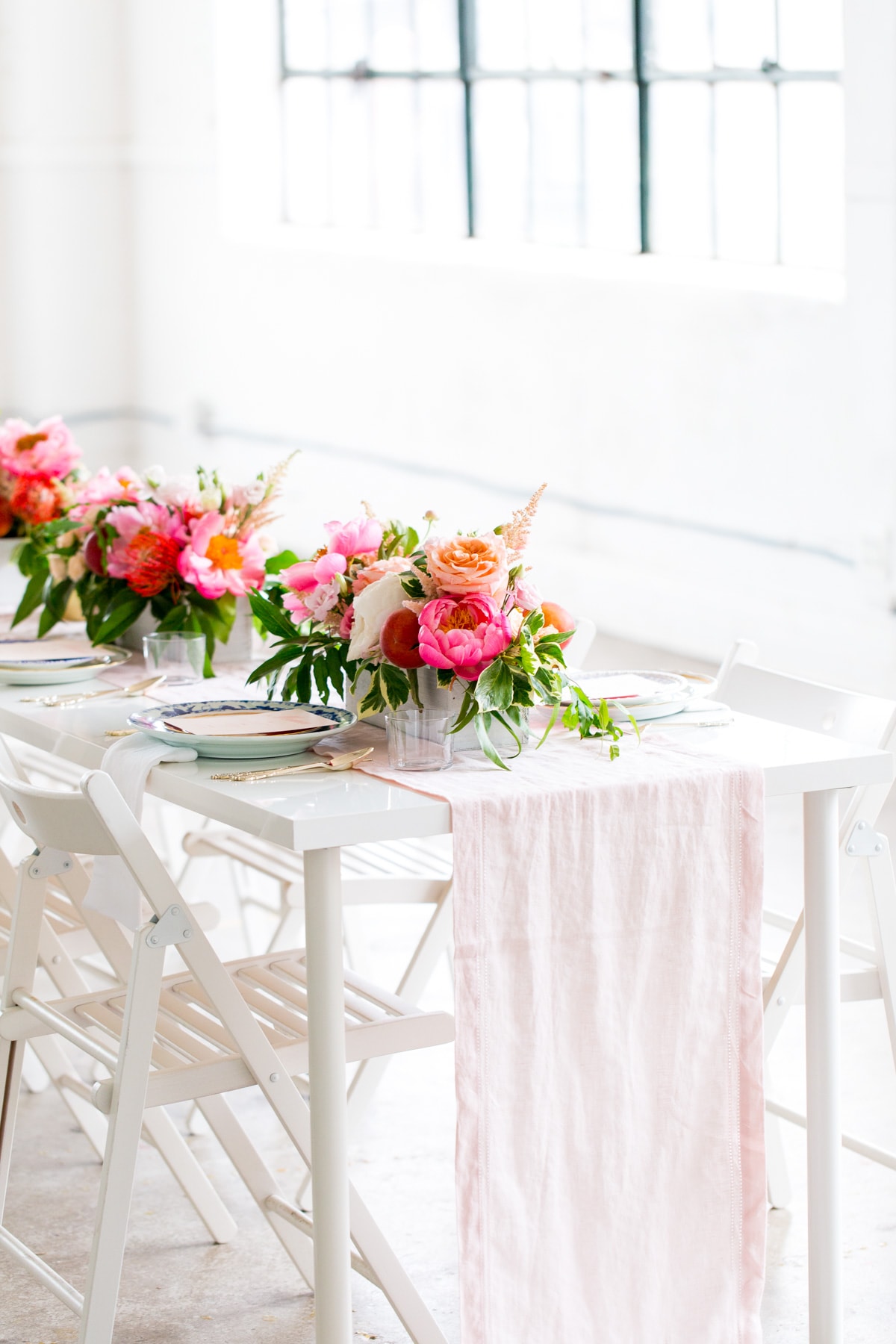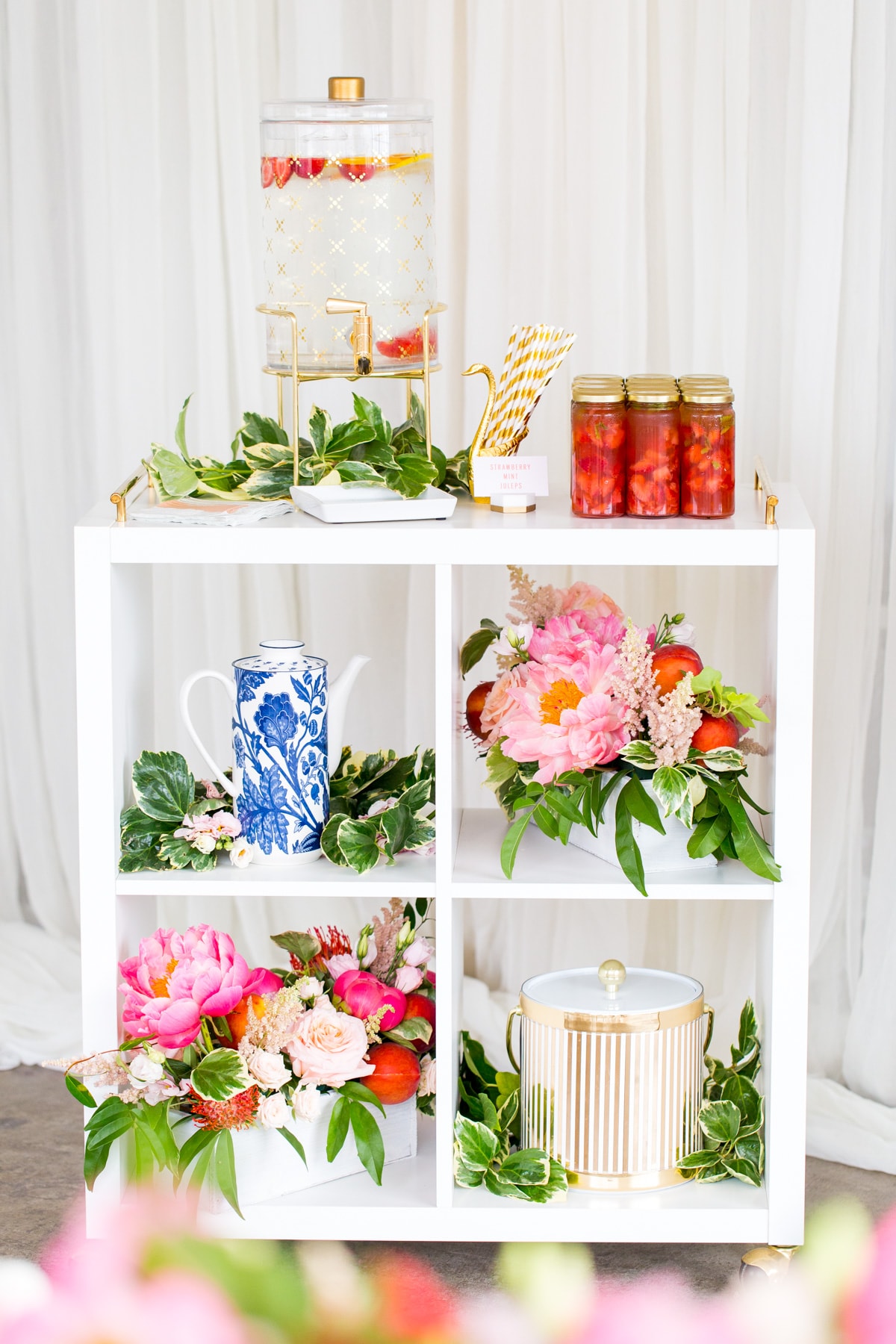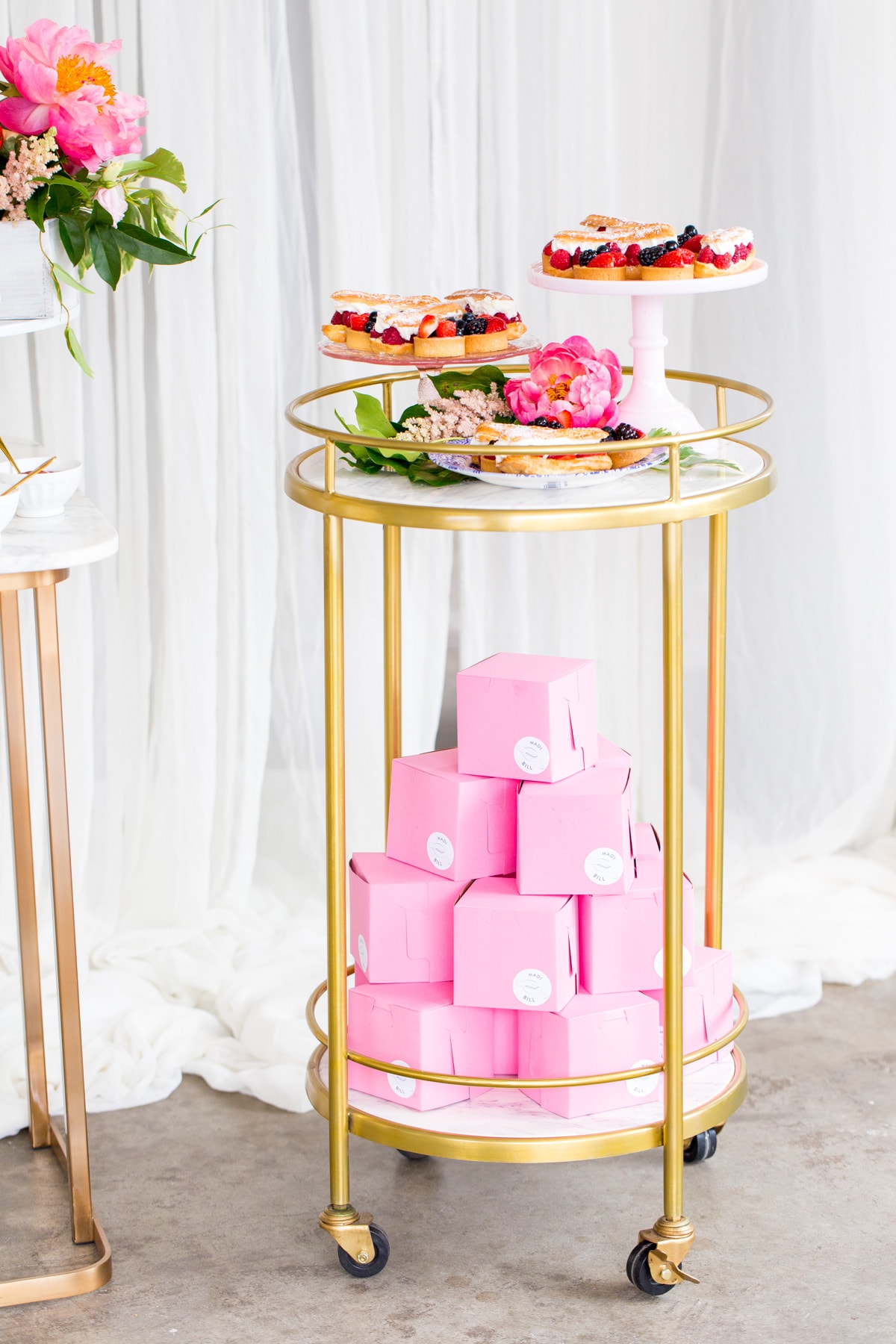 Each guest grabbed a pink box on the way out with a cherry sprinkle donut in it! Jared, the ultimate Shipley's fan, was very excited when he got to take home the extras. Basically there were happy campers all around.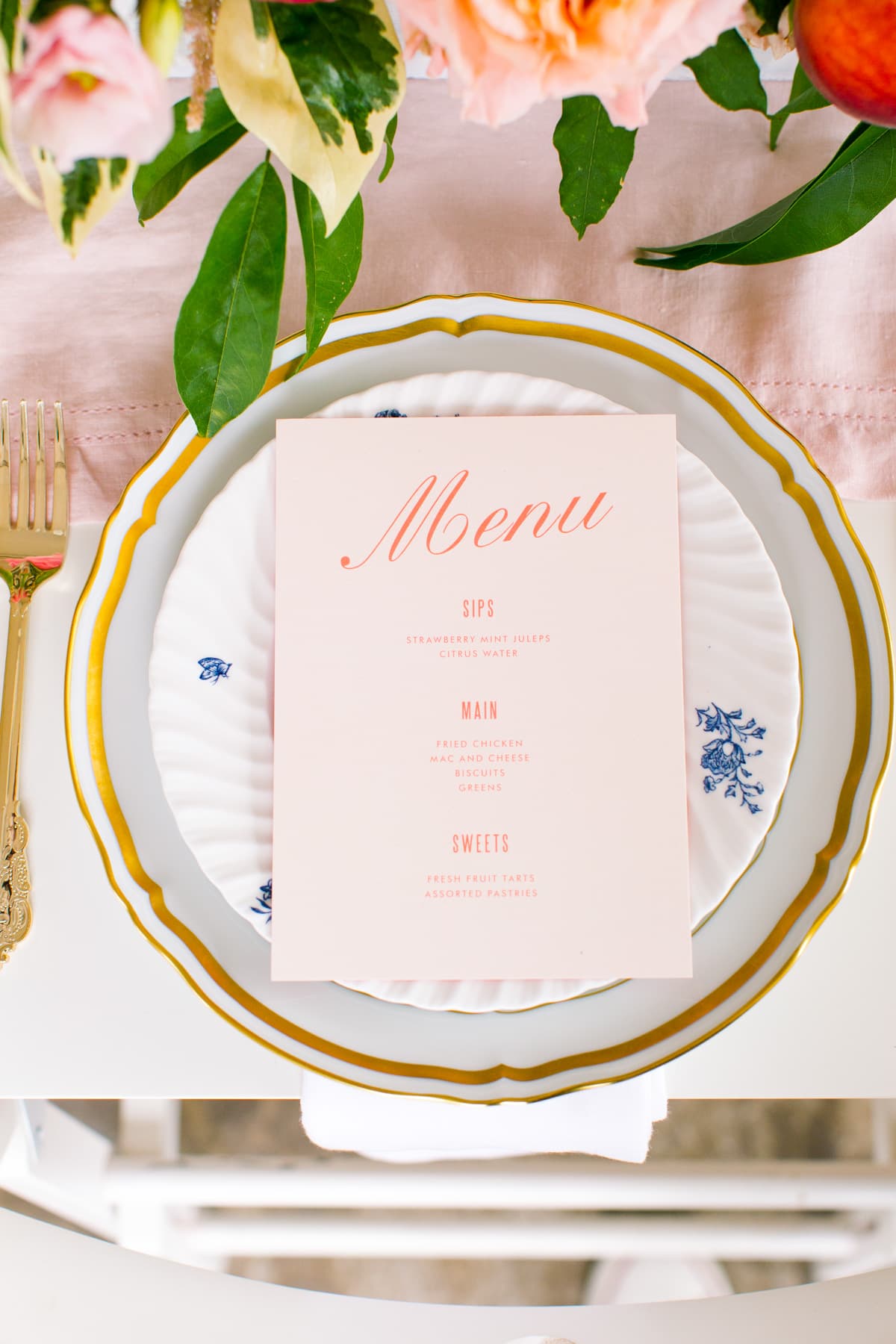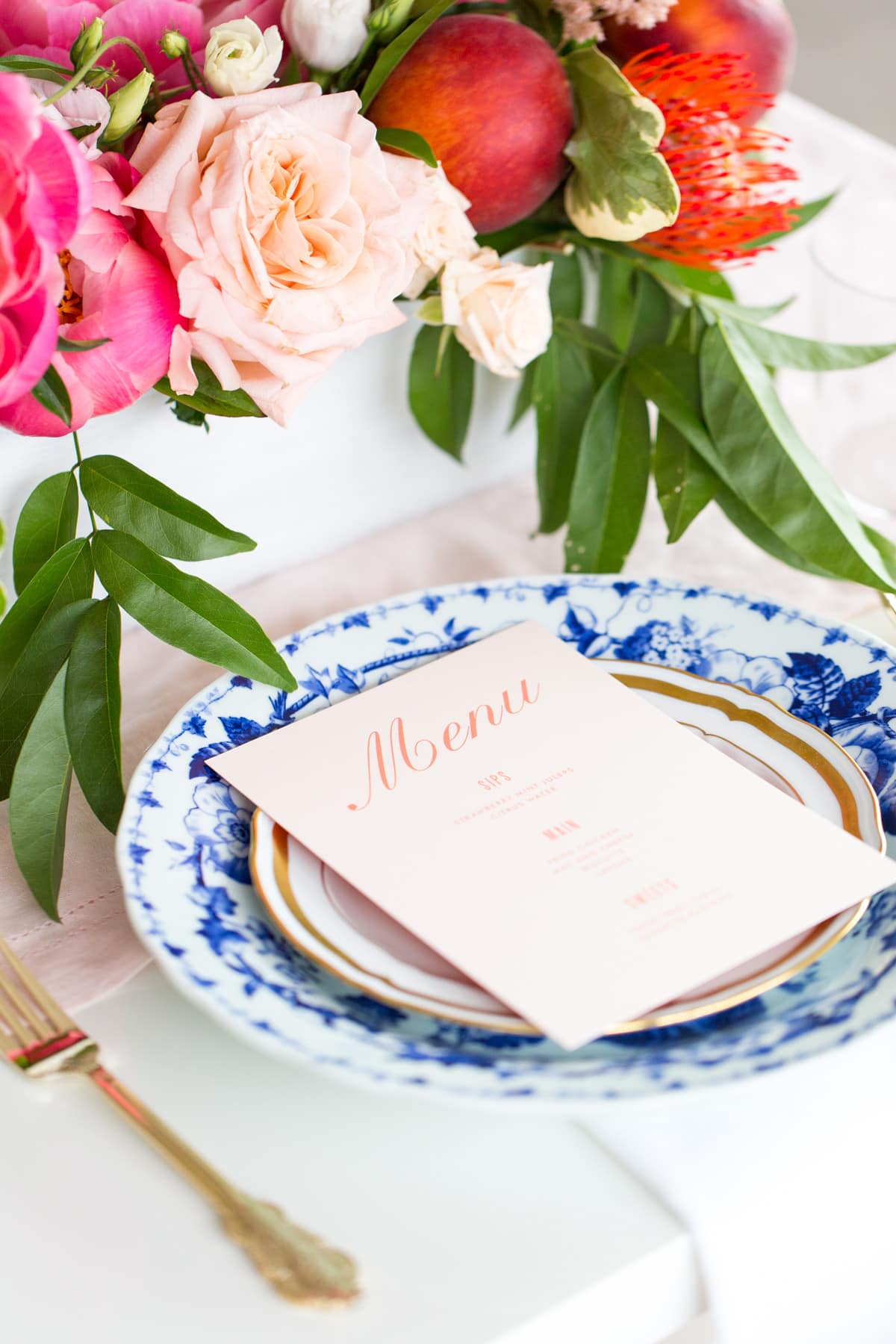 Rather than using our typical modern gold flatware, we chose a more vintage-inspired set for the table this time around. Each place setting was a combination of blue floral plates and classic china patterns. It all looked so super chic paired with the Minted menus and blush pink table runners!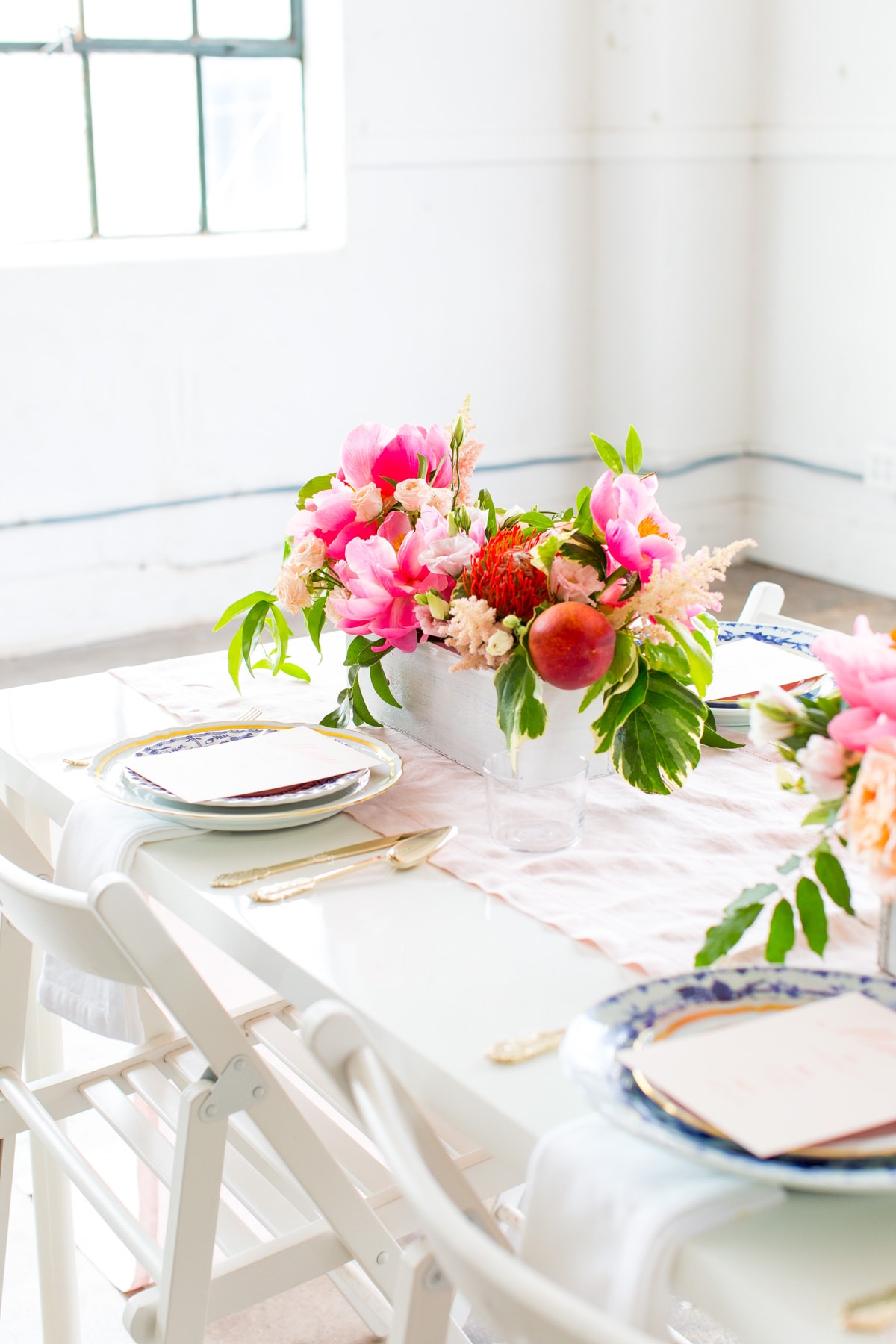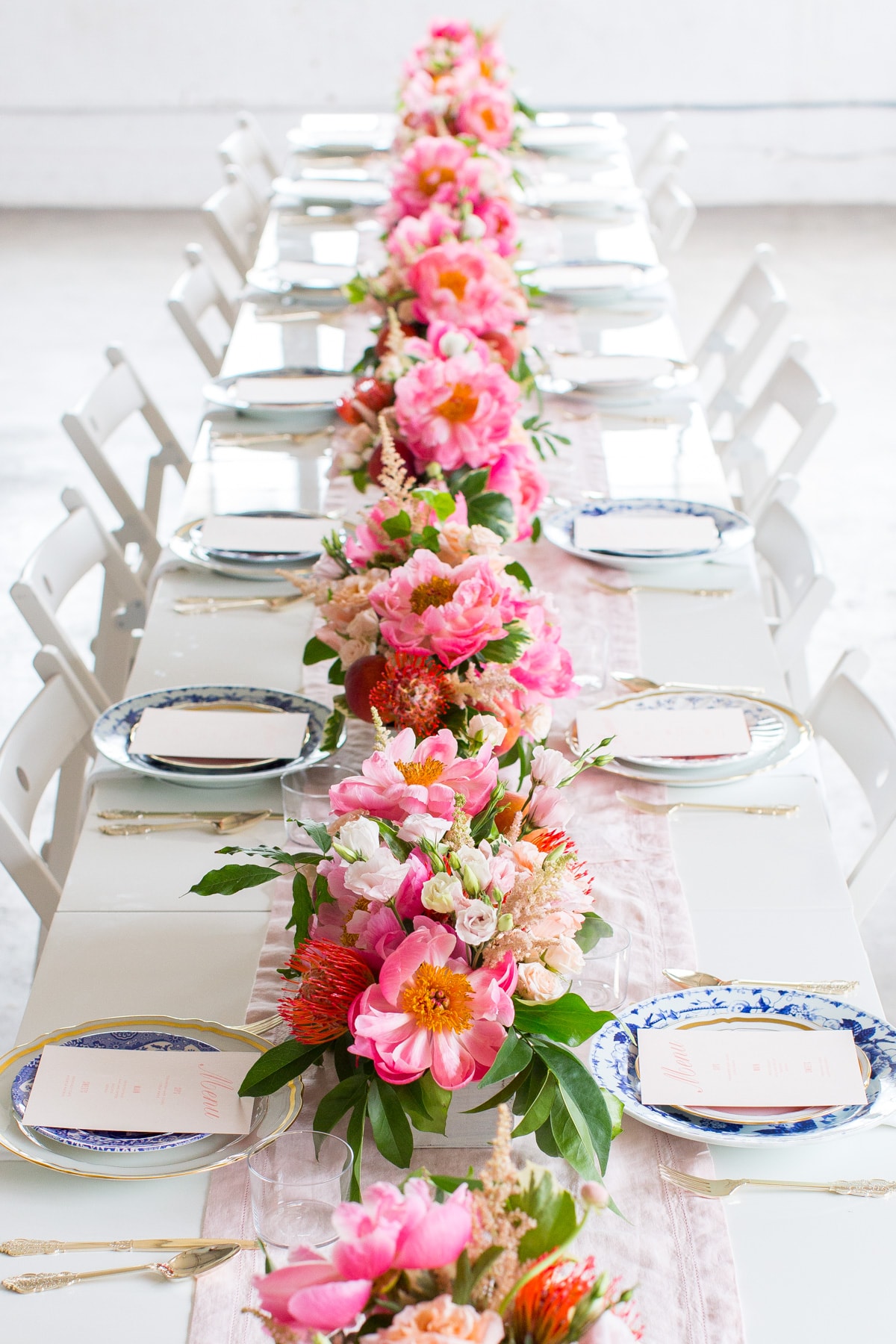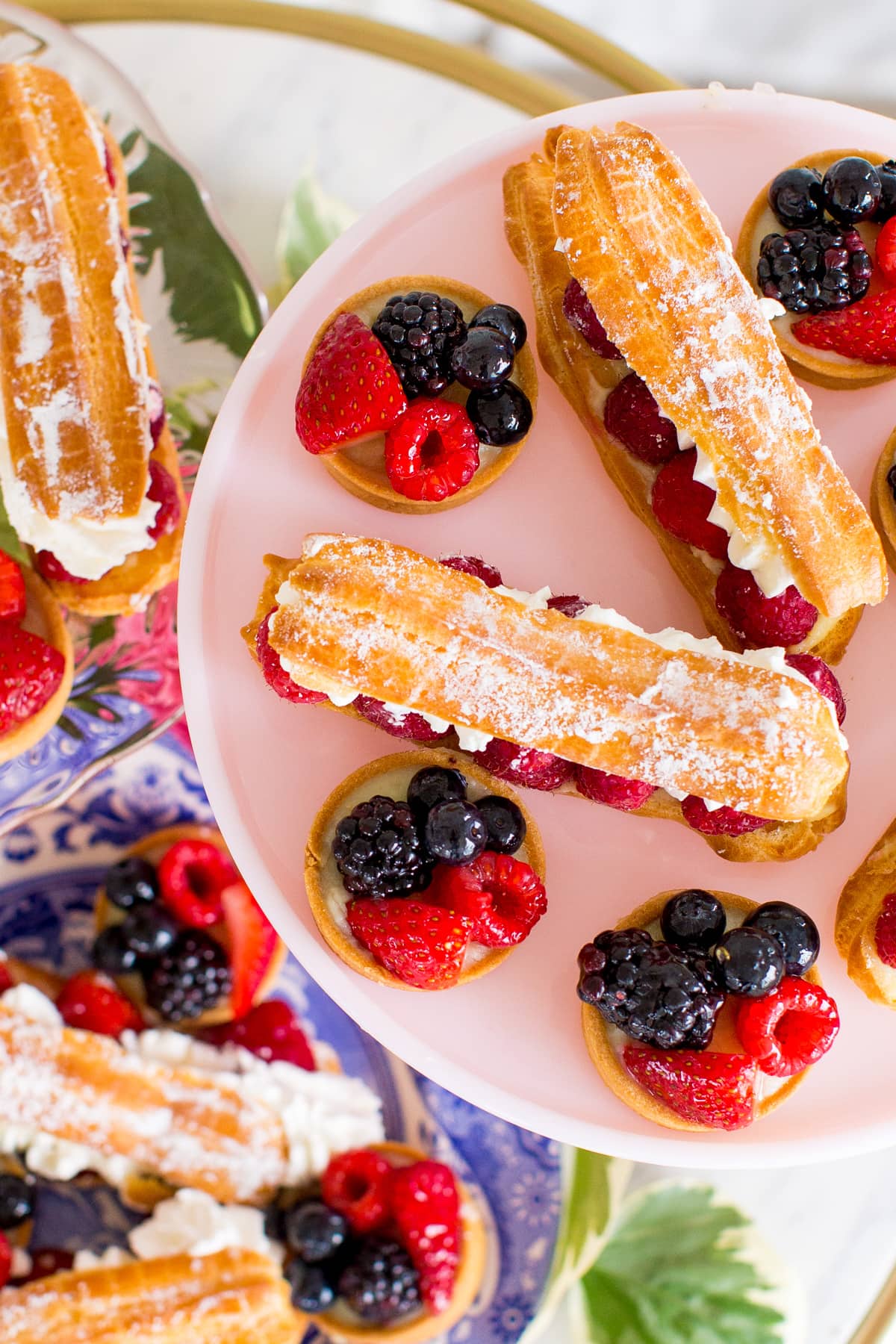 Strawberry mint juleps were the perfect go-to for the southern inspired afternoon! Plus, we could easily mix them beforehand in cute tall jars with gold lids so they were ready to go for all the guests when they arrived.
We served up some classic home cooking with fried chicken, biscuits, salad, and mac & cheese! Of course, we also had all the fixings —  toppings for days and mini jams for each guest. I wanted to add a special element to the buffet table, so I ended up creating this DIY floral embroidery hoop backdrop. I'll be sharing the full DIY tutorial soon, so keep an eye out!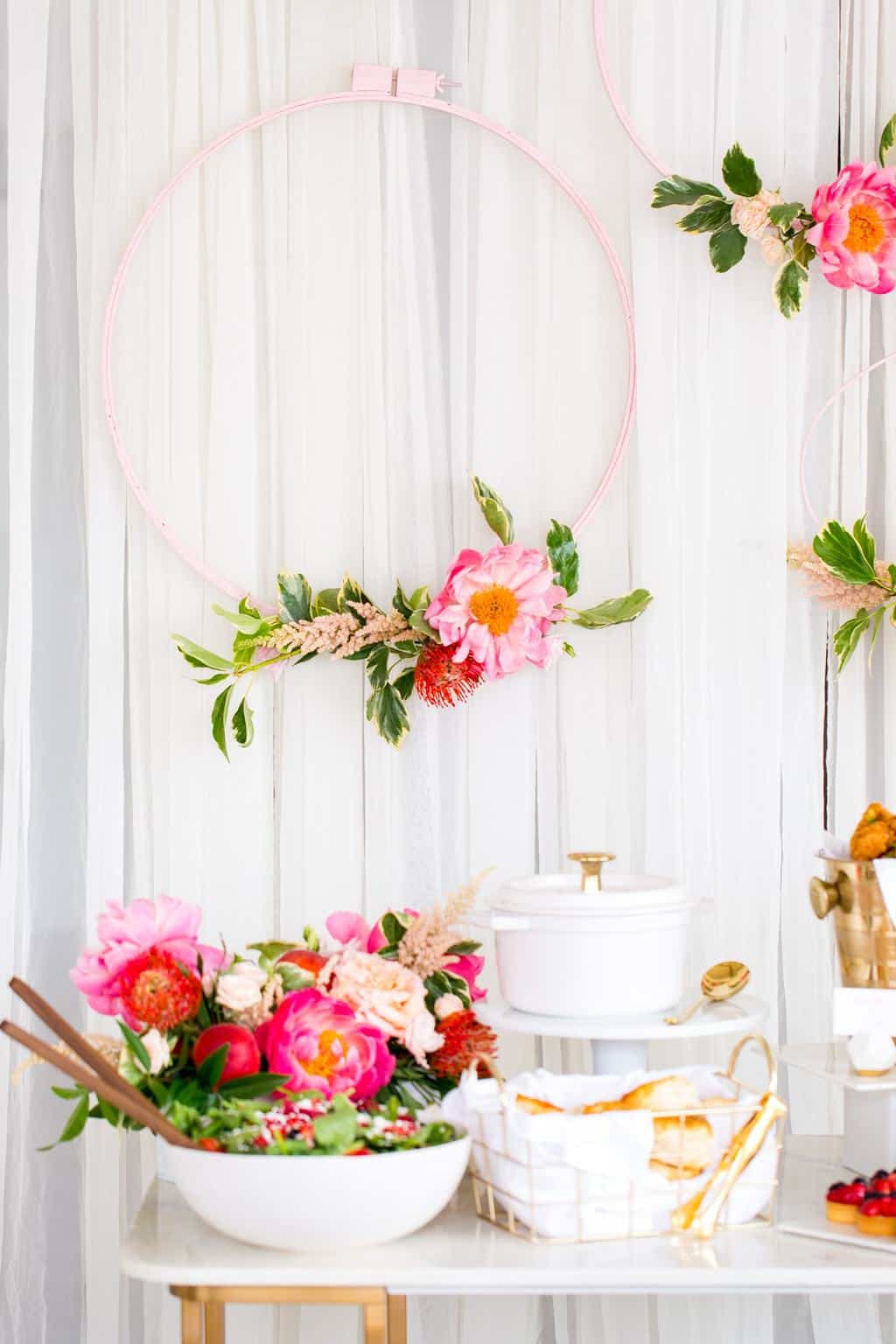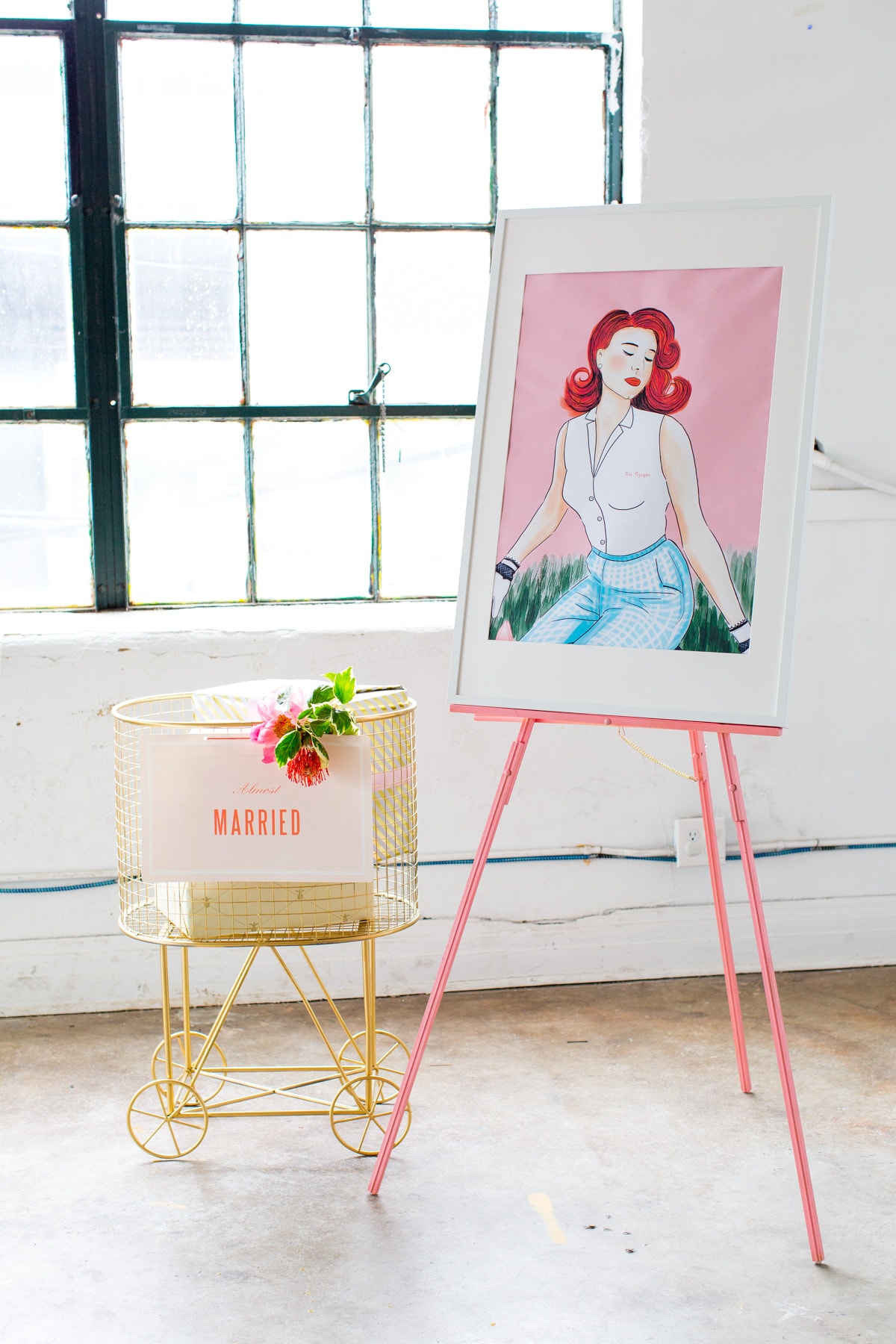 We had a custom retro painting made of the bride for the shower invites and blown up as a fun touch for the shower! It was funny to see Madi's face when she walked into the room and saw a large cartoon version of herself sitting on the easel, haha!
We spend a lot of our time putting together entertaining ideas, so it's fun every once in a while to put them to use by celebrating friends.
Are you hosting any bridal showers this summer? I'd love to hear where you get your inspiration!
Studio HTX / flowers / floral design / marble & gold table / DIY white bar cart / blue china plates / white & gold Marie Antoinette china / short tasting cups / white linen napkins / pink linen table runners / menus & almost married sign / gold vintage flatware / flower boxes / pink boxes & stickers / pink cake stand / gold buckets / gold & white casserole dish /  personalized jams / embroidery rings / gold jars / gold water dispenser stand / striped straws /