I'm the first to admit I don't do healthy resolutions, goals, workout plans, endless bowls of kale, etc when the new year rolls around. But I, Alyssa, do believe there probably needs to be some semblance of balance in between the holiday cookies of December and the chocolates of Valentine's Day.
As long as that balance comes in pretty, tasty packages, like these Winter Citrus Smoothie in Grapefruit Bowls, it's totally a resolution I can get behind.
These smoothies are served in grapefruit "bowls", are super healthy, and packed with vitamin C (which we can all use more of this time of year.).
There's also all sorts of wintery and seasonal with three types of citrus and they only require a few simple ingredients to make, most of which are fruit!
Oh, and did I mention the touch of coconut that almost makes you think you're drinking a piña colada/lounging on a tropical beach somewhere far away? I mean, you'll almost forget tat you're just out here living you're most balanced life because these are that good…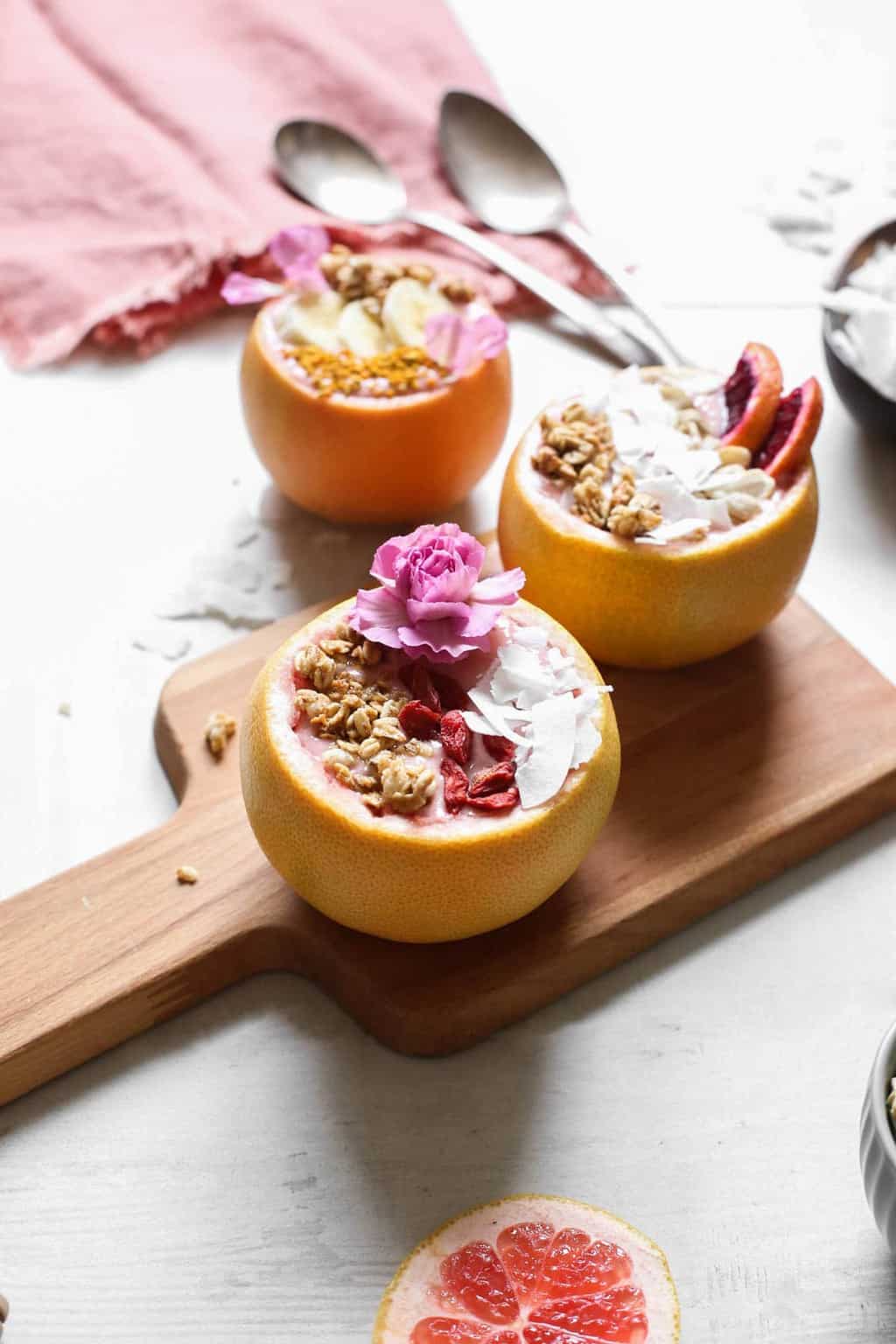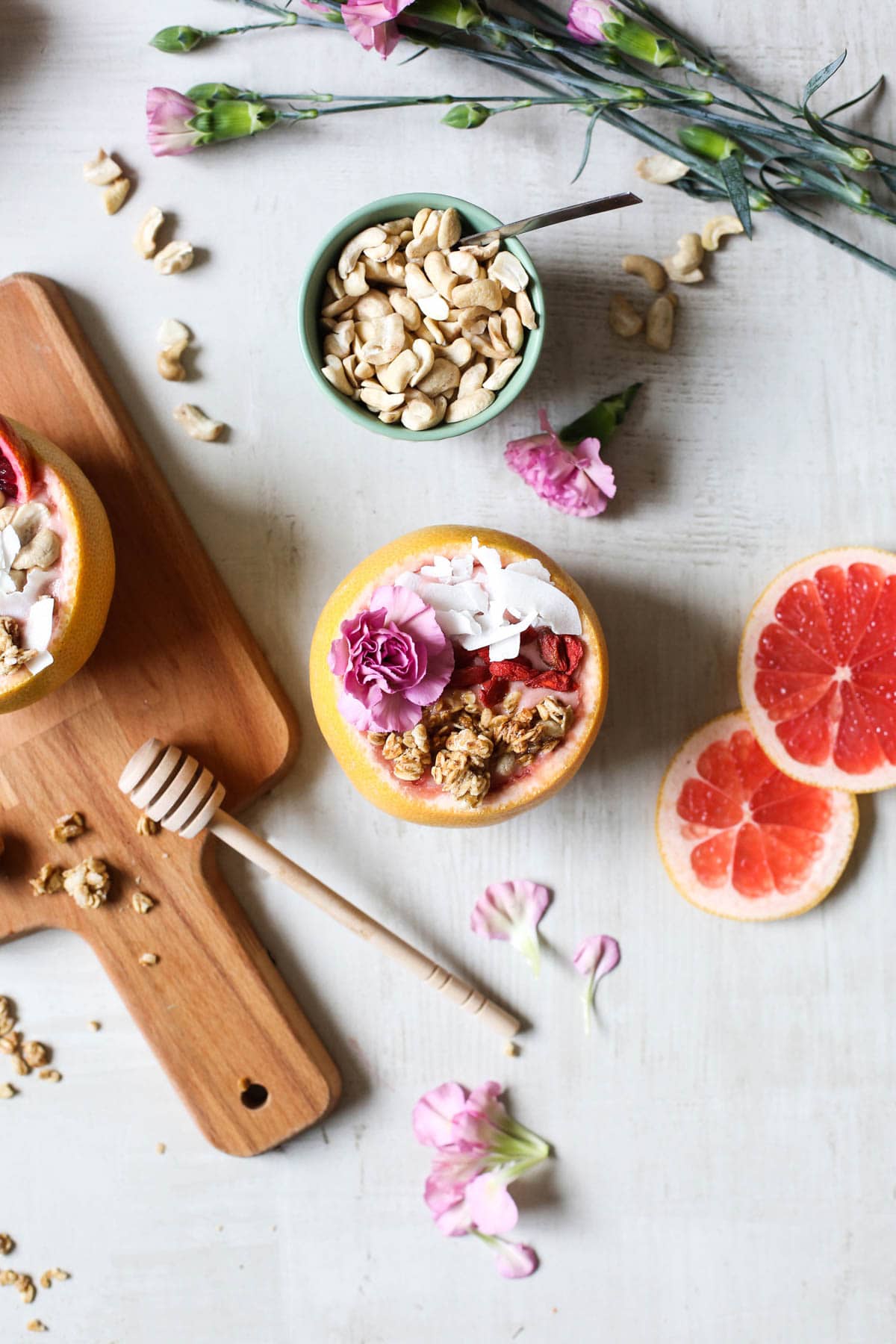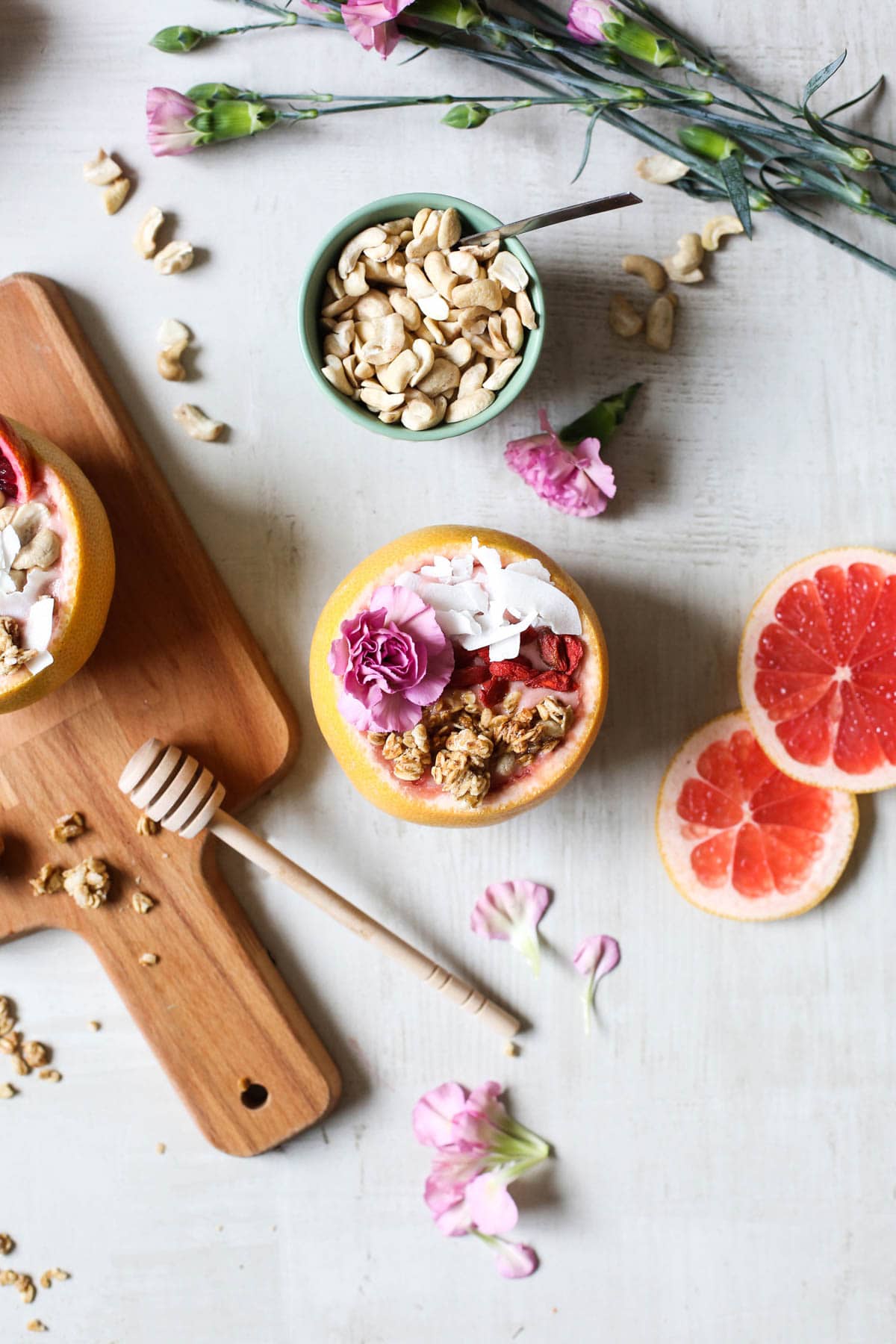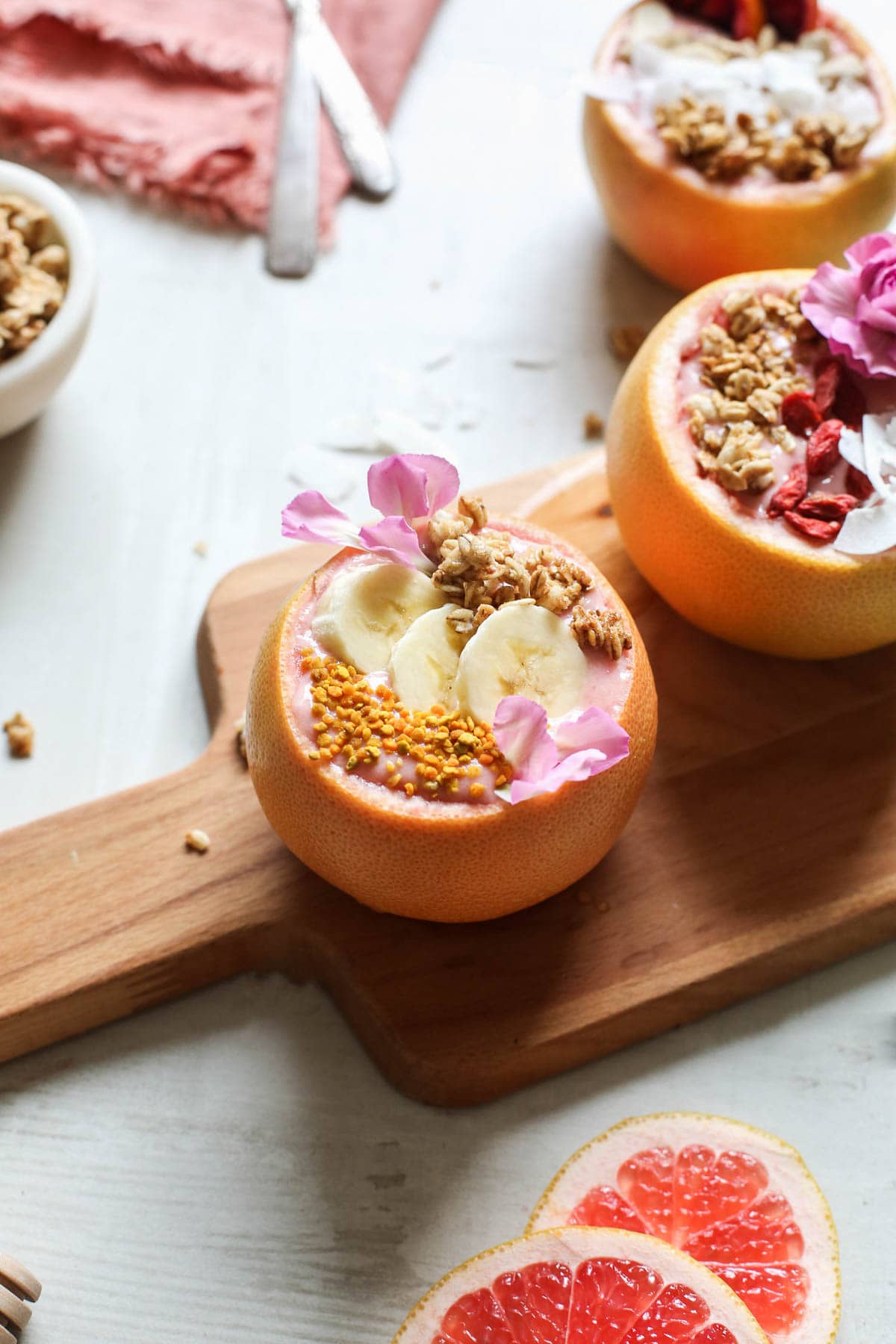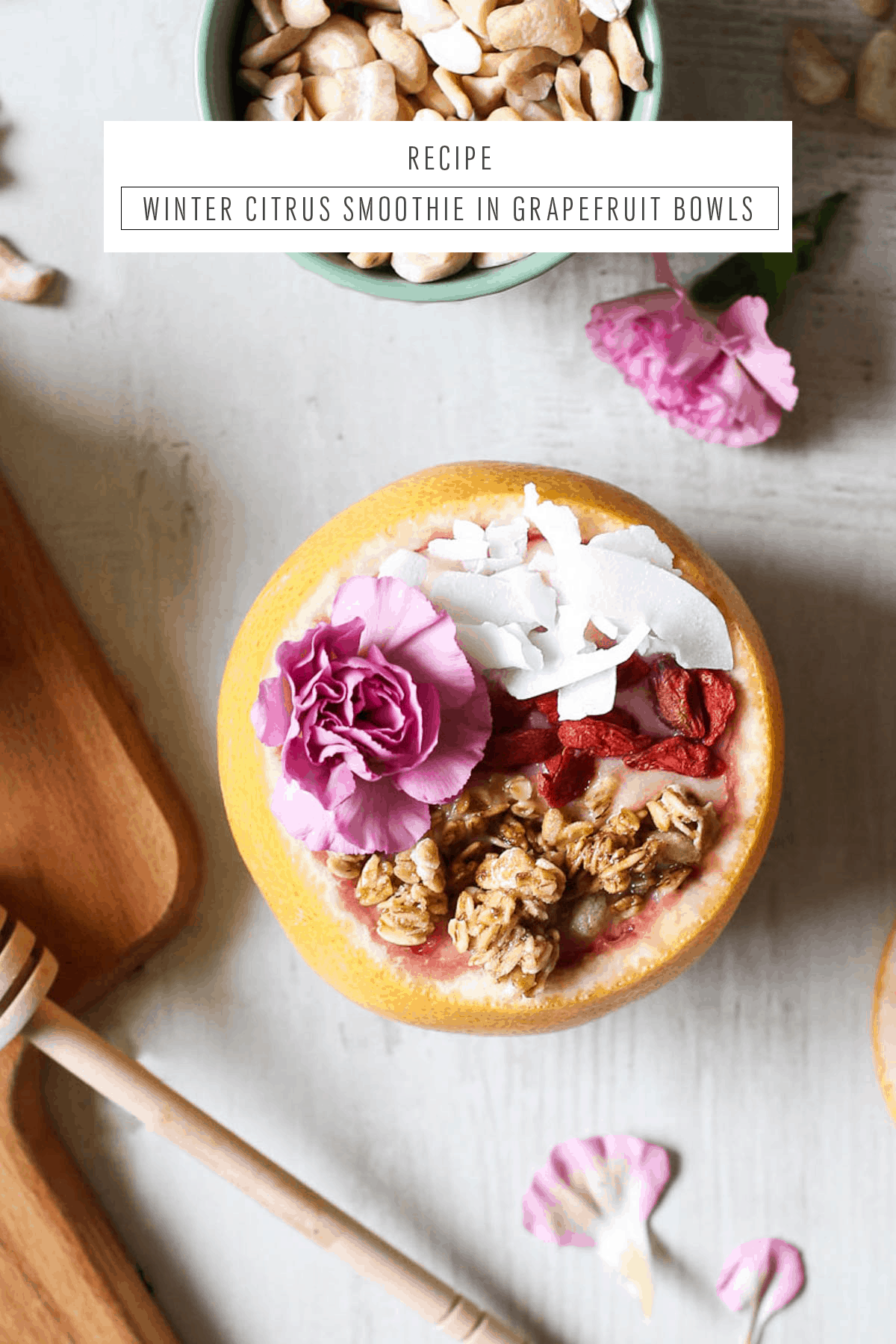 If you're looking for a little balance in your diet, a tropical escape for your taste buds, or just a way to switch up your smoothie routine, these winter citrus smoothie in grapefruit bowls are just the solution.
There you have it — time to start sipping your way into a tropical paradise! Do you have a favorite smoothie flavor and/or topping that you can't get enough of lately?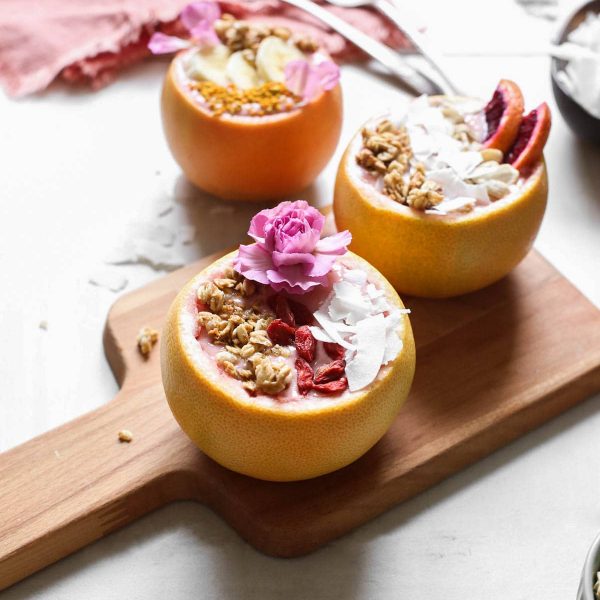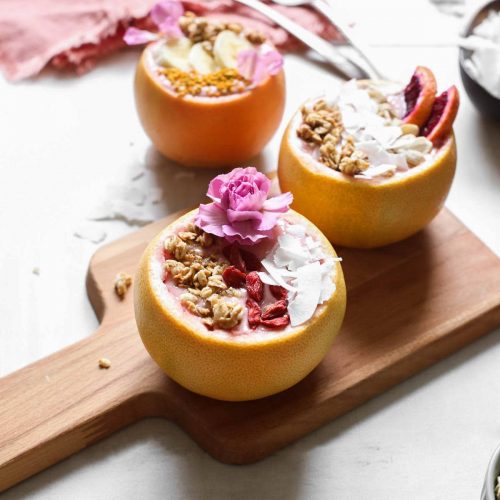 Winter Citrus Smoothie in Grapefruit Bowls
Winter Citrus Smoothie in Grapefruit Bowls, it's totally a resolution I can get behind.
Ingredients
4

Grapefruits

1

Large orange

1

Large blood orange

2

Frozen bananas

0.25

cup

Coconut milk

Toppings: cashew pieces, granola, coconut flakes, goji berries, bee pollen, chia seeds, banana slices, flowers, orange slices, etc
Nutrition
Serving:
1
g
|
Calories:
201
kcal
|
Carbohydrates:
44
g
|
Protein:
3
g
|
Fat:
4
g
|
Saturated Fat:
3
g
|
Sodium:
2
mg
|
Potassium:
634
mg
|
Fiber:
6
g
|
Sugar:
28
g
|
Vitamin A:
2940
IU
|
Vitamin C:
101
mg
|
Calcium:
73
mg
|
Iron:
1
mg
Servings:
4
grapefruit bowls
Instructions
First, make the grapefruit "bowls". Slice the top third (or fourth, depending on the size) off each grapefruit (feel free to snack on the tops or save them for garnishes).

Run a paring knife around the edge, loosening the fruit. Then, use a serrated spoon/grapefruit spoon to gently remove the fruit and juice.

Continue scraping out the insides until most of the fruit is removed (they don't need to be perfectly cleaned out), give the "shells" a quick rinse under warm water and then pat them dry with a paper towel.

You will need the fruit and juice of one grapefruit for the smoothie recipe, but the rest can be saved for snacking or other recipes.

To make the smoothie, add the fruit and juice of one grapefruit to a blender, along with the oranges, bananas and coconut milk.

Blend on high until smooth, about 50-60 seconds. If the smoothie is too thick, add more coconut milk or grapefruit juice. If the smoothie is too thin, add more frozen bananas.

Immediately pour the smoothie into the grapefruit bowls. Jazz them up with the toppings of your choosing!
KEYWORD:
bowls, citrus, easy, grapefruit, healthy, recipe, smoothie, sugar and cloth, vitamin c, winter