Thank you to KitchenAid for partnering with us on this post!
Much like my morning getting-ready routine, I like anything that appears more impressive than it really is. Aka, the longer I spend sleeping instead of doing my hair, the better. I find this life motto to be applicable when it comes to breakfast and snacks, too.
Combine that with our love affair with pretty photos, and I'm happy to present to you 6 simple insta-worthy toast combos that you can whip up quickly. In fact, all you need is a countertop oven — we have and love the Convection Countertop Oven from KitchenAid — and a few kitchen utensils to recreate all of these. I can already smell the envy from your coworkers after you make one of these in the office kitchenette.
After we made all of these, we realized we had a major missed opportunity by not making this into a toast bar blog post, so don't be surprised if you see that in your inbox soon…
We use our Convection Countertop Oven ALL the time rather than always heating up the full oven. It's super convenient having the Keep Warm and Reheat settings when you have leftovers as well. We actually got rid of our toaster altogether since getting this bad boy! In case you also have pizza priorities and aren't exactly an Iron Chef (like myself), the oven can fit a WHOLE 12" pizza (for real) and has 9 pre-programmed functions including cookie for easy single servings, bagel, bake, toast, pizza, broil, warm, reheat and Asado Roast.
When it comes to making these yummy toasts, all you have to do is set your countertop oven to toast and then top with your favorite combinations…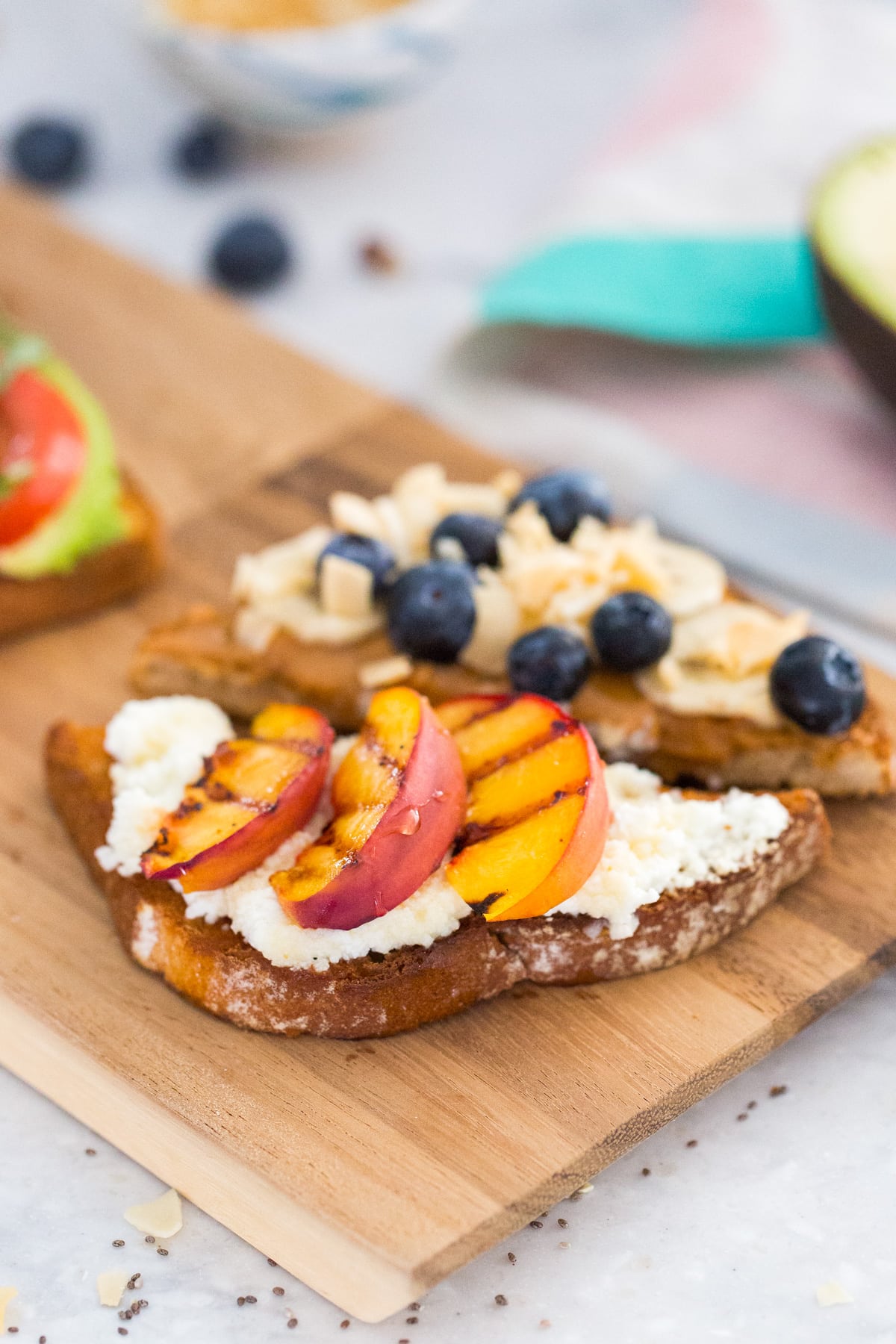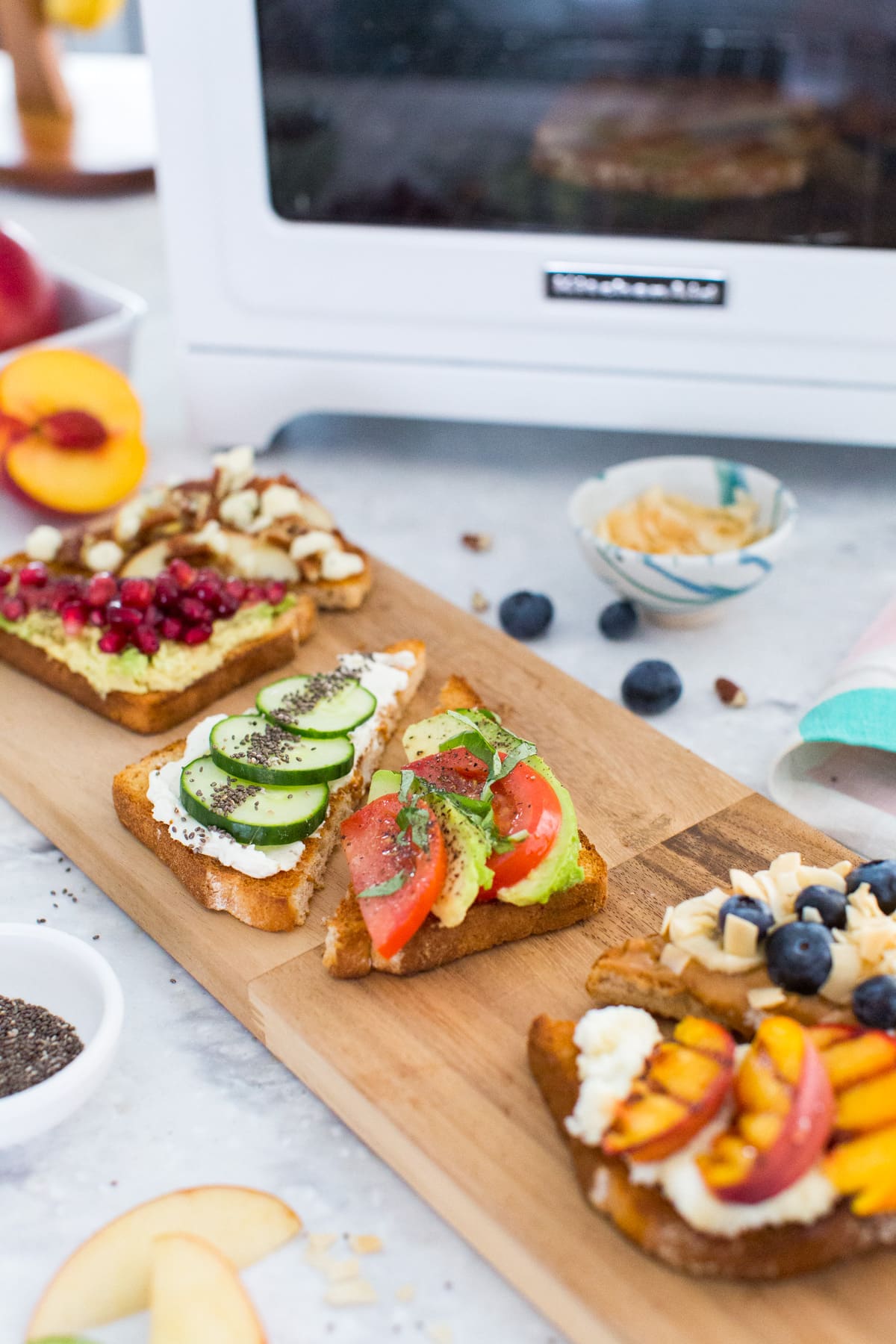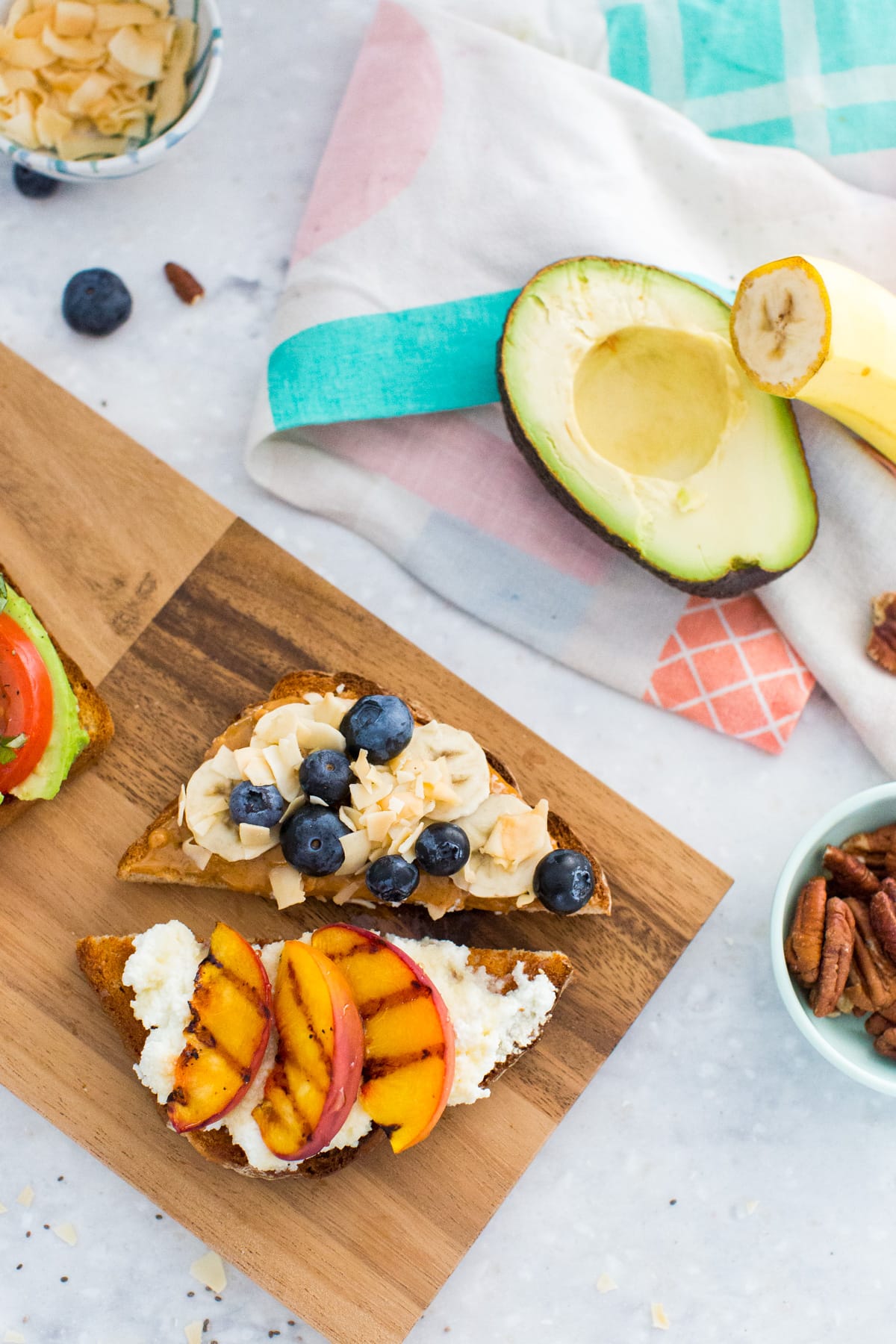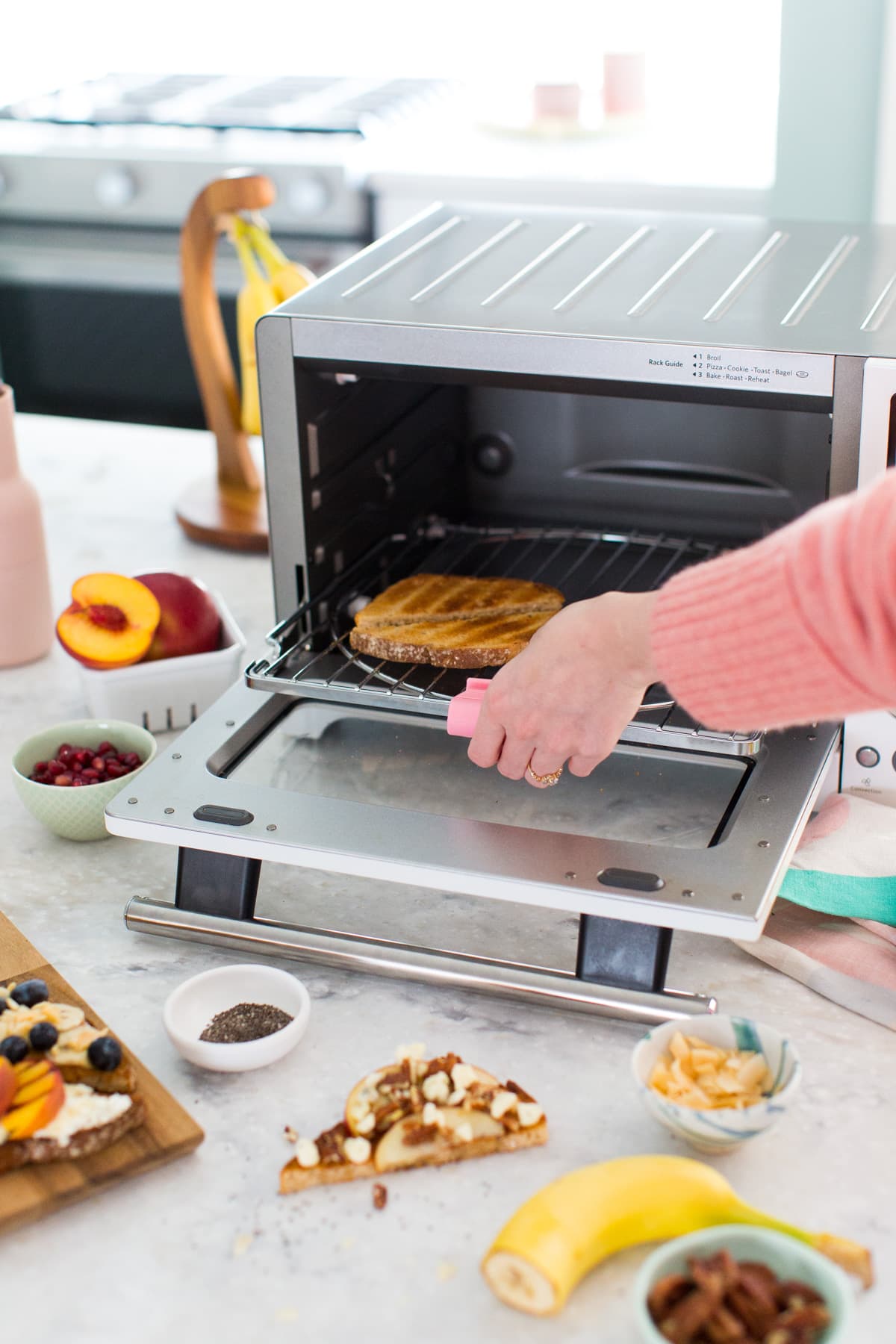 Toast Combination 1 —
Peanut butter base topped with banana slices, blueberries, and sprinkled with coconut chips.
Toast Combination 2 —
Cream cheese base topped with sliced cucumbers, chia seeds, and fresh salt & pepper.
Toast Combination 3 —
Apple slices sprinkled with walnuts, gorgonzola cheese, and drizzled with honey.
Toast Combination 4 —
Tomato and avocado slices drizzled with olive oil, salt & pepper, and garnished with basil.
Toast Combination 5 —
Ricotta cheese base topped with grilled peach slices and drizzled with honey.
Toast Combination 6 —
Avocado mash base topped with pomegranate seeds and sprinkled with salt & pepper.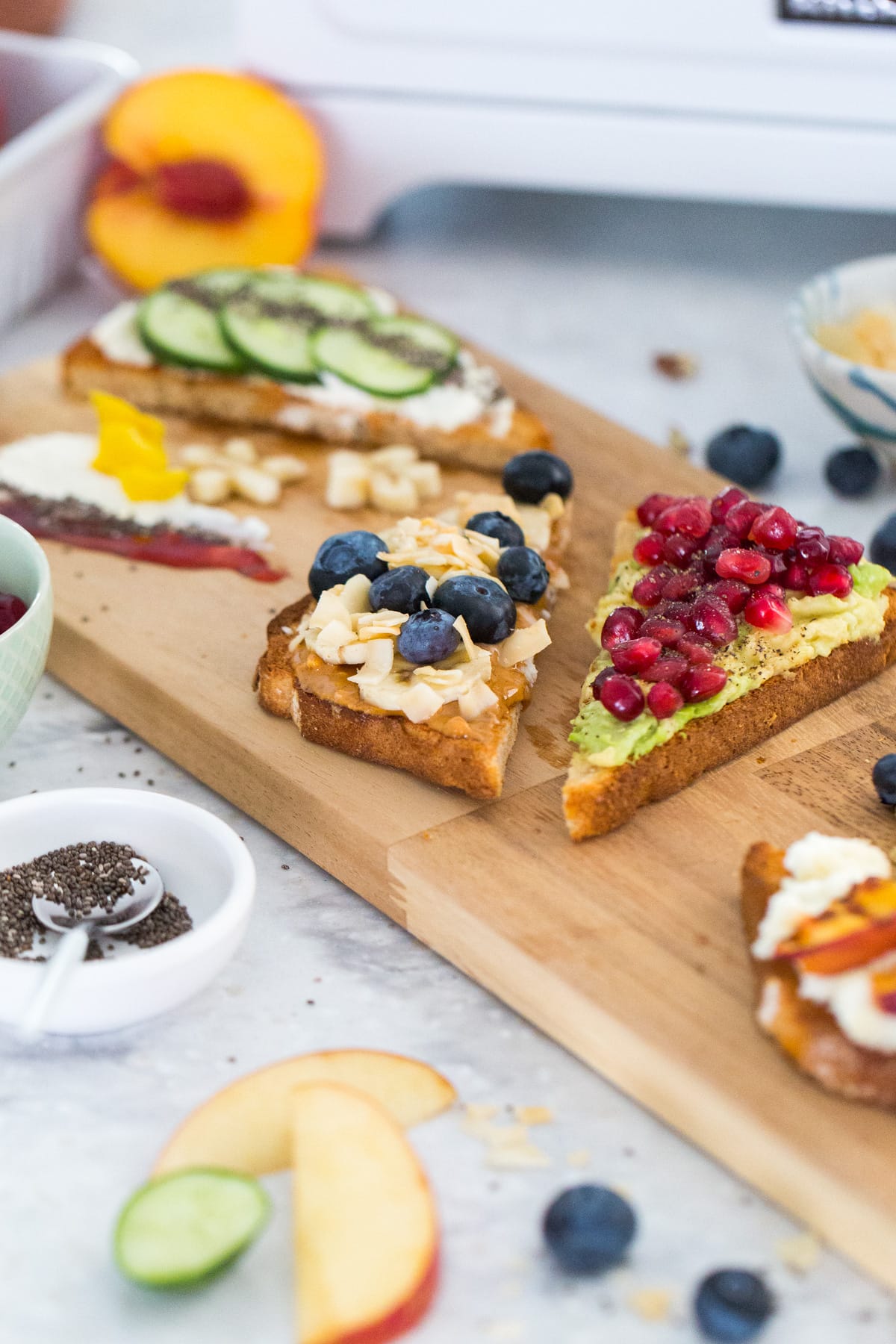 Thank you to KitchenAid for partnering with us on this post! Sugar & Cloth has chosen to donate 5% of all sponsored campaigns to charity, which you can read more about right here.