Sharing some modern inspiration for a simple Easter gathering and DIY Leather chargers to add a handmade touch!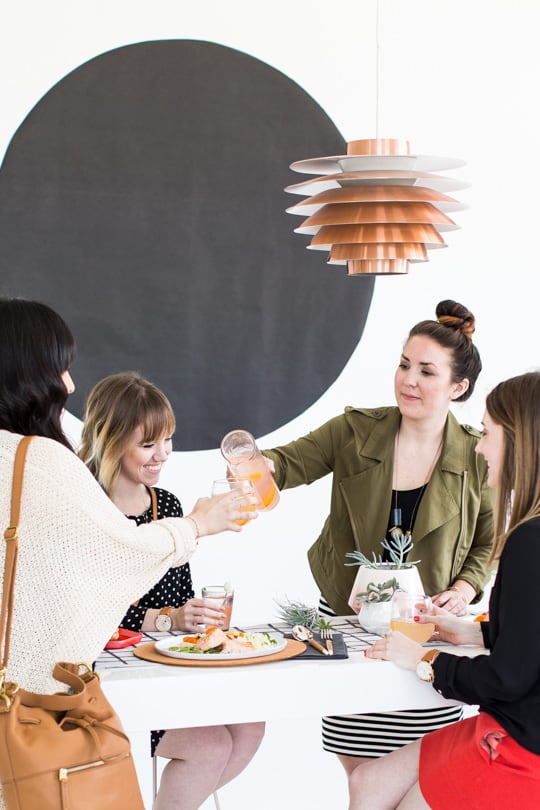 I'm all about holidays.
But to be totally honest, I don't actually decorate too much for any of them just because it can be a large undertaking for such a short amount of time.
Instead, I really love the idea of creating small elements with a holiday flair that you can use time and time again but still make the space yours.
To give you an idea of how to create a modern, gender neutral atmosphere for some upcoming get togethers, Brittni and I teamed up with Fossil to share our take on a simple Easter gathering and DIY Leather Chargers (as just one of the many handmade elements!) alongside some of our Houston friends.
In lieu of traditional Easter items, we opted to add in little nods here and there with ombre egg macarons, unexpected dip dyed egg colors as table accents, simple DIY bunny tail drink stirrers, and gummy fried eggs as party favors.
In case Easter isn't your thing, we have plenty of other ideas for your too, with spiked grapefruit lemonade cocktails, DIY leather chargers, DIY grid print runner, and LOTS of other goodies.
Cause you know, we always have to have more than one DIY around here!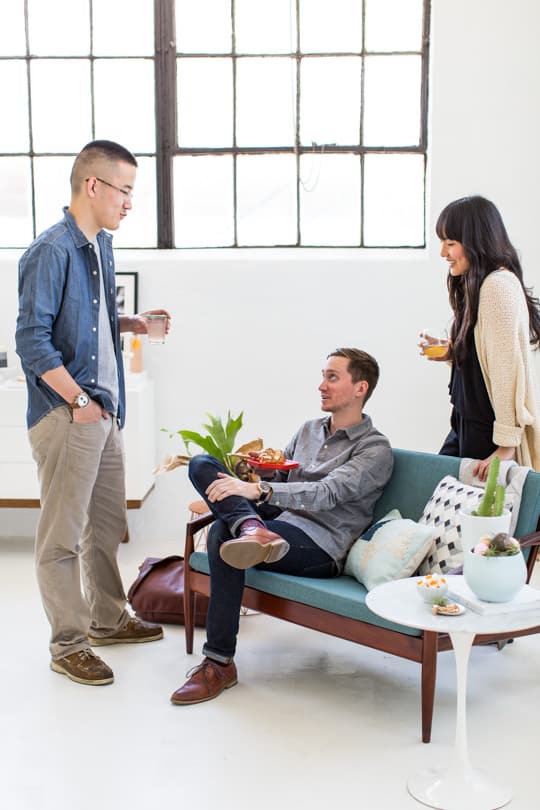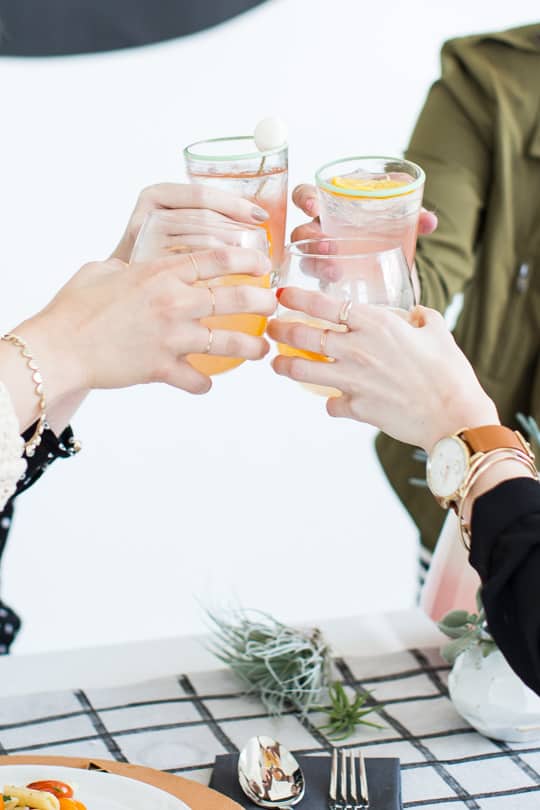 Grapefruit Lemonade Cocktail Recipe
Ingredients needed:
1.5 ounces of grapefruit vodka
2 ounces of lemonade
Splash of soda water
How to make the grapefruit lemonade cocktail:
Add the three ingredients over ice, then stir, serve, and drink!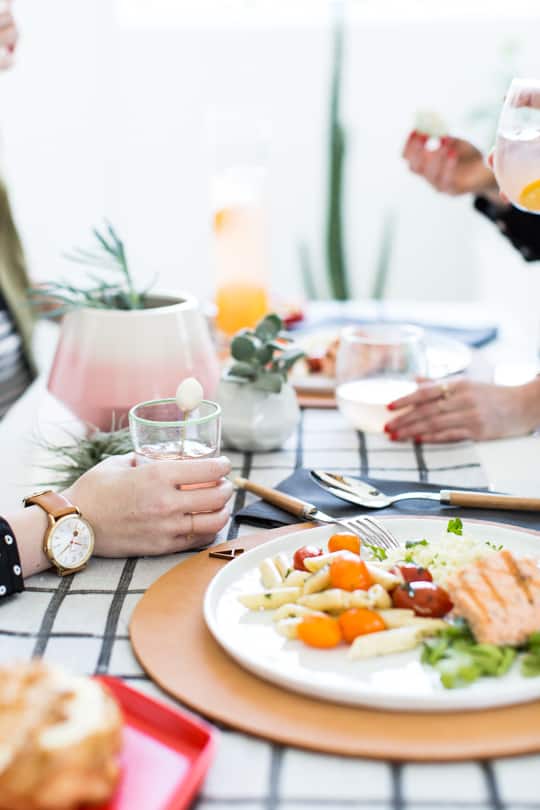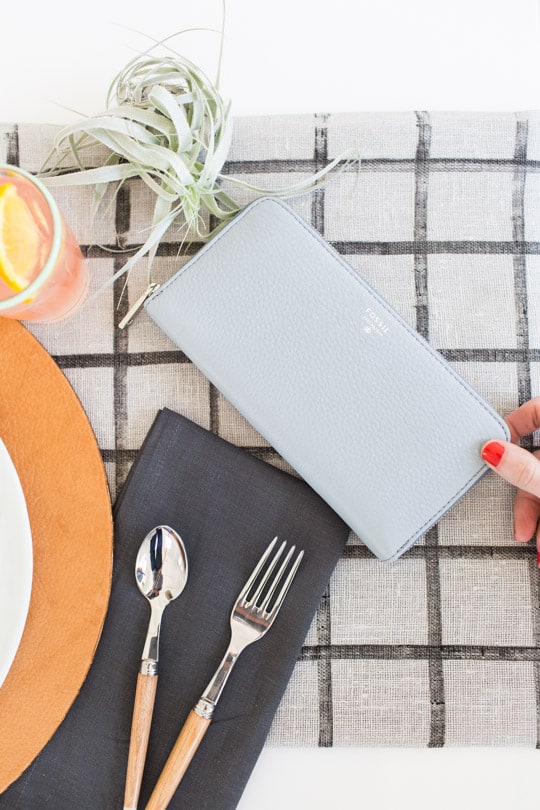 We wanted the table to be layered and gender neutral. So Brittni made an awesome DIY grid print table runner to pair with the DIY leather chargers and dark linens.
Also I'm a 15 on a scale of one to ten on being obsessed with this pale blue clutch, that color though!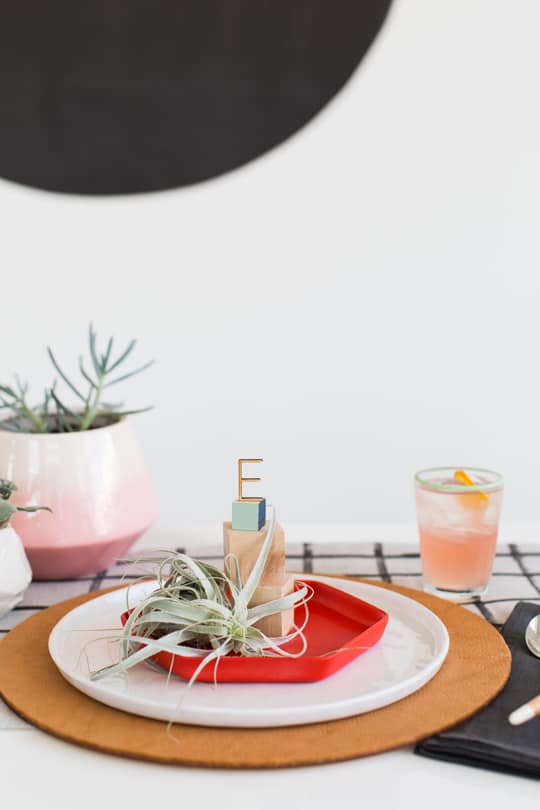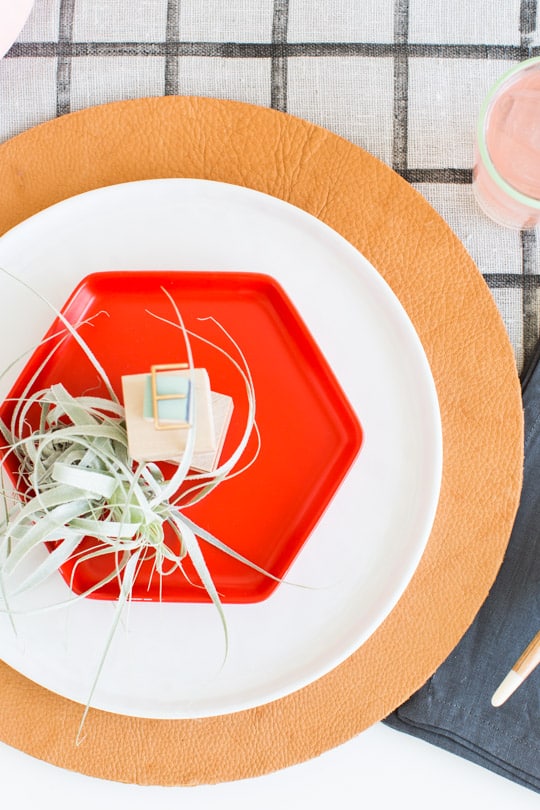 DIY Leather Chargers
Materials and tools needed:
Soft leather (so it's easier to cut with standard scissors)
Scissors
Leather beveler (optional)
How to make DIY Leather chargers:
1 — Spray the spray adhesive to the back of a wood round and let it set for a few seconds to become tacky.
2 — Then, lay it flat on the back side of your leather piece. Flip it over and press firmly making sure the leather is applying to wood smoothly.
3 — Let the adhesive set for several minutes before trimming the rest of the leather away from the wood round.
You can use a leather beveler to clean up the edges of the leather to make it even more put together, or you can leave it more natural without it.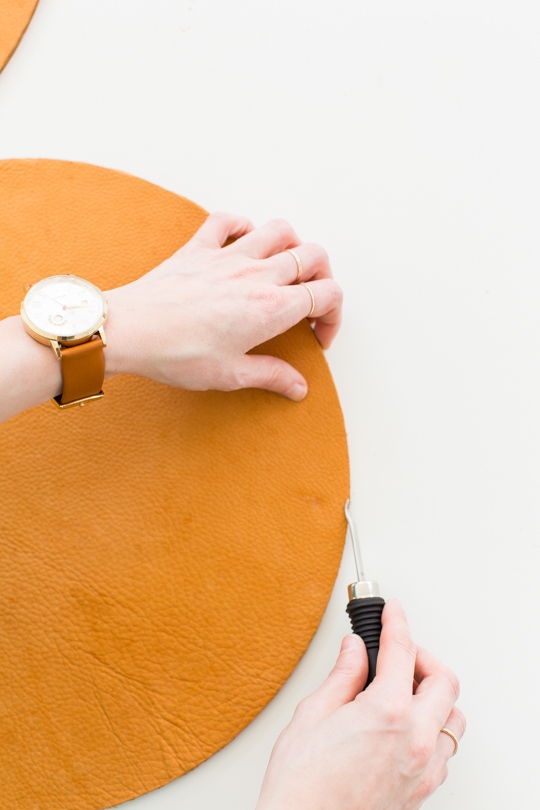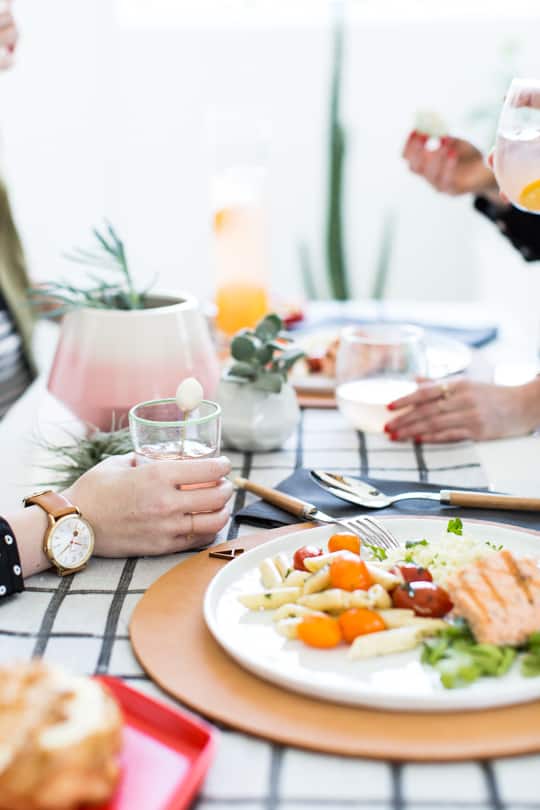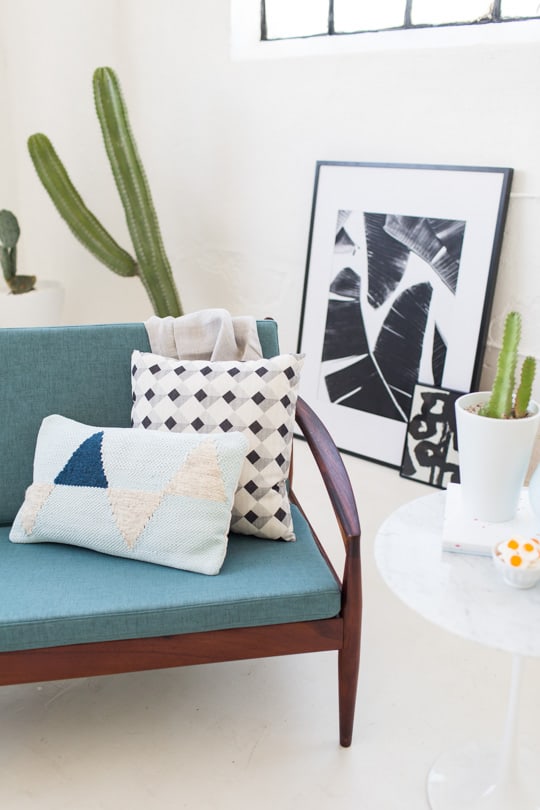 For a little added curiosity, we created these DIY botanical prints to set out for unraveled, yet sophisticated vignettes.
And Brittni is sharing the tutorial and printable download for you to make your own!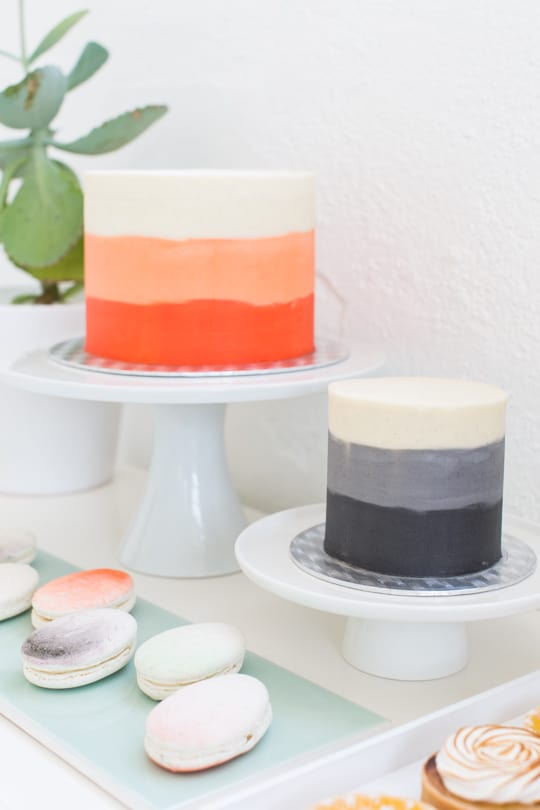 Easter Dessert Ideas
To go along with the galaxy dyed Easter eggs, I painted the egg shaped macarons to fit with the theme in a subtle ombre of black, red orange, mint green, and pink.
For an inexpensive serving board idea, I displayed them on a rectangular mint green ceramic tile.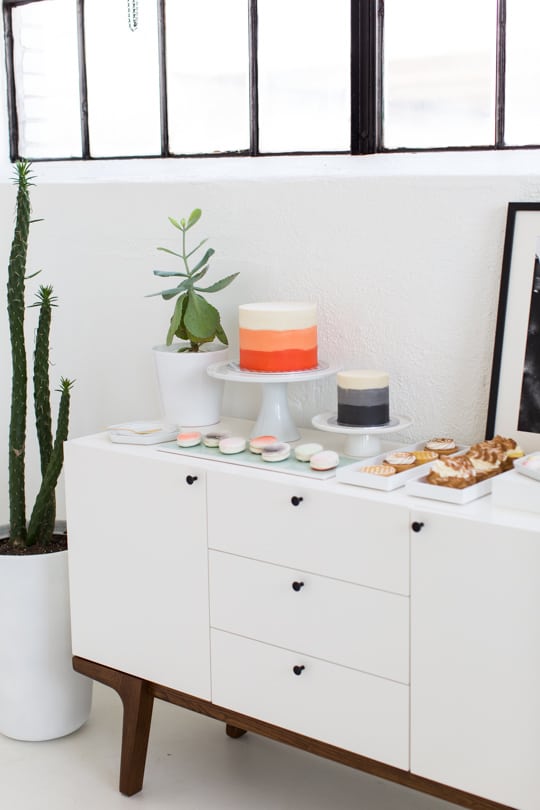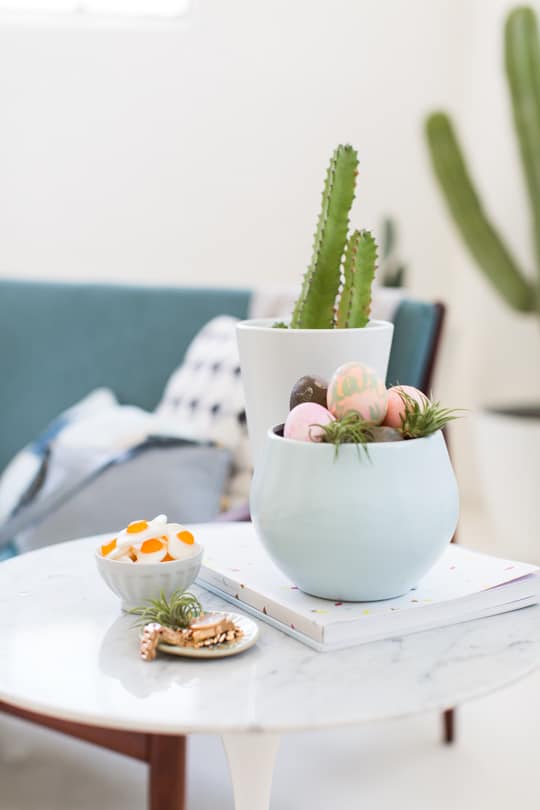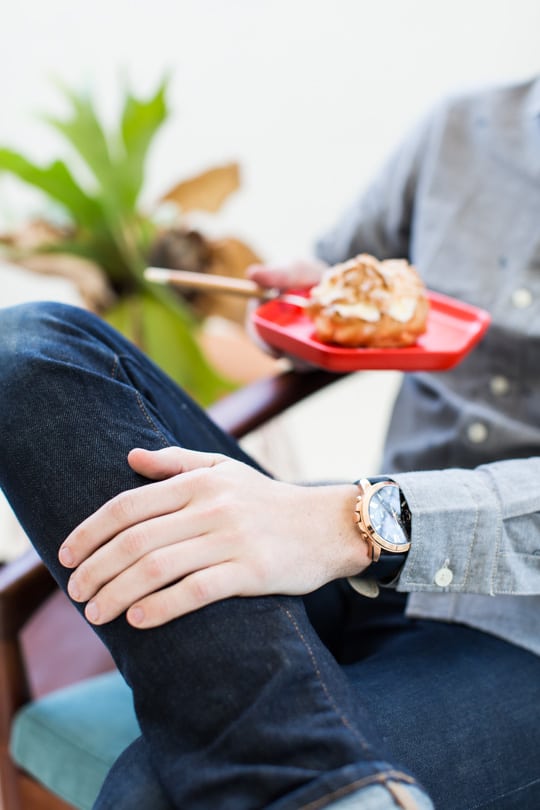 Jared is officially in love with his navy and rose gold watch, so naturally he requested a close up of it since he usually gets stuck behind the scenes, ha! Love that guy!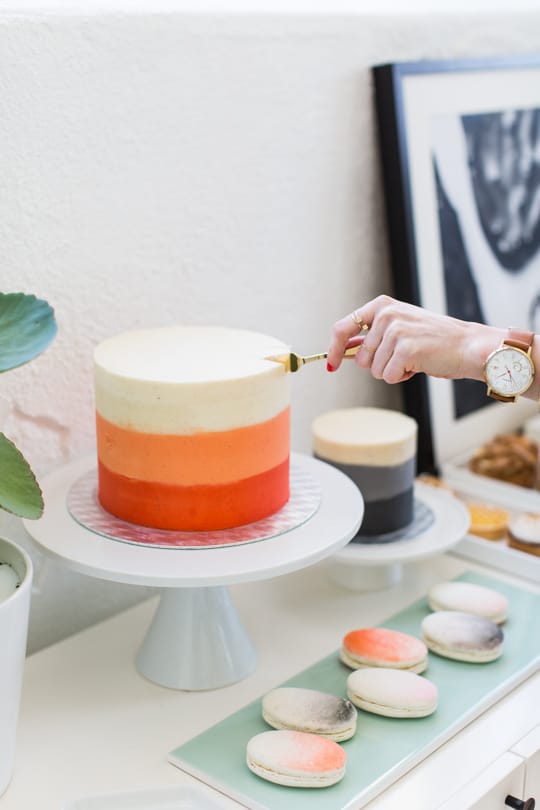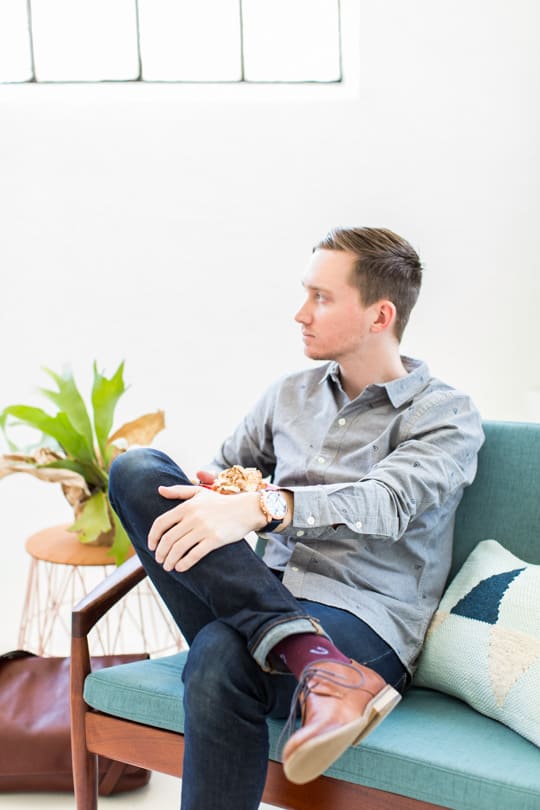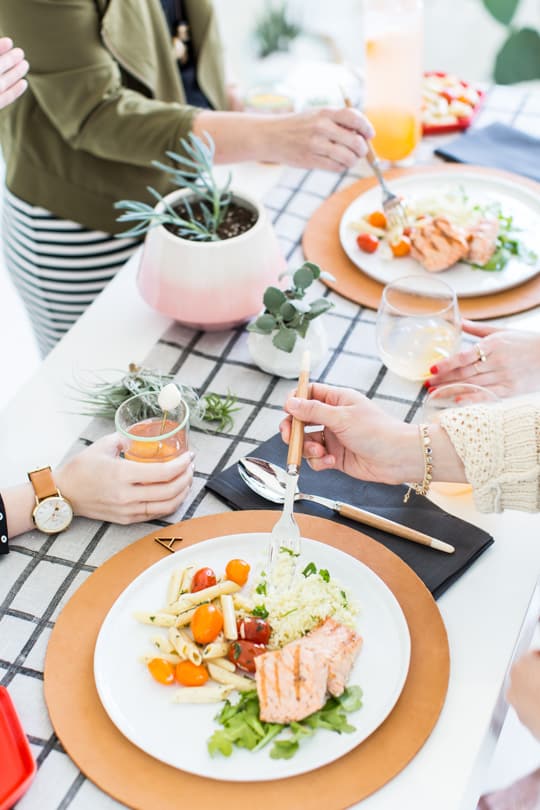 DIY Bunny Tail Drink Stirrers
Materials and tools needed:
Round marshmallows
How to make DIY Bunny Tail Drink Stirrers:
For a quick and simple cocktail addition, add round marshmallows to the end of brass stir sticks or your favorite colored stirrers for an easy Easter nod.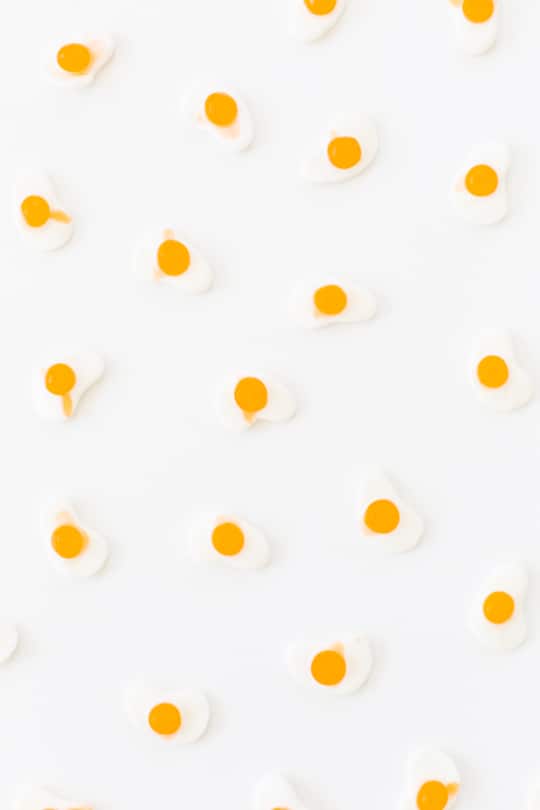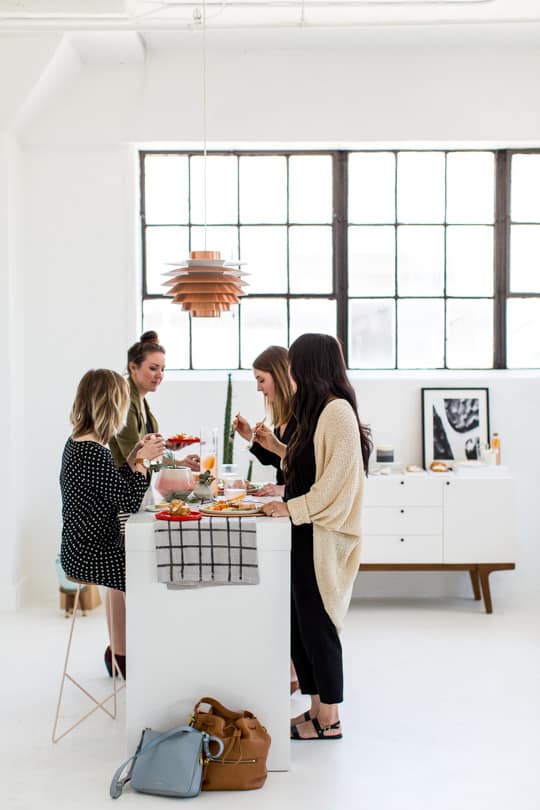 Now you can check out Brittni's blog for the how-to's on the awesome DIY botanical prints for you to download and print, the DIY grid print table runner, DIY galaxy Easter eggs, wooden block place cards, and the simple geometric statement wall art.
Also, a big thanks for Cara, Christina, Jared, and Alex for letting us style them and feed them cocktails and cookies before noon, you guys rock!
A Simple Easter Gathering Sources
Sources: pale blue crossbody bag // Jared's bulb print button up // rose gold watch // Jared's leather anchor bracelet // Jared's watch // brown messenger bag // Christina's scalloped gold bracelet // Brittni's art deco gold bracelet // brown bucket bag // Cara's and Ashley's tan leather watch // pale blue zip clutch // small blue sofa and copper pendant light from Indre By Design // rocking woven chair by Eridu Modern // white buffet from West Elm // sofa pillow from West Elm // tall dining table from Wayfair // geometric stools and pink wire basket from All Modern // tulip side table from Dot & Bo // ombre cakes and macaron egg shapes by Tout Suite
This post is made possible by Fossil. Thank you for supporting the brands we love that keep DIY content coming straight to your inbox!