I, Lindsay, am a tried and true ice cream lover. It doesn't matter whether we are in the height of summer or in the middle of a winter storm, I am always down for some ice cream. But it wasn't until I discovered this no-churn method that I started making ice cream at home. The base is extremely easy to make, and only requires a few hours in the freezer before it turns into a creamy tub of heaven. And the best part is, there is no fancy ice cream maker required.
I have experimented with a variety of different flavor combinations, but this Caramel Apple Crumble recipe is by far one of my favorites. It has everything you would ever want in an ice cream – flavor, texture and my favorite, a delicious crunch. If you have never made homemade ice cream before, this is the perfect place to start! You won't be sorry.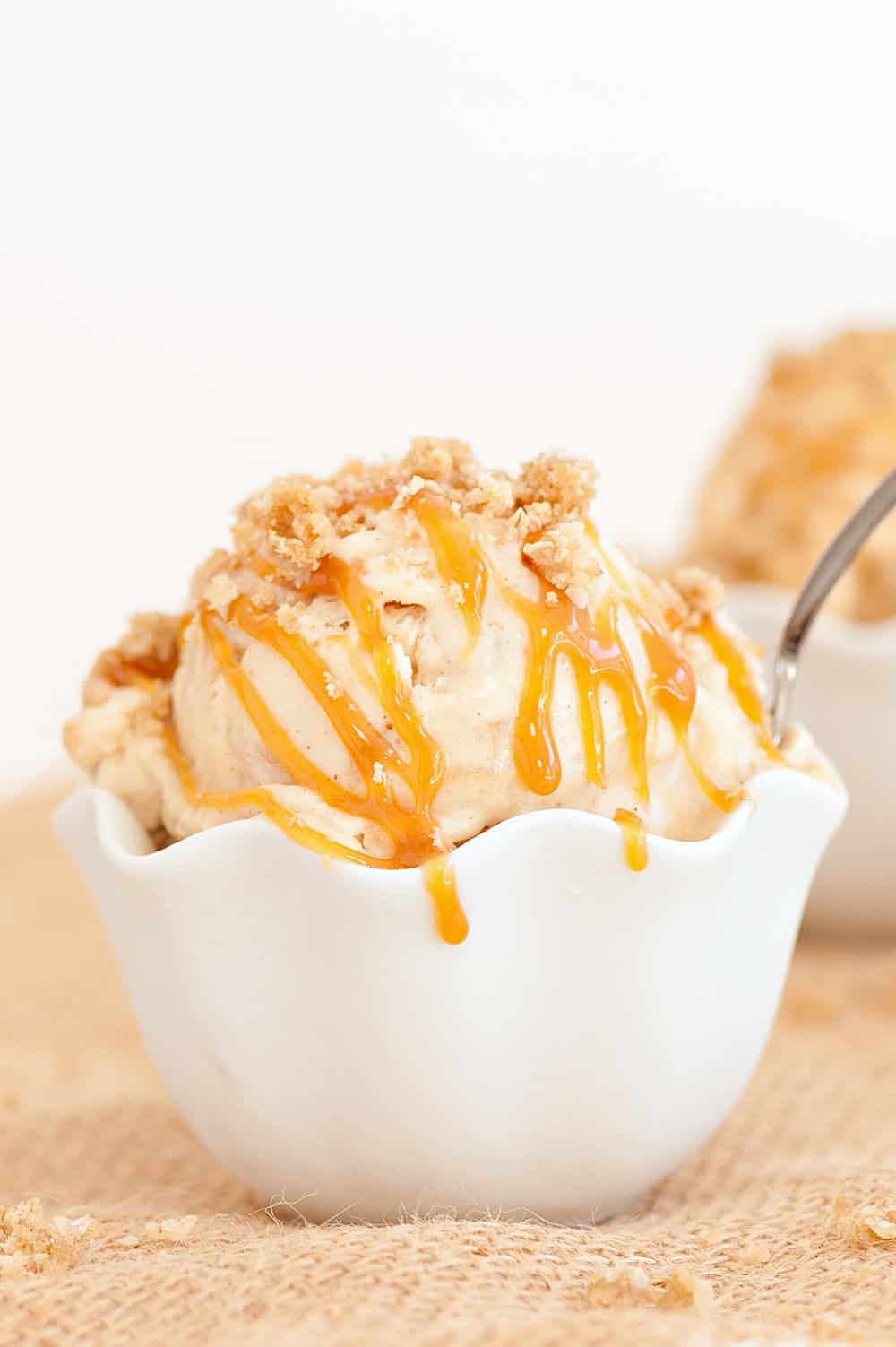 Caramel Apple Crumble Ice Cream Ingredients:
For The Apples
2 apples, chopped into 1/4″ pieces
1 tablespoon unsalted butter
1/4 cup brown sugar
1 tablespoon sugar
1 teaspoon cinnamon
For The Crumble
1/4 cup unsalted butter, melted
1/2 cup flour
1/2 cup quick cooking oats
1/4 cup + 2 tablespoons brown sugar
1/4 teaspoon baking soda
pinch of salt
For The Ice Cream
1 can (14 oz.) sweetened condensed milk
1 tablespoon pure vanilla extract
2 cups cold heavy cream
1/3 cup caramel ice cream topping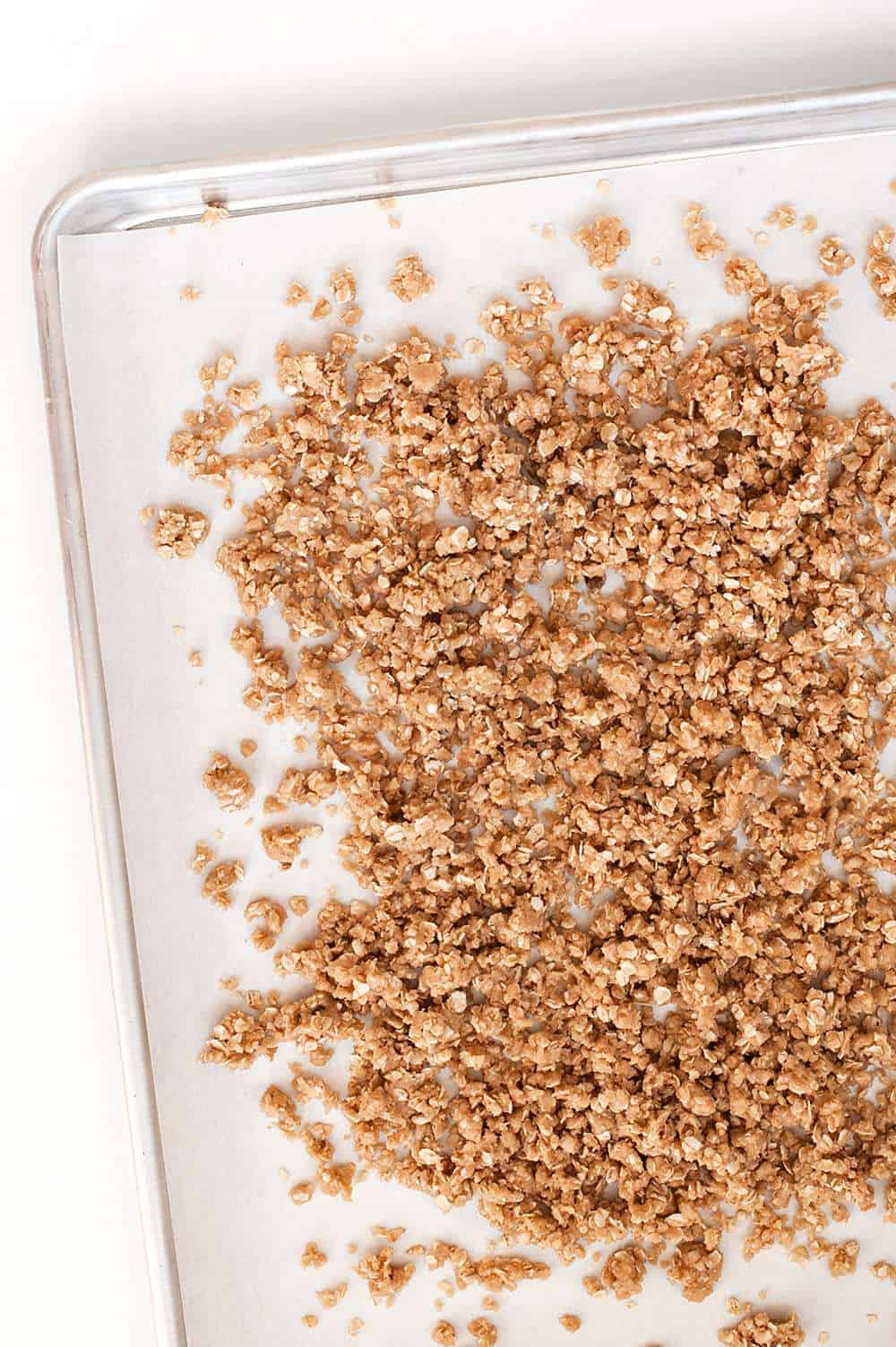 Directions
For The Apples
Place butter, sugar and brown sugar in medium saucepan over medium heat. Stir occasionally until the butter is melted.
Stir in apples and cinnamon.

Turn the heart to medium/high and, stirring occasionally, cook apples for 10-15 minutes, or until they are tender.

Transfer the entire mixture to a bowl and refrigerate until apples are cool.
For The Crumble
Preheat the oven to 350 degrees and prepare a cookie sheet with parchment paper.
In a medium bowl, combine dry ingredients.
Add melted butter, and mix until the mixture resembles small crumble pieces.
Spread the crumble mixture out on the cookie sheet and bake for 10 minutes.
Let crumbles sit for 5 minutes and then use a fork to break them into smaller pieces.
For The Ice Cream
Once apples and crumble are cool, start to prepare the ice cream.
Line a 4 1/2 x 8/12 inch loaf pan with parchment.
In a medium bowl, mix condensed milk and vanilla extract until combined.
In a stand mixer with a whisk attachment, beat heavy cream on high speed until stiff peaks form.
Fold whipped cream into condensed milk mixture.
Stir in apple mixture.
Pour 1/3 of the ice cream mixture into loaf pan and drizzle 1/3 of the caramel and 1/3 of the crumbles on top.
Repeat two more times ending with the caramel and crumbles on top.
Place loaf pan into the freezer overnight, or until firm.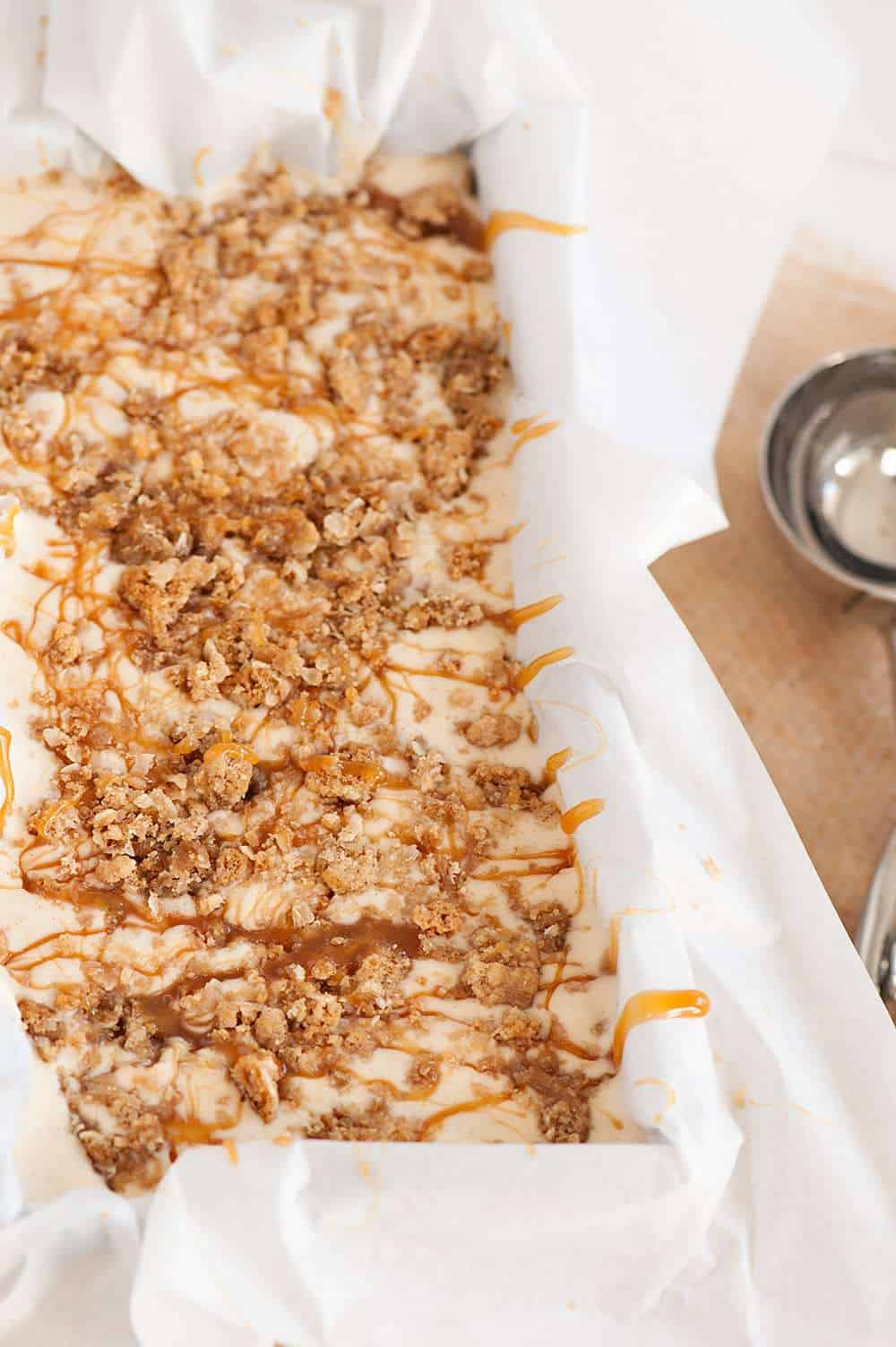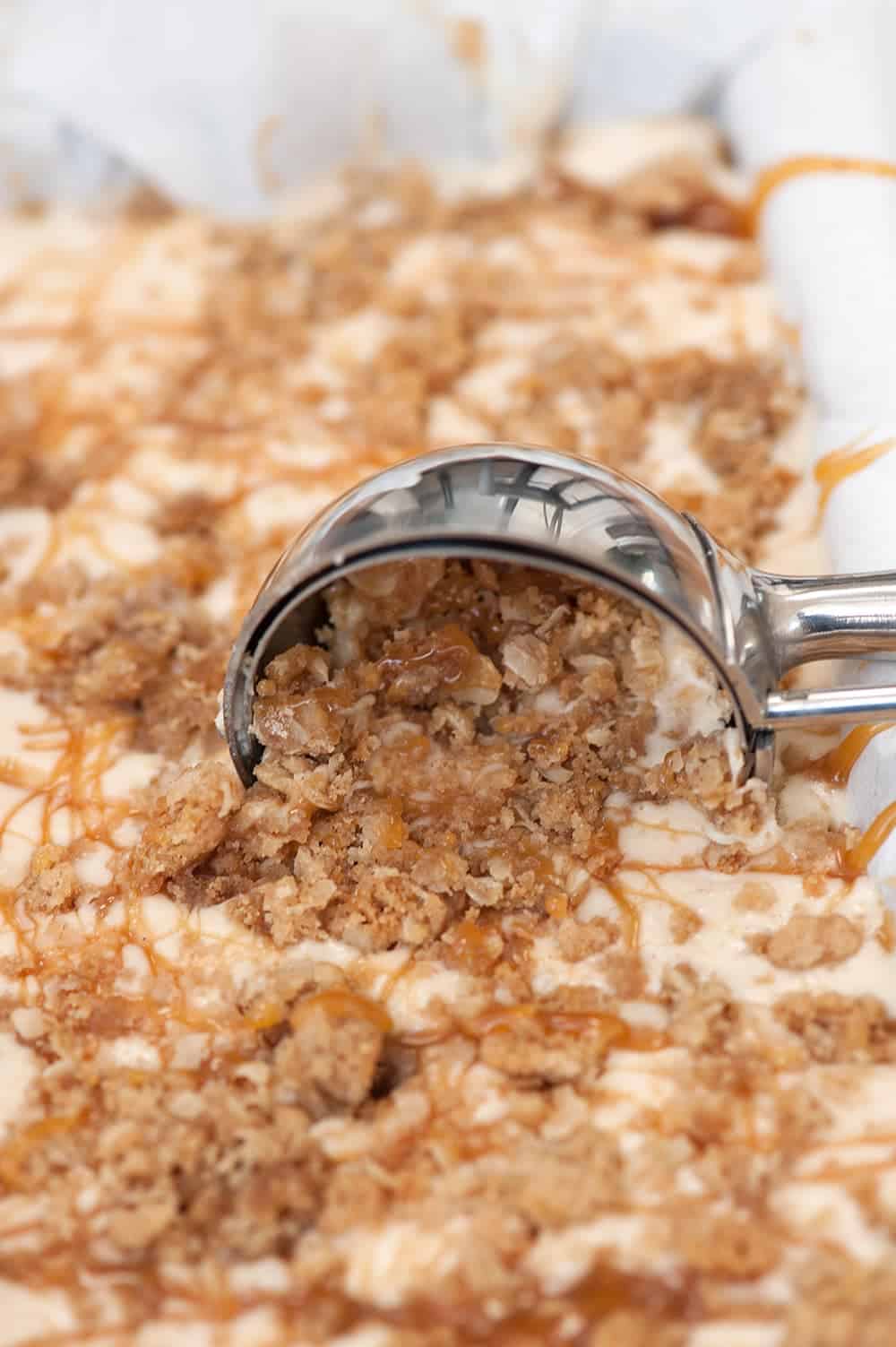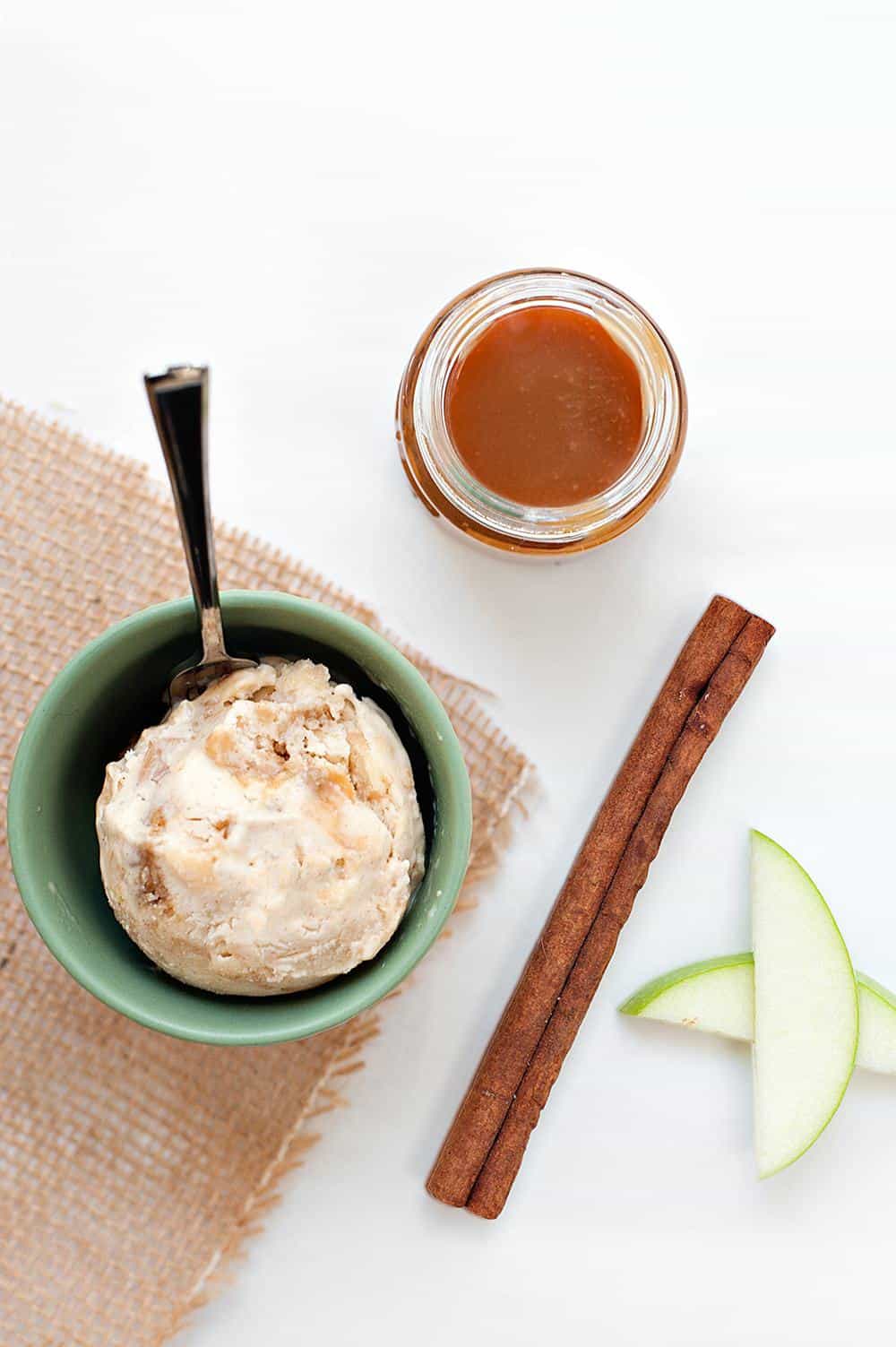 So what do you think?! Pretty perfect for a winter treat, right?!