The only thing better than getting to gift your DIY with kate spade new york, is getting an extra bag to keep for yourself, too. Or maybe that's just me. Either way, I'm really excited to show you how to DIY your favorite kate spade pieces with their new personalization shop!
It was basically like getting asked out for cake by the hottest guy in school when they reached out about collaborating. Can you say- "mega girl crush"?! Plus we recently bought a fake snow machine for the studio, and no one around here was going to turn down a good reason to bust it out. A giant arm full of gift boxes was just asking for a little snow, don't you think?
As for the DIY'ing, there are basically three ways to give your bag a twist— you can mix and max with tassels and straps, charms, and even spice things up with phrases and stickers. Or, bonus points if you do all the above! The hardest part is just deciding what bag to start with…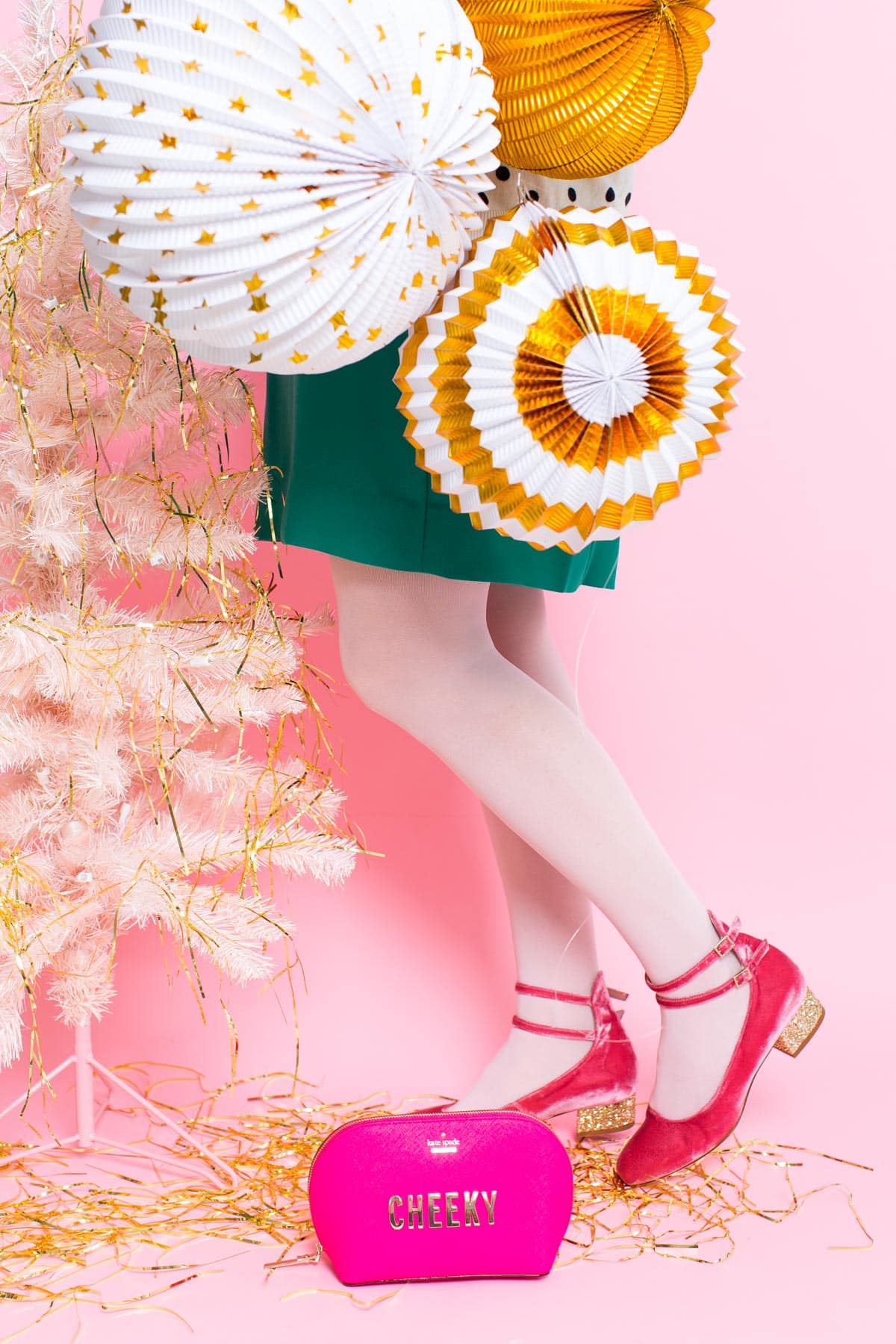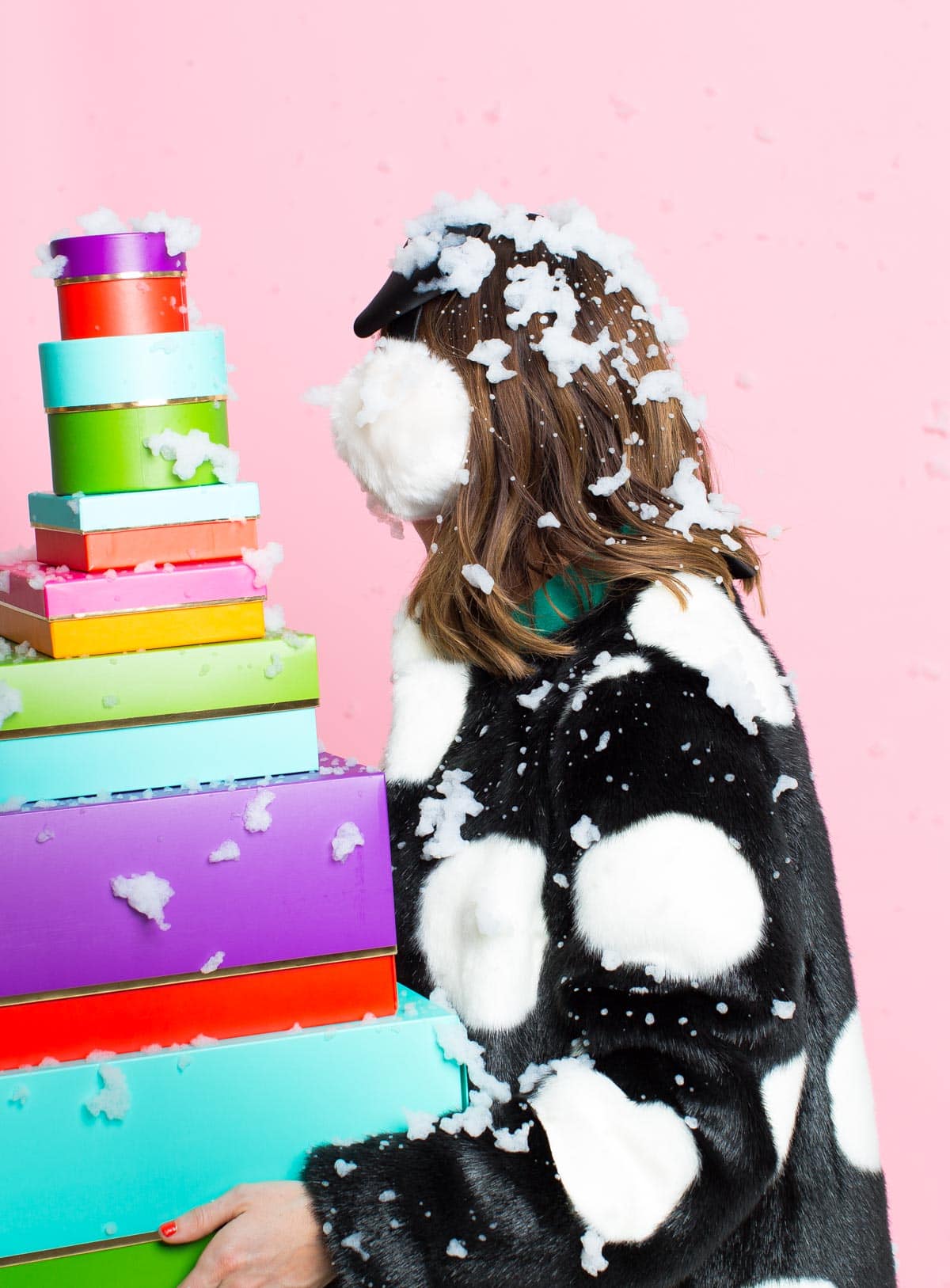 In the process of picking out goodies at our Houston flagship store, I decided that there are two kinds of kate spade new york shoppers. There are people that choose items like this…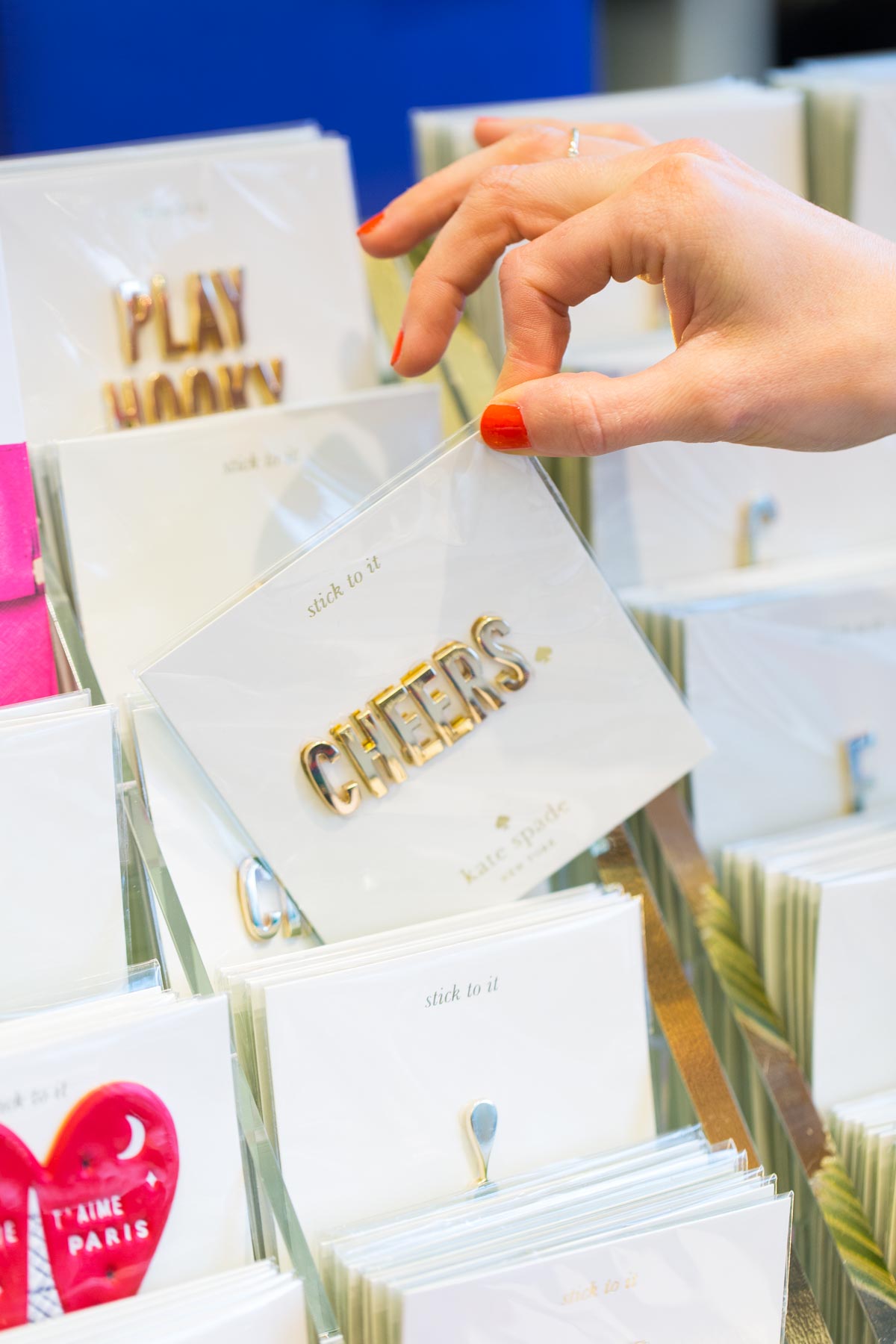 And then there are people like me. Pictured below. What can I say? I know what I like…and I like it all. Though I went home with literally a truck load of pretty things, we'll start with the charms.
I'm not really one to buy super holiday specific items. Basically I like to keep my options open year-round, and charms are the perfect balance for being the right amount of festive on any occasion.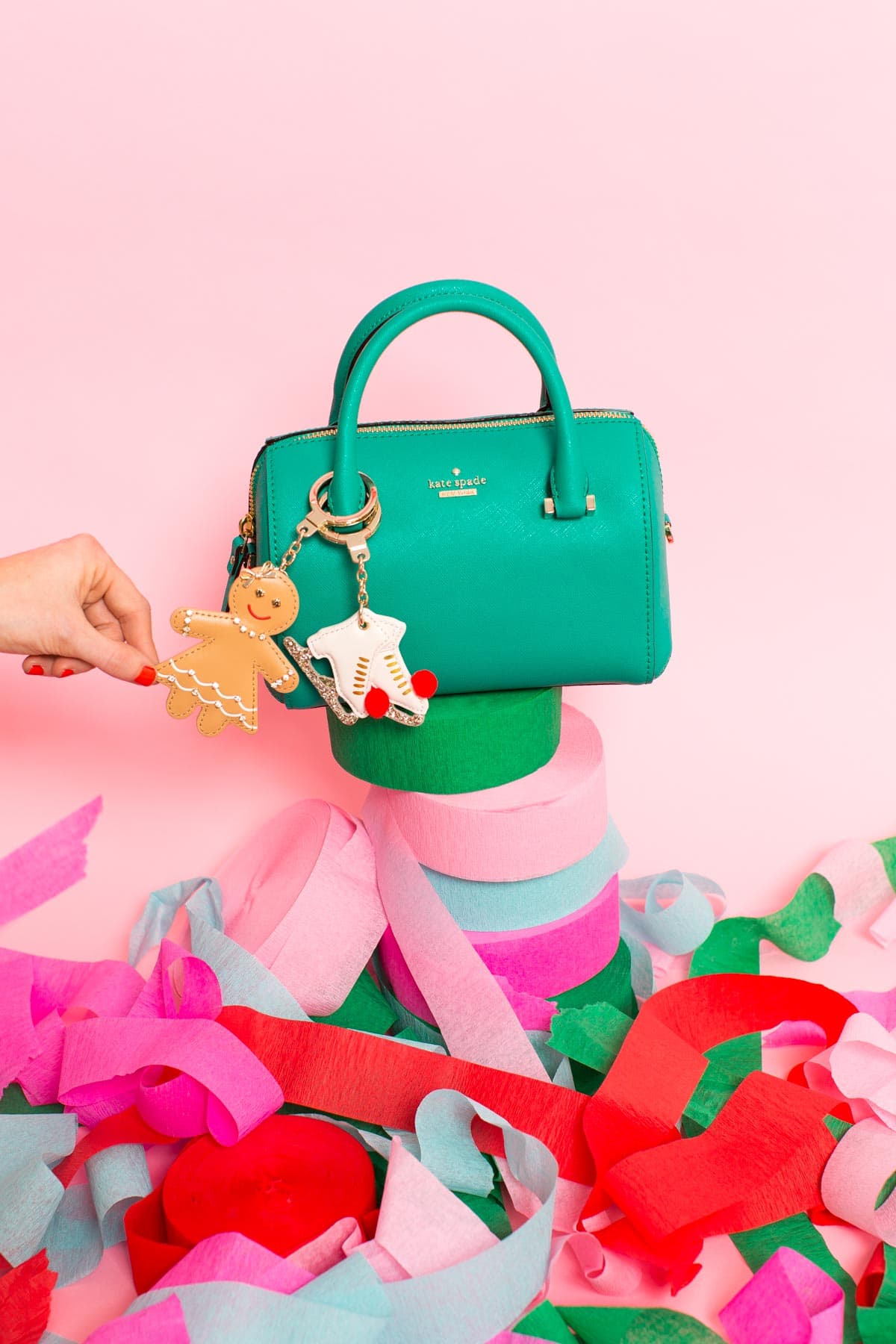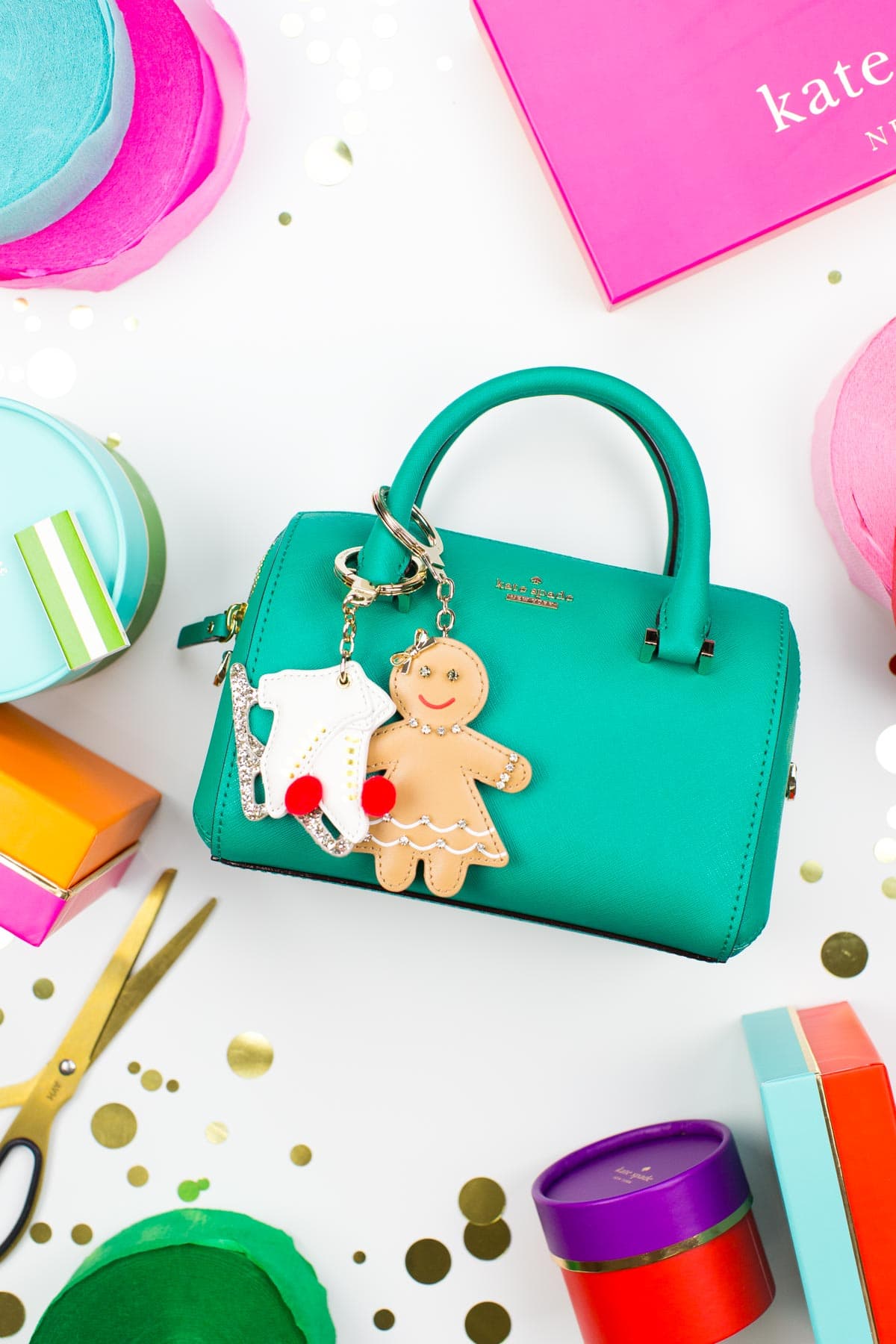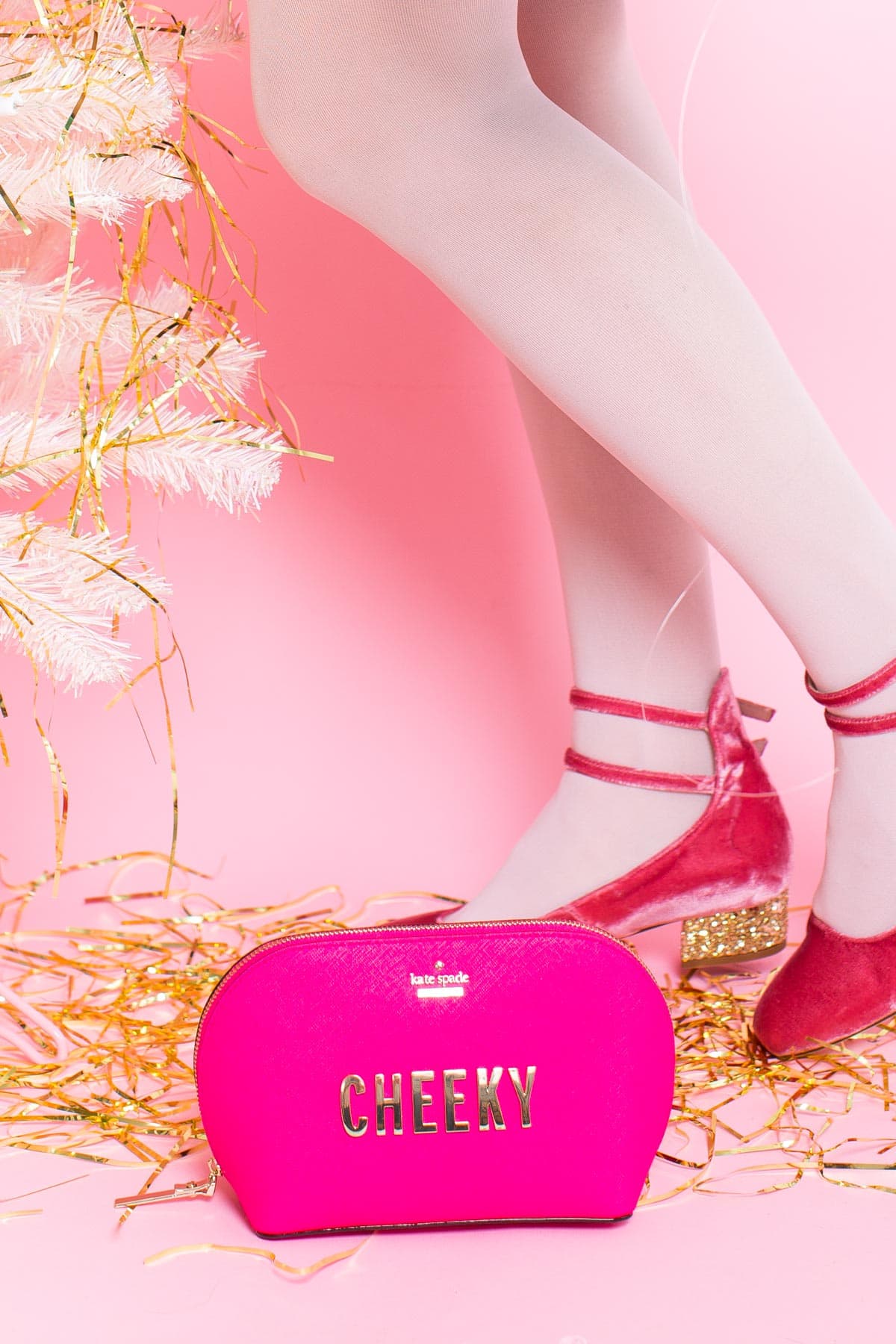 Next up are the letters. Whether it's a monogram for your bestie, a "Mrs." for your most recent wedding celebration, or a "cheeky" pouch for holding your unmentionables, it's safe to say I'm obsessed with these metal gold letters. I secretly want to get the whole alphabet just to use for every day DIY's, but don't tell.
The trick to these is a nice flat surface (preferably colorful!), and a blow dryer. All you have to do is peel the sticker backing off, place them, and use the blow dryer on them for 10-20 seconds.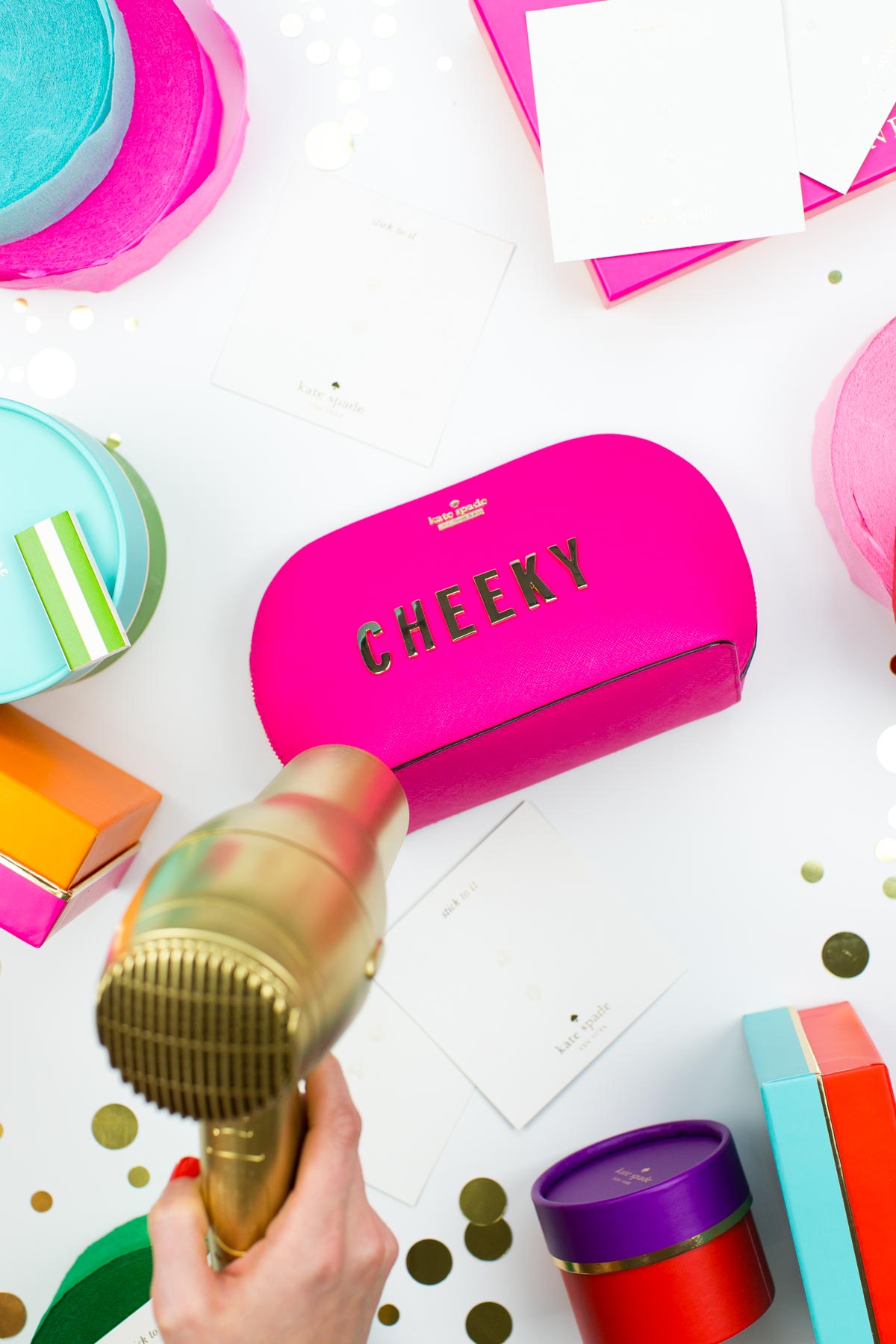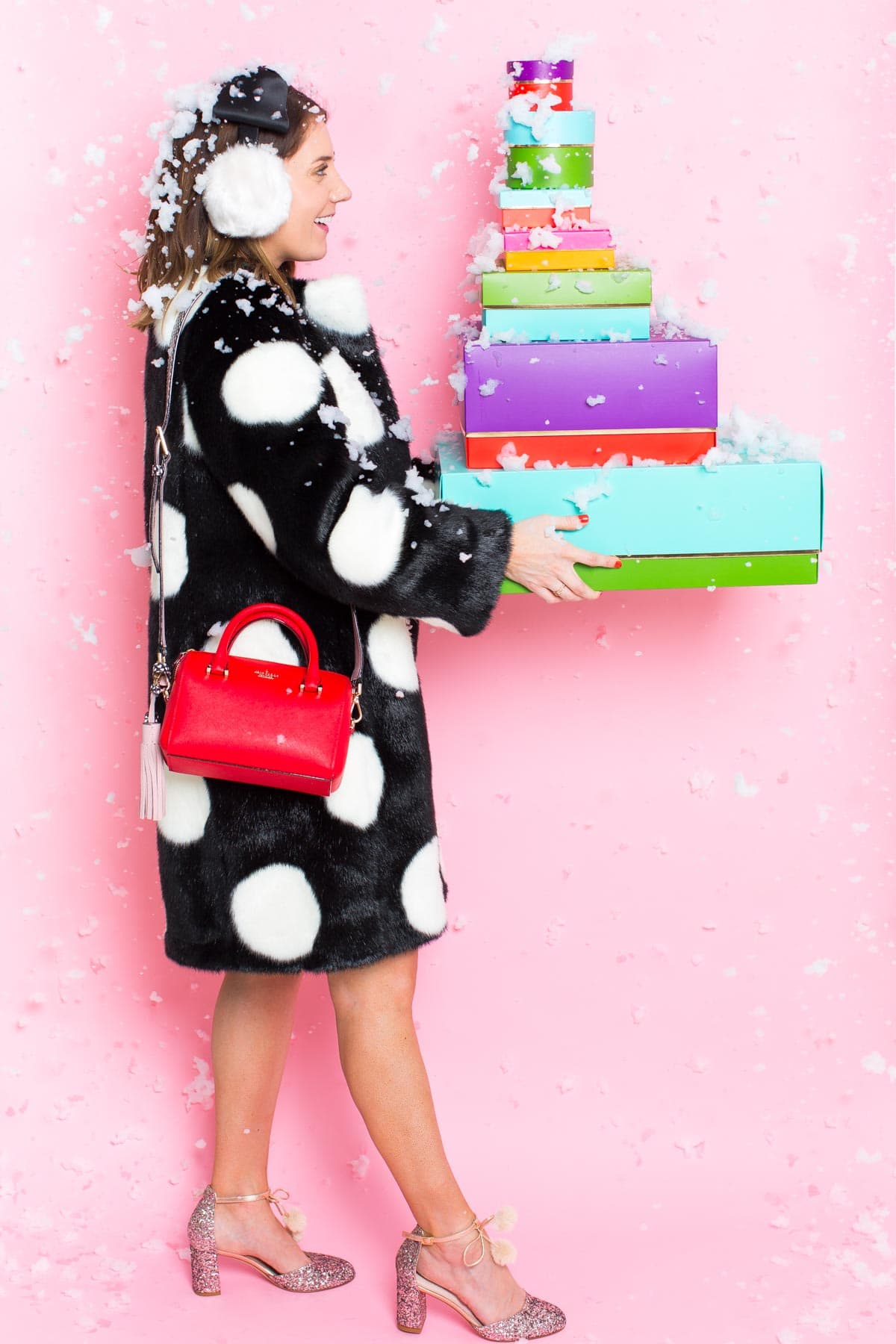 Last, but certainly not least, are tassels and straps. Not surprisingly, I went with an unexpected nude and polka dot combo attached to the red Cameron Street bag. It also didn't hurt that the reversible side was polka dots to match my coat, too.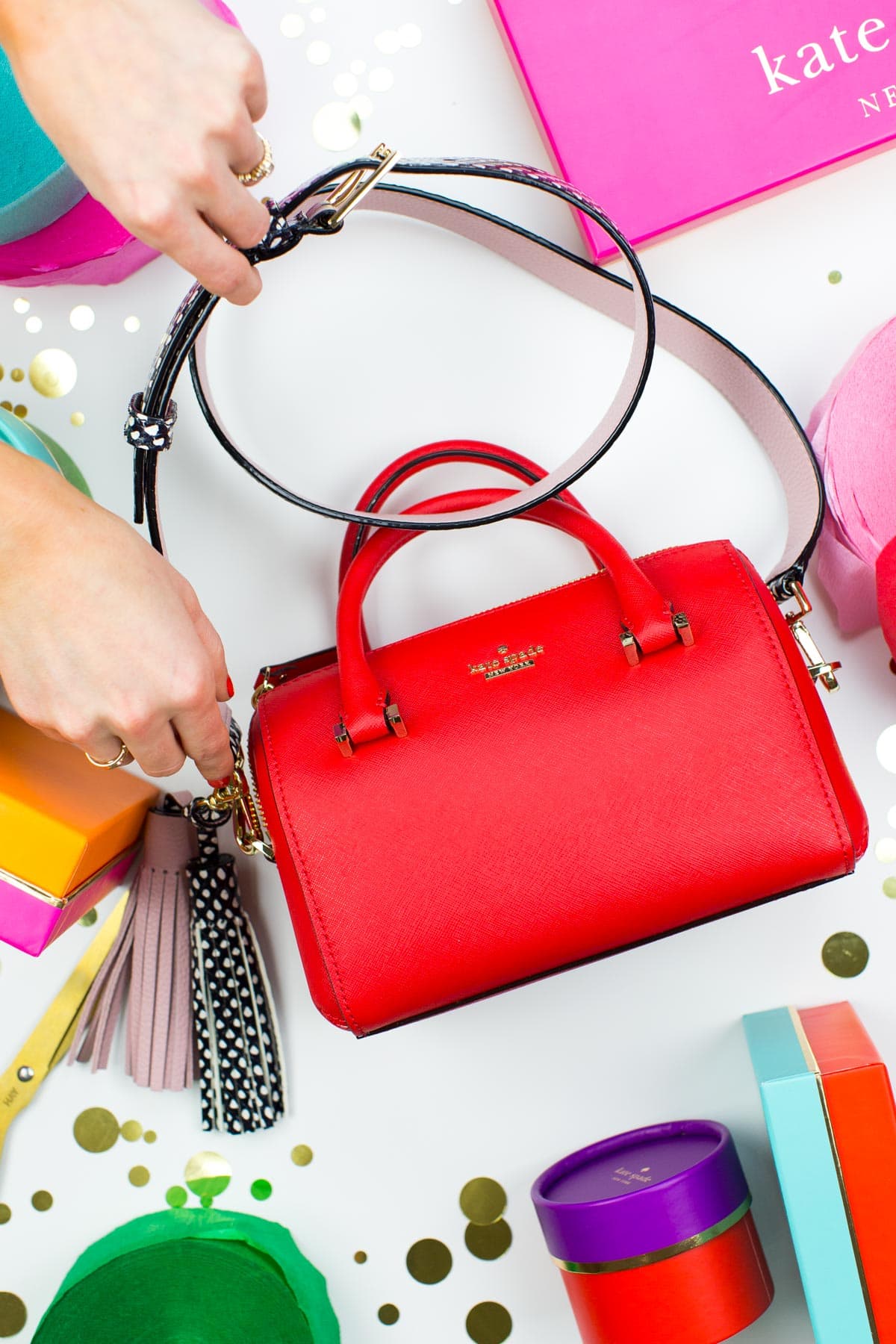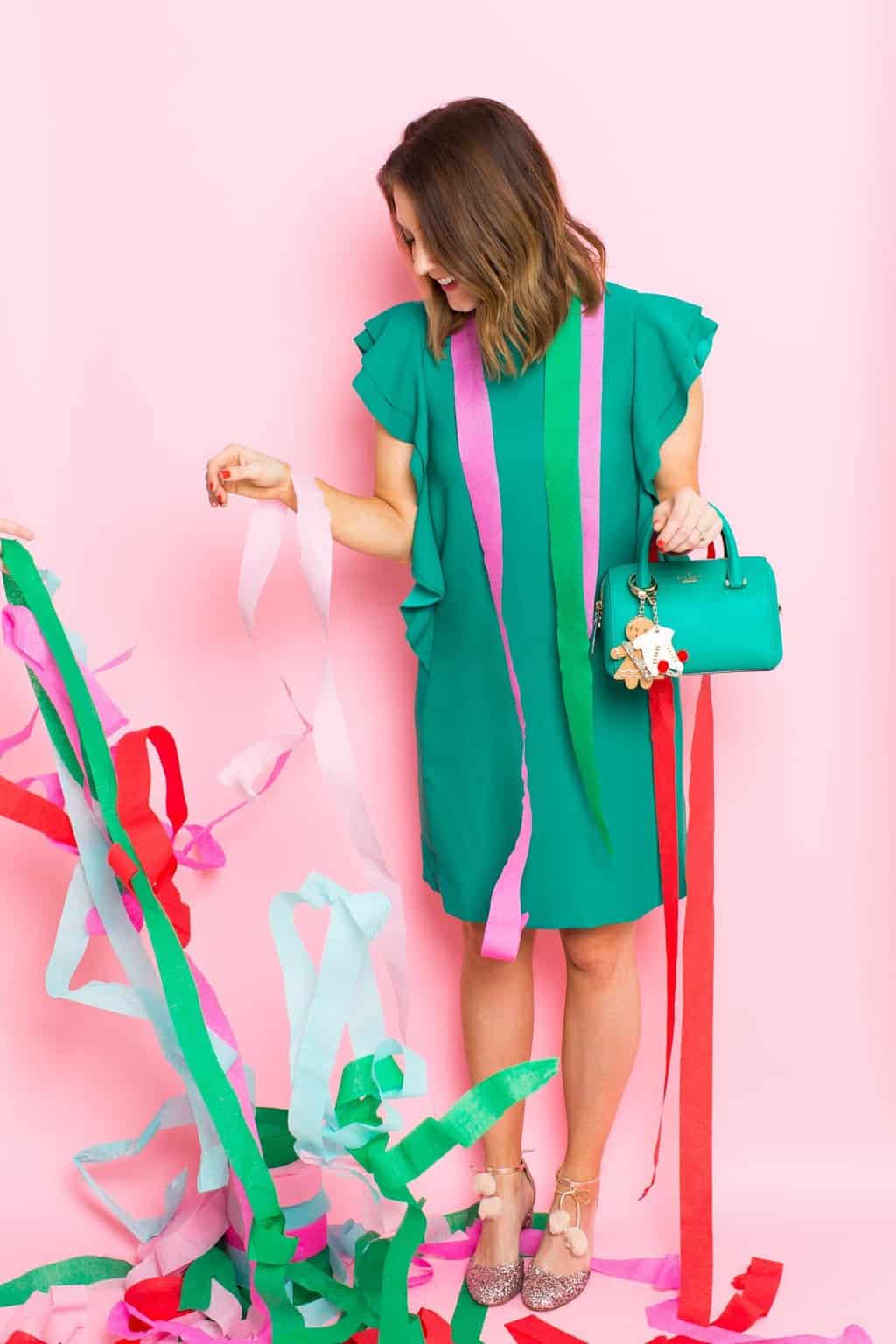 Seriously though, aren't those little pom pom ice skates the cutest charm you ever did see?! Getting the pretty gift boxes to go with them doesn't hurt either.
A huge hug and kiss to kate spade new york for partnering with us on this post! You can shop all of my pieces and outfits here:
Sources – Emerald Flutter Crepe Dress / Abigail Heels / Marcellina Heels / Gingerbread Lady Keychain / Ice Skate Keychain / Pink Granite Tassel / Cameron Street Lane Bag / Gold Adhesive Stickers / Cameron Street Abalene / Polka Dot Faux Fur Coat / Earmuff with Satin Bow