Upgrade boring leftovers with these fun and easy recipes. From lasagna to carbonara, there's a leftover spaghetti recipe for everyone!
Spaghetti is such a versatile food that's hard not to love from children to adults. Plus, it's easy to make in big quantities.
And being cheap and easy to make doesn't mean it's boring to eat. There are so many things you can do with the leftovers.
So why not upgrade your leftover spaghetti with these fun and easy leftover spaghetti recipes?
How to Save Leftover Spaghetti
Spaghetti is notorious for having a lot of leftovers because it's so easy to make too much.
It's not always the easiest to store without drying out.
Take plain noodles (without sauce) after cooking and put them in a plastic sealable bag or container. Then, keep them in the fridge for up to five days or in the freezer for up to three months.
When you're ready to use them again, reheat them in boiling water. Or put them in a recipe with lots of sauce so the noodles can soak up some of the liquid.
Another option is to leave the pasta in a closed container with a little bit of oil or leftover pasta water. (If you used broth or put a bouillon cube in the water, then definitely save some leftover water to keep your spaghetti freshier).
This helps it remain full of flavor but keep it from being dried out in the cold fridge.
Easy Leftover Spaghetti Recipes
1 — Spaghetti Balls with Meat Sauce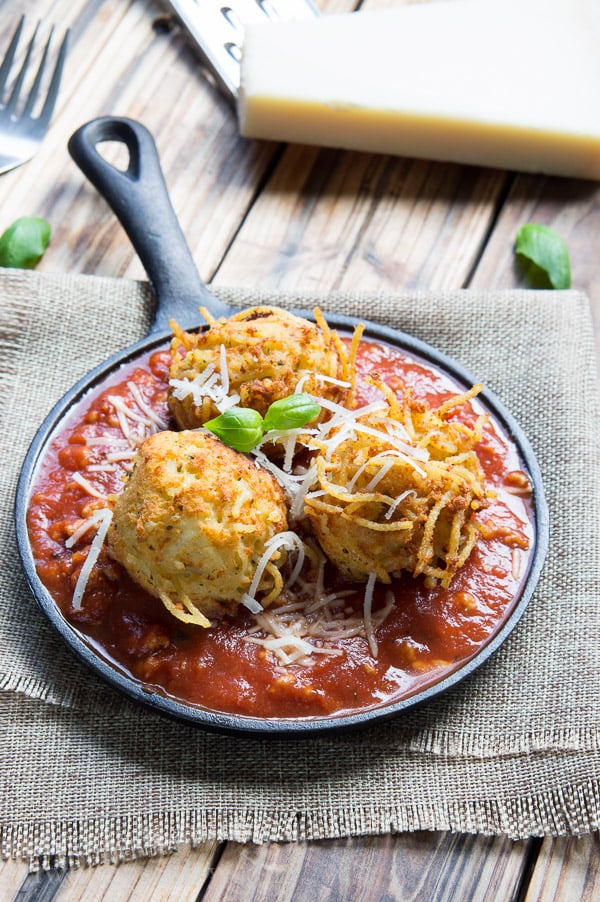 For an opposite take on the traditional spaghetti and meatballs, this recipe takes leftover spaghetti and makes them the balls of the dish with the meat sauce serving as the base.
Take the leftover spaghetti and mix it in with a ricotta filling. (The ricotta from this recipe is great).
You can also use pesto or a combination depending on the flavor profile you are aiming for.
When it's all nicely mixed together, make giant spaghetti balls. Jake an ice cream scoop (or use your hands if you like to get down and dirty in the kitchen) and
Those balls then get lightly fried in oil – or baked with a little spritzing of oil around them if you prefer.
The fried spaghetti balls are then placed on top of a red sauce – you can use ground beef, Italian sausage, leftover meatloaf, or go vegetarian, depending on your preference.
2 — Spaghetti Lo Mein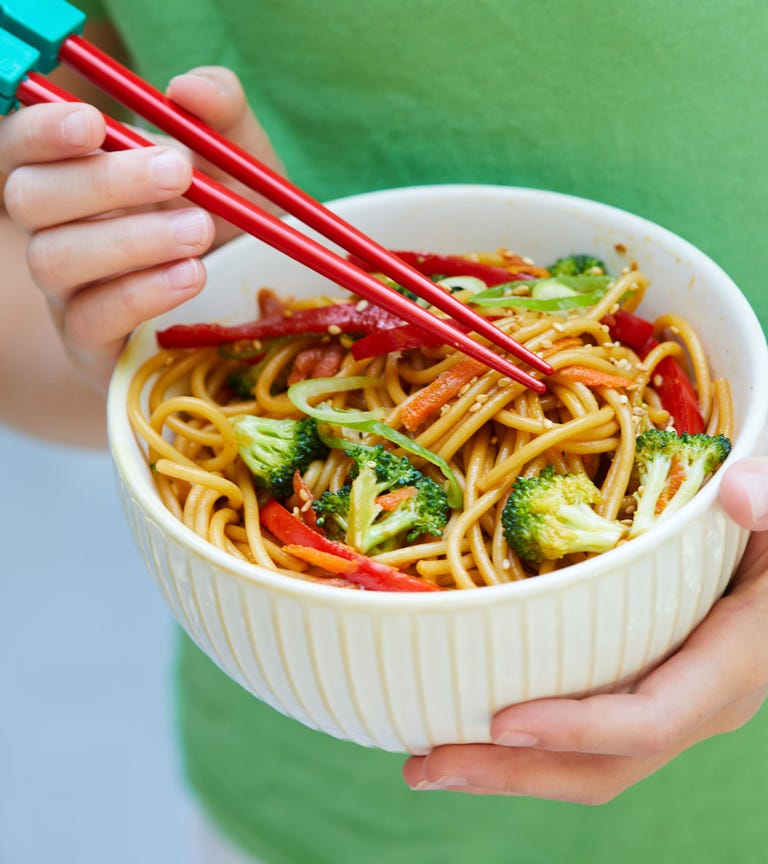 It sounds as weird as it is delicious. Depending on how "Italian" the spaghetti is with spices, it can be remade into a classic Chinese dish with just a few ingredients!
This is best for nights when you made too much pasta. So, leave some pasta aside for spaghetti lo mein tomorrow night!
3 — Leftover Pasta Frittata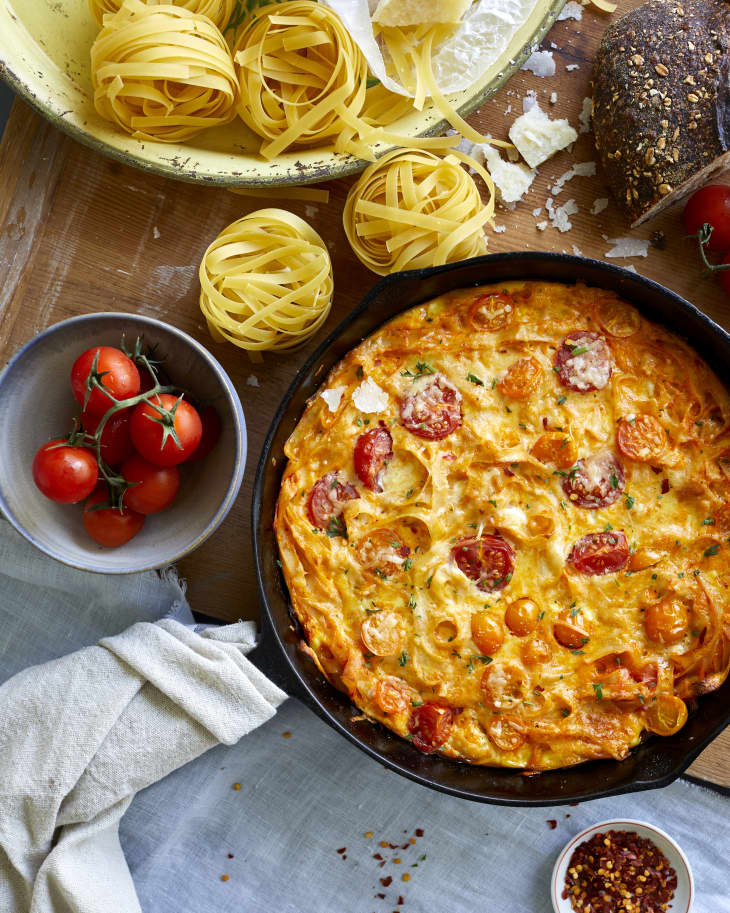 If your kids (or husband, for that matter) hate vegetables and love pasta, this is a great way to make them happy and help them get their vegetable intake for the day.
Plus, it makes for a great breakfast, lunch, or dinner!
Frittatas are essentially very sturdy omelets.
Simply add your desired vegetables like mushrooms, potatoes, spinach, or tomatoes to a hot skillet, mix in cheese and eggs, and voila! Your leftover spaghetti is now soft and chewy on the inside and crispy on the outside.
4 — Carbonara Frittata
Just because the leftover spaghetti uses a white sauce instead of a red sauce doesn't mean it can't be revamped, too.
This dish is kind of like a combination of an omelet and a quiche. Combine the ingredients together, bake, and ta-da! Your frittata is ready.
Since this recipe is baked, there is no need to have oil or butter in it… which means it's healthy, right?
This recipe can be eaten for breakfast, lunch, dinner, or any snack. If you're looking to eat it in the morning, it pairs nicely with orange juice and fresh fruit.
5 — Spaghetti Grilled Cheese Sandwich
Talk about yum! This sandwich has all of the makings for a delicious plate of spaghetti but with a little extra – garlic bread.
Plus, cheese and sauce oozing out of the sides only make it better – although it will get a little messy.
It's a beefy bolognese sauce and leftover pasta that is sandwiched in between layers of fresh mozzarella and topped with parmesan garlic bread. The melted mozzarella cheese actually helps keep the spaghetti contained – somewhat, at least.
Carb on carb is maybe the best way to eat spaghetti.
6 — Leftover Spaghetti Boats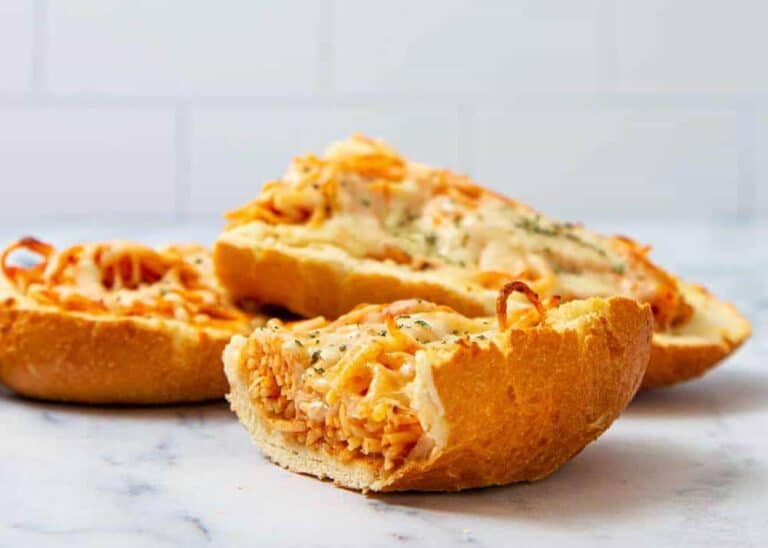 Similar to the spaghetti sandwich, this recipe is bread and spaghetti – a boatload of delicious, cheese-soaked carbs.
Because of its design, it is great for kids and is less messy since it uses hollowed-out french bread instead of two slices of garlic bread.
7 — Spaghetti Cheese Casserole
Casseroles are a wonderful way to use up leftovers, and leftover spaghetti is no exception.
Consisting of only eggs, milk, dry mustard, flour, Monterey jack cheese, and leftover spaghetti – it's easy to put together if you don't have time to run to the store.
Swap out that Monterey jack cheese for your preferred pasta cheese like parmesan or mozzarella, too.
To take things up a notch, make this easy side dish with broccoli, chicken, or ham, too.
8 — Baked Spaghetti Pie
Spaghetti pie is exactly what it sounds like – a pie made of spaghetti. It's chock-full of amazing veggies, and the pie design makes it easy to hide veggies in it for picky eaters.
It also has ground beef (optional), regular tomato spaghetti sauce, seasonings, and leftover spaghetti.
It's very easy to make on busy weeknights or makes a great comfort food for when you're tired and need to carb up.
9 — Spaghetti Salad
Um, what? I know, it sounds strange. But think "pasta salad" and stay with me.
Imagine a cold leftover spaghetti dish that has some delicious ingredients added to it and mixed around to be served as a side.
For example, shredded chicken (if the pasta didn't use meat initially), cherry tomatoes, bell peppers, zucchinis, regular or capriccio olives, and shredded cheese on top (optional).
Top it with some homemade Italian sauce or a creamy tomato sauce.
It's a healthier variation of spaghetti. And just like pasta salad is the perfect side dish to take to a barbecue or potluck with its short macaroni, longer noodles are just as delicious!
10 — Leftover Spaghetti Lasagna
Lasagna is good. Spaghetti is good. And together they are great!
This leftover spaghetti recipe takes on the design of traditional lasagna by layering leftover spaghetti noodles in a dish with velvety white ricotta cheese sauce, meat sauce (optional), and parmesan or mozzarella cheese.
This combination of spaghetti and lasagna lets you enjoy the best of both meals while also using up your leftovers.
11 — Spaghetti Pizza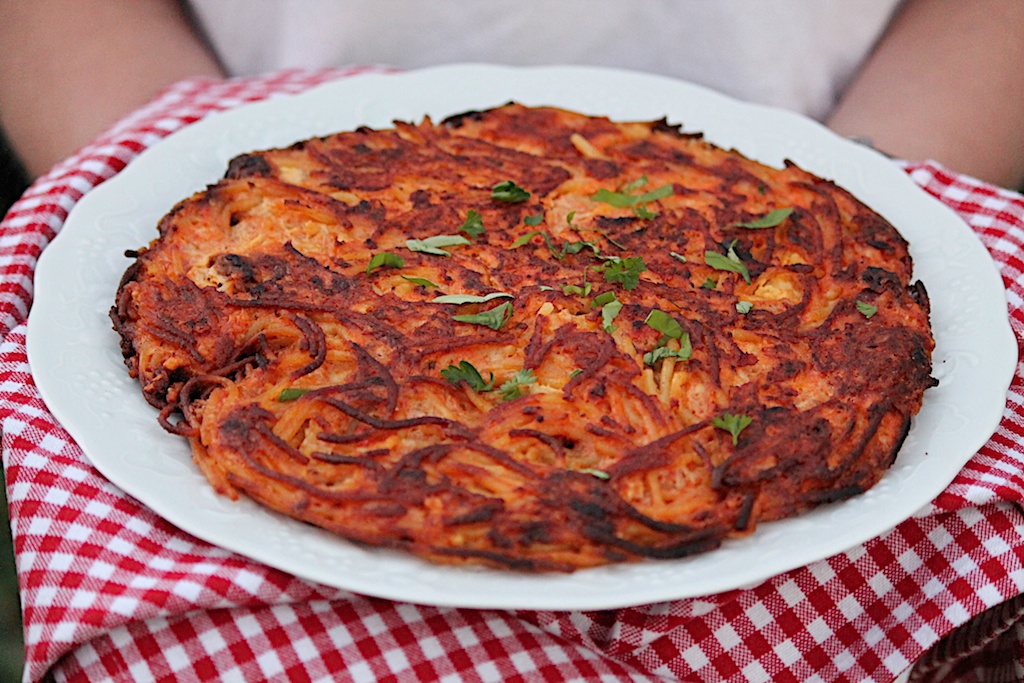 If you're already eating Italian, why not make it Italian squared?
While it isn't traditional pizza as we normally know it, it's still great.
Heat the noodles with sauce, oil, eggs, and cheese until crispy. Just shape the spaghetti noodles into a pizza shape and press them together, so they stick well while it's cooking. Flip it off the plate, and suddenly, a no-bake spaghetti pizza is all yours!
Top it off with some melted cheese or use a creamy white sauce or pesto instead of the traditional tomato sauce to change up the flavor profile.
12 — Spaghetti Meatball Muffin Bites
This is a great recipe to use up leftover spaghetti for social distancing parties or small-bite snacks since it is served in individual portions and easy to hold.
They sport the size and shape of a muffin but have the classic spaghetti and meatballs flavor.
It's easy to customize this to your liking with different meats for the meatballs (ground beef, Italian sausage, lamb, etc.) or topping it off with a different type of melted cheese on different batches.
Regardless of how you decide to put it together, these spaghetti meatball muffin bites will be a winner at any event you take them to.
13 — Spaghetti Donuts
Similar to the idea of the muffin bites, spaghetti donuts involve morphing leftover spaghetti into another favorite food shape.
It just requires eggs, grated parmesan cheese, marinara sauce, spaghetti noodles, and bacon (optional). Form the mixture into a donut shape and bake until firm – roughly 15 minutes.
Top it off with additional marinara sauce and melted cheese.
Conclusion
Spaghetti is a dish loved by so many around the world and is a staple food in so many pantries.
As easy as it is to make too much spaghetti, it's just as easy to use it up the next day with a variety of different, tasty leftover spaghetti recipes.
Get to cookin' and bon appetit!