Love chili but not sure what to do with all the leftovers? Check out these delicious leftover chili recipes!
Chili is a great dish because it's so versatile. From vegetarian to classic and turkey to spicy, there's a type of chili for everyone.
Plus, it's easy to throw in a pot, serve on game day to a crowd, and freeze.
The downside is that chili is hard to make in small portions. So there are almost always leftovers.
Luckily, leftover meat and carbs are where it's at. Whether it's leftover spaghetti, leftover meatloaf, or leftover chili, you're bound to have a delicious next few days creating delicious meals with these leftover chili recipes.
Leftover Chili Recipes
1 — Frito Pie Mason Jars
This Frito pie mason jar recipe is the perfect way to use leftover or frozen chili for a big party.
Most of us have too many leftover mason jars from jams and peanut butter to keep track of, and a great way to use them (and maybe get rid of them!) is these Frito pies.
This recipe is a midwestern American take on the Mexican casserole. It's essentially chili, cheese, and crunchy corn chips (such as Fritos).
To spice it up, you can (of course) add jalapeños, rice, onions, sour cream, salsa, enchilada sauce, and refried beans.
The possibilities are endless with this delicious, individually-served dish!
2 — Chili Cheese Dogs
Using up leftover chili couldn't be easier with this chili dog recipe.
Pour some leftover chili over your favorite hotdog, sausage, or corn dog, and top with cheese.
That's it! They might get messy, but they're worth every bite!
3 — Chili Cheese Lasagna
Chili goes well with anything that requires a meat sauce and lasagna definitely fits in that category.
Use leftover chili as a meat base for this Tex-Mex/Italian remix. Nothing better than stewed meat, cheese, and pasta!
If you decide to make the chili for this recipe and not use leftovers, don't cook it too long because it will cook more when it bakes.
4 — Chili Spaghetti
Like lasagna, spaghetti can be easily vegetarian or easily fit for meat lovers.
Make some pasta and top it off with hot leftover chili and cheddar cheese. It's a delicious fusion of Italian and Tex-Mex that couldn't be easier to make.
5 — Chili Cheese Fries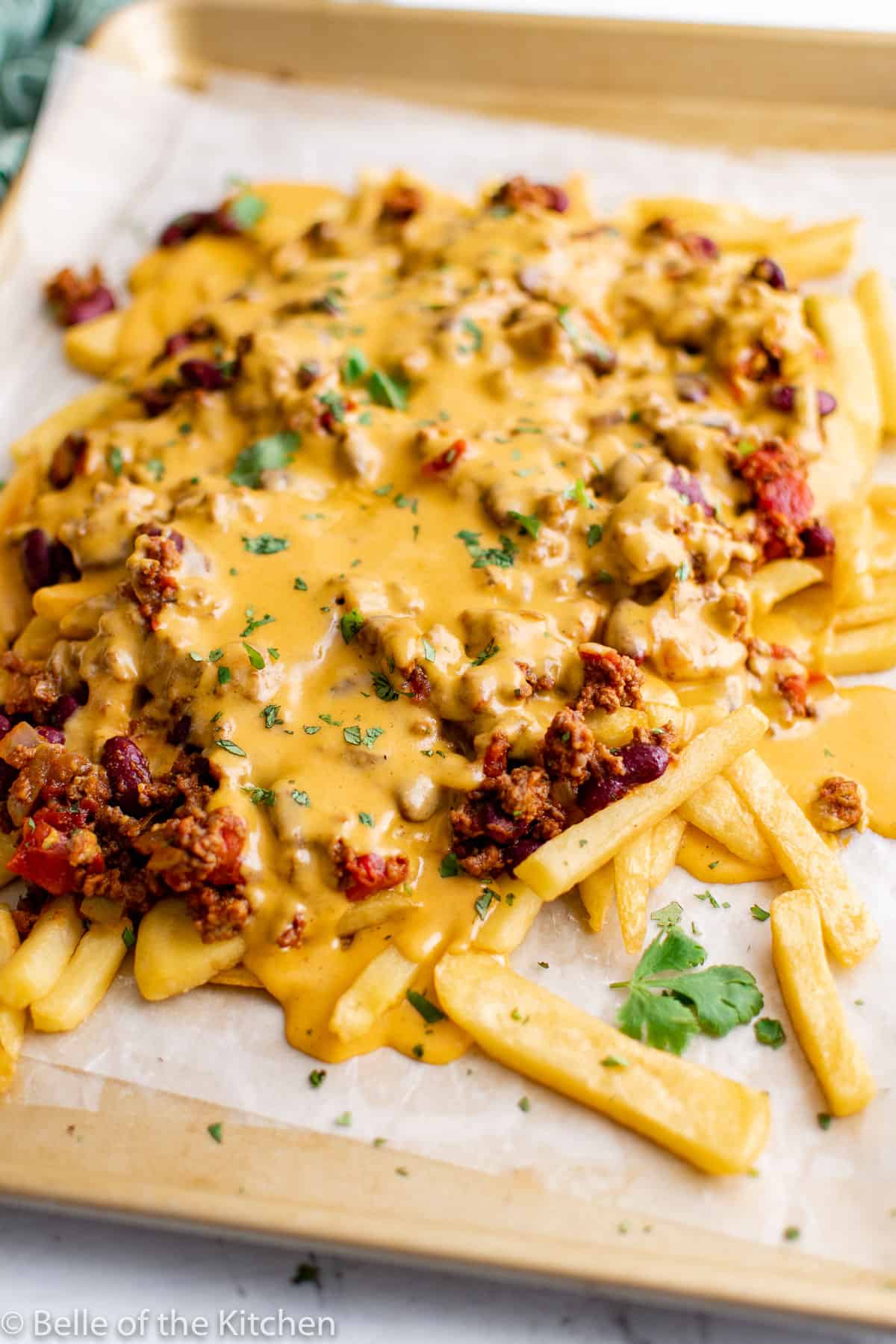 Potatoes and chili should be like peas and carrots. They work so well together in texture and flavor that it's hard to have only one serving of them.
It only makes sense with how delicious french fries are to top them off with a load of chili and melted cheese.
Make this recipe that much better by using homemade french fries, too!
6 — Chili-Loaded Baked Potato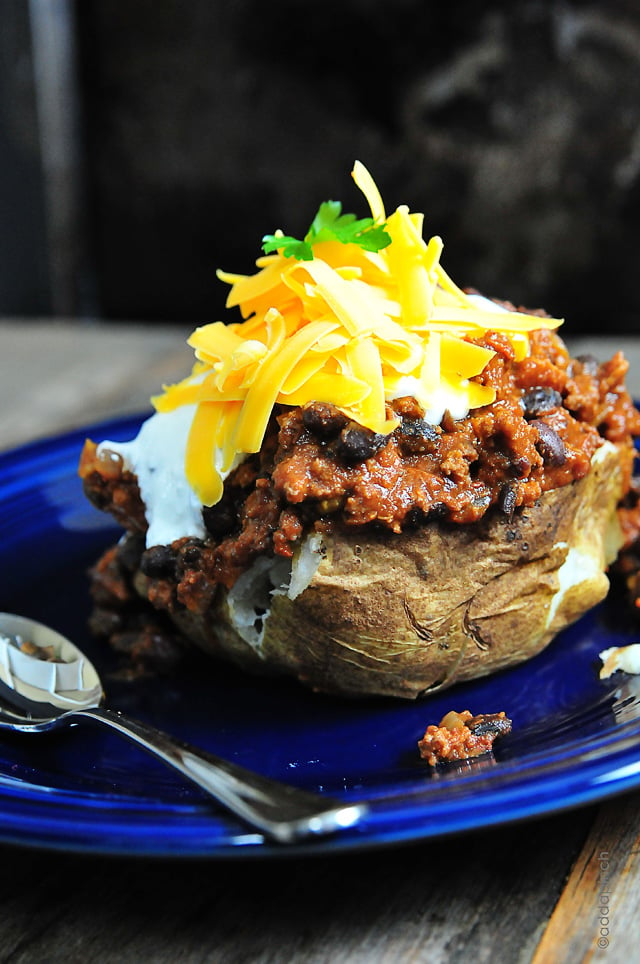 Baked potatoes should be a food group on their own.
They have carbs from the potatoes and can easily be customized with a variety of toppings for any occasion.
Plus, have we established how well chili and potatoes go together?
Using either sweet potatoes or regular potatoes, stuff these tender baked potatoes with leftover meaty chili, and top them off with sour cream, green onions, cheese, and jalapeños.
These are also great because you can make them up to a day ahead. And they're just as delicious as if you made them that day.
7 — Chili Cheese Baked Potato Casserole
If you want to make the combination of baked potatoes and chili even easier, put them in a casserole and bake them together!
Simply top diced potatoes with chili, cover, and bake for 90 minutes. Add in cheddar cheese and allow it to melt.
Serve topped with sour cream and green onion. Easy as pie! Or casserole…
8 — Chili Potato Nachos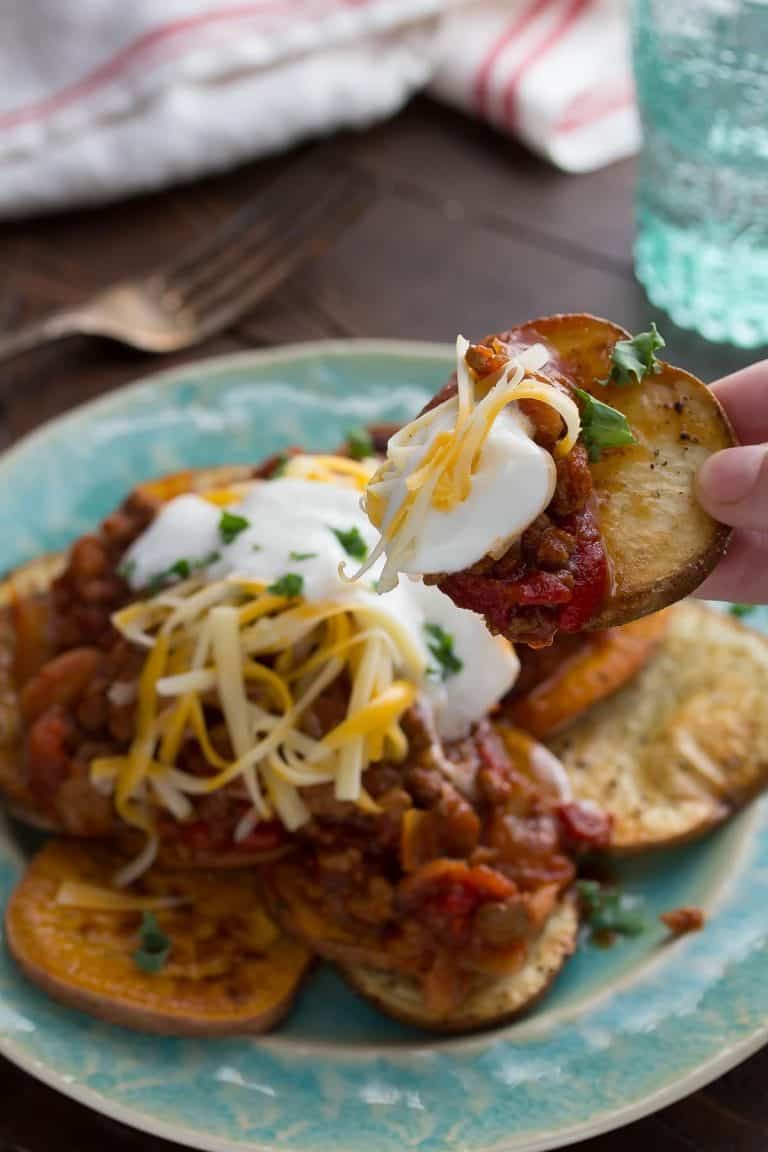 Since chili is originally a Mexican dish, why not use the leftovers to revamp it into yet another classic Mexican dish?
Although you can use regular chips and pour chili over it for nachos, mix it up even more and use potatoes instead.
It's not only healthier but fills you up with great food quickly!
9 — Chili Cheese Dip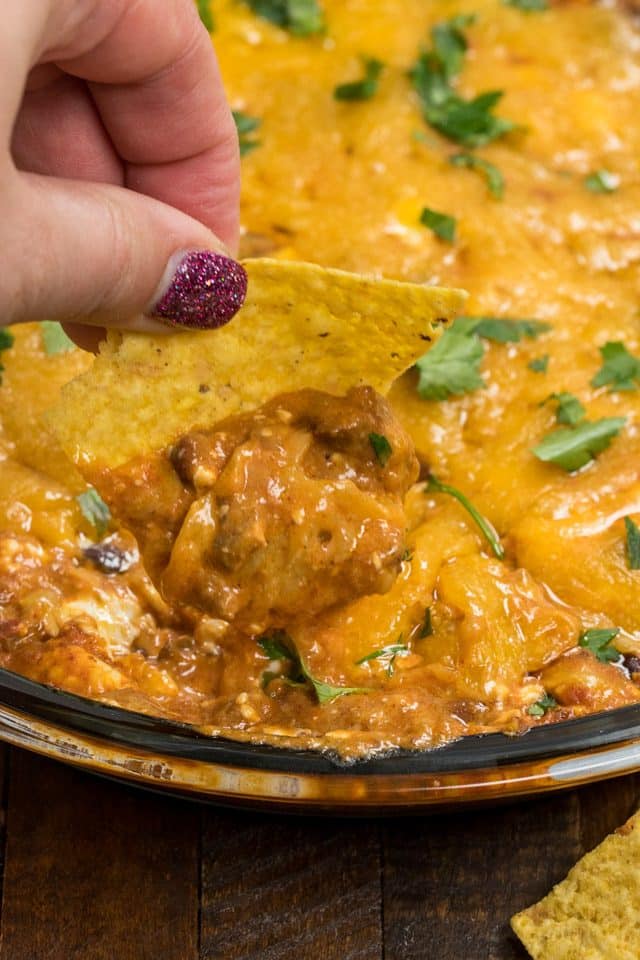 If you're looking for the perfect game day dip, look no more.
Put your leftover chili in a baking dish, add greek yogurt or cream cheese, some shredded cheddar cheese, and bake it up until the chili starts to bubble.
It's a layered dish of deliciousness. It's also a great dip for raw veggies, chips, or crackers.
10 — Chili Mac 'N' Cheese
Honestly, mac 'n' cheese is where it's at. Combine that with chili, and you have an impossibly good mixture of two incredible comfort foods.
Simply make your favorite mac and cheese and add in some leftover chili to taste. Mix it up, and bon appetit!
11 — Chili Cheese Empanadas
Empanadas are essentially fried or baked filled dough. So why make a new filling when you can use leftover chili for your next batch?
The flakey dough is stuffed with spicy, delicious chili and topped with cheese before being fried or baked.
The dough isn't hard to make for the empanadas. But if you're short on time, then store-bought dough works well, and the empanadas are still just as delicious.
12 — Chili Taco Salad
Why cook more ground beef when you already have seasoned beef in your chili?!?
For this recipe, just add a base of your favorite greens and add cheddar cheese, bell peppers, crushed tortilla chips, and a big scoop of leftover chili.
Top it off with guacamole and sour cream to boot. Yum!
If you want to stick with the Tex-Mex theme for the meal, try a skinny jalapaño margarita and chili chocolate churros for dessert.
13 — Chili Burrito
Chili and tortillas make a wonderful pair.
Mix your leftover chili with leftover rice and cheese of your choice. (Try brown rice and cheddar cheese to start with).
Then, wrap that delicious mixture up into a tortilla! Top it off with a homemade pico de gallo of tomato and onions.
If it's breakfast time, add an egg or two to the mix.
Pair it with frozen margarita to cool down and light up your taste buds at the same time.
14 — Wet Chili Burrito
A wet chili burrito might sound strange, but boy, is it good!
It's simply a burrito that's covered in red chili sauce (think: enchilada). The sauce is made up of a mix of tomato soup, enchilada sauce, and leftover chili.
It's quick, most of the ingredients you probably already have on hand, and it's hearty.
15 — Chili Joes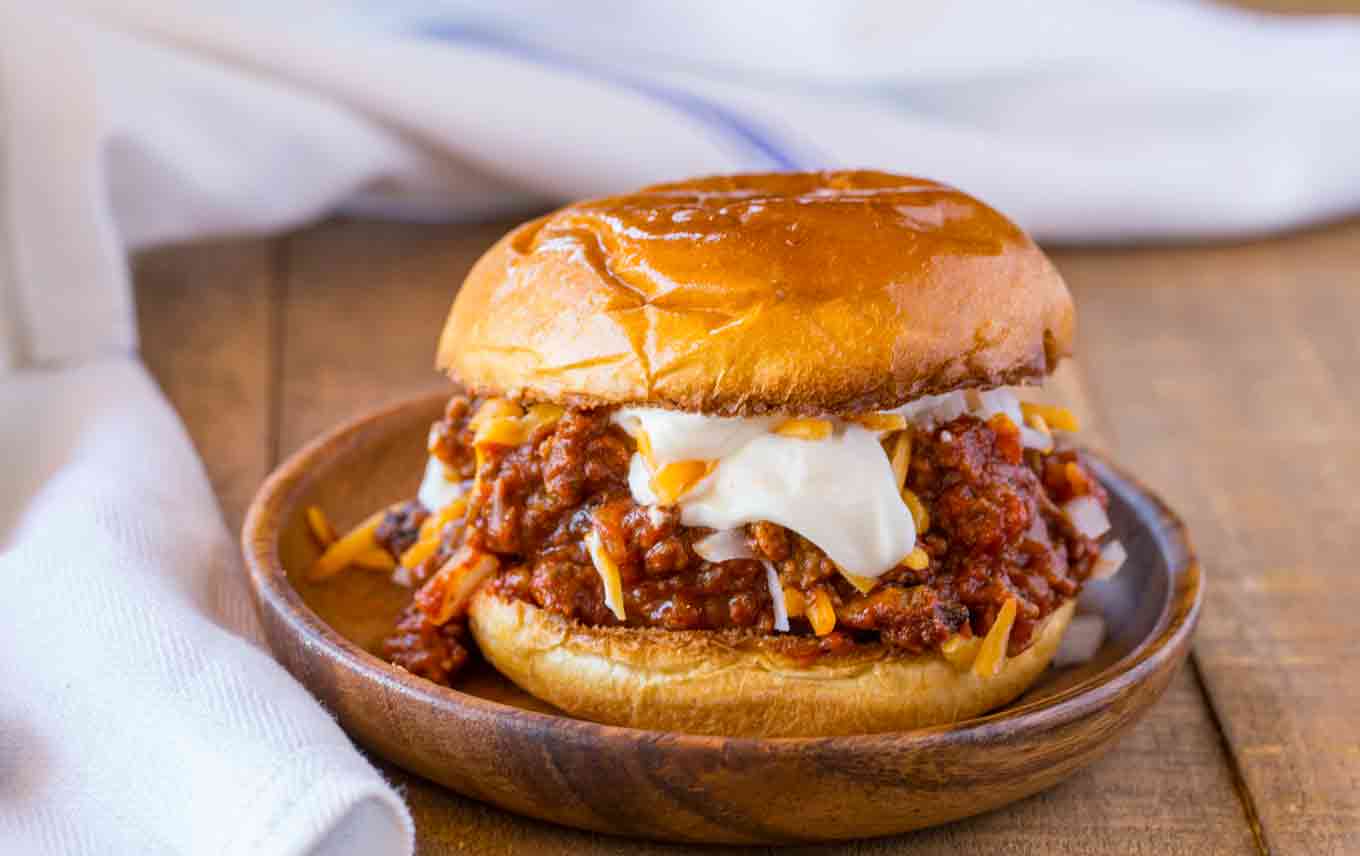 This recipe has you make chili as part of it, but if you already have chili on hand, skip the chili ingredients and add it to the Joe!
Chili Joes work out well because Sloppy Joe's and chili have very similar flavor profiles. The biggest difference is one has toasted slider buns, and one comes in a bowl.
Either way, drop a dollop of chili on those buns, add your favorite toppings and cheese, and you're good to go!
Change things up by using chunks of cheddar cheese instead of shredded cheese.
If you're looking for side dishes for these Joes, try homemade french fries, garlic fries, onion rings, or a deliciously refreshing salad.
16 — Chili Cheese Grilled Sandwich
The messier a food is, the better it tastes, right? This recipe is no exception to that idea.
Mix up your leftover chili with cheese, and place a large dollop between two pieces of buttered bread.
This delicious sandwich can be put together on the stove or in the oven. Can't beat this delicious mix!
More Easy Recipes
Looking for more quick and super easy snacks? Check out a few of our favorites from our archives —
More of Our Favorite Recipe Round Ups