I'm going to be honest up front here and say that we're only t-minus five weeks until the final room reveal for ORC and we haven't even started on our master bath renovation. So naturally, it seemed like a good idea for our One Room Challenge week 2 post to share our master bath design plan so that I can pretend that we're farther along than we actually are.
Here's the deal, when Hurricane Harvey came through Texas, it made it near impossible to land a contractor on any smaller home projects because A LOT of people lost everything. So who are we to compete with people that need their entire home gutted and rebuilt when we're just looking to remodel a bathroom before our baby arrives?
There's a whole lot more to our current construction woes than that (you know this already if you follow along on IG stories!), but trust me when I say the fear that we may not get the bathroom complete in time is VERY REAL.

MY LATEST VIDEOS
But let's not discuss the bad and instead focus on the pretty gold things. Like our dream gold shower kit and marble everything. As a quick reminder, these were our before photos of our master suite that we'll be renovating…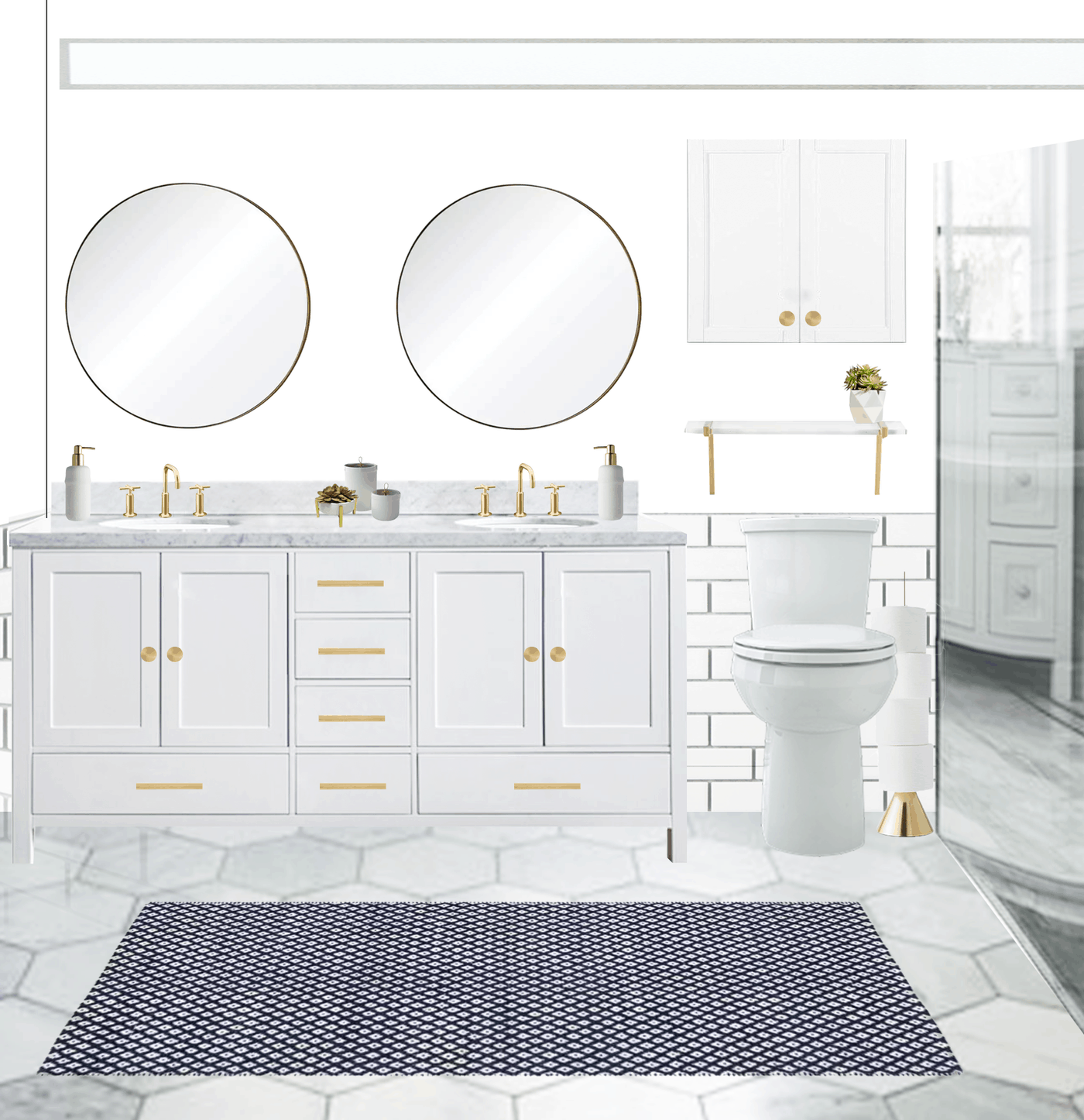 And this is the visual plan for our new master bathroom. While I haven't picked out all of the little styling details just yet, this gives you the general gist of it! One major change to note is that instead of having a tiny pocket door for the bathroom, we're switching it our for these True Craft double doors from Metrie with a gold Emtek hardware set.
Essentially we'll be gutting the current bathroom and replacing it with updated fixtures in the exact same placements/layout. The only exception is removing the weird dividing wall between the toilet and walk-in shower with a glass wall instead. Also removing the current built-in tub with a modern freestanding one.
The current "custom" (I use that word lightly as it's the CHEAPEST materials ever, haha) vanity is getting replaced with this one from Overstock, and thankfully it has countertops and sinks already built-in which cuts out quite a bit of work and time. I'm very excited to see the new gold faucets and knobs from The Mine with that marble top!
All of the tile is getting ripped out as well, and we'll be replacing it with large marble hexagon tiles for the floor, and white subway tile for the walls. Our big debate now is — which grout to go with for the tiles? Should we do light grey for all of it, or white for the floor and grey for the subway tile to tie the two together?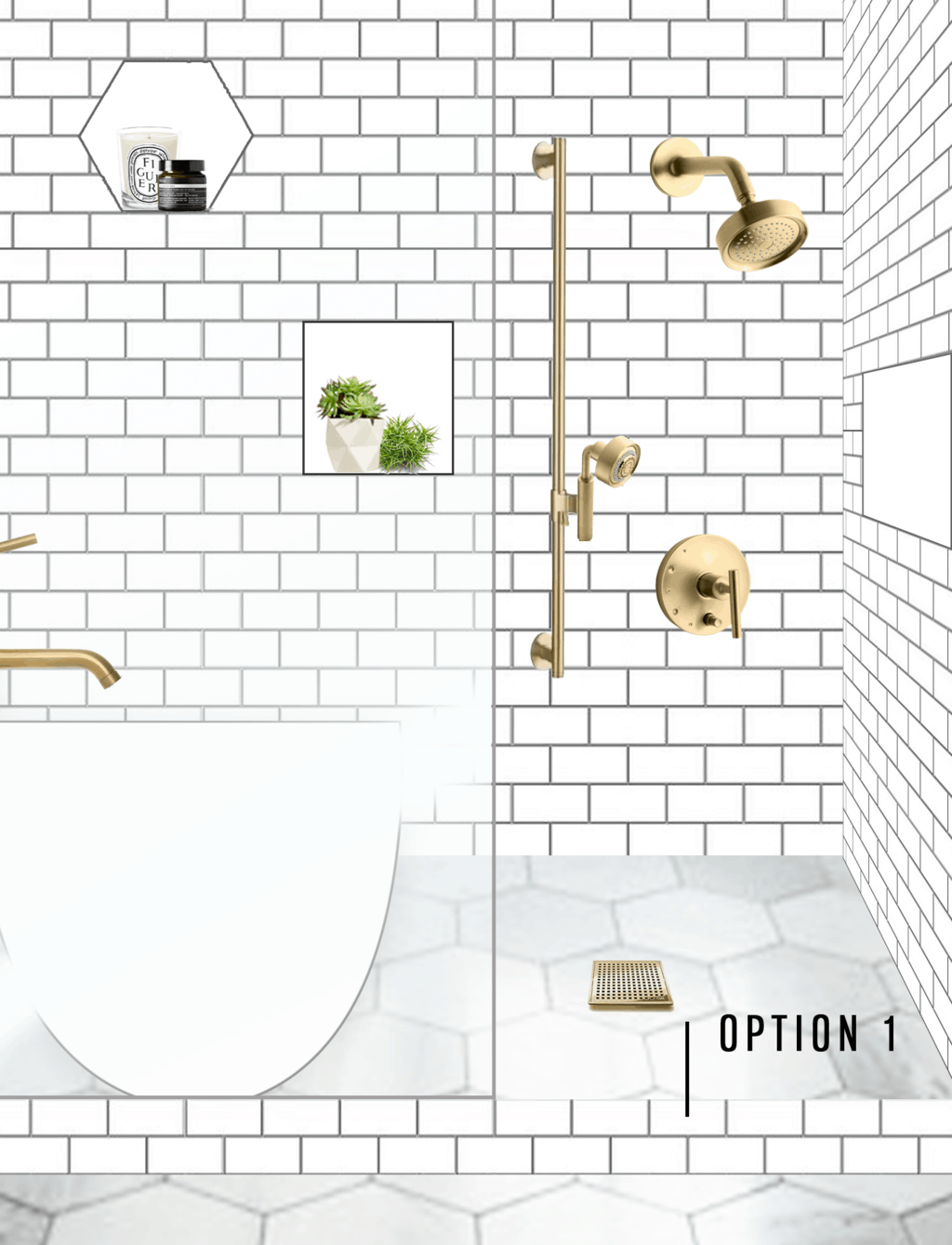 We're also trying to decide if we should do some cool built-in tiled shelves like the hexagon and square shapes that are tiled with white grout to stand out a bit. I think they look really cool in the design, but I'm nervous about how they'll actually turn out in real life and/or will future buyers of our house think it's too out there?! So many adult questions to consider here, haha.
Since we'll be using a glass wall on one side of the shower and no door on the other (#overlymodern but we love it, lol), we'll HAVE to tile in a barrier for the sake of maintaining water (like the subway tile line above).
Do you think that we should keep the white subway tile for that border like in Option 1 or do a marble subway tile to blend into the floor more like in Option 2 below?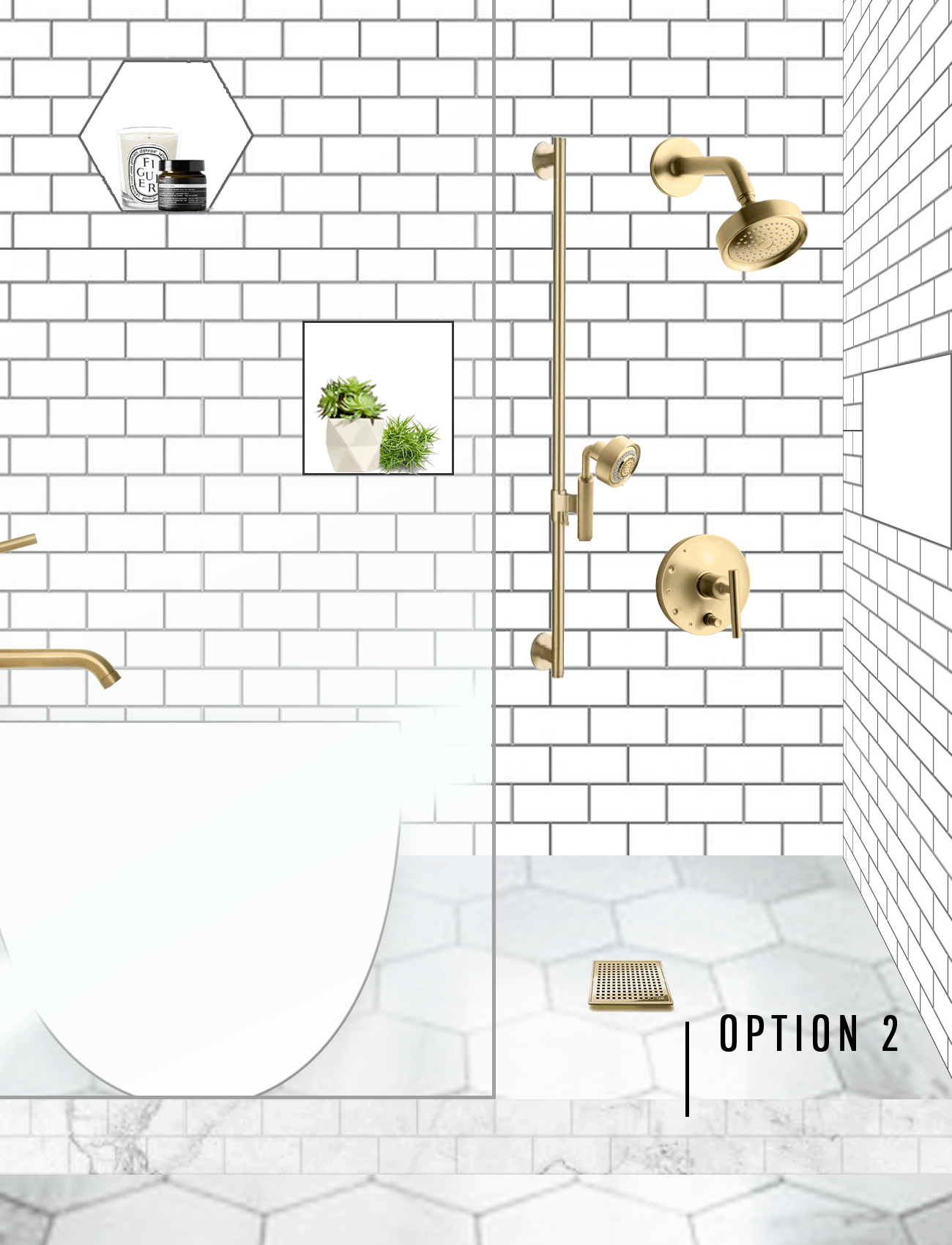 I like option 2 for the shower setup better, but hubby likes option 1. Help us decide!! Also, my apologies for my design work making our freestanding tub look like an oversized sink in the above photos, ha! I do what I can!
You can click through all of the bath products we've already chosen to include in the space below, I didn't want to bombard you with 592587 paragraph links, but let me know if you have additional questions on resources! And yes, we really did pick out THAT much from Overstock. So good, you guys!
I'll be sharing our design plan and reno updates (thankfully we've already gotten to work on the bedroom) next week. Stay tuned, and be sure to check out our Week 1 ORC announcement here.
Room sources: 
gold bathroom faucets from The Mine / gold cabinet pulls from The Mine / gold faucet drains from The Mine / freestanding white bathtub from The Mine / gold shower valve from The Mine / hexagon marble bath tiles from Overstock / white subway tile from Overstock / gold handheld shower from Overstock / gold shower slidebar from Overstock / round gold mirrors for vanity from Overstock / slidebar trim in gold from Overstock / acrylic and gold shelf from Overstock / framed ocean print from Overstock / navy blue runner from Overstock / marble and white vanity from Overstock / gold bathroom doorknob from Emtek / true craft doors from Metrie 
Don't forget to check out all of the updates going on with the other ORC participants below —
Boxwood Avenue | Coco & Jack | Design Manifest | IBB for DWD | The House That Lars Built | Little Green Notebook | The Makerista | Making it Lovely | Old Brand New | Old Home Love | The Painted House | Megan Pflug Designs | Pink Pagoda | Erica Reitman | Sacramento Street | Simply Grove | Jill Sorensen | Vintage Rug Shop | Waiting on Martha *
Media Partner House Beautiful | TM by ORC
This post may contain affiliate links which won't change your price but will share some commission using Shopstyle, Reward Style, and/or Amazon Associates.