Easy Savory Oatmeal Breakfast Bowl Recipe — This is a healthy and quick breakfast idea for you to stick to your resolutions but also add a bit of flavor to your morning…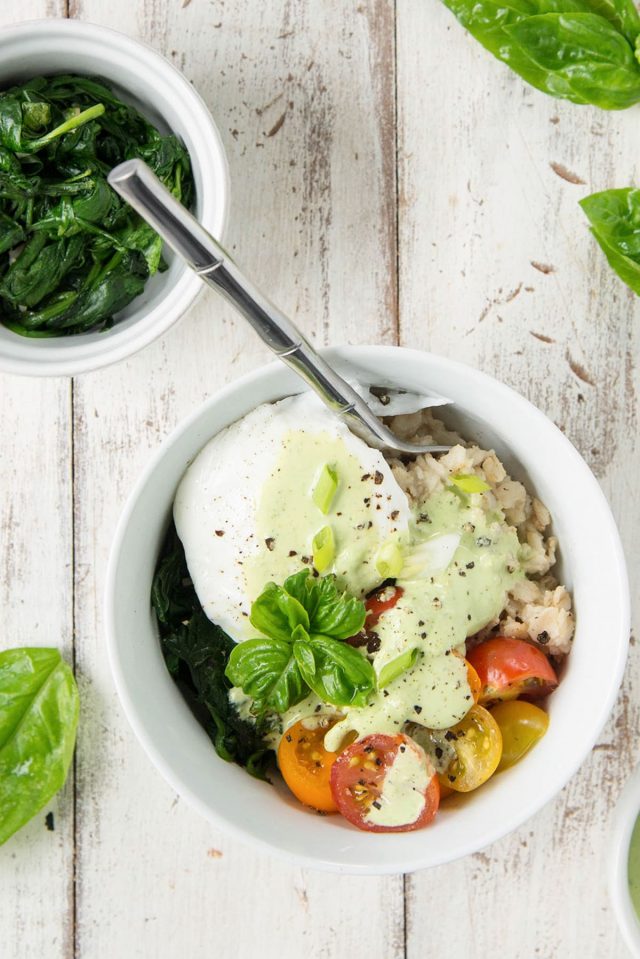 Ready to up your breakfast game? Try this savory oatmeal breakfast bowl, a unique twist on the traditional version!
While this recipe is perfect for breakfast or brunch, I, Alex find myself making it most often on busy weeknights; when I need something healthy and hearty and am short on time.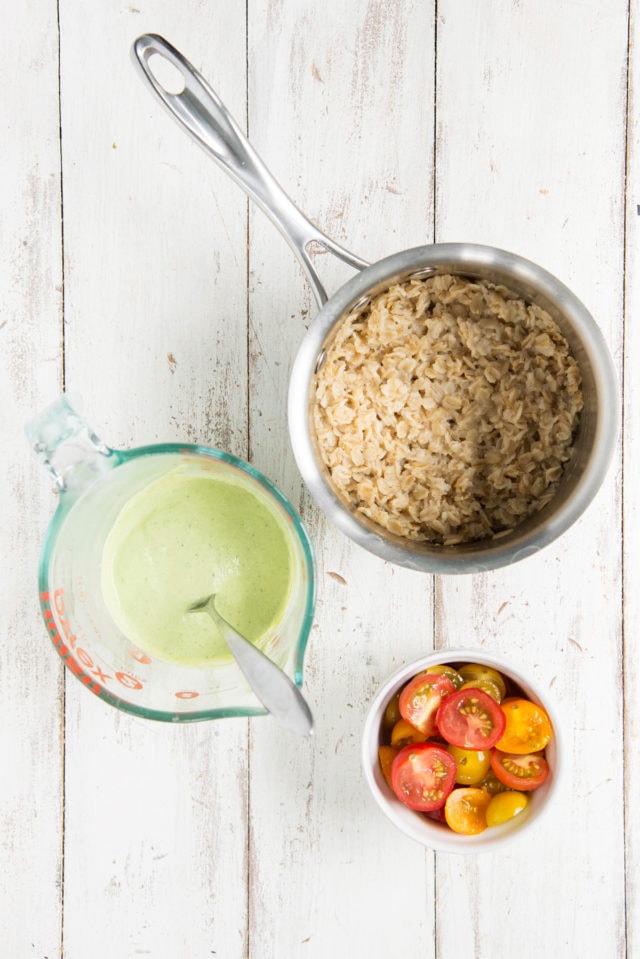 Recipe Notes and Tips
I've included directions for one bowl, but to maximize prep time, consider making the ingredients in bulk.
The herbed tahini sauce will give you more than you need. So store extras in the fridge for more oatmeal bowls throughout the week or on pasta and salads.
You can double (or triple! or quadruple!) the amount of oats and spinach that you'll need. Just like the sauce, extras will store well in the fridge for quick assembly.
Then, when ready to eat, poach (or fry) an egg and add in fresh tomatoes. How good is that? A flavorful go-to meal that you can whip up anytime!…
If you want to save a pan, consider frying the egg instead of poaching it. Once the spinach is done cooking, crack an egg into the seasoned pan and cook to your liking.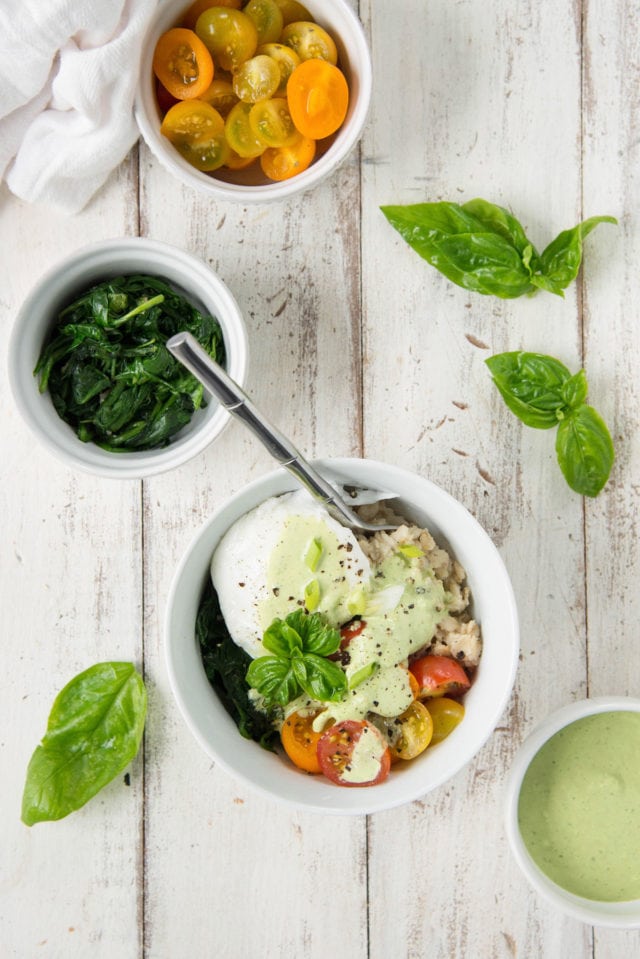 Once you've tried it this way, feel free to switch up the ingredients based on your preference!
There's so many different combinations you can do, the possibilities are seriously endless!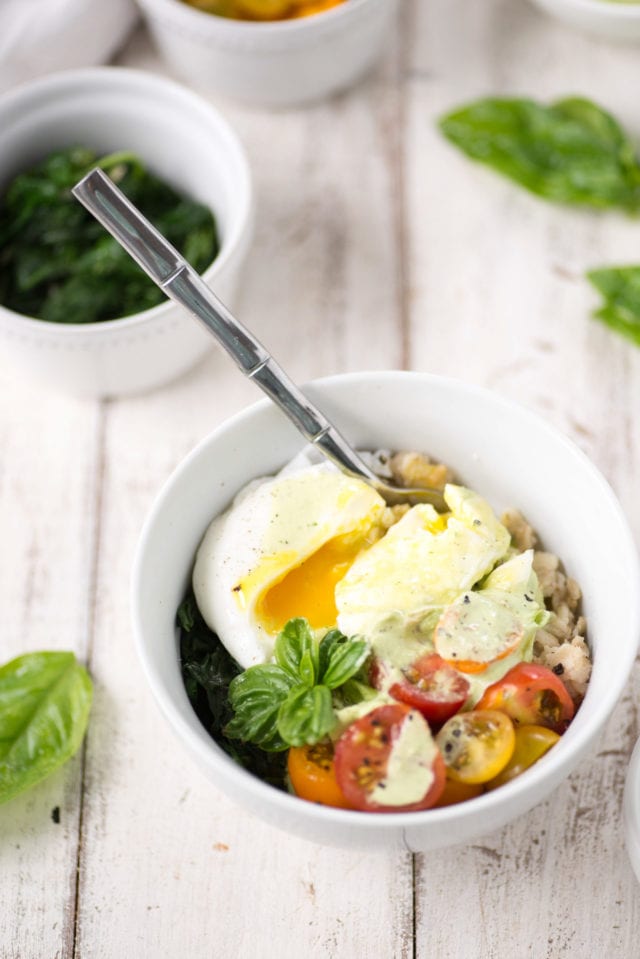 It's that simple! As long as you have an egg, a savory sauce and some type of vegetable, you can't go wrong!
This is definitely not your average bowl of oatmeal. So what do you guys think? Have any favorite ingredients you would love to use for this savory oatmeal breakfast bowl recipe?
If you're looking for a more ways to to amp up breakfast then you'll definitely want to check out this All Natural Unicorn Recipe or this perfect for fall Baked Apples with Spiced Granola and Yogurt…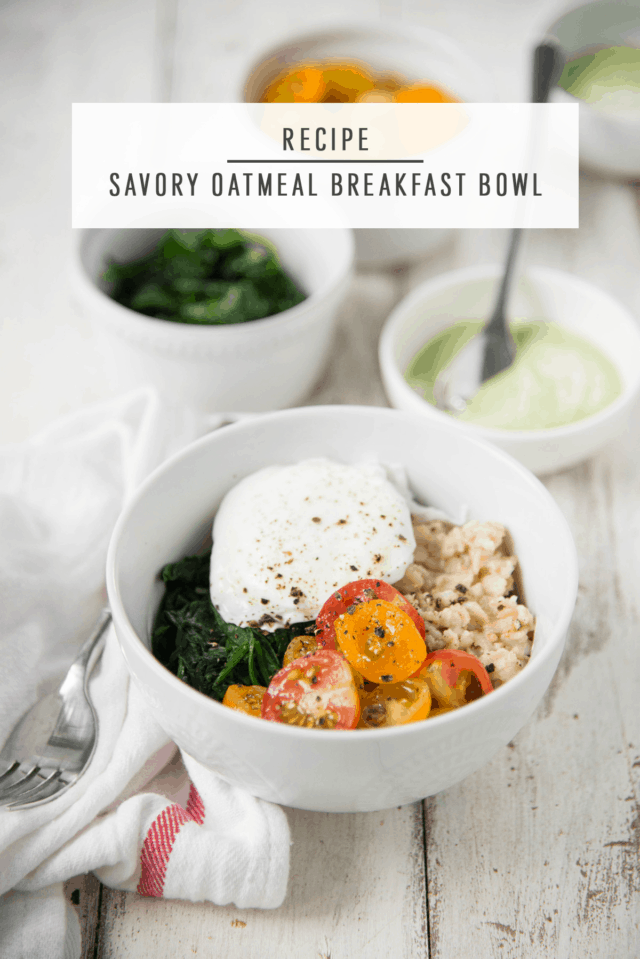 How to Make a Savory Oatmeal Breakfast Bowl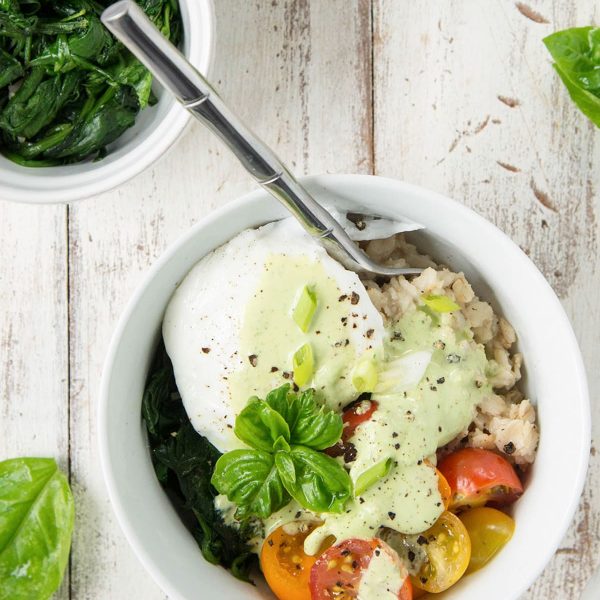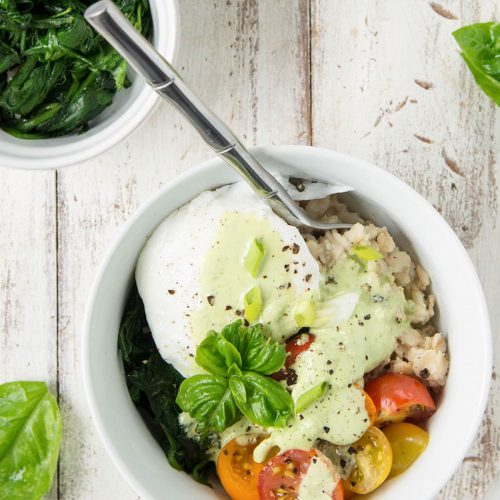 Savory Oatmeal Breakfast Bowl Recipe
Ready to up your breakfast game? Try this savory oatmeal breakfast bowl, a unique twist on the traditional version.
Equipment
Food processor or blender

Whisk

Small saucepan

Small skillet
Ingredients
For the Savory Oatmeal Breakfast Bowl:
0.25

cup

steel cut oats 

0.75

cup

water

pinch salt

2

tbsp

parmesan cheese

grated

1

tsp

olive oil 

1

garlic clove

minced 

2

cup

spinach leaves 

1

large egg 

0.5

cup

cherry tomatoes 

halved
For the Herbed Tahini Sauce:
0.5

cup

tahini paste

0.5

cup

fresh parsley leaves

2

tbsp

lemon juice

2

tbsp

olive oil

1

scallion

2

garlic cloves
Nutrition
Calories:
1380
kcal
|
Carbohydrates:
77
g
|
Protein:
43
g
|
Fat:
108
g
|
Saturated Fat:
17
g
|
Cholesterol:
170
mg
|
Sodium:
351
mg
|
Potassium:
1275
mg
|
Fiber:
15
g
|
Sugar:
4
g
|
Vitamin A:
9033
IU
|
Vitamin C:
95
mg
|
Calcium:
452
mg
|
Iron:
12
mg
Instructions
First, start with making the herbed tahini sauce. Place all ingredients in a food processor or blender and puree until creamy and smooth. Depending on the power of your blender, you may need to add a tablespoon or two of water. Remove and place in an air-tight container; it will keep for up to a week in the fridge.

Whisk together the oats, water and a pinch of salt in a small saucepan over medium-high heat. Bring to a boil, then reduce heat low. Simmer until oats are cooked through, about 25-30 minutes. Stir in the parmesan cheese and season to taste. 

While the oats are cooking, halve the cherry tomatoes and set aside. Heat the olive oil in a small skillet over medium heat. Add the minced garlic clove and spinach, then cook for 3-4 minutes until leaves are wilted. Set aside. 

Just before oatmeal is ready, heat 2-3 cups of water in a small saucepan over medium heat. Bring to a simmer, then crack the egg into a small dish and pour into the simmering water. Poach until yolk is just set, roughly 3 minutes. Remove with a slotted spoon.

Assemble the bowl! Top oats with cooked garlic spinach, tomatoes and poached egg. Drizzle with herbed tahini sauce and enjoy! 
KEYWORD:
healthy, oatmeal