I don't always have a great hair day, but when I do, I feel like a freshly groomed Shetland show pony. Case in point here. So, in honor of giving women everywhere the joyful feeling of more great hair days (coastal pony or not), I'm sharing 8 hair care tips you probably didn't know about.
The best part is that these tips just so happen to work no matter what products you use and on all kinds of hair types, so there's something for everyone. That said, I just took the Pantene 14 Day Challenge to try the Rose Water Collection (yes, I was persuaded by how pretty the bottle was, so shoot me) in case you're looking for an ultra-hydrating duo that's also free of parabens, sulfates, dyes and mineral oil. 
I have to say, my hair DOES feel noticeably softer after 14 days of using it, but I didn't include before and after photos because softness is a little tricky to showcase in photos. Haha! I would definitely recommend it for those experiencing dry hair but I tend to lean on the already naturally moisturized side (ahem, trying to be more eloquent in saying greasy), so I still stand by my tried and true Activated Charcoal Collection that I wrote about here. SO, so good for those with naturally oily hair or people living in humid climates (also me).

MY LATEST VIDEOS
As for the tips, let's get to the list…
8 Hair Care Tips You Probably Didn't Know About
Brush & detangle your hair before shampooing and conditioning so that the product reaches all areas of your hair.
Clean your hair utensils at least once a month to avoid product build up.
When you're letting your hair air dry, massage the roots of your hair after towel drying for more volume so that it doesn't dry flat to your scalp.
Only condition your hair from the mid-shaft down to the tips of your hair and be sure to let the conditioner set for at least 60 seconds before rinsing.
Wring your wet hair out in the shower before using conditioner so that it's able to absorb better.
Only brush wet hair gently with a wide tooth comb, starting at the ends moving up to the roots.
If you have notoriously dry hair, only shampoo your scalp down to mid-shaft, not the ends of your hair.
To fill an inconsistent hairline (I'm looking at you postpartum hair wings!!), use an eyeshadow that's the same color of your root hair for a stronger hairline.
Do ya'll have any hair care tips to share with me that weren't on the list? Don't hold out! I feel like I've maybe been living in a cave. Haha!
Leave a comment below with your favorite tip and add some of your own! Also note that the Pantene Rose Water Collection will be available at Sam's Club until March 2019 – or until supplies last. Learn more here!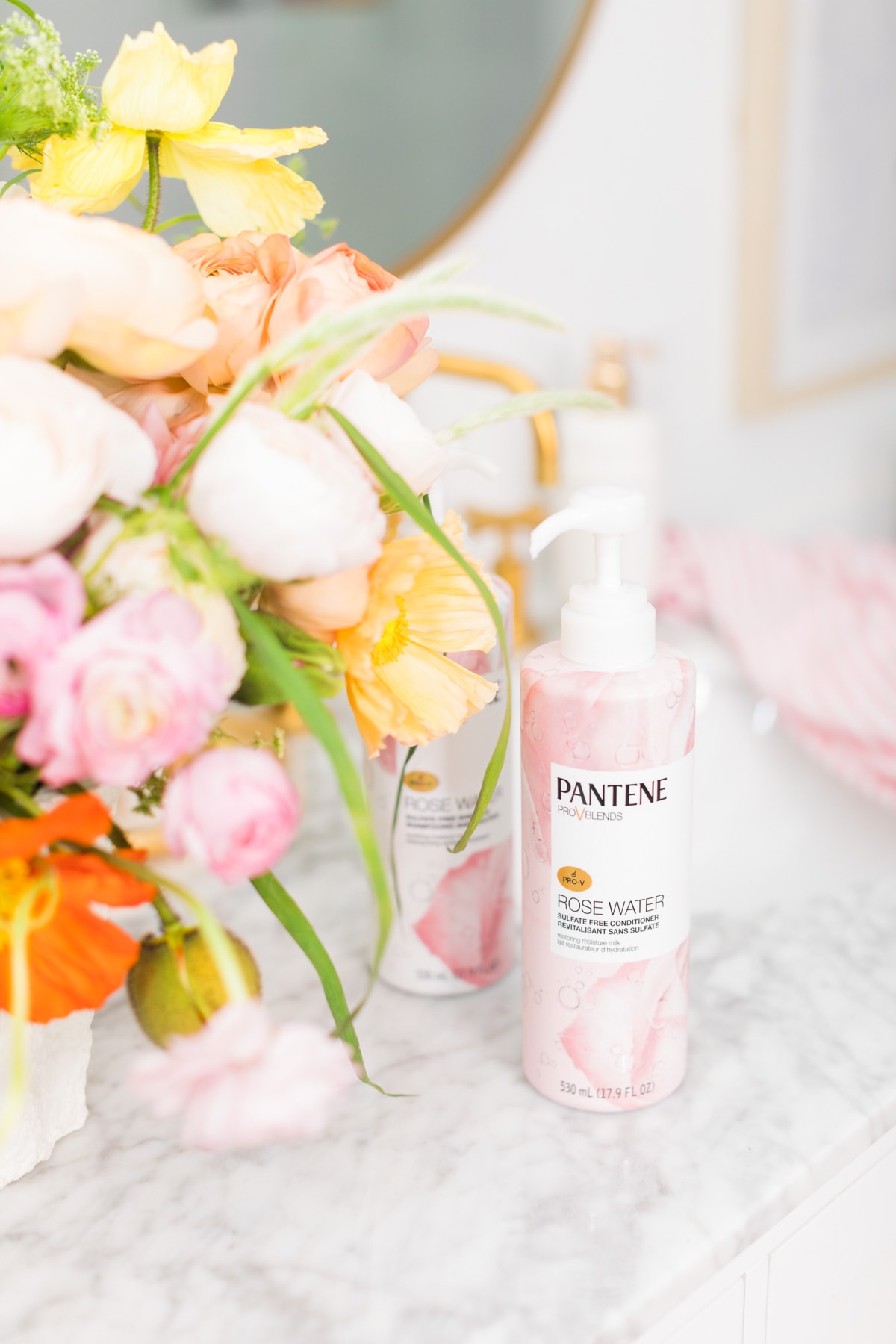 This is a sponsored conversation written by me in partnership with Pantene, the opinions and text are all mine. Sugar & Cloth has chosen to donate 5% of all sponsored campaigns to charity, which you can read more about right here.
This post may contain affiliate links which won't change your price but will share some commission using Shopstyle, Reward Style, and/or Amazon Associates.