Small Laundry Room Makeover — It might be a small space, but it packs a serious punch! Excited to be sharing the before and after of our laundry room makeover!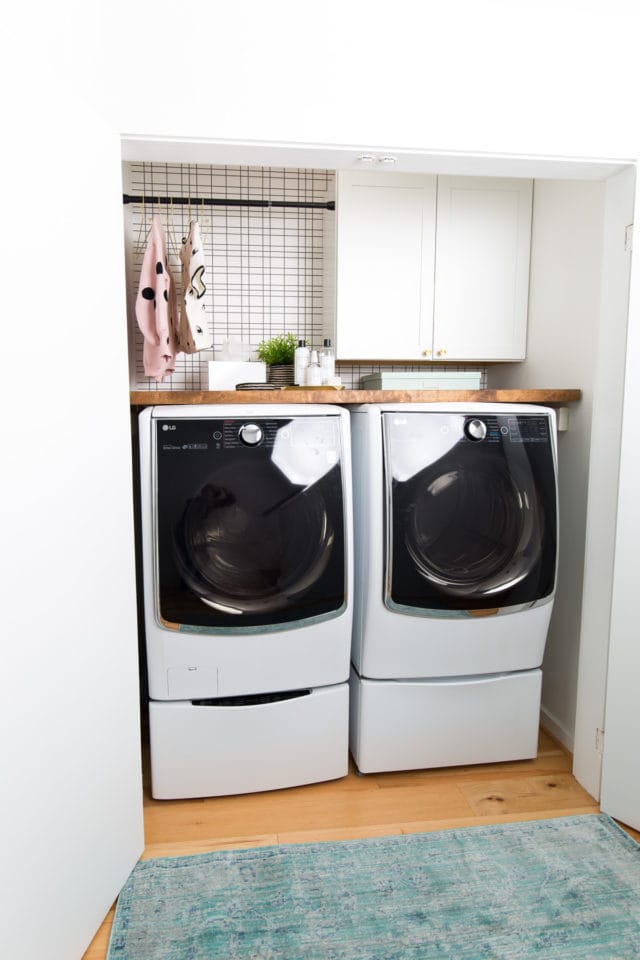 Have you ever had one of those house renovation projects where you think to yourself "oh, this is going to take no time at all"!
And then it ends up being the longest project ever? That's 100% what happened with our laundry room renovation.
We actually did 90% of the work to this space ourselves back in AUGUST you guys! August.
It's seriously crazy I'm just now sharing the final before and after of our laundry room makeover.
But that's because the 10% that was left is part of my most laughable renovation nightmare yet thanks to the world's worst flooring guy.
Not to worry, I've included photos for your viewing pleasure.
Despite the few hiccups we had, the transformation is still pretty awesome, even with it being a very small space!
In case you missed the first post with before photos and original design plan, you can see that right here…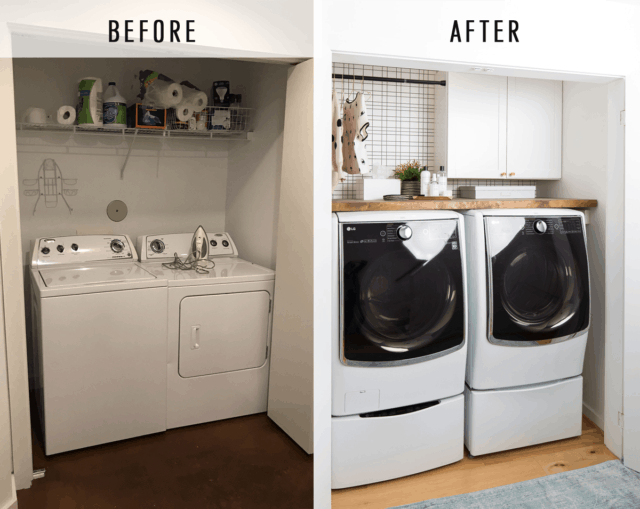 Laundry Room Makeover Checklist
All back in August, we:
— Painted the room
— Removed the old pocket doors that were falling off
— Removed the old shelving
— Installed the accent wallpaper & tension rod, new cabinet and door pulls and the new LG front load washer and dryer,
— Stained and cut the butcher block countertop
Then, we had to wait until after the chaos from Hurricane Harvey died down to book someone to do the flooring installation to get rid of the ugly dark orange stained concrete.
We wanted to replace the original floors with this Pergo Variable Width Autumn Hickory engineered wood flooring.
Our Biggest Makeover Setback: The Floors
Originally, we were going to have it installed by the Lowe's flooring specialists. But because of the storm, the wait time for an install was now crazy. (Real regrets on not having booked this before then!!).
So instead, I booked someone with A++ reviews from Angie's List. They had all great ratings, photos of their work, etc.
Well, when they finally came out to install the floors a month later, they ended up doing this….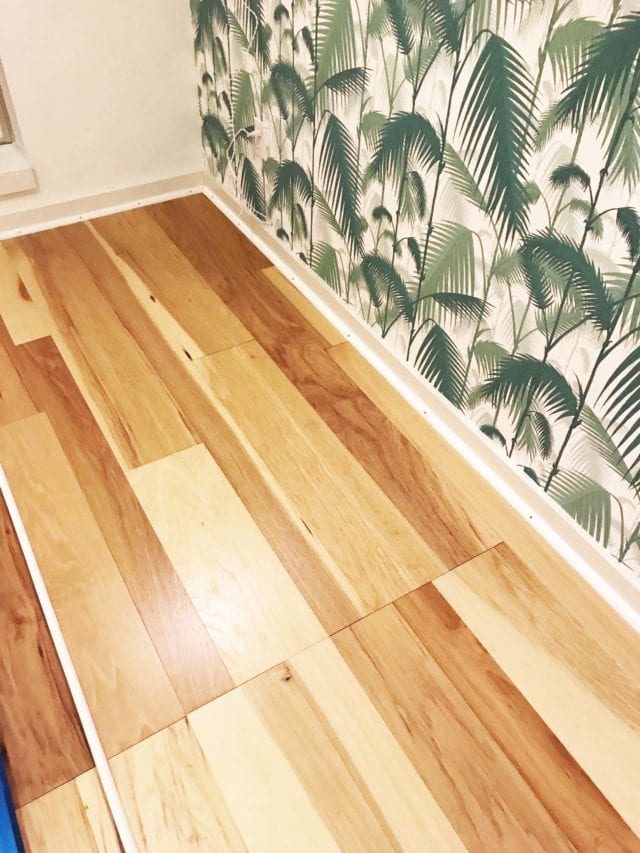 Do you see the GIANT straight line down the middle of the floor?! What in the world?! And they completely butchered the edges of the door frames, etc. I was literally mortified.
All of our first floor (where the laundry room is) had the weird stained concrete throughout. So we wanted to change all of them when we did the laundry room makeover.
Clearly, this guy had NO clue what he was doing. And even after repeatedly explaining to him how wrong this was and that he needed to fix it, he just literally didn't know how.
Alas, I didn't even let them get far enough into the first floor to do the laundry room portion. We lost our half down payment because the guy refused to give our money back!!
After sharing the whole saga half in tears on IG stories, a reader recommended her brother in law that does flooring, and he was a LIFESAVER. I will happily give you his contact info if you want it, just message me!
He came out and uninstalled the disaster that was the first flooring job, reinstalled it correctly, and thankfully was able to save most of the material so we didn't have to pay for too much extra. It was crazy!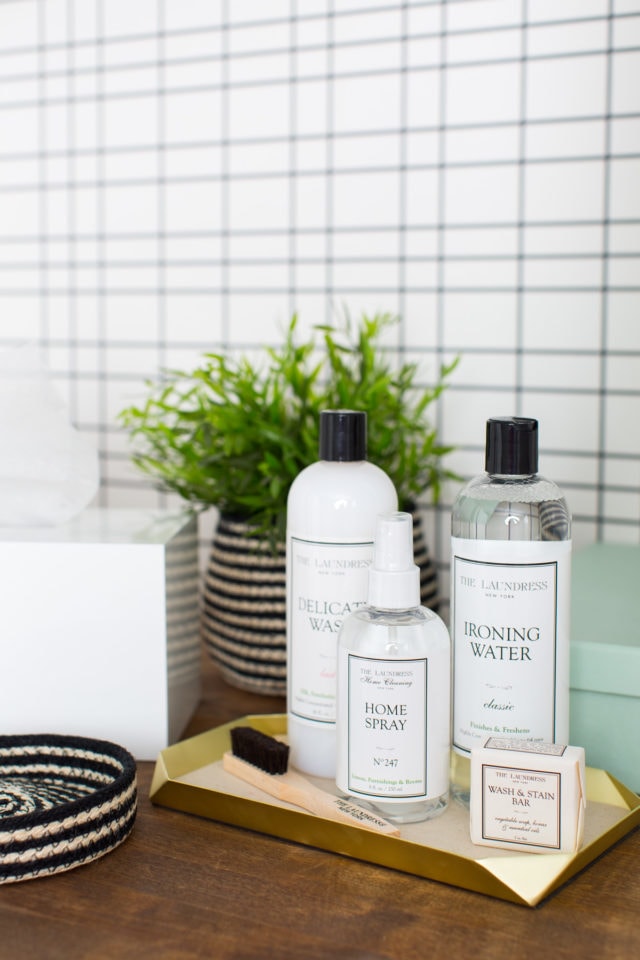 Laundry Room Door Installation
Once we got the flooring fixed (see and nice and perfect the corners are now?!), the last thing we had to figure out was the pocket door situation.
Originally, we had picked out really pretty pocket doors from Lowe's to replace the old ones that wouldn't slide on the track anymore.
The issue was that the new washer and dryer are substantially bigger than the ones I had bought from a scratch and dent shop a few years ago.
In order to be able to use the INSANELY AWESOME twinwash pedestal drawer washer that washes mini loads of laundry while you ALSO do a regular load of laundry, we couldn't keep the pocket doors.
The pocket doors didn't slide far enough to the left or right to be able to let us open the drawers.
After having 8 different door installers come out to try and come up with a solution to expanding the door frame ever so slightly to allow for the drawers to open, we finally just decided it wasn't worth the extra money and had regular slab doors installed instead.
The gold handle pulls still make it feel fancy.
Literally, this twinwash pedestal is my newest favorite party trick, haha! I show it to everyone. It's a huge upgrade from our last washer and dryer set!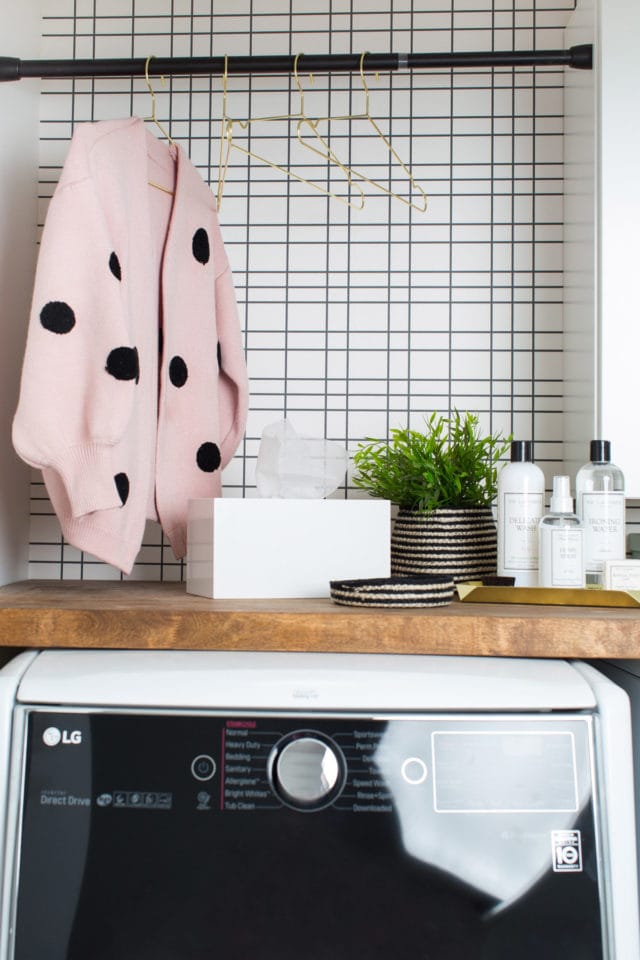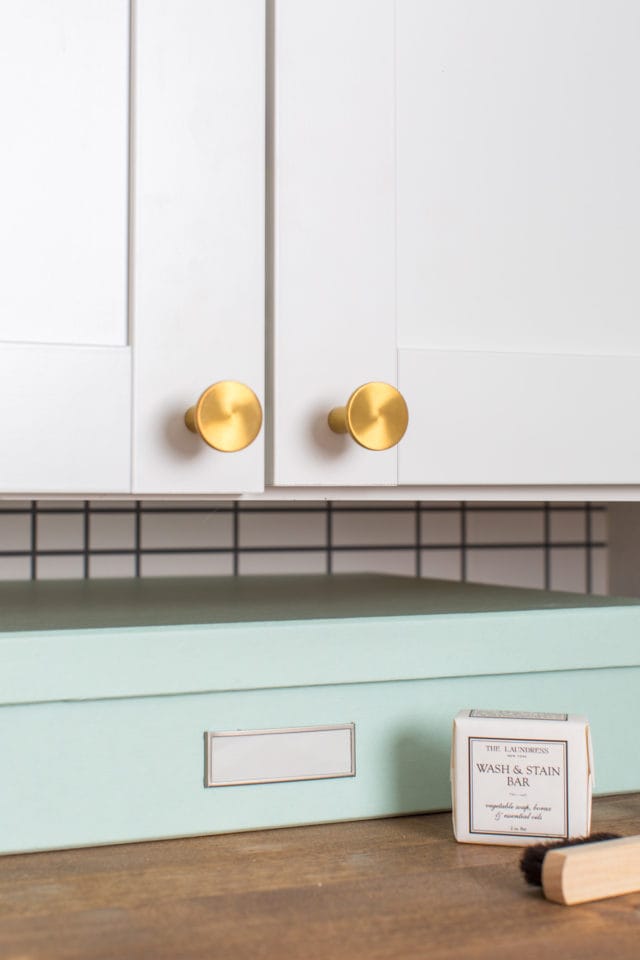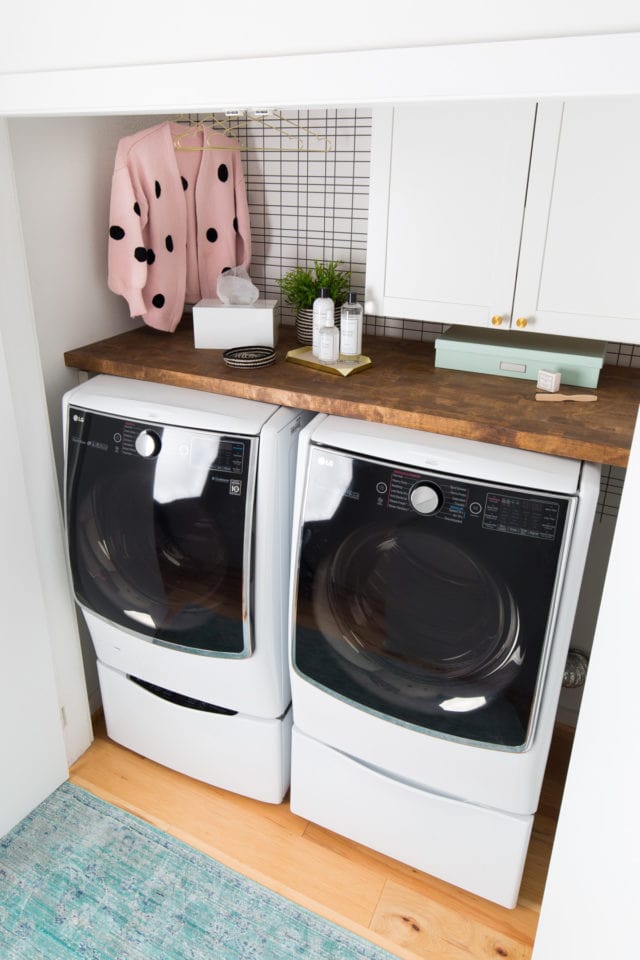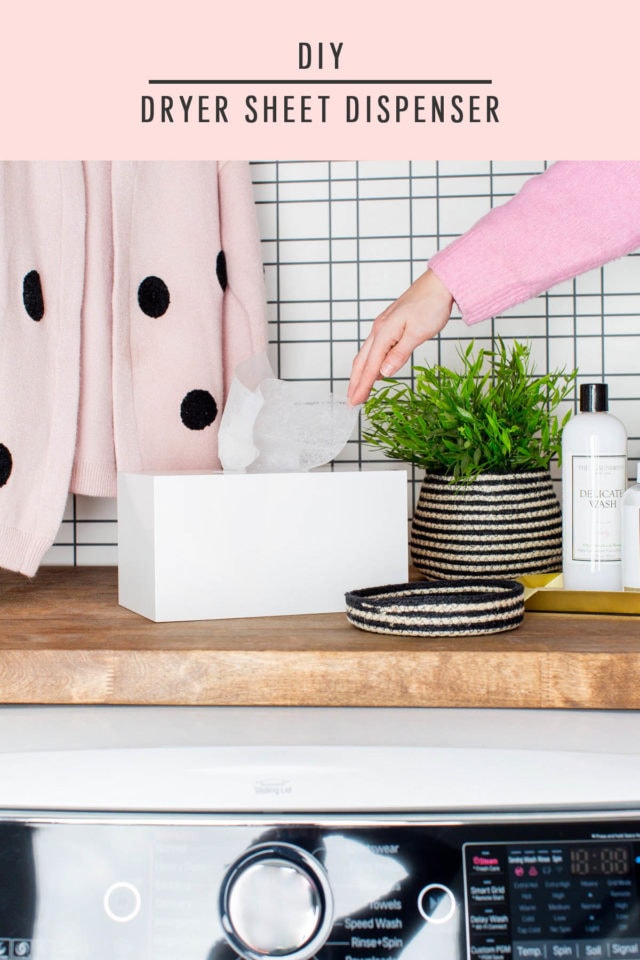 DIY Dryer Sheet Dispenser
Since the new space is so pretty, I wanted to have a few things to style the new butcher block shelf with on a regular basis.
So I came up with this 2 minute DIY Dryer Sheet Dispenser idea using an old Kleenex cover box we had. That's literally all you need! We used our simple tissue box cover but there are so many other fun ones to choose from.
It makes the space smell really nice when you first walk in the house. Plus, it's easy peasy to get to the dryer sheets now!
Lastly, on account of the fact that we spent all Saturday trying to take photos in this small space that didn't look like a funhouse mirror reflection in this tiny space, I'd say it's about time I start calling it a "laundry closet" instead of "laundry room". Ha!
What do you all think?! Still a pretty big transformation even for a super small space, right?!
Laundry Room Sources