Mini Baked Donuts Recipe — Sharing our latest eats, a Mini Baked Donuts Recipe and how Dave & Buster's made me feel like a kid again! Basically, its been a good week..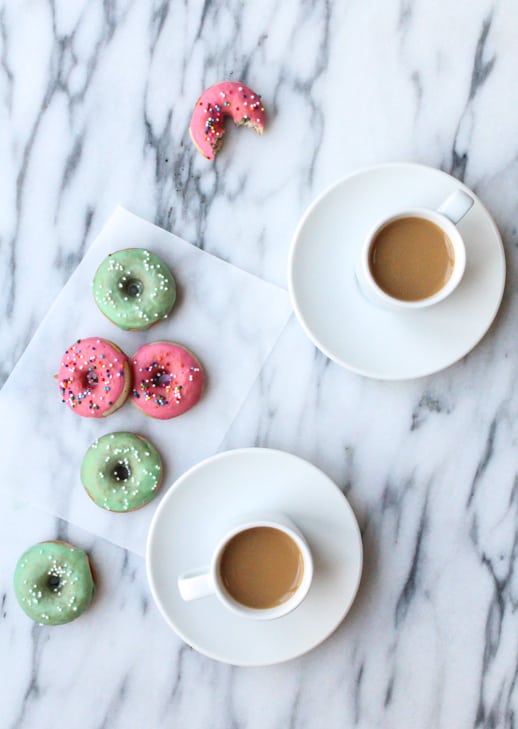 Once upon a time (like two weeks ago), Dave & Buster's invited me and a few friends to come try out their new summer games.
For those of you that aren't familiar with D&B's: It's like Chuck-e-Cheese BUT for adults (and on steroids).
Even though I wouldn't have usually picked a night of arcade games as my pass-time of choice, I actually loved it.
There's something about playing a game of ten foot tall connect four and giggling hysterically over the Wheel of Fortune Jackpot that made me feel like a kid again. I needed it.
Sometimes I get so caught up in work and trying to be responsible all of the time that I totally deprive myself of the right to just have fun and let loose.
Even if that means playing Harpoon Lagoon for a half an hour straight like a token gambling maniac (and eating their fondue until I get a sugar and high).
All of this to say that sometimes it's the little things in life that we need the most.
Which brings me to my next point: mini donuts.
Of course, all of our giggle induced ticket earnings got piled together and I left with a mini donut maker. (Perfect!) And about 5 giant sticks of laffy taffy.
It would just be a shame if I didn't show you how I put my adult-easy-bake-oven-style donut maker to good use to my inner kid alive.
So here it is…
P.S. Do your inner kid a favor and find the nearest Dave & Buster's (or any arcade if you have to). You will thank me later. And no, this isn't paid advertising, I just loved it that much :)
Ingredients Needed to Make Mini Baked Donuts
5 tbsp. of butter
1/2 cup sugar
1 egg, beaten
1 1/2 cup flour
2 1/4 tsp baking powder
1/4 tsp salt
1/4 tsp nutmeg
1/2 cup milk
2 tbsp. melted butter
1 tbsp of honey
1/2 tsp of cinnamon
How To Make Mini Baked Donuts
Mix the butter, egg, and sugar throughly.
Next, sift flour, baking powder, salt, and nutmeg together.
Slowly add the dry ingredients to your mixture, alternating with the milk until well combined.
Pipe the mixture into your donut maker or donut cooking sheet.
Bake for 3-5 (in donut maker) or for 7 minutes in a donut cooking sheet, or until golden brown.
Let them cool for about 20 minutes before adding the glaze.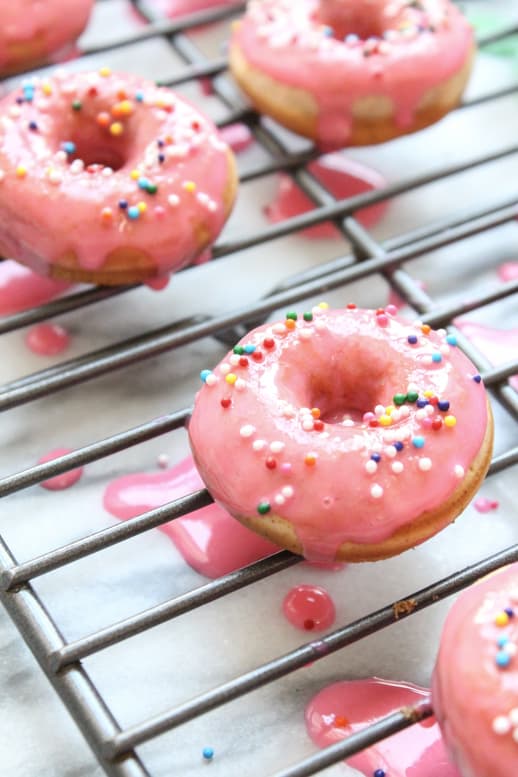 Ingredients Needed To Make Donut Glaze
1 tbsp. half and half
1/4 vanilla or vanilla bean
1/2 c. powdered sugar
gel food coloring of choice
sprinkles
How To Make Donut Glaze
Whisk together the half and half and vanilla.
Then, mix in powdered sugar until smooth.
Add a few drops of your gel food coloring of choice, and stir.
If the glaze is too thick, add 1 teaspoon more of half and half at a time.
If dough is too thin, add 1 tablespoon more of powdered sugar at a time.
Dip the cooled donuts into the glaze and then add sprinkles!