Easy Pink Lemonade Donuts Recipe — Nothing says good morning quite like homemade donuts, and these have the perfect pink lemonade flavor that the kids will love for summer…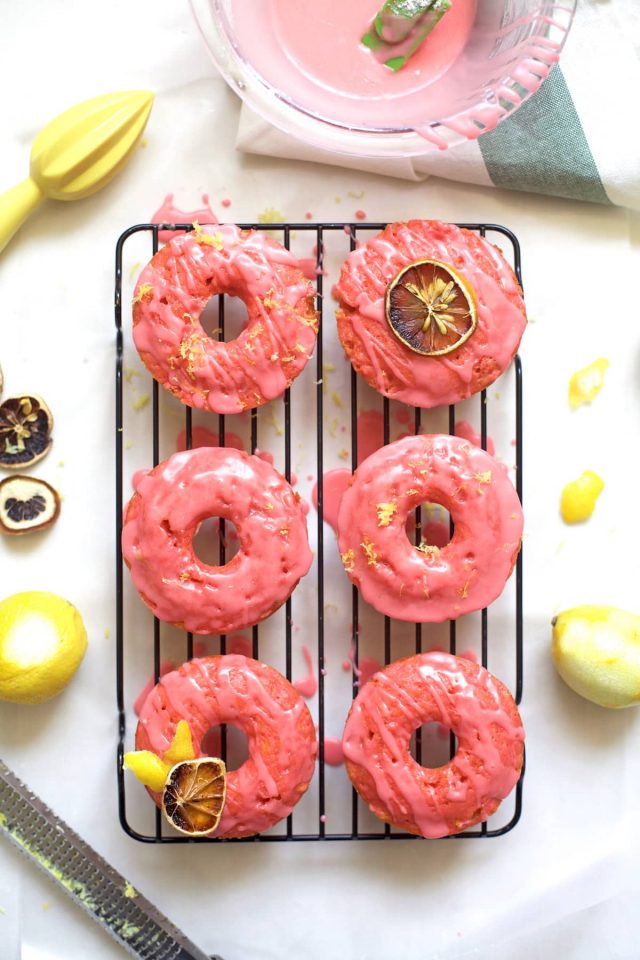 Do you ever go through an obsessive food phase where you latch on to one ingredient or flavor and then HAVE to have it all the time in every shape, form and size?
I, Alyssa, just so happen to be an expert in this "foodie fanatic" behavior. You see, there was the month I only wanted to eat cold pasta for breakfast, then there was the I refuse-to-eat-anything-but-pancakes for breakfast phase, and of course there were the funfetti years where sprinkles and fluffy white frosting ruled everything around me.
What can I say? When you know what you like, you know what you like…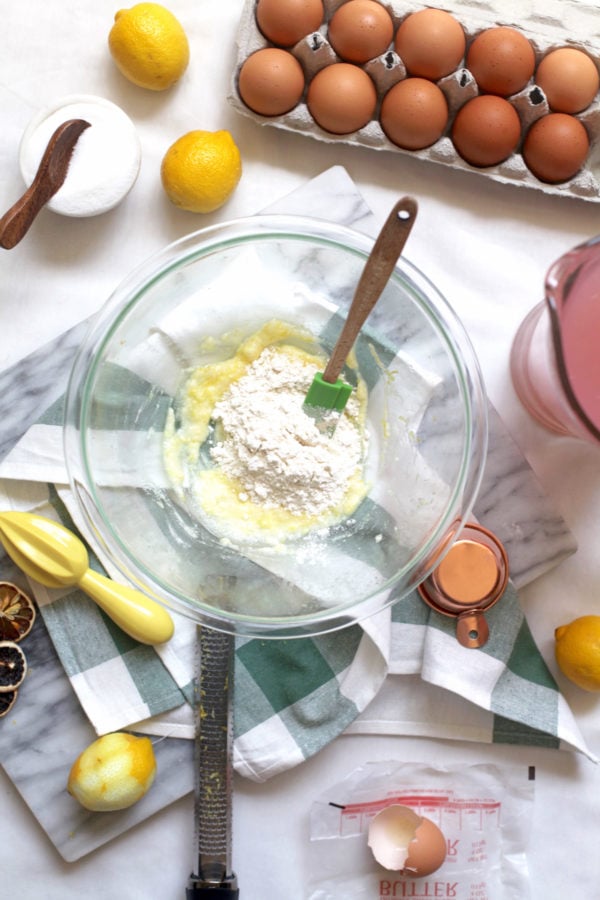 I've gotten better about not having the same cupcake or ice cream flavor 39 days in a row. But as they say, old habits die-hard. Certain things I can't help but want on repeat.
Case in point, lemonade in the summertime. I could drink a pitcher every darn day and never tire of it.
But in an effort to branch out more, I thought I'd try something different, like this Pink Lemonade Donuts recipe.,
Ok, ok. I know technically there's lemonade involved, but you're eating it instead of drinking it. So it's basically completely different, right?!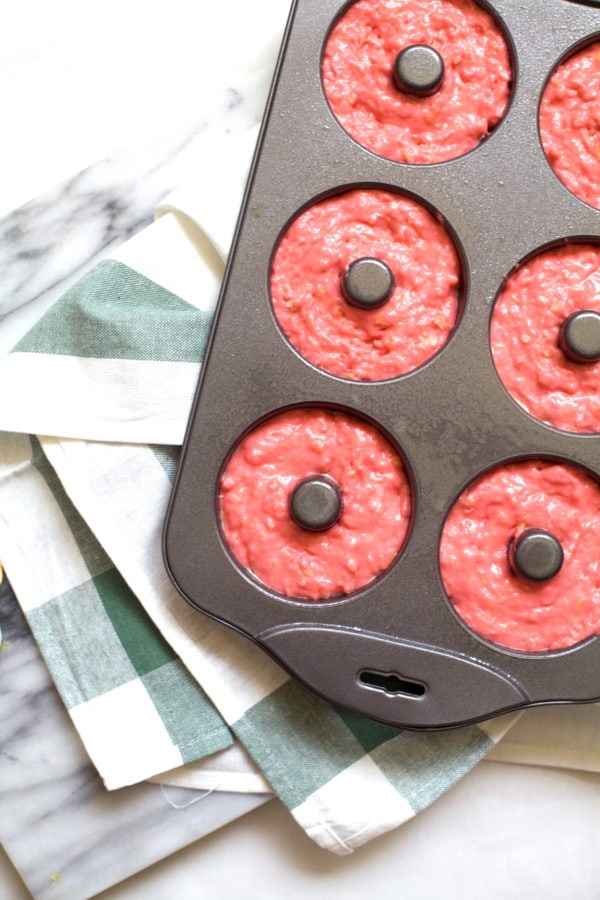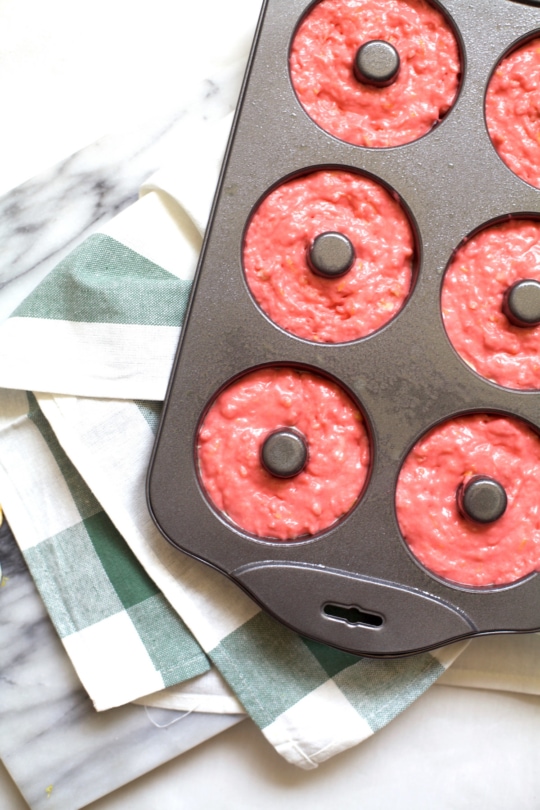 Regardless, these pink lemonade donuts are light and citrus-y and I mean, let's be real, who can resist the fun color?! The pretty pink shade makes them perfect for any summertime brunch or tea.
And did I mention they come together in no time?! Because they do! So this summer, when life gives you lemonade, make yourself some donuts!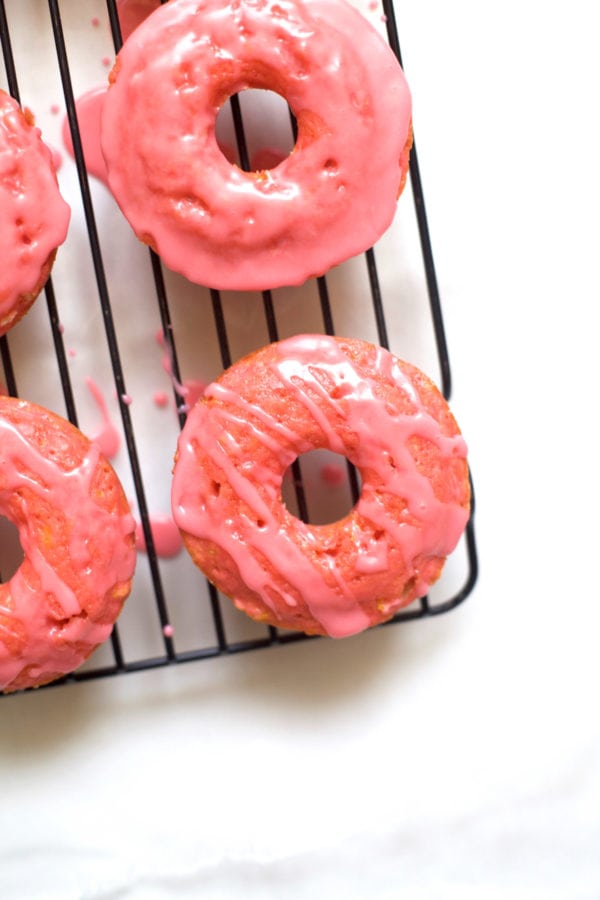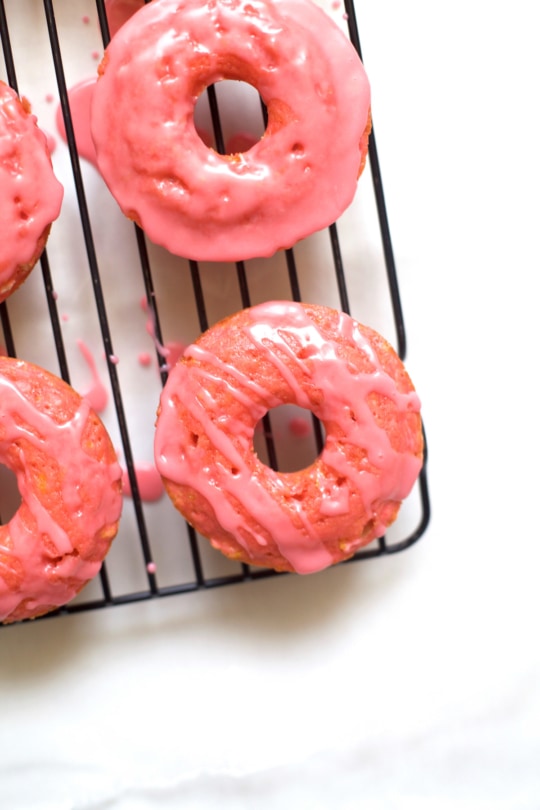 How to Store Homemade Donuts
These taste best when eaten on the same day they're made. (Perhaps with a cold glass of pink lemonade?!)
But they will last 2-3 days stored in an airtight container.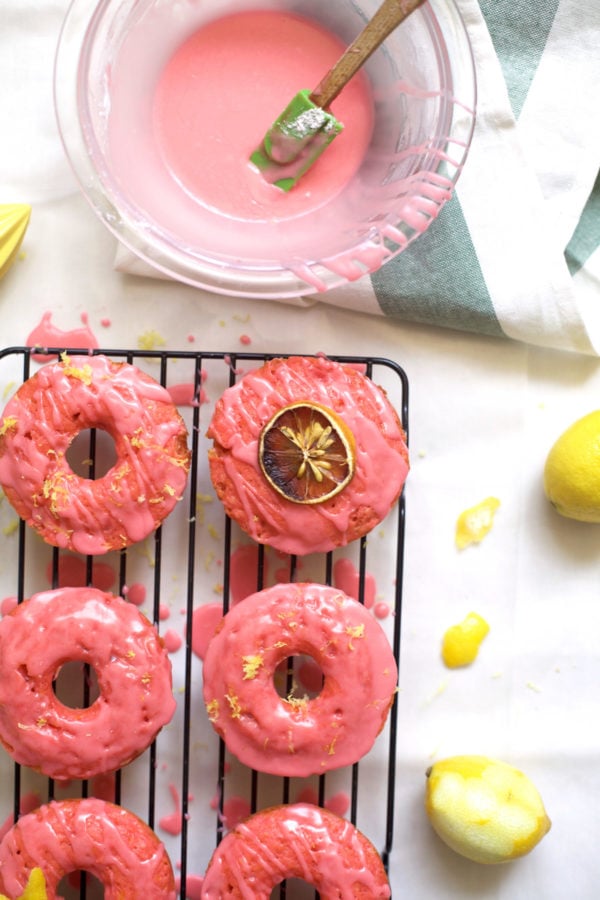 How do you enjoy lemonade in the summer? Are you a purist? Do you like adding fruit to it or spiking it? What about having a shaken lemonade or adding it to food? With so many options, it's hard to choose!
You can find more of our favorite donut recipes right here, and this pink lemonade treats below…
Easy Pink Lemonade Donuts Recipe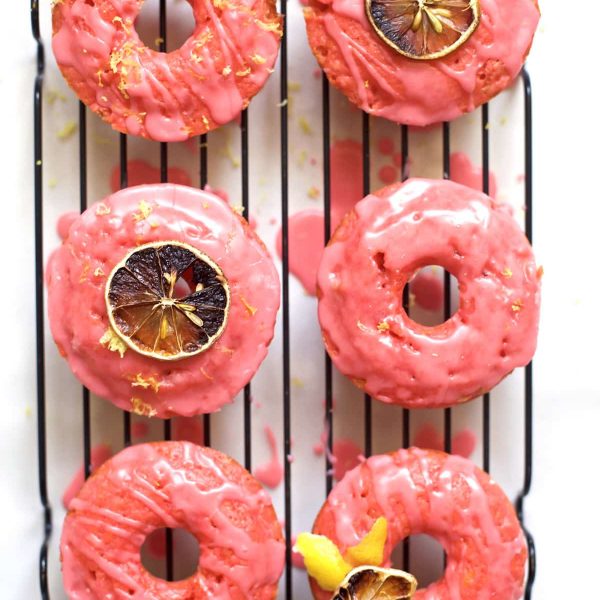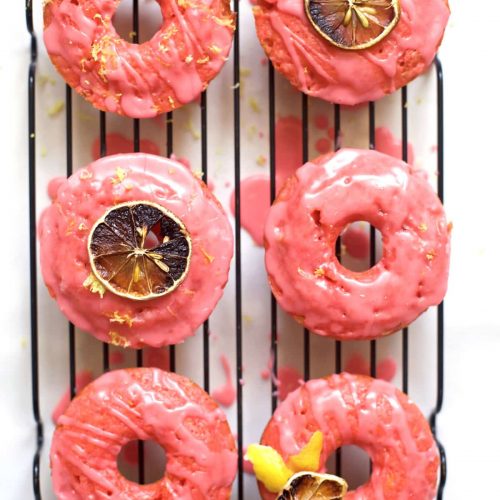 Pink Lemonade Donuts Recipe
This pink lemonade donuts recipe is the perfect breakfast treat but also one the kids will surely love!
Equipment
Donut pan

Whisk

Large microwavable bowl

Large mixing bowl

Small mixing bowl
Ingredients
For the icing topping:
1

drop

red food coloring

3

tbsp

pink lemonade

1 1/2

cup

powdered sugar
For the donuts:
1

zest of one lemon

1

cup

all-purpose flour

1/4

tsp

baking soda

1

tsp

baking powder

1

large egg

1

drop

red food coloring

1/4

cup

pink lemonade

1/4

cup

milk

1/4

cup

sugar

2

tbsp

unsalted butter

Candied lemon peel, lemon zest, dehydrated lemon slices, edible flowers, sprinkles, etc.

optional for decorating
Nutrition
Calories:
142
kcal
|
Carbohydrates:
29
g
|
Protein:
2
g
|
Fat:
3
g
|
Saturated Fat:
1
g
|
Polyunsaturated Fat:
1
g
|
Monounsaturated Fat:
1
g
|
Trans Fat:
1
g
|
Cholesterol:
19
mg
|
Sodium:
32
mg
|
Potassium:
58
mg
|
Fiber:
1
g
|
Sugar:
20
g
|
Vitamin A:
87
IU
|
Vitamin C:
1
mg
|
Calcium:
25
mg
|
Iron:
1
mg
Instructions
Preheat your oven to 375 degrees. Grease a donut pan and set aside.

In a large microwaveable bowl, melt the butter. Then, mix in the sugar and lemon zest and put it aside to cool slightly.

In a separate bowl, whisk together the milk, lemonade, egg and food coloring until everything is well combined. I know this mixture might look a little odd and the lemonade will cause the milk to curdle slightly but I promise it's totally ok!

Into the butter mixture, add the baking powder and baking soda. Stir to combine.

Lastly, gently but swiftly, fold in the flour and the liquid ingredients, continuing to fold just until combined. There may be a few spots that don't get any food coloring, which is completely fine as you definitely don't want to over mix the batter.

Scoop about 3 heaping tablespoons into each well-greased donut cavity, using a spoon to evenly spread the batter around (you can also gently tap the entire pan on a counter top a few times once you've filled all the donut cavities up).

Bake for 8-9 minutes, or until the donuts are springy to the touch. Allow them to cool in the pan for 5 minutes before removing them to a baking rack to cool completely.
For the icing:
While the donuts cool, in a small bowl, whisk together the powdered sugar, drop of food coloring and 3 tablespoons of lemonade until smooth.

If you prefer a thinner glaze I would do just 1 cup of sugar, but if you like a glaze that is thicker add in more sugar. Once the donuts are cool, drizzle or spread on the glaze and, if desired, decorate them with sprinkles, lemon zest, etc.
KEYWORD:
pink lemonade donuts recipe

More Homemade Donut Recipes To Try