I'll be honest, having a well-thought-out space for doing laundry was never really something that meant much to me before realizing how much time we'd spend doing laundry now that we're adding a baby to the mix! The unfortunate part of our laundry room layout is that it's literally situated RIGHT across from the front door on the first floor of our three story townhome.
That means it's not only an eyesore right as you walk in, but we also didn't want to do too much to the space until we were ready to knock out quite a lot of our first-floor to-do list so that we didn't have to stare at a half-constructed mess for the long term.
My biggest qualm about the entryway, laundry room, and first floor, in general, is the stained concrete flooring. It's in really poor shape (the people that lived there before us were renters that got evicted, so that should give you some idea of what we're dealing with!), and has tons of chips, dings, and a weird orange stain color.
So while we still have a lot mapped out for our laundry room before photos + design plan, we still don't have a solid plan on the floors themselves. We're definitely going to be putting down a floating laminate floor, but we're not sure of what look and feel to go with yet.
Here are some before photos to give you a better visual…
The washer and dryer are literally ones I bought from a scratch and dent store over four years ago now! The folding doors only half work (hence the reason there is only one side still standing!), and the shelving was there when we moved in and was too tall for me to reach. Do you get a quick feel for what I mean about the floors? Somethings just… not right there.. .haha!
Now for the prettier stuff like the new design plan….

We can't do too, too much with the overall layout since the space is so confined and right at the main entrance, but one thing I definitely wanted was a prettier way to conceal the closet and storage. Having it wide open for all to see when you walk in was not working for me.
I also liked the idea of having a design accent like this grid print wallpaper that wasn't so loud that we'd have to replace it to find someone who'd ever buy our house when the time came for us to move.
Even just having removed the old shelving and installing the grid wallpaper and appliances has made a huge difference, but I'm waiting to share those photos until everything else has come together!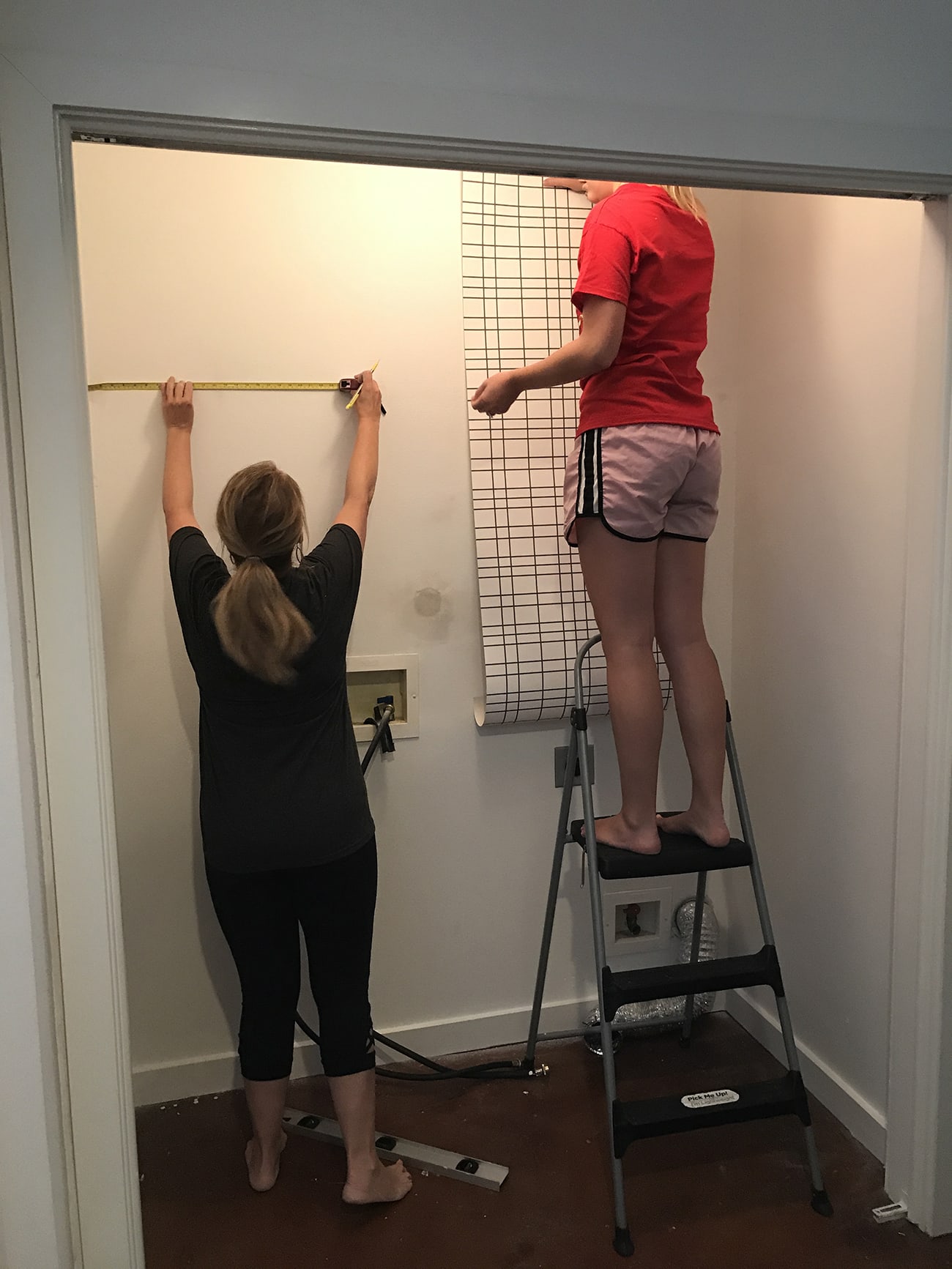 Now it's just for figuring out my flooring and new contractor dilemma and then we'll be back in action!
This post was made in partnership with Lowe's, we received products courtesy of Lowe's Home Improvement, but all opinions and product recommendations are our own.