If you're a fan of going green (or just things that are almost free), then this DIY recycled cardboard pendant light is totally for you. This week's DIY even at Ikea was based on "recycle, reuse, recraft", and I think we did that pretty well!
I wanted to create a pendant light that had simple lines that anyone could put together yet still kept and interesting shape, so I came up with this somewhat crazy, jailbreak type of design.
Add a few Edison style light bulbs (super cheap here), and some spray paint and you're golden!
1 Medium sized cardboard box or cardboard sheet
Scissors + Exacto knife (preferably a desktop paper cutter if you have one)
Ruler
Pencil
25 Watt lightbulb (25 max wattage so that it isn't a fire hazard)
Ikea pendant light kit
Spray paint and electrical tape (optional for decoration)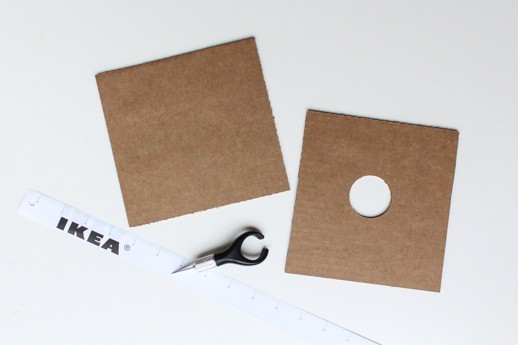 1. Make two 6×6 inch squares with a 1.5 circle in the middle. Using an Exacto knife will make cutting the circle much easier, or you can cut a small "X" in the middle and just punch the cord set through.
2. Cut eight 1 3/4 inch x 9 1/2 inch long strips to use as the sides of your light.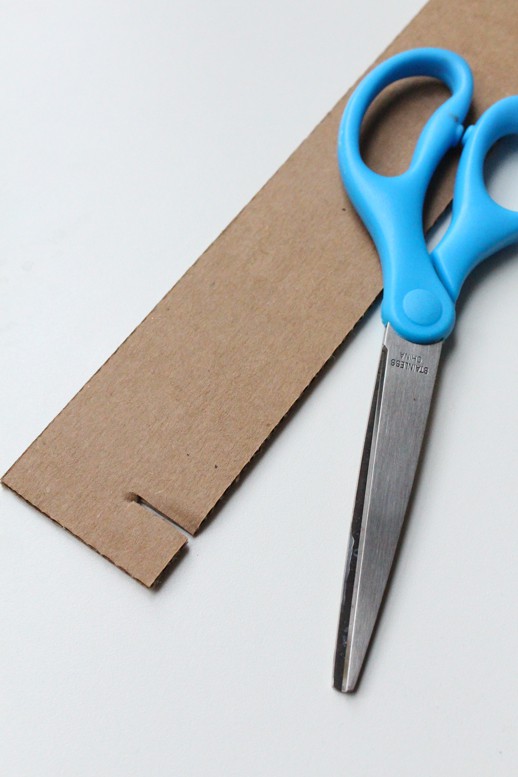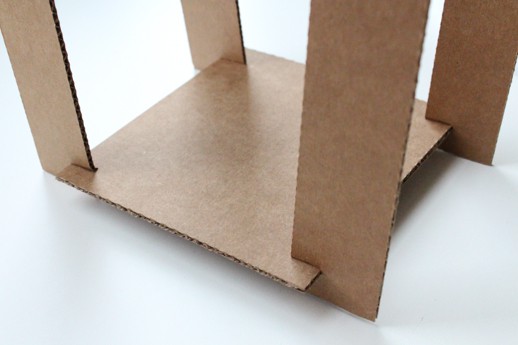 3. Measure and mark a 3/4 inch long line a 1/2 inch from the top and bottom of each strip. Then using scissors, cut out a thin slit. This is how your cardboard sides will fit onto the top and bottom of your pendant, so make they're just big enough to fit onto the cardboard squares. Too big and they won't hold in place.
To speed up the process, you can use the first strip as a template to mark where to cut the others.
4. Lay one square piece flat, and begin slipping the strips onto all four corners. Then slip the tops of the strips onto the remaining square.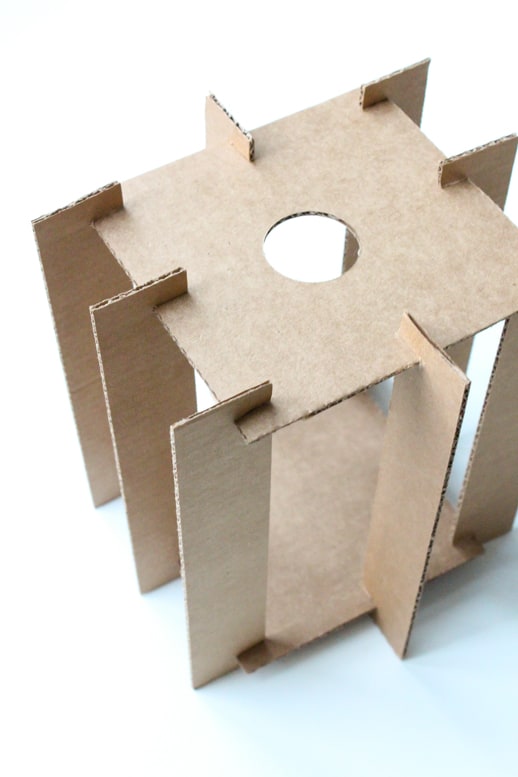 5. Fill the sides of the pendant with the remaining strips, spacing them as evenly as possible.
6. Paint your assembled pendant light, and once dry, slip the light kit through the top circle of the pendant, and secure it by threading the safety loop on the other side. This will keep the pendant in place and will be strong enough to hang from.
7. If you'd like, you can create stripes or patterns on the cord using electrical tape and scissors to add color or extra personalization.