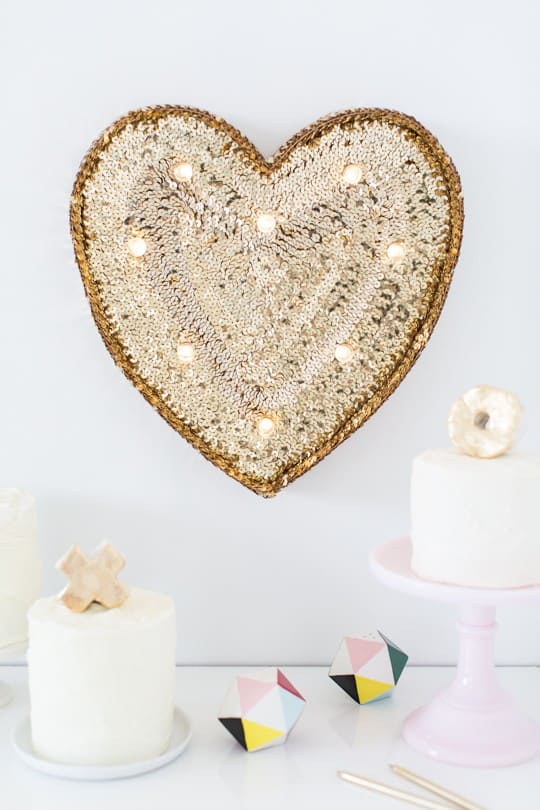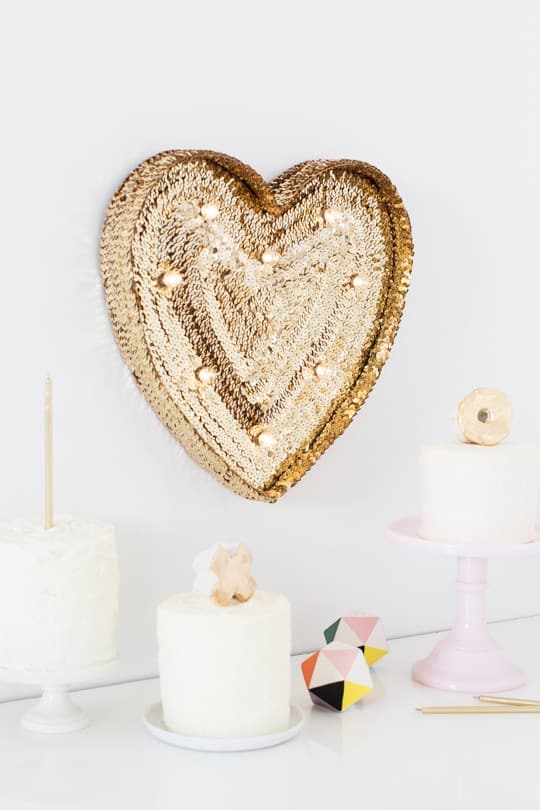 When I realized how much you all loved my sequin ampersand project, I knew I had to take one for the team and make an even more glamorous version with this DIY sequin marquee heart. Plus I don't really need that much of a reason to buy a marquee heart in the first place, so the slightest hint of a DIY project on the horizon really sealed the deal for me.
If you're planning a "Gal"entine's brunch (or wedding!) anytime soon, you know your name is all over this! In case you're not a heart gal, you can use this same tutorial for any size or shape marquee light, too. Just promise not to make one for your boyfriend as a Valentine's gift and then tell him I told you to do it when he drops it like it's hot….
The marquee heart I purchased was originally red, but I spray painted it gold so that you wouldn't notice if any parts peeked through between the sequin trim. This is an optional step, but I highly recommend it because it makes the whole project a lot easier and it looks a lot cleaner in the end.
To paint the heart, remove the light bulbs and place a cotton or felt ball in each hole to make sure paint doesn't effect the light connections.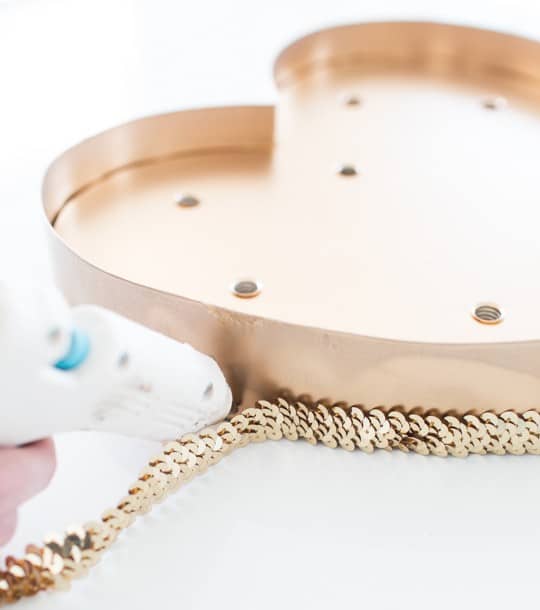 Once the spray paint is dry, start at the bottom of the heart, and glue the trim along the sides little by little, in one long piece.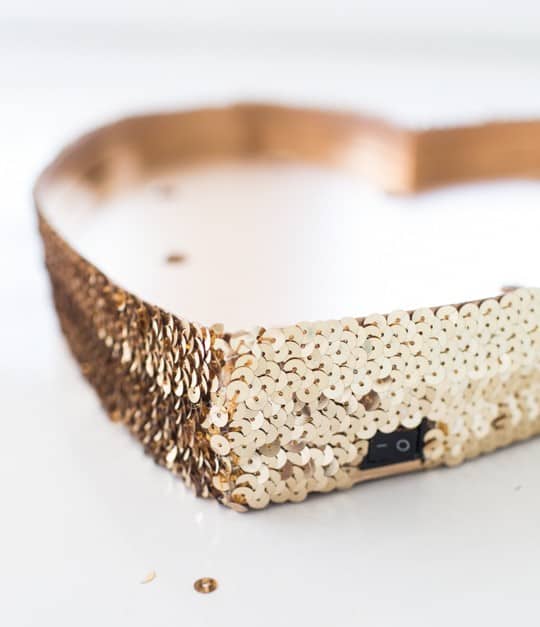 You can cut the end to start a new row at the bottom, and then continue all the way around until the outside is finished. You'll have some fraying strands where the trim was cut and the sequins fall off before it's glue down, but just glue a few extra sequins in place individually to cover them up as needed.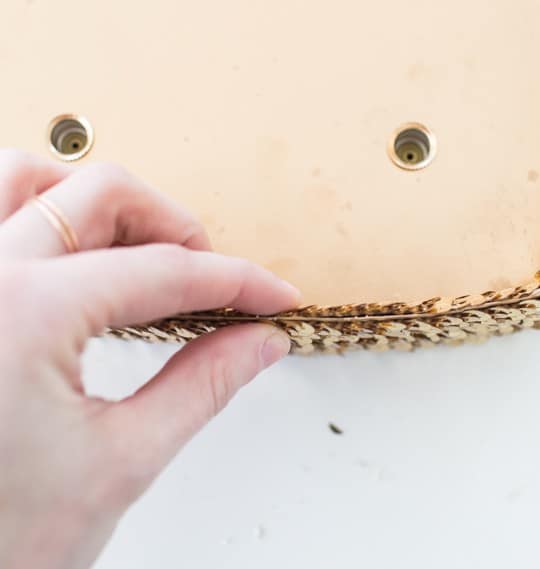 Next, start gluing trim along the inside trim, and be sure to glue the edges together really well so that it doesn't leave a gap showing the metal frame (like above). You can avoid this by holding the hot glued edges together with your finger until they cool in place.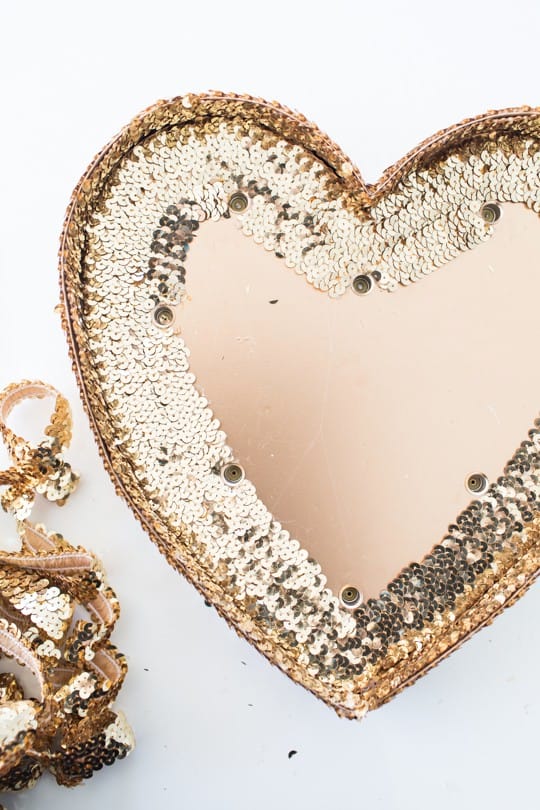 Next, you'll continue glueing the trim down along the inside face as well. I essentially just traced inside each trim line until the whole the was covered, just cutting the trim where necessary to go around a light base. but if I did it again, I would probably have made diagonal lines going in one direction that certain places didn't pucker around corners.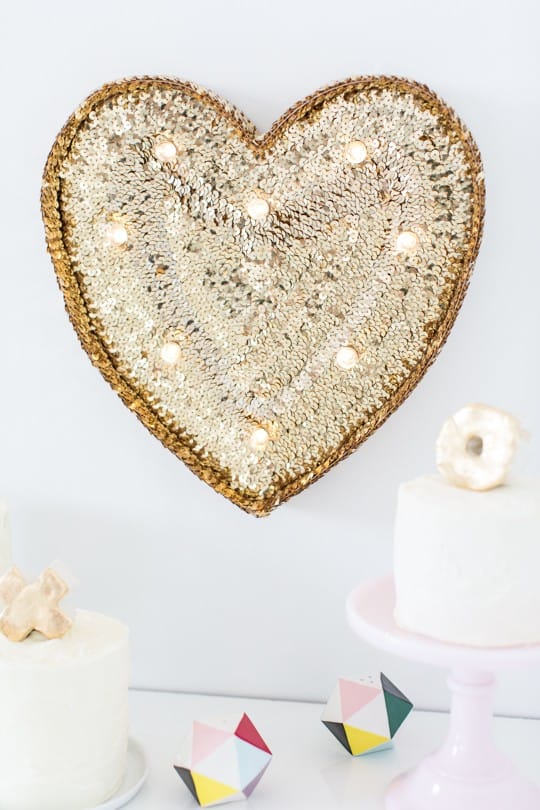 I really love the way it glimmers when it's all lit up! The good thing about the particular marquee I used (links to it above and below) is that it's battery operated so that there are no weird cords coming from it when it's hung.
SHOP THIS POST
[show_shopthepost_widget id="490884″]
I'd love to know how many of you made the sequin ampersand project that want to make this one too! Or, better yet, what's the craziest thing you've ever covered in sequins? This could get interesting! Be sure to tag your projects with #mysugarandcloth so that I can reshare them here on the blog and social media!