DIY Pattern Bowls — These DIY pattern bowls are helping to make tasty dishes and dinner parties prettier, one bowl at a time! Plus, you can make them in no time…
I don't know about you but I, Teri, whole heartedly love having people over for food. So much so that I've chosen to have a dining room table over a desk!
Our 'cozy' London flat doesn't allow room for both unfortunately. But I'm more than happy if it means there are people in my home throughout the week that I can cook for.
With that in mind I always think tasty food belongs in pretty dishes, like these DIY pattern bowls.
They're perfect for summer treats and nibbles inside or outside. And these bowls couldn't be easier to make!
Never mind the fact that my cupboard is already rammed full to exploding with plates, pots, glassware and bowls. I couldn't not try and squeeze a few more dishes into this swollen Aladdin's cave…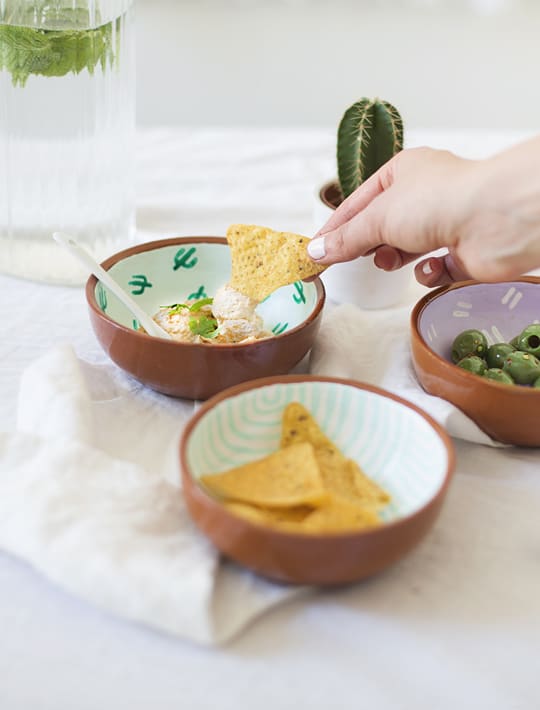 Materials Needed To Make DIY Pattern Bowls
Terra cotta bowls or creme brûlée dishes
purple / green / white porcelain paint (I used Pebeo)
1 medium paintbrush
1 finer paintbrush
Spray shellac

How To Make DIY Pattern Bowls
Start by painting the background colors onto the inside of your bowls, leaving the terracotta rim exposed.
I painted one white, one lilac and one mint. To make the mint and lilac shades, simply mix a little bit of purple or green to a fair amount of white paint.
Leave this to dry, preferably overnight.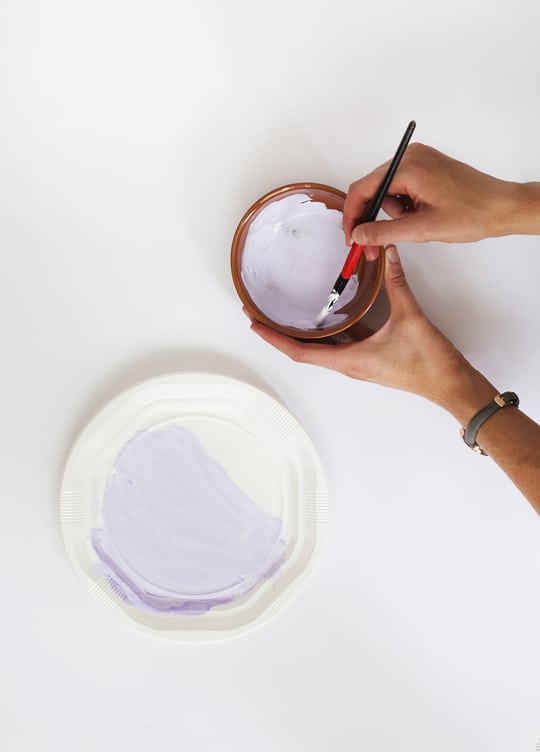 Check the bowls when the paint is dry. You may or may not need a second coat of the base color. If so, then leave to dry again.
Then, paint the motives on over the top, using a thinner paint brush. All of these are simple shapes the paint on so don't worry about being a fully fledged artist.
Dry bake in a pre-heated oven at 300 F for 35 mins or to the instructions on the back of your paint pot.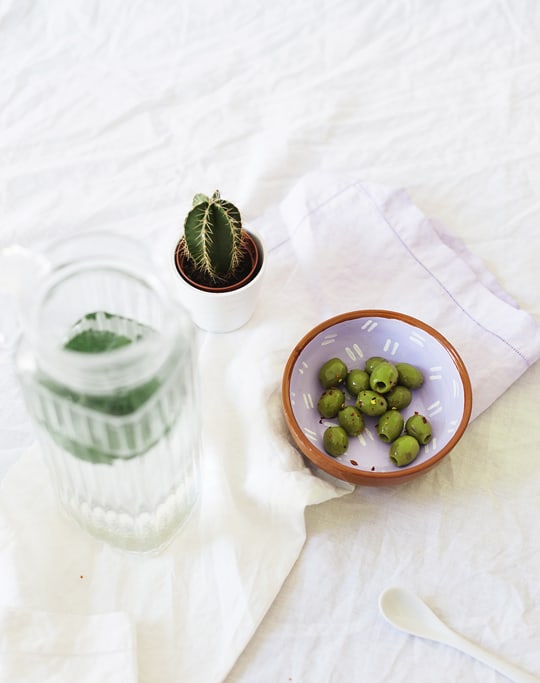 Once baked and completely cool, spray the food safe clear shellac over the entire bowl surface.
Let set completely for 72 hours.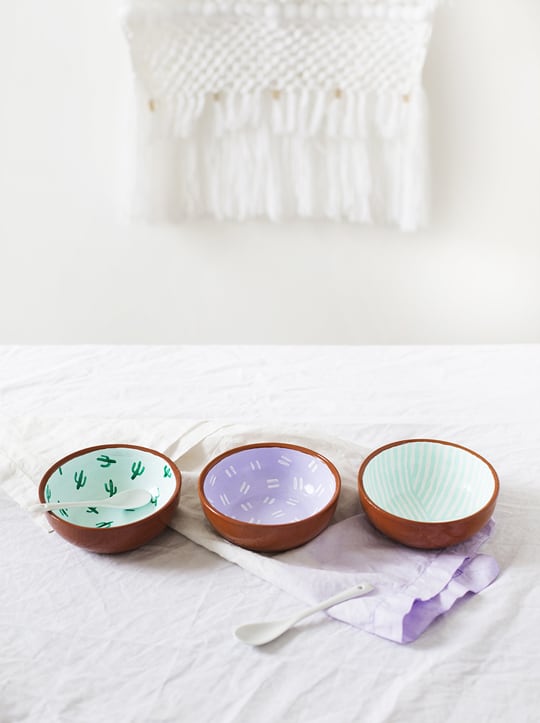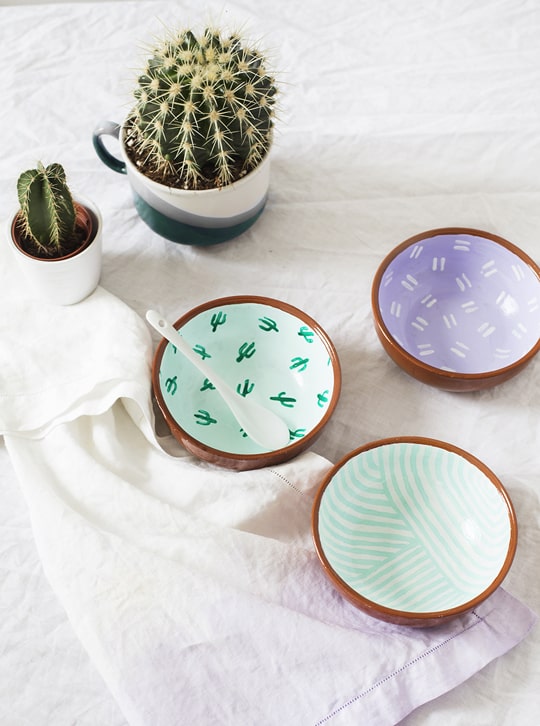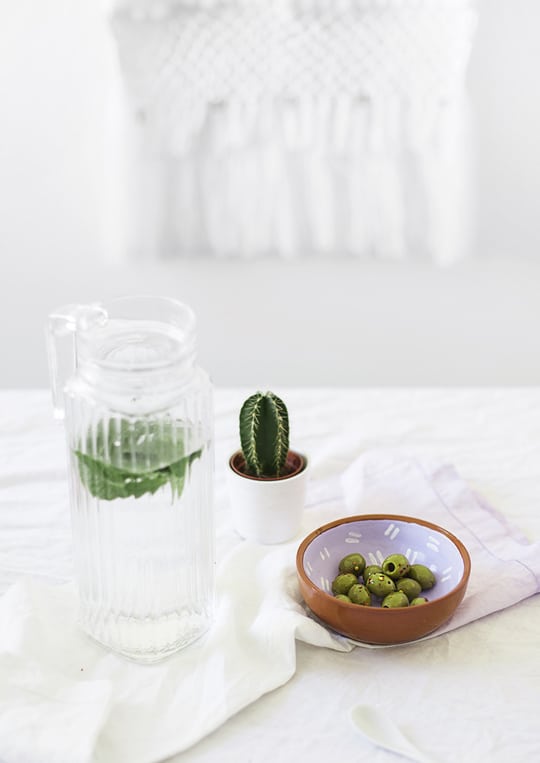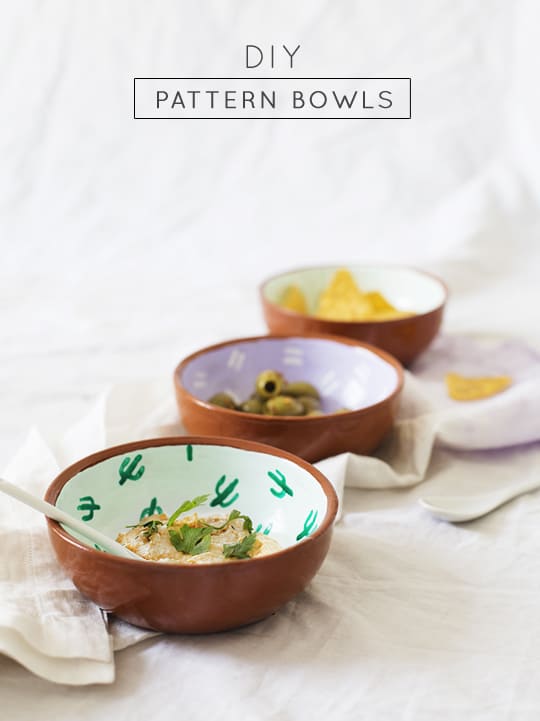 Now you can put your new set of dipping bowls to good use. Invite a some friends round, don a margarita and fill the dishes with tasty pre-dinner snacks.
You could even make a whole bunch more if you're planning a bigger soiree to really deck your table out!
Teri Muncey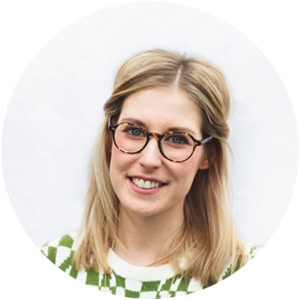 Teri Muncey is a designer, illustrator, stylist, crafter. Originally trained in print and surface pattern design, she has since had five years experience designing in-house for a greetings card company, and now creates The Lovely Drawer full-time from her little London flat.