This is it! Our one room challenge week 6 update is our last one before the big reveal next week!
I didn't include too, too many photos because I didn't want to spoil the fun, but also because I'm trying to organize the chaos a bit.
Turns out that moving back into your bathroom after shoving ALL of the things from random drawers and cabinets into boxes for three weeks is much more time-consuming to reorganize than one would think.
At least, it's forcing me to be very put together by the time baby comes!
As for things you have seen since last week's update, we now have everything fully installed in the bathroom — custom glass door, toilet, sinks, faucets, you name it.
Finally everything is hooked up and working…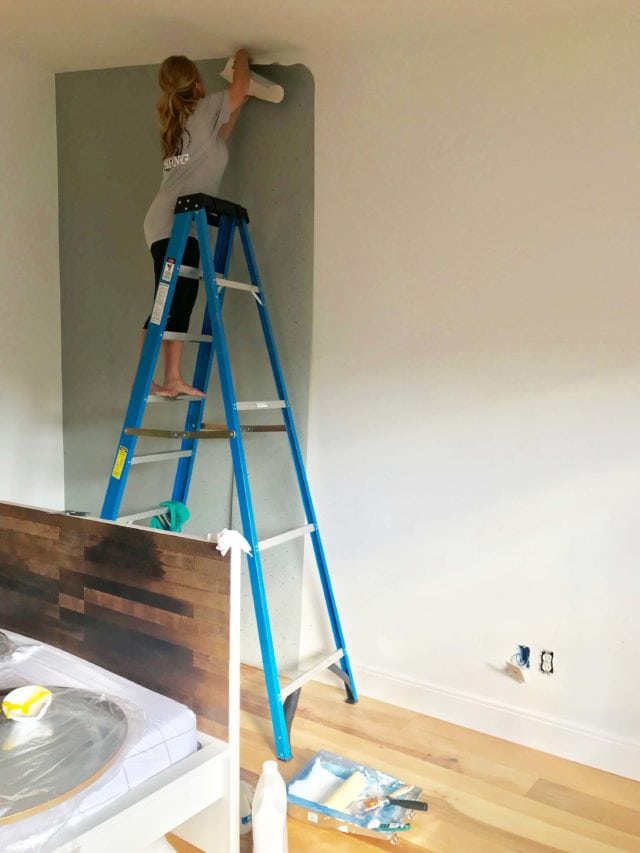 My mother in law currently wins MIL of The Year for coming BACK to our house again for a full 12 hour shift of renovating this week.
We installed this metallic gold fleck wallpaper that I bought a while back, and I love the subtleness of it.
It may seem like it made the room really dark, but that's just my horribly timed iPhone photography thanks to daylight savings time. Still adjusting over here, folks.
Jared is also insanely proud about having replaced the old rickety fan with a new ceiling fan from Craftmade all by himself on a 14 ft ceiling.
Not going lie, I was convinced we should hire out all electrical things, but he did a great job! I'll let you know if it falls on us in our sleep any time soon, lol!
Here's a quick peek at the gold fleck wallpaper, new credenza and wooden bed frame from Overstock, and the white dressers from Article that we'll be using as side tables.
I am so in love with the way the wallpaper accents the gold Emtek door hardware on the Metrie doors and trim!
Who knew modern doors could make such a big difference?!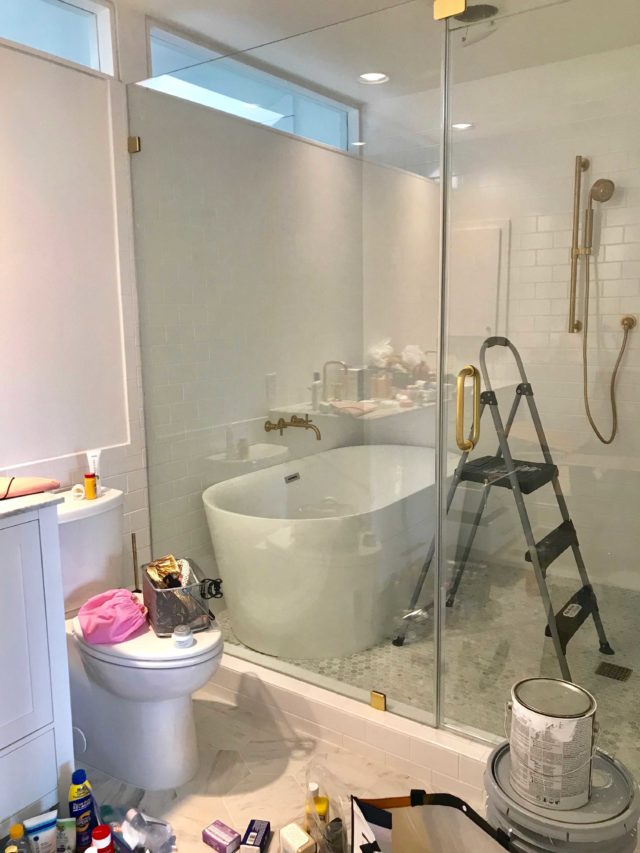 We'll be photographing and filming the tour of final space this Friday, so be sure to watch along on IG stories for sneak peeks as things are coming together!
Be sure to check out our previous One Room Challenge weekly updates right here, plus you can see the other bloggers posts below! — Week 1, Week 2, Week 3, Week 4, + Week 5
One Room Challenger Participants
Boxwood Avenue | Coco & Jack | Design Manifest | IBB for DWD | The House That Lars Built | Little Green Notebook | The Makerista | Making it Lovely | Old Brand New | Old Home Love | The Painted House | Megan Pflug Designs | Pink Pagoda | Erica Reitman | Sacramento Street | Simply Grove | Jill Sorensen | Vintage Rug Shop | Waiting on Martha
Media Partner House Beautiful | TM by ORC