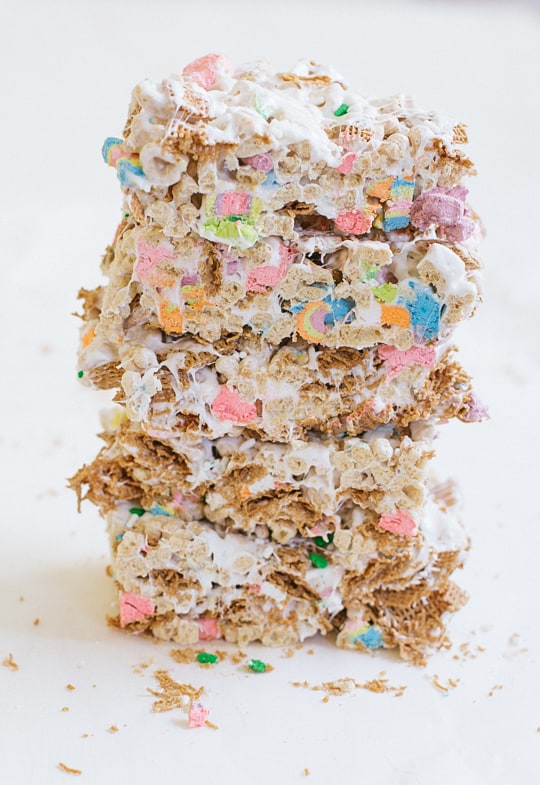 photos and recipe contributed by Nanette of Cultural Chromatics
Can you believe that it's already March? It feels like Valentine's Day was just yesterday, yet St. Patrick's Day is just around the corner! When I think of St. Patty's Day, I pretty much think of 3 things: stout, corned beef, and leprechauns. Since I brought you a stout-y recipe a little while ago, and corned beef isn't very sugary, I decided to share a different leprechaun inspired treat for you today– cereal bars!
These cereal bars are half chex-mix, half rice krispie. In an effort to not give myself a cavity, I added wheat Chex Mix into the recipe to temper the sweetness of the Lucky Charms. It's a quick and easy treat to bring to any party, whether it be a kids party or even an office party. It also goes really well with stout, just saying!
Ingredients:
3 cups lucky charms cereal
3 cups chex cereal
10 oz mini marshmallows
3 tbsp butter
sprinkles (optional)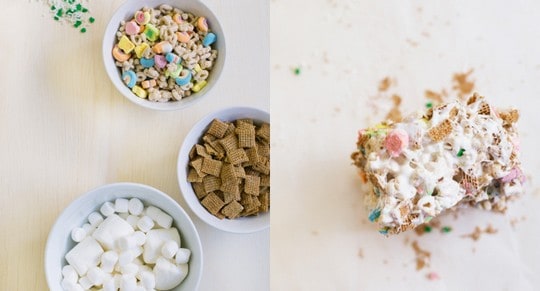 First, line a tray with parchment paper and lightly spray with cooking oil. Also, spray a mixing spoon or spatula so it's easier to clean later. In a microwave safe bowl, microwave the marshmallows and butter for two minutes. Quickly stir and then microwave for another minutes.
Next, quickly add in the cereal and mix with your spoon then our the cereal mixture into the pan and flatten with the back of the wooden spoon.
Let sit for about 10 minutes or until solidified, then it's ready to eat!