Super excited about this delicious looking Boozy Cereal Milk Egg Cream! It's perfect for entertaining and for on-the-go cocktail hour…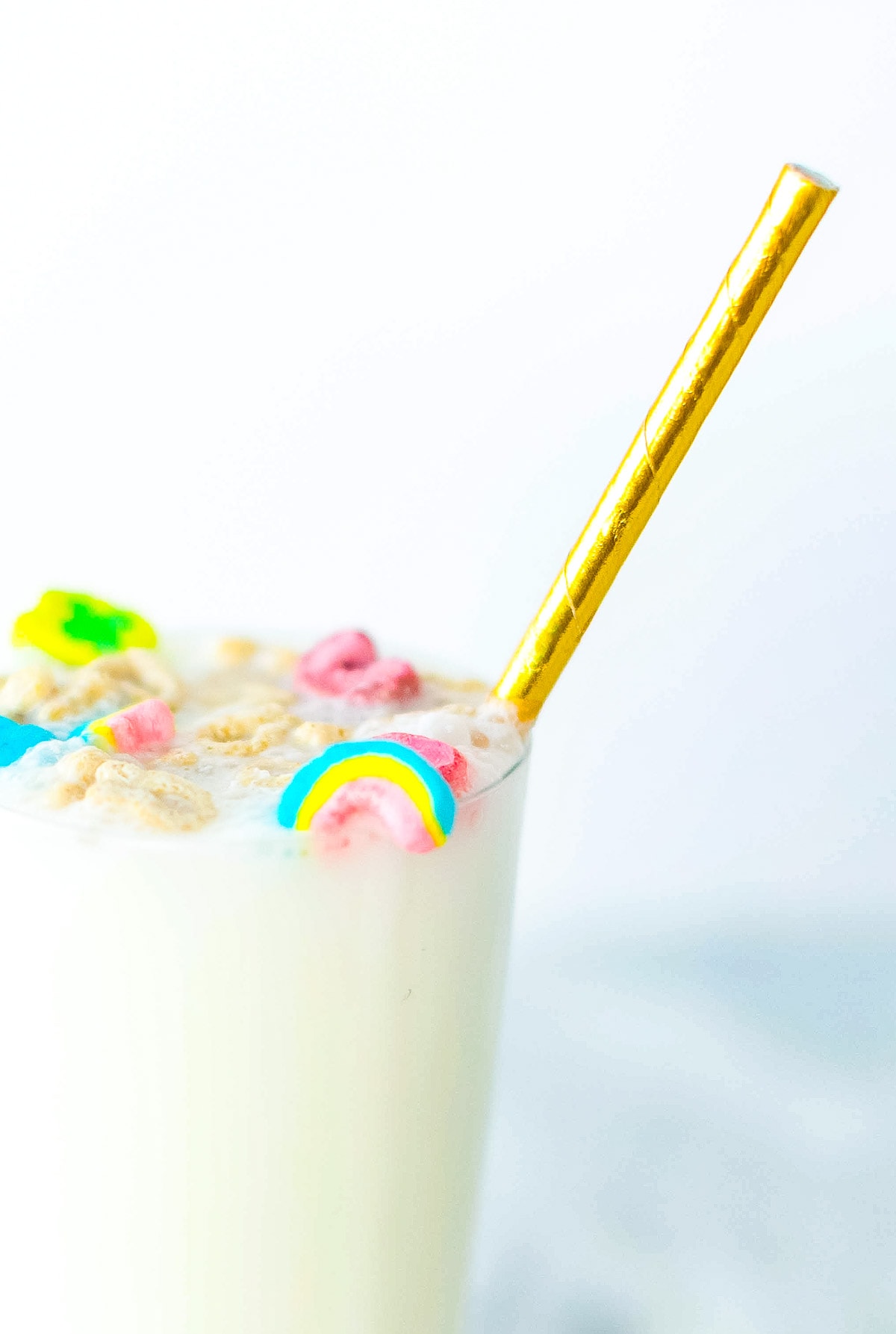 There is nothing like a good bowl of cereal! But cereal doesn't have to be reserved for breakfast. Even better, it could be happy hour!
I, Ashley wanted to take cereal and give it a boozy twist to enjoy after dinner or for brunch (my favorite meal).
The Boozy Cereal Milk Egg Cream is the perfect way to have your cereal and drink it too!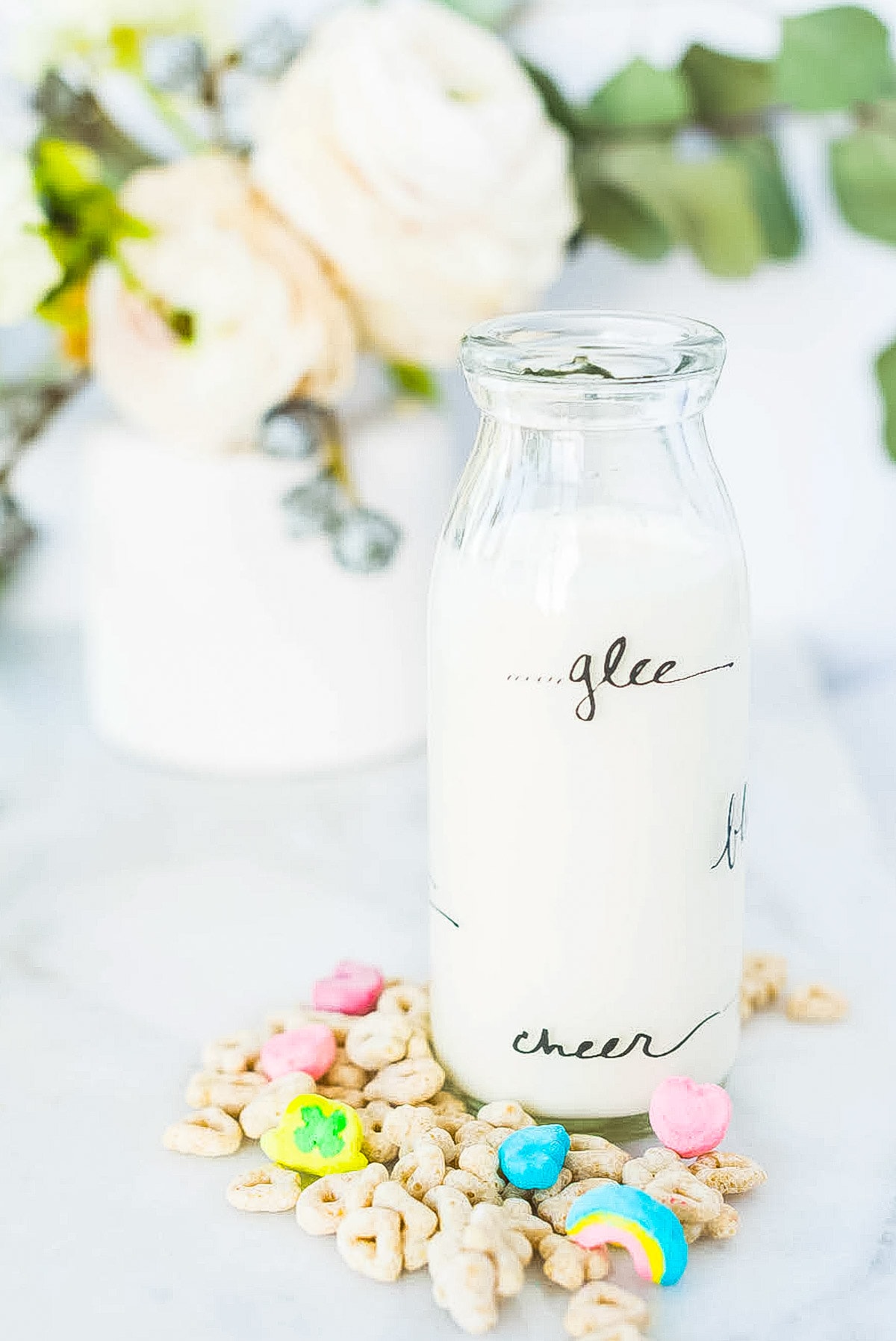 What Is Egg Cream?
If you've never had the pleasure of sipping the beauty that is an egg cream, it is a classic soda fountain drink.
Despite the term, it has no egg in it. How silly, right?
Instead, it has cream or milk, flavored syrup, and soda water for fizz. It ends up tasting like a fizzy milkshake, no blender needed!
When it comes to egg creams, one of the best parts is the fizzy foam that forms. The best way to get this is with a high carbonated soda water.
As we all don't have access to our own soda jerks and tap, there are a few options to achieve the foamiest egg cream.
There are soda siphons you can get that you can adjust how much carbonation is added. There are also high carbonated sodas on the market like Q Drinks that will do just fine.
If you can't get either, no worries! You're cocktail just won't be as fizzy.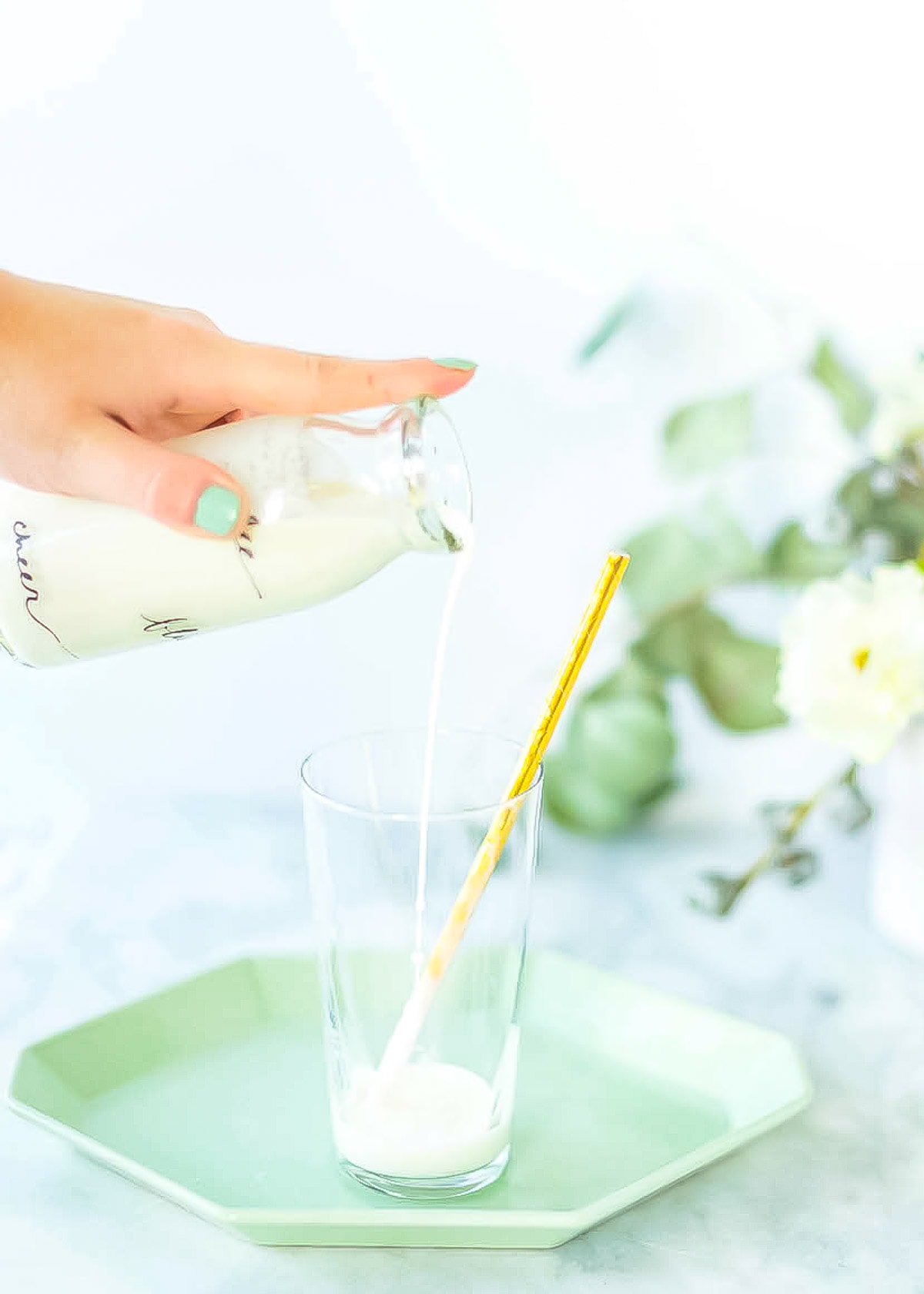 Customizing Your Egg Cream Flavors
You can customize egg creams with different flavored syrups (chocolate, strawberry) or in this case, with cereal flavored milk!
One of the best parts of cereal is getting to the bottom and having the tasty milk to drink.
I wanted that cereal flavor in a cocktail. So I took some cream and quickly infused with Lucky Charms. Marshmallows for the win!
This way, I got a sweet cream that recalls breakfasts of my childhood. But then, added some booze to quickly bring me back to adulthood.
The best of both worlds!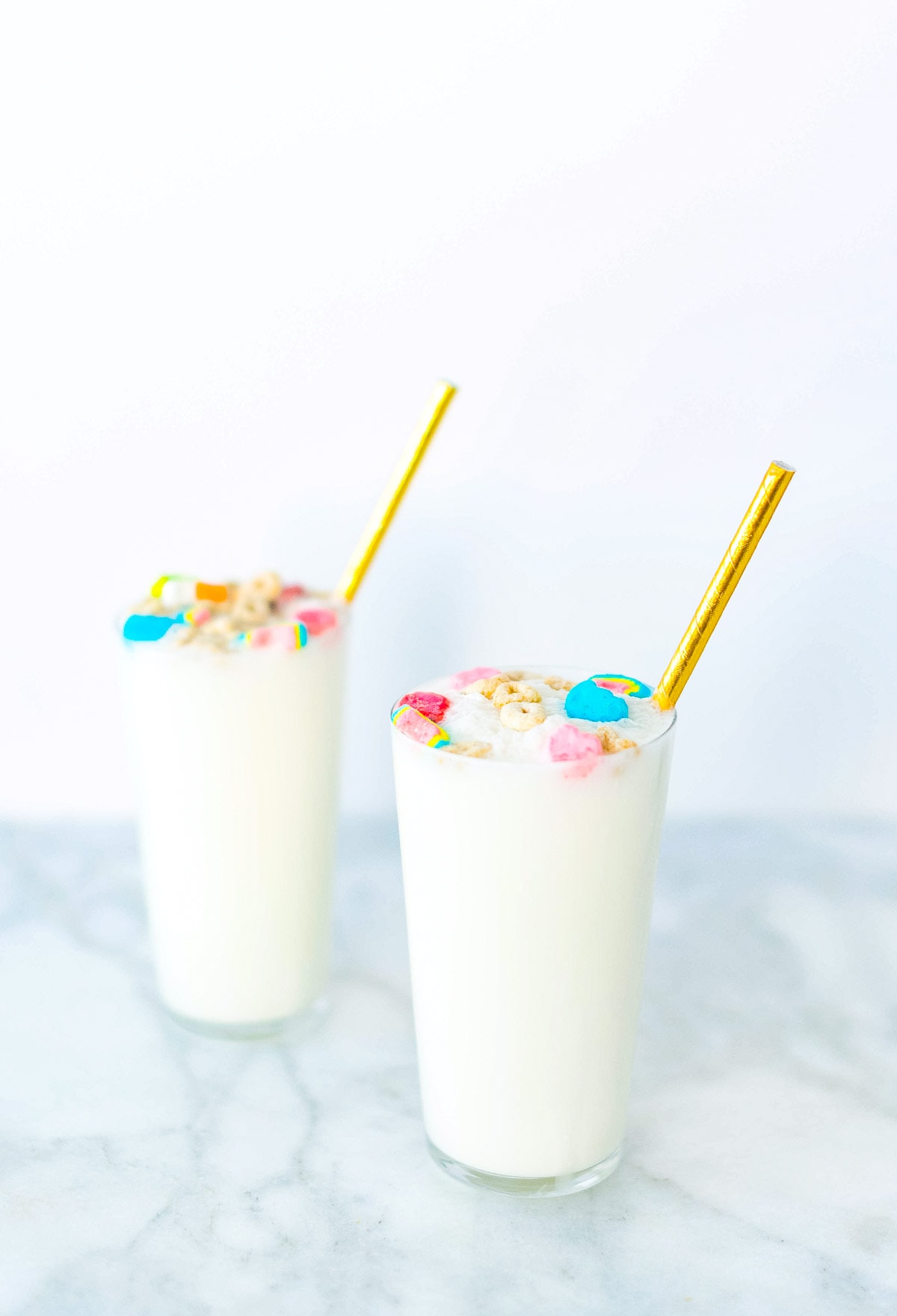 I tend to stay away from food dyes in my cocktails. But when it comes to cereal cocktails, l make an exception.
Cereal is always an exception! I am thinking of trying Cinnamon Toast Crunch next!
What cereal would you use for your Boozy Cereal Milk Egg Cream?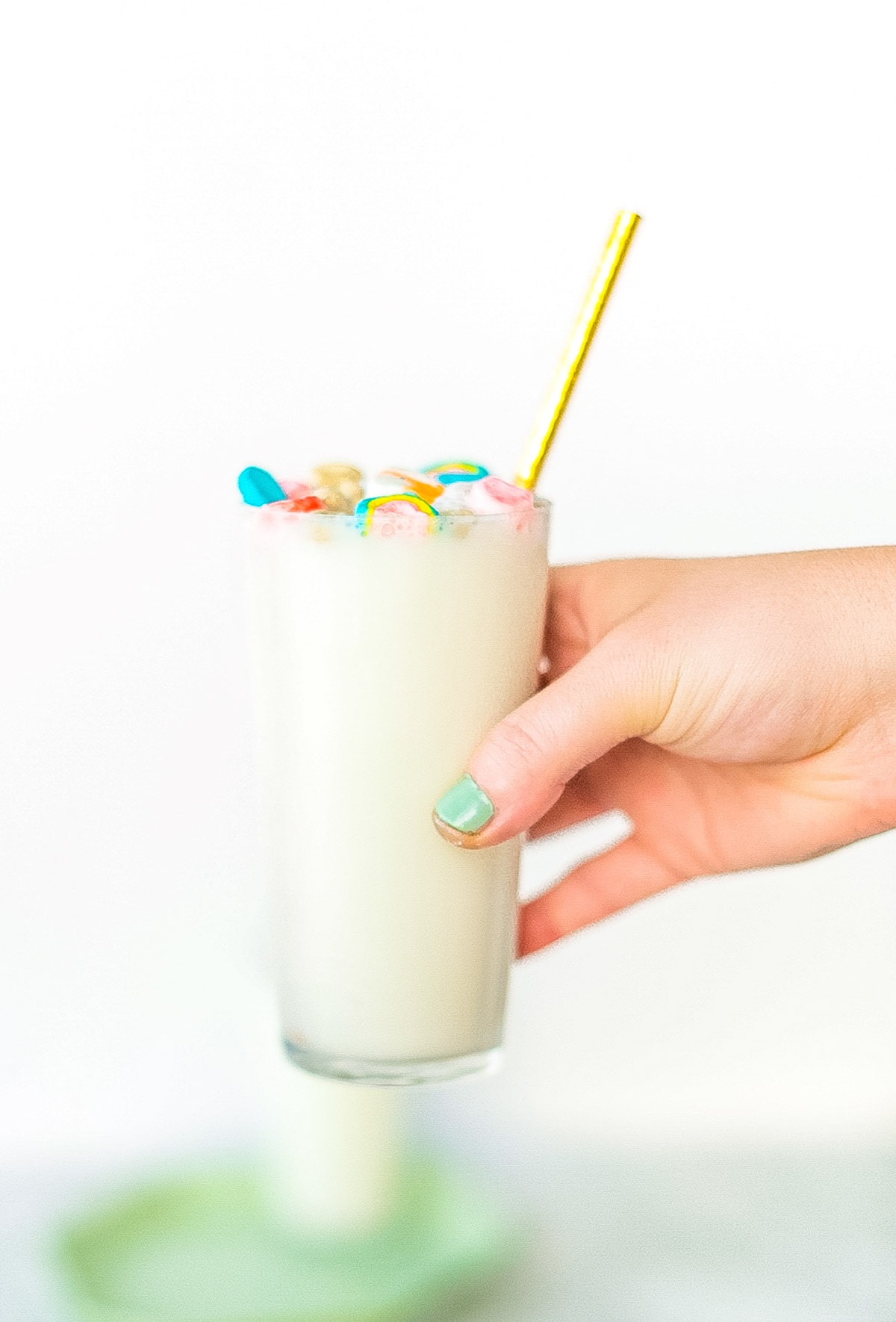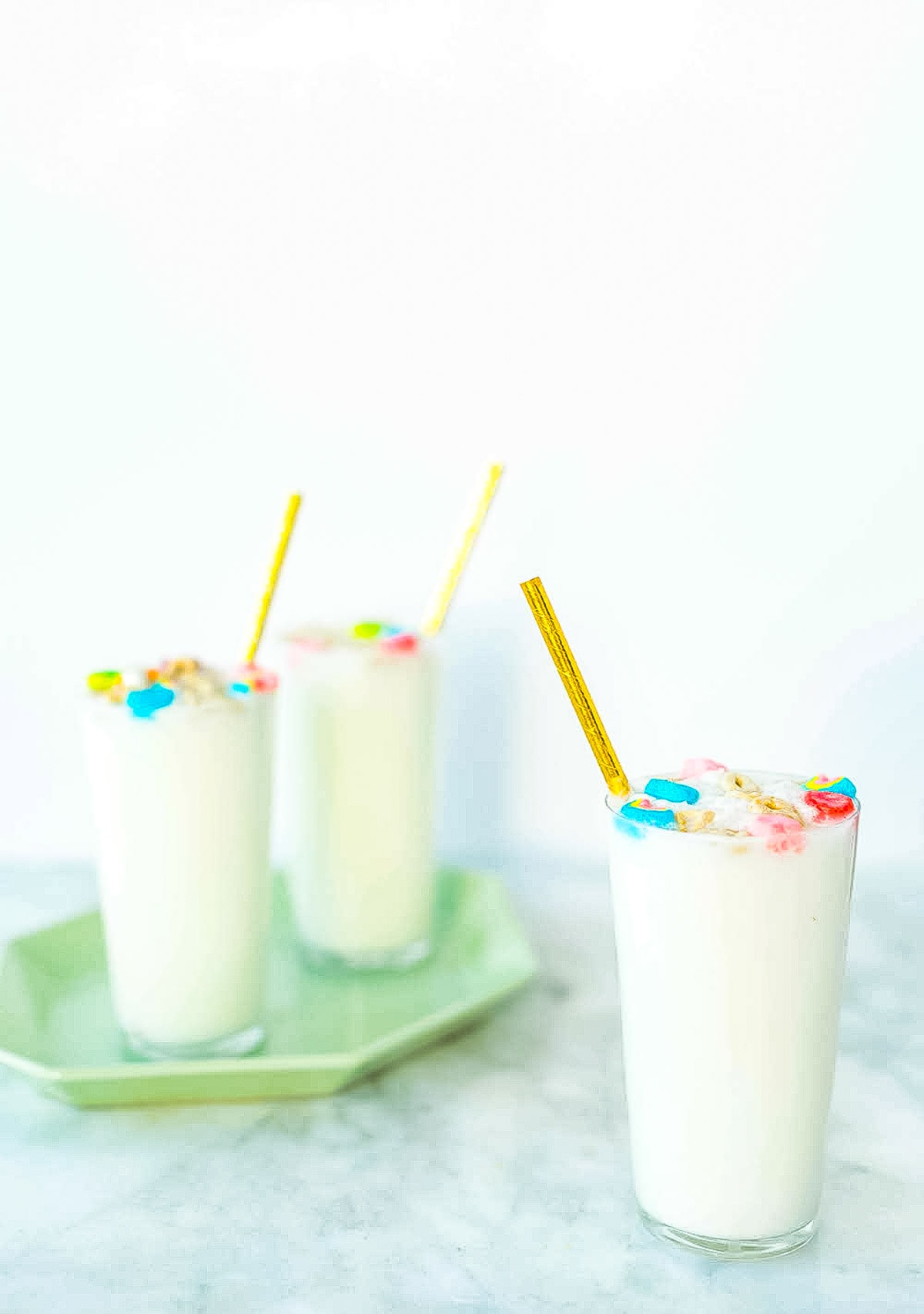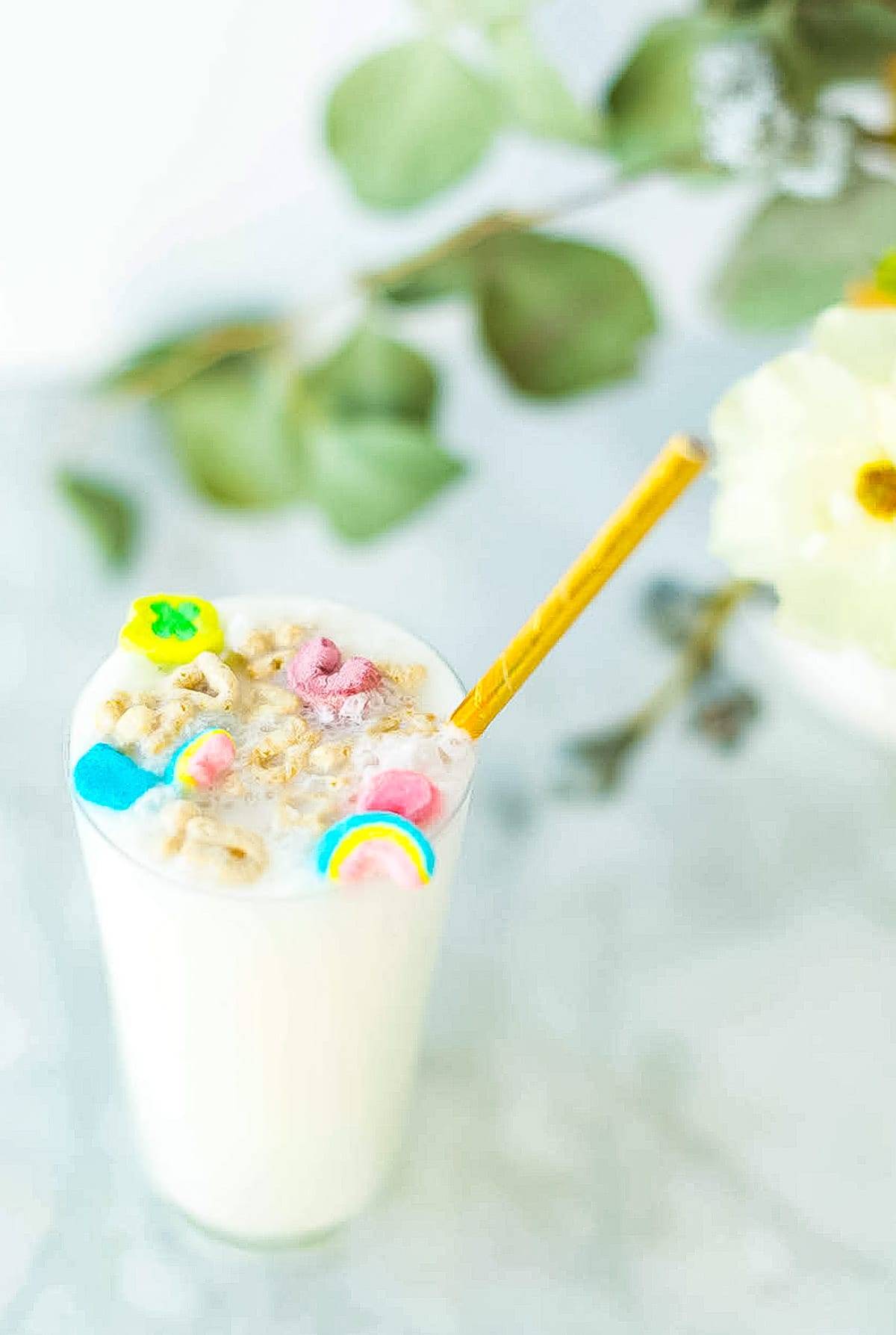 Boozy Cereal Milk Egg Cream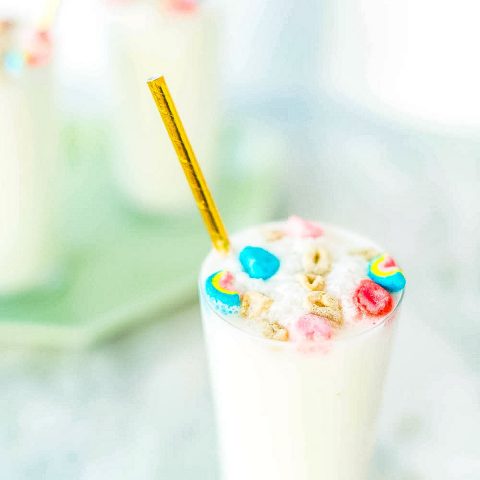 Boozy Cereal Milk Egg Cream Recipe
The Boozy Cereal Milk Egg Cream is the perfect way to have your cereal and drink it too.
Ingredients
For the cereal milk cream:
1

cup

cream

0.75

cup

cereal

I chose Lucky Charms, obviously
For the boozy cereal milk egg cream:
6

oz

soda water

The fizzier the better.

1.5

oz

vodka

1

oz

cereal milk cream

1

oz

Simple syrup

Your favorite cereal
Nutrition
Serving:
1
g
|
Calories:
279
kcal
|
Carbohydrates:
12
g
|
Protein:
2
g
|
Fat:
23
g
|
Saturated Fat:
14
g
|
Cholesterol:
82
mg
|
Sodium:
66
mg
|
Potassium:
58
mg
|
Fiber:
1
g
|
Sugar:
8
g
|
Vitamin A:
968
IU
|
Vitamin C:
3
mg
|
Calcium:
39
mg
|
Iron:
1
mg
Instructions
Infuse cream with cereal, I used Lucky Charms, but feel free to use your favorite cereal.

Add 3/4 cup cereal to 1 cup cream in a jar and let sit for a fews hours in the fridge. Give it a shake periodically.

Strain into a new jar and store for a few days in the fridge.

Add cereal cream, syrup and vodka into a large glass. Stir well.

Top with soda water, holding it high above the glass to cause more bubbles.

As the soda water reaches the top of the glass, slowly pour in until the foam rises slightly above the rim of the glass.

Sprinkle cereal on top of the drink. Sip with a straw or use a spoon!
KEYWORD:
boozy, cereal, cocktail, cream, egg, Lucky Charms, milk, mocktail, st patricks day, sugar and cloth

Don't forget to share your Boozy Cereal Milk Egg Cream cocktail with us on Instagram using the hashtag #sugarandclothloves. We always love seeing all of your creations! Looking for more quick and delicious recipes? Find them all right here with a few bites to go along with them!