Sriracha Bacon And Egg Breakfast Cupcake — For something quick and easy when you're on the go, make these Sriracha Bacon And Egg Breakfast Cupcakes in advance for some much needed morning energy.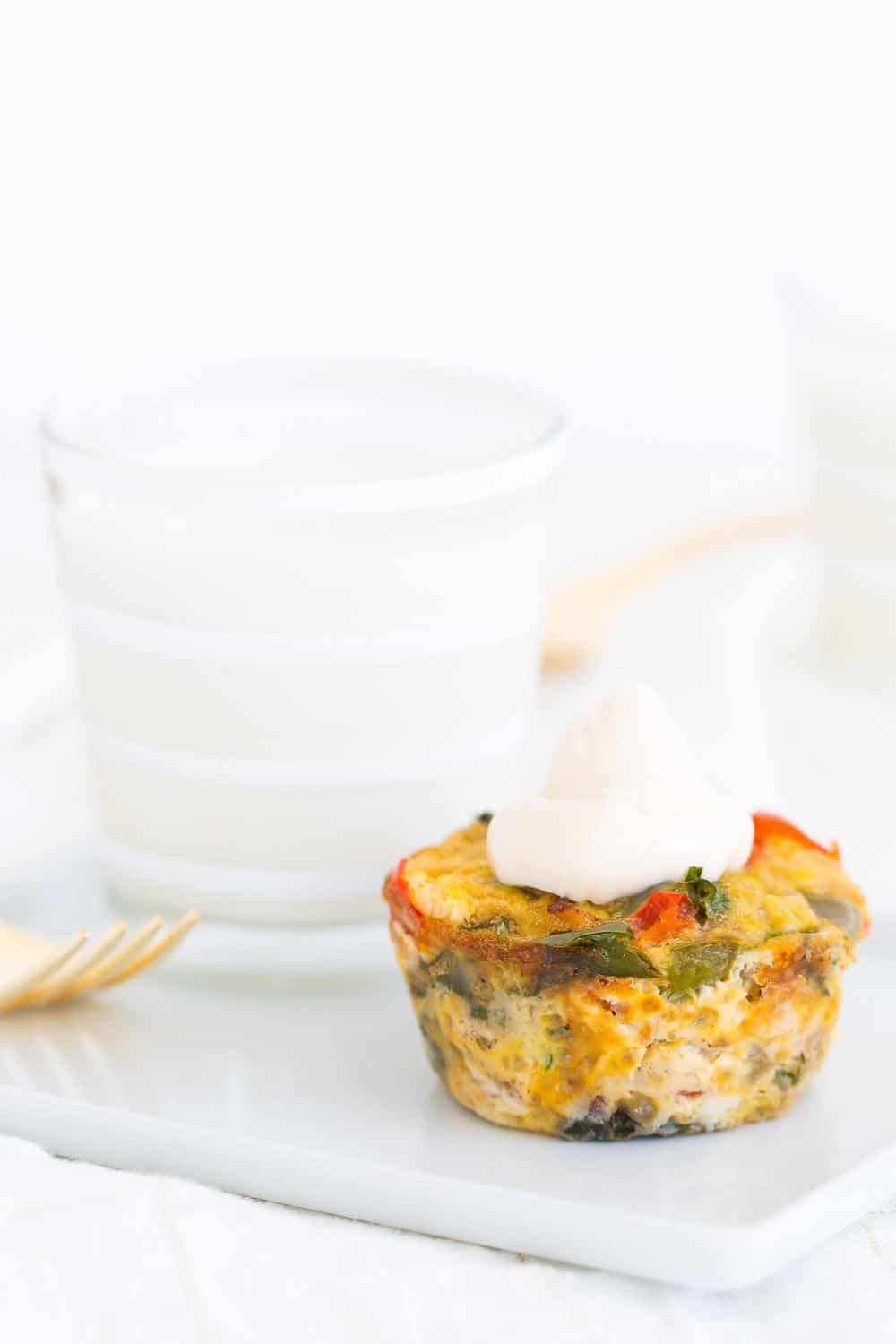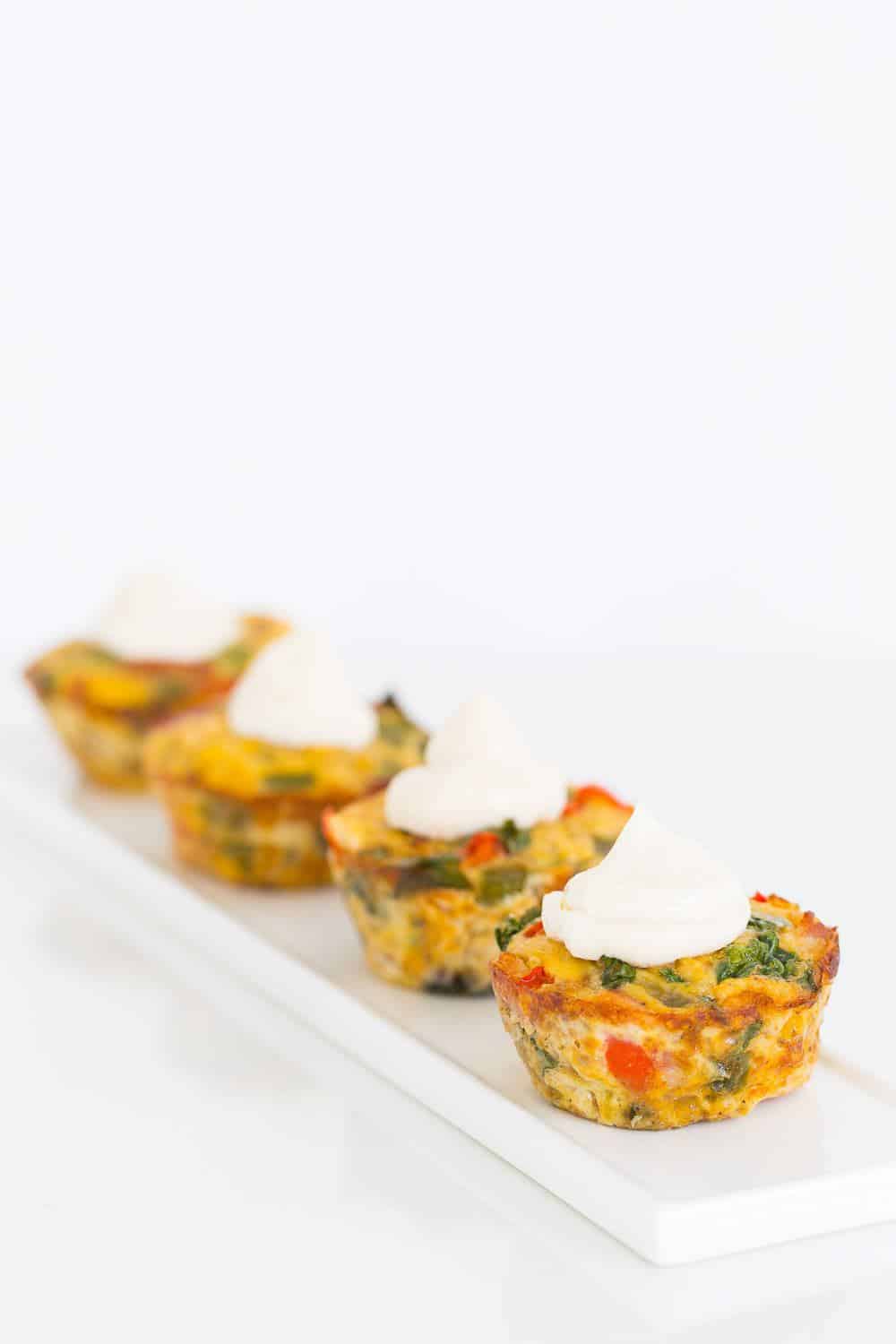 Considering Jared and I are on the go trying to make this whole small business thing happen day in and day out, it usually means a lot of eating on the run. In an effort to cut out some of the frozen junk we've gotten semi used to, prepping meals in advance — like this sriracha bacon and egg breakfast cupcake recipe — to heat up on the go is becoming my new best friend!
They also pack a pretty good amount of protein so they stick with you through lunch, which I love. I'm all about the smoothie craze as much as the next gal, but it doesn't matter what's in that thing, I'm ready to eat an arm by 10:30am. Call me Big Hungry, but I can't help it…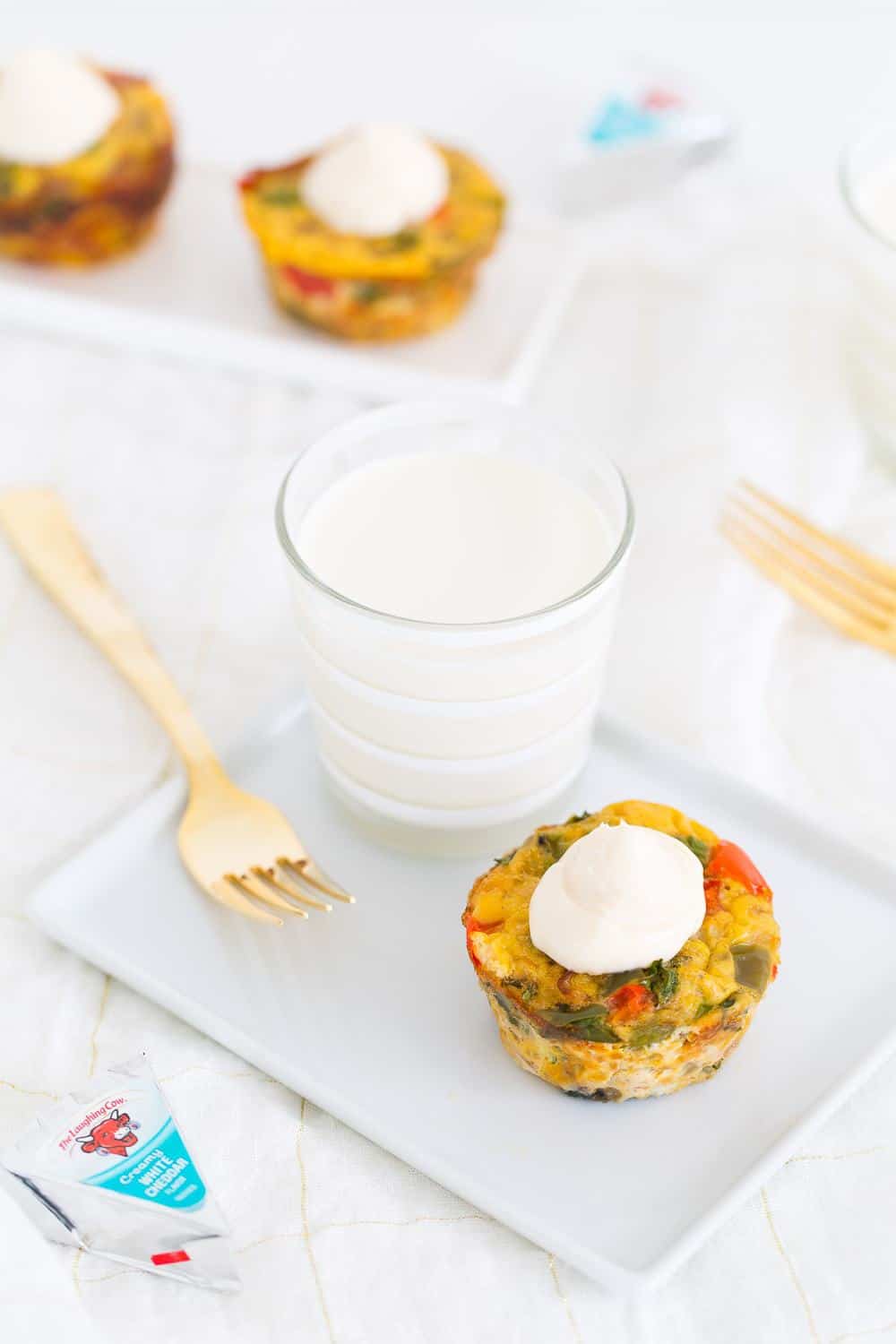 Sriracha Bacon and Egg Breakfast Cupcake Ingredients (yields 1 dozen):
1 container of The Laughing Cow® White Cheddar Cheese Wedges
1 tablespoon coconut oil
8 whole eggs
1 cup chopped red pepper
1 cup chopped green pepper
2 cups of roughly chopped baby spinach
1/2 cup chopped onions
1/2 to 1 cup cooked, crumbled bacon
1/2 tsp minced garlic
Salt and pepper to taste
Sriracha
Preheat the oven to 350.
Cook the strips of bacon (I used about 8 pieces), and set aside to cool. Once cool, crumbled into small pieces.
Sauté the green and red peppers and onions over medium heat until soft with a splash of oil and salt and pepper to taste. Add in the garlic just before removing from the heat, stir, then set aside.
In a large bowl, whisk all 8 eggs, then stir in the veggie mixture along with the bacon crumbles. You'll also stir in the amount of Sriracha you'd like. I like things a bit spicier, so I used 2-3 tablespoons (or a really generous squeeze), but you can add as much as you see fit.
Pour the mixture evenly into a greased cupcake pan, filling all 12 slots just short of the top.
Bake for 15-18 minutes, or until a toothpick comes out clean.
Bake for about 15 minutes, or until the tops are firm to the touch or if an inserted toothpick comes out clean.
While they're baking, combine the The Laughing Cow® White Cheddar Cheese Wedges into a bowl and stir until it's nice and fluffy.
Remove the cupcakes from the oven once they're baked through, and let them cool for a few minutes.
When they're just warm enough to eat, pipe or spoon a dollop of the whipped White Cheddar Cheese Wedges on top, and serve immediately.
If you're going to be saving the rest for breakfast during the week like we did, store in an airtight container, being sure to consume them within 3-4 days. You can also save them in an airtight container in the freezer, and let them thaw in the refrigerator the night before you'll be reheating them.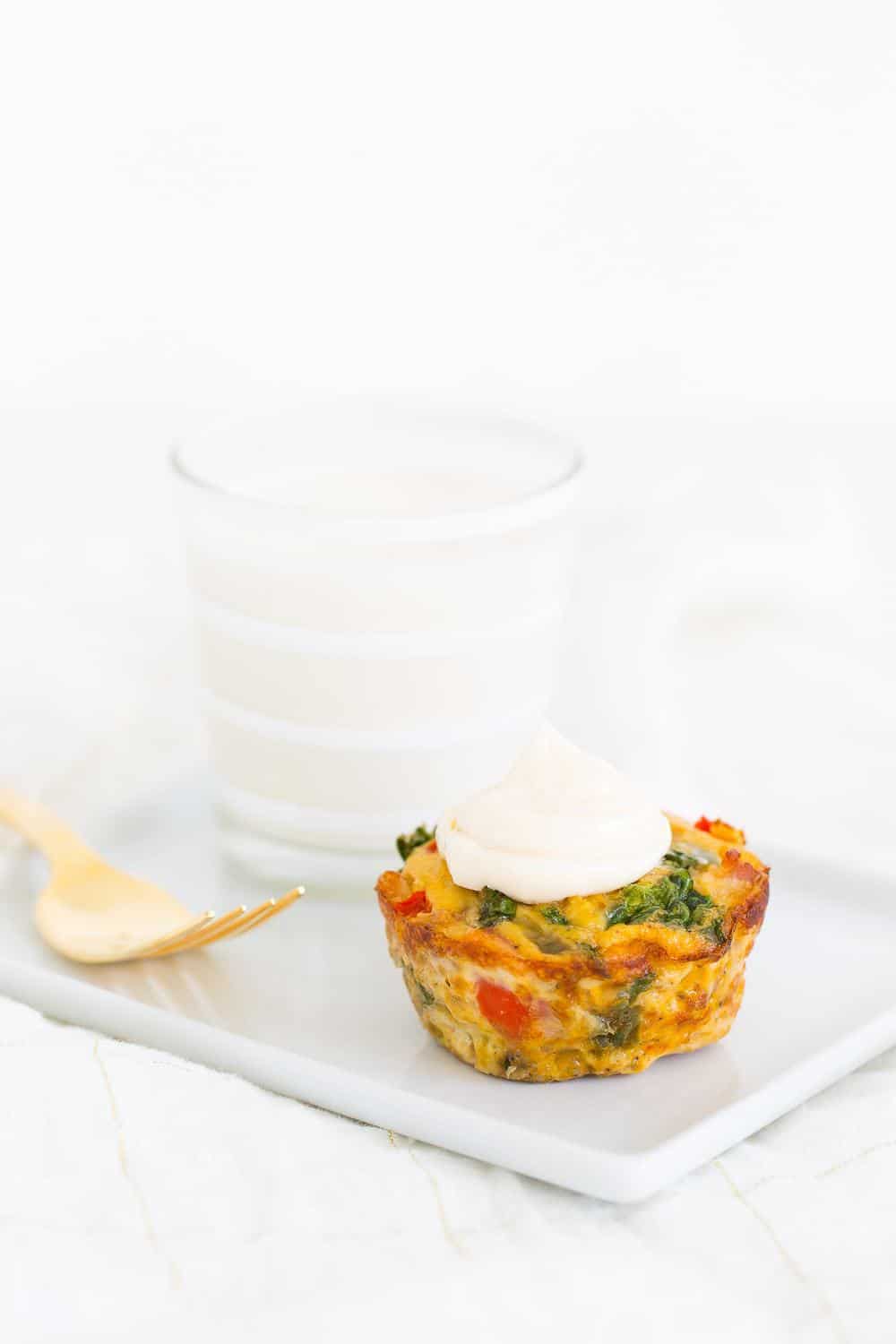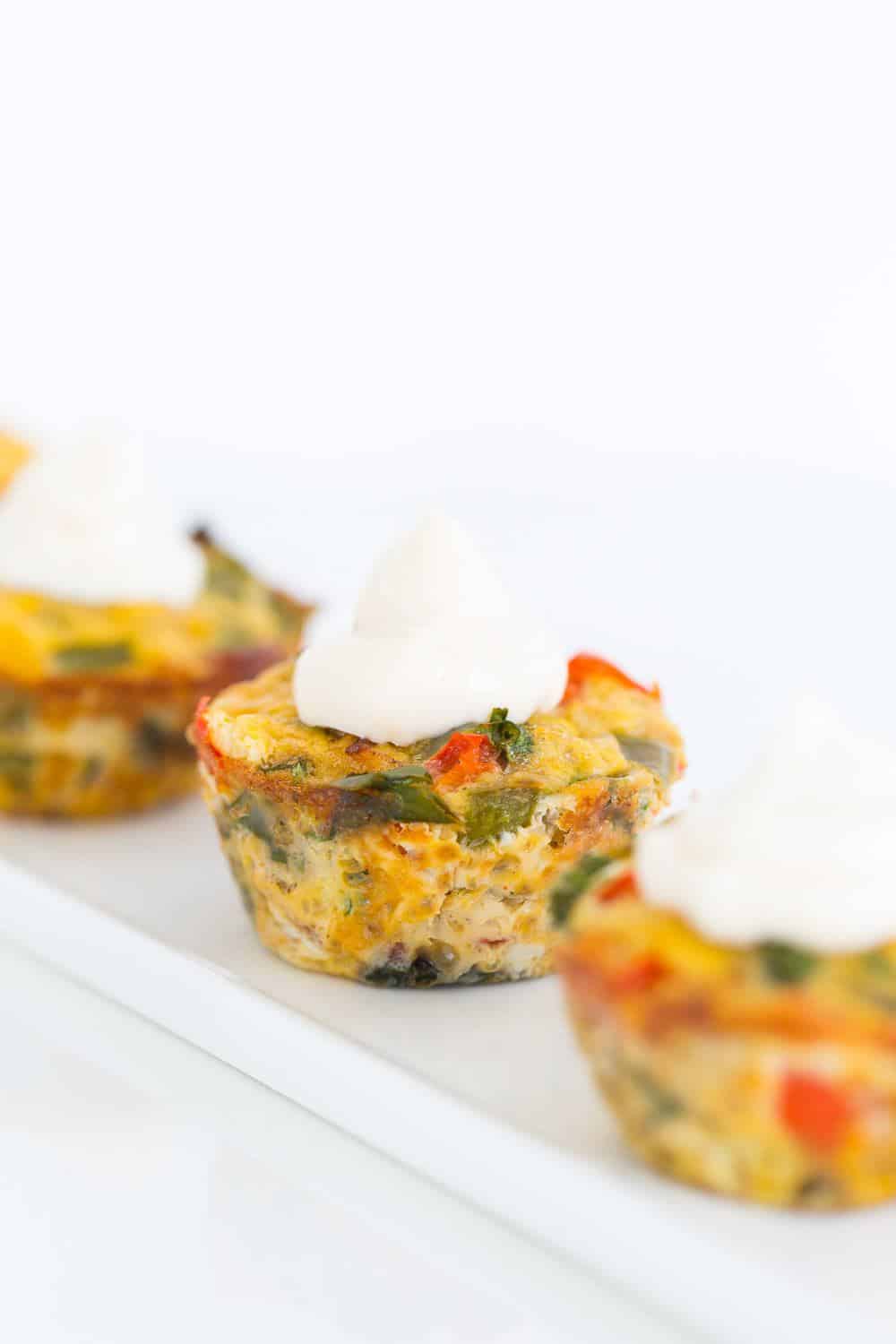 What are some of your favorite go-to power breakfasts?! I also want to refine the art of the chia yogurt/pudding, but I haven't quite fine-tuned how to get it just the right thickness.
Be sure to let us know if you love a recipe or project by sharing it with #mysugarandcloth!
This post is made possible by The Laughing Cow® . Thanks so much for supporting the brands that keep bigger and better DIY's and even sweeter sweets coming straight to your inbox everyday!
Photos by Jared Smith