If you're looking for some delicious and quick Instant Pot breakfast recipes, look no further! This list has everything from oatmeal to eggs.
Breakfast is the most important meal of the day.
And when you're beginning a long day, the last thing you want to do is buy an unhealthy greasy breakfast from the nearest fast food window or take forever homemaking a nice breakfast dish.
The Instant Pot is the perfect solution because the recipes take no time to put together.
They're ready in minutes, and you are on time and out the door with a belly full of win-the-day nutrients!
So we compiled a list of some delicious and quick Instant Pot breakfast recipes to help you have your best day.
Instant Pot Breakfast Recipes
1 — Instant Pot Sausage, Egg and Cheese Strata Recipe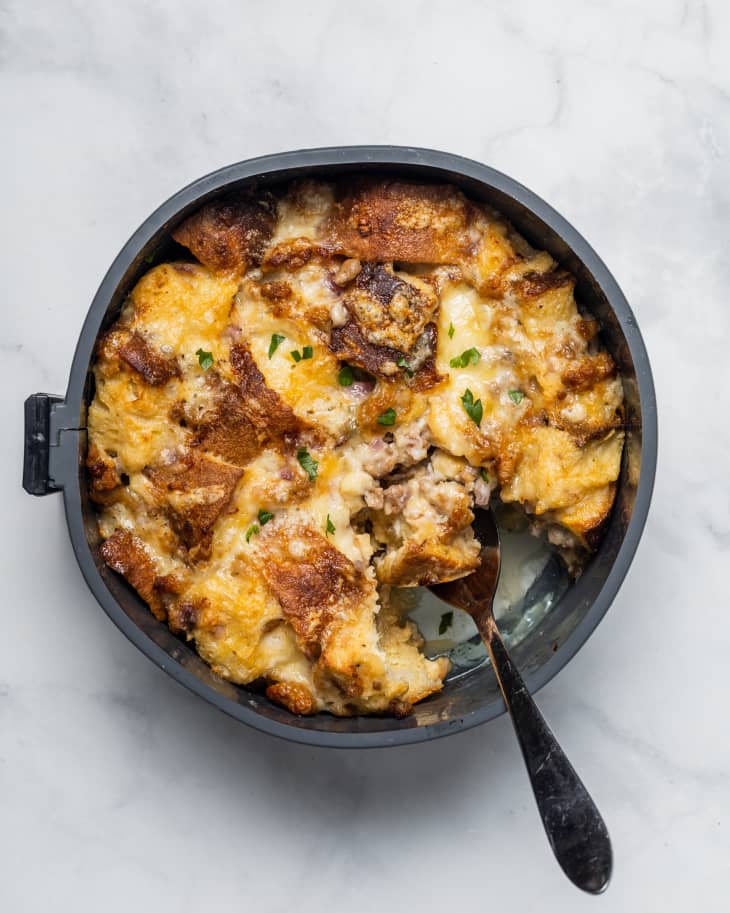 If you are someone who likes to prepare breakfast ahead of time, this is a great meal option for you.
This strata (also known as a bread casserole) can be made the night before and takes very little time to throw together.
The recipe calls for day-old bread which is necessary since the staleness of it soaks up the egg custard.
If you don't have any day-old bread lying around, toast some bread cubes in the oven (or Instant Pot!) before putting them in the casserole.
The sausage, egg, and cheese fuse together while the bread soaks up the creamy custard for a truly mouthwatering breakfast full of protein and carbs to help you start your day right.
Serve it next to some hash browns, a side of pancakes, or a nutrient-packed citrus yogurt.
2 — Instant Pot Ham and Pepper Frittata Recipe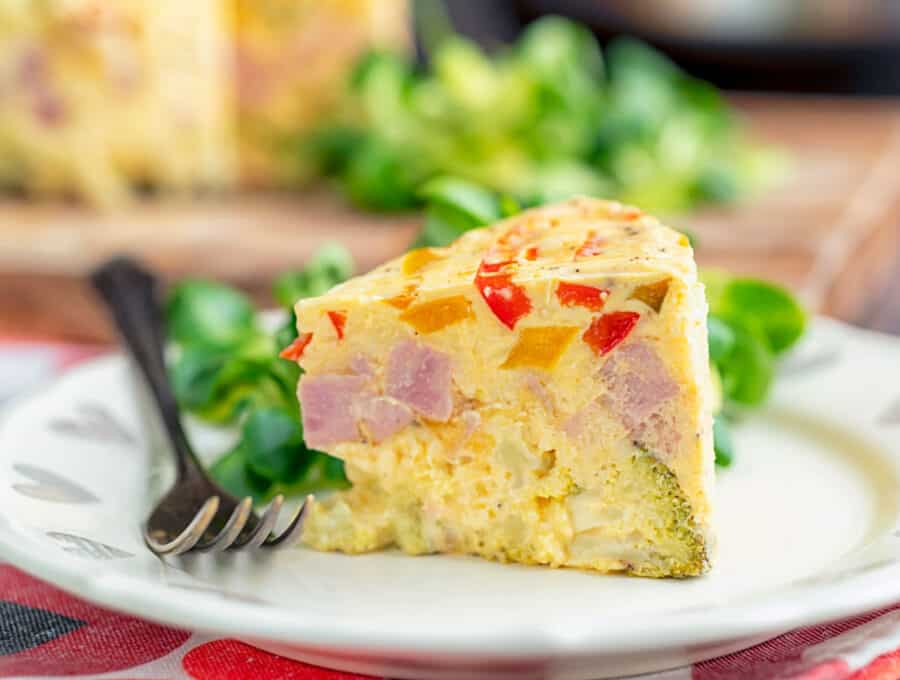 Since this recipe doesn't require any particular vegetables, this is an easy recipe to use up vegetables in the fridge that you don't have a plan for.
Simply "saute" the veggies, and then cook the egg mixture for a fluffy and light frittata.
Drink up with the Coffee Old-Fashioned or a delicious Espresso Martini with Baileys.
3 — Instant Pot Steel Cut Oatmeal Recipe
Steel-cut oatmeal is a fantastic food choice for breakfast.
But it normally takes too long to prepare and cook for someone looking for a quick and healthy breakfast option.
However, Instant Pots cut the cooking time down to 6 minutes which means getting a healthy and quick breakfast in the morning isn't actually impossible.
These oats can be frozen for meal prep too!
Make your oatmeal for Savory Oatmeal Breakfast Bowl.
Or top it off with cream, butter, brown sugar simple syrup, boozy bourbon syrup, cinnamon, berries, or a homemade compote of your choice!
4 — Instant Pot Quinoa Breakfast Bowl Recipe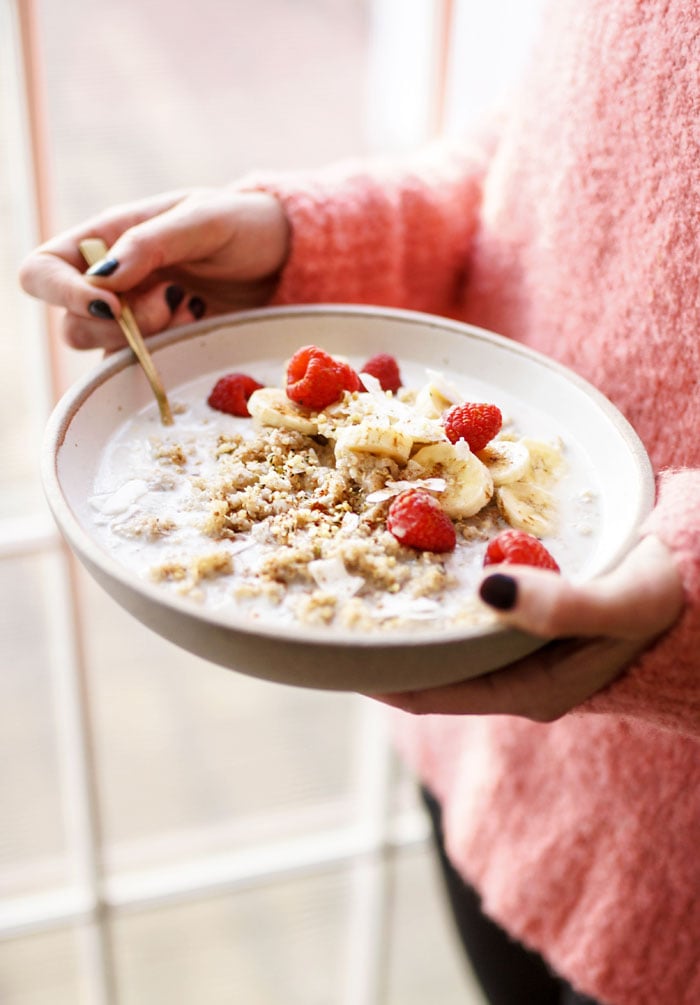 Quinoa is not only an incredibly healthy, protein-packed grain but is fantastic for those who don't eat gluten.
If you prefer oats over quinoa, you can easily swap them out in this recipe.
Add the quinoa to your favorite milk (almond, oat, or maybe coconut), or top them off with some fresh berries to give off a delicious, fresh flavor.
Regardless of how you serve it, you will be full of great nutrients by the end of breakfast.
5 — Instant Pot Berries And Cream Breakfast Cake Recipe
Cake for breakfast is never a bad thing, right? Especially when the cake is healthy! It's 100% whole grain and packed with protein.
It's easy to make too.
Simply throw together a whole wheat, eggy batter into the Instant Pot and swirl in some of that compote.
Use any type of compote you please (berry, peach, rhubarb, boozy orange compote, etc.) to top off this delicious breakfast.
To take it up a notch, add in some fancy royal icing drizzle too!
6 — Instant Pot Caramel Apple Pecan Coffee Cake Recipe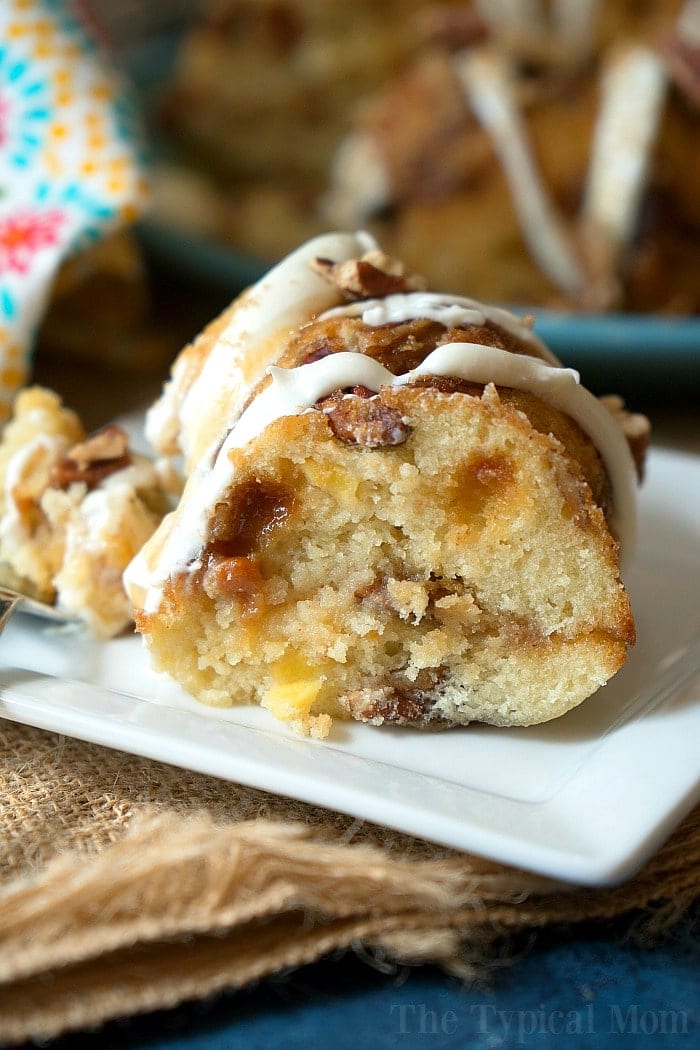 If you're looking for a sweet coffee cake that's homemade, takes no effort to make, and is ready in a jiffy, this is the recipe for you!
Plus, the Instant Pot technology keeps the dough moist as it cooks. Dry coffee cake is the worst.
Add in some caramel bits, chocolate chips, diced apples, or nuts to give it extra flavor.
Try this paintable royal icing, homemade chocolate sauce, or thick brown sugar drizzle to top off the cake.
So drizzle that frosting on top, whip up your favorite Dalgona Coffee, Orange Spiced Iced Coffee, or Vanilla Bean Sparkling Coffee, grab a slice of this delicious coffee cake, and you're all set to have a wonderful day!
7 — Instant Pot Yogurt Recipe
Making yogurt in an Instant Pot is not only easy but actually fun to do!
Plus, it's definitely easier than finding the sheep, milking it, and hand-making yogurt from them!
Yogurt is cheap to begin with, but this yogurt recipe takes it up a notch.
Requiring only 1 gallon of milk and a yogurt starter, you can get up to 3 quarts of homemade yogurt (which saves really well)!
And the drained-off whey liquid can be used in place of buttermilk. (So try these Irish Soda Bread Knots with it!).
Not sure what to top your yogurt with?
Try this Morning Citrus Yogurt, granola, or a homemade Berry Panzanella made with locally-grown fresh fruit.
Change it up with this Baked Apple with Spiced granola and Yogurt recipe.
If you want unsweetened yogurt with just a touch of sweetness, try adding honey, maple syrup, or a brown sugar simple syrup drizzle on top.
Yogurt isn't simply for just granola and breakfast though.
It's also great for making dressings, sauces, smoothies, and icing healthier.
Disclaimer: Although yogurt can be made in regular pressure cookers, this recipe is specifically for Instant Pot users. So beware of that when making it.
8 — Instant Pot Cinnamon Roll Recipe
It's hard to have a bad day when you start it off with a homemade puff pastry cinnamon roll.
What's even better is making those rolls quickly and efficiently in an Instant Pot.
This Instant Pot cinnamon roll recipe can easily be frozen, thawed, and will taste as if you had just made the rolls this morning!
Although it does take a while to make, rise, and bake, it's definitely worth it.
Pair these cinnamon rolls with a whipped coffee or a homemade Iced White Chocolate Mocha!
9 — Instant Pot Savory Mushroom Thyme Oatmeal Recipe
Butter and beef are always a good combination.
This recipe adds oatmeal and herbs to that delicious duo, making it a cheesy, creamy, decadent dish.
If you love risotto, this will make for a great breakfast (or dinner, honestly).
Serve it with a sunny-side-up egg on top or some garlic and herb biscuits on the side to make it even more delicious.
10 — Instant Pot Cranberry French Toast Recipe
Sourdough french toast is a delicious way to get carbs in the morning – with a little bit of sugar to boot.
This recipe consists of chunks of bread that are soaked in custard, leaving it to be a cross of bread pudding with french toast flavoring.
Although this recipe calls for a special cranberry sauce, it's totally up to you.
Feel free to try this blood orange compote recipe, too. Top it off with a homemade bourbon syrup if you dare!
11 — Instant Pot Hard-Boiled Eggs Recipe
Hard-boiled eggs are always a great way to get your protein in a short amount of time and are a fantastic snack on the go.
Depending on how you like your yolk, the cooking time in the recipe can be adjusted easily.
If you're looking to use up your leftover Easter Eggs, try these hard-boiled eggs to fill up picky eaters at the Easter party.
Do you still have eggs left? Make a mini-egg cheesecake to continue the festivities!
12 — Instant Pot Scotch Eggs Recipe
Scotch eggs make hard-boiled eggs look weak.
Coming from Scotland, these hard-boiled eggs are wrapped in a delicious sausage which is then breaded and baked or fried and, in this case, cooked in the Instant Pot.
Although in America, hard-boiled eggs and meat are normal breakfast food, UK tradition also says these can make for great picnic food and can be served with a pickle for a side.
(So try pairing it with this Pickle Martini instead).
13 — Instant Pot Crustless Meat Lovers Quiche Recipe
Quiche is a fantastic food that serves well for breakfast, lunch, and dinner.
It's easy to make in the Instant Pot, which makes it great for a quick-to-make breakfast for the family.
Filled with sausage, ham, bacon, and cheese, this protein-packed dish is fantastic for keto diets and gluten-free eaters.
14 — Instant Pot Triple Berry Rhubarb Pancake Sauce Recipe
Rhubarb is an underrated food that goes not only great in a pie but also in sauces and compotes.
Regardless of how it's served up, even picky eaters love the tart-yet-sweet flavors of rhubarb.
This recipe is no exception with its delicious mix of juicy fresh berries and cooked rhubarb, and cooked fruit.
Fruit releases a lot of liquid when it's being cooked (especially under pressure).
And the sugar dissolves, so there is no need to add extra liquid to this sauce while it's cooking. This sauce is not only a great breakfast topper for pancakes, strawberry almond crepes, and cinnamon apple waffles but would go splendidly with any citrus yogurt bowl, no churn ice cream, or cake.
Try it with this decadent keto strawberry cheesecake recipe!
Instant Pot Dinner Recipes
More Easy Breakfast Ideas