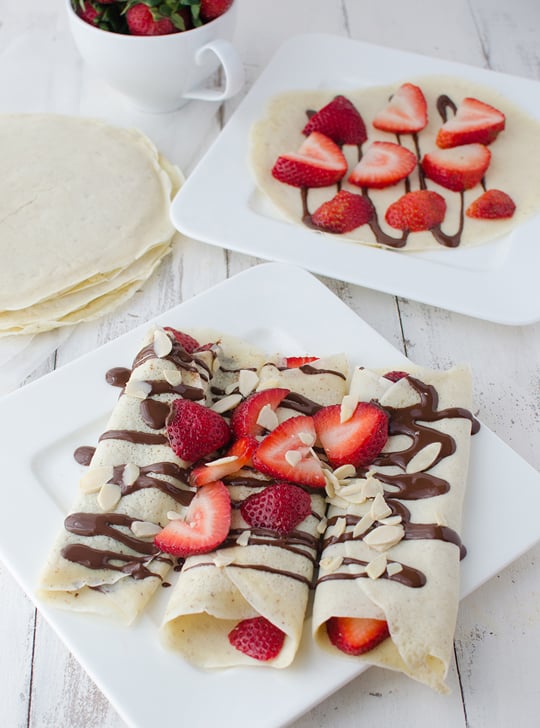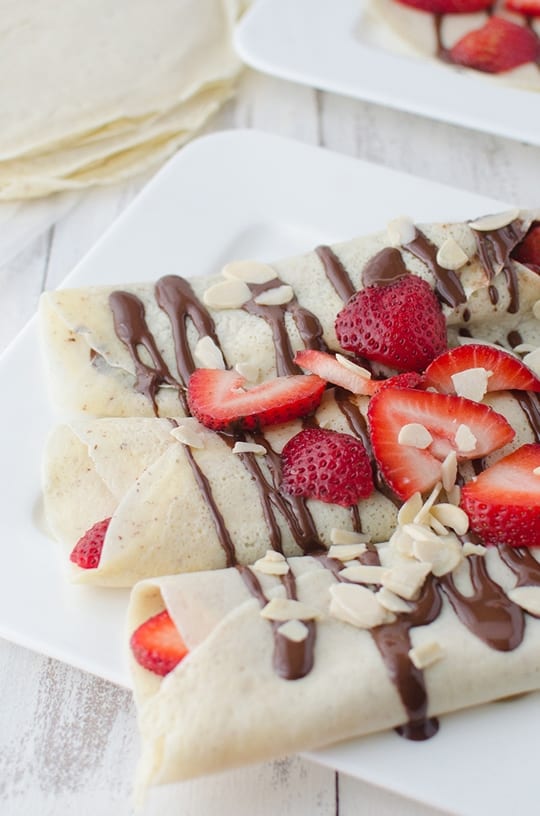 Crepes! Also known as the stuff my Parisian dreams are made of. Without fail, every time my husband and I hop the pond, I manage to indulge in at least one fruit-filled crepe a day. And with good reason, they are light, fluffy, and perfect for both breakfast and snacks, like these strawberry almond crepes and chocolate sauce!
For a simple, May-inspired filling, I'm using fresh strawberries, homemade chocolate sauce and toasted almonds. I love the combination of fresh strawberries and almonds so much that I added in a little almond meal to the crepe batter. If you can't find almond meal, feel free to substitute with additional flour; however, make sure to add the toasted almonds on top! They provide the perfect crunch that pairs perfectly with juicy strawberries and light-as-air crepes…
This has been my go-to crepe recipe for years; it's so simple it's almost foolproof. If you don't have a crepe pan, there's no need to run out and buy one. Just place the batter in the center of a small frying pan and use your wrist to gently roll the pan in a circle so that the batter spreads out evenly. Cook, then flip.
Ingredients:
2 large eggs
3/4 cup almond milk
1/2 cup water
3/4 cup flour
¼ cup almond meal
2 tbsp. butter, melted
1 cup dark chocolate chips
1 tbsp. coconut oil
1 lb. fresh strawberries
Slivered almonds, preferably toasted, for serving.
Cooking spray or more melted butter for coating the pan
In a blender, combine all of the crepe ingredients and pulse to combine. Set in the fridge for at least an hour; this allows the bubbles in the batter to break so that the crepes will be less likely to tear.
To make ahead of time, the batter will keep in the fridge for up to two days.
Heat a small non-stick pan. Add butter to coat or spray with cooking spray. Pour 1 generous ounce of batter into the center of the pan and swirl to spread evenly. Cook for 30 seconds and flip. Cook for another 20 seconds and remove to a cutting board or flat surface. Continue until all batter is gone.
Make the chocolate sauce:
Combine the chocolate chips and coconut oil in a microwave safe bowl or in a small saucepan over the stove. Gently heat to melt the chocolate, stirring often. Take care not to overheat the sauce as the chocolate will "break" and become bitter. Remove from heat.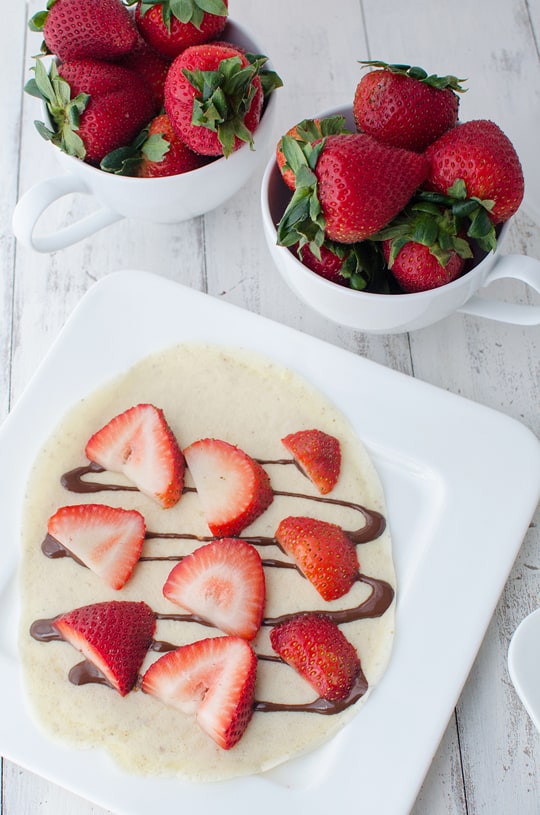 To assemble: place 1 crepe on a cutting board or plate and drizzle with chocolate sauce. Place a row of strawberries in the center, and fold both ends of the crepe to cover the berries. Drizzle with more chocolate sauce (if preferred) and top with more berries and slivered almonds. Serve immediately.
Have leftover crepes? After crepes have cooled you can stack them and store in sealable plastic bags in the refrigerator for several days or in the freezer for up to two months. When using frozen crepes, thaw on a rack before gently peeling apart.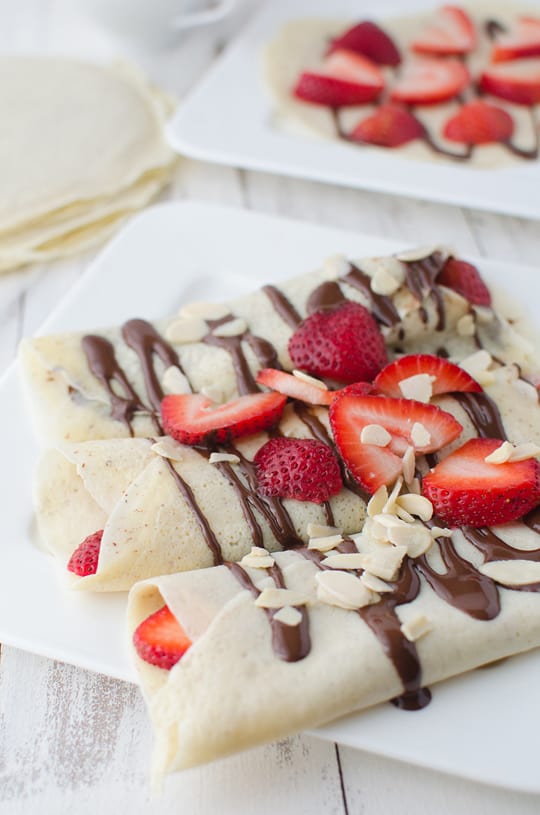 Once you've tried this strawberry version, the possibilities are endless. For a savory twist, I fill crepes with whipped ricotta, roasted vegetables and sautéed spinach. For an even sweeter version, try whipped ricotta with the fruit of your choice and drizzle local honey on top. What's your favorite crepe flavor?
Alexandra Caspero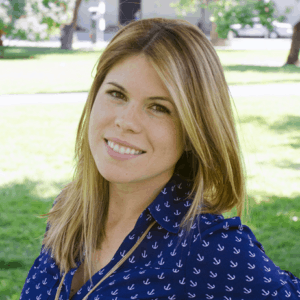 Alexandra Caspero is a Registered Dietitian and yoga instructor with a passion for travel, pasta and avocados. Her blog, Delish Knowledge, focuses on making whole-food eating deliciously simple.