Citrus Galette Recipe — This Citrus Galette combines a homemade crust layered with ricotta cheese, fresh citrus segments and plenty of honey. Plus, the great thing about galettes is that they don't require a lot of baking experience!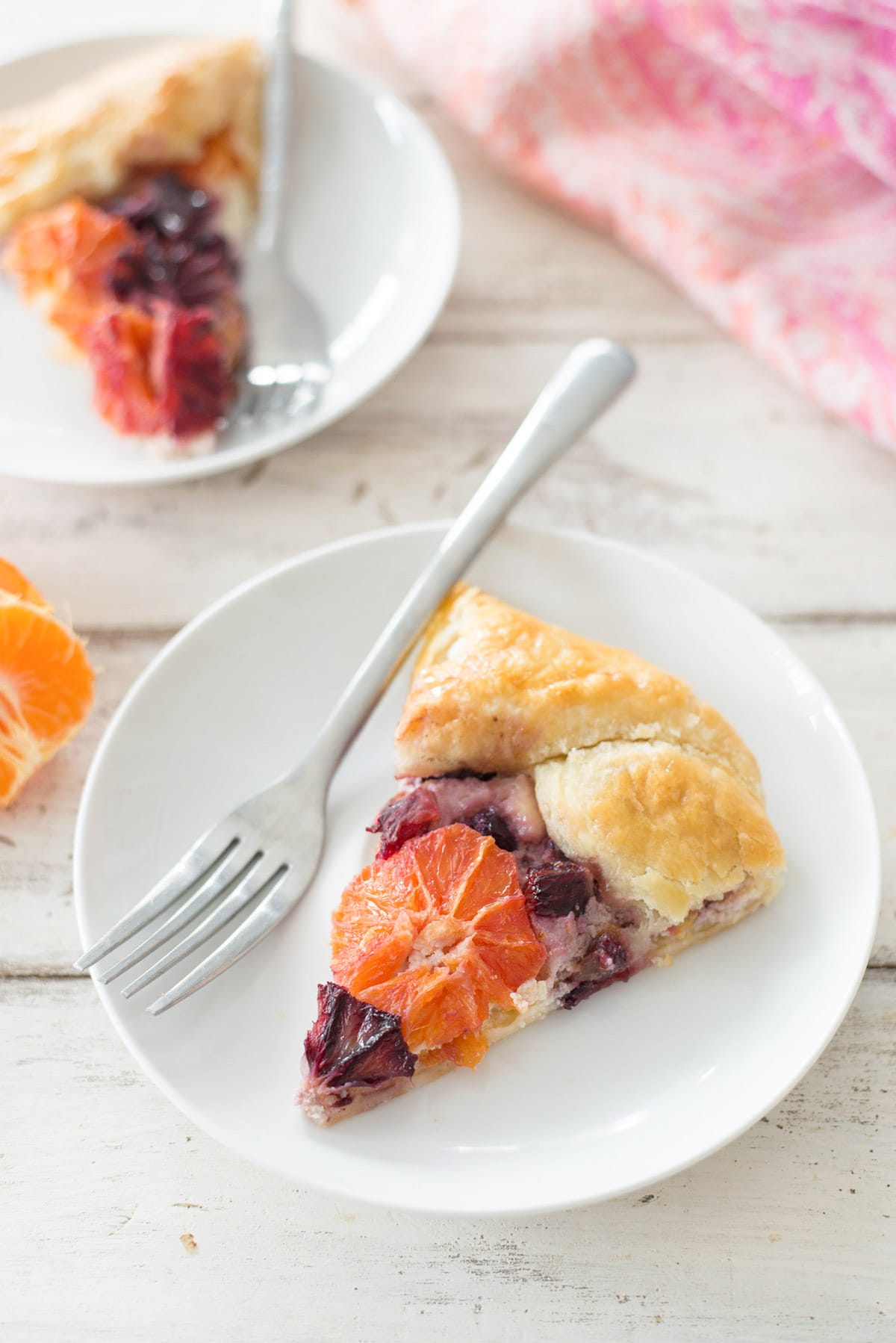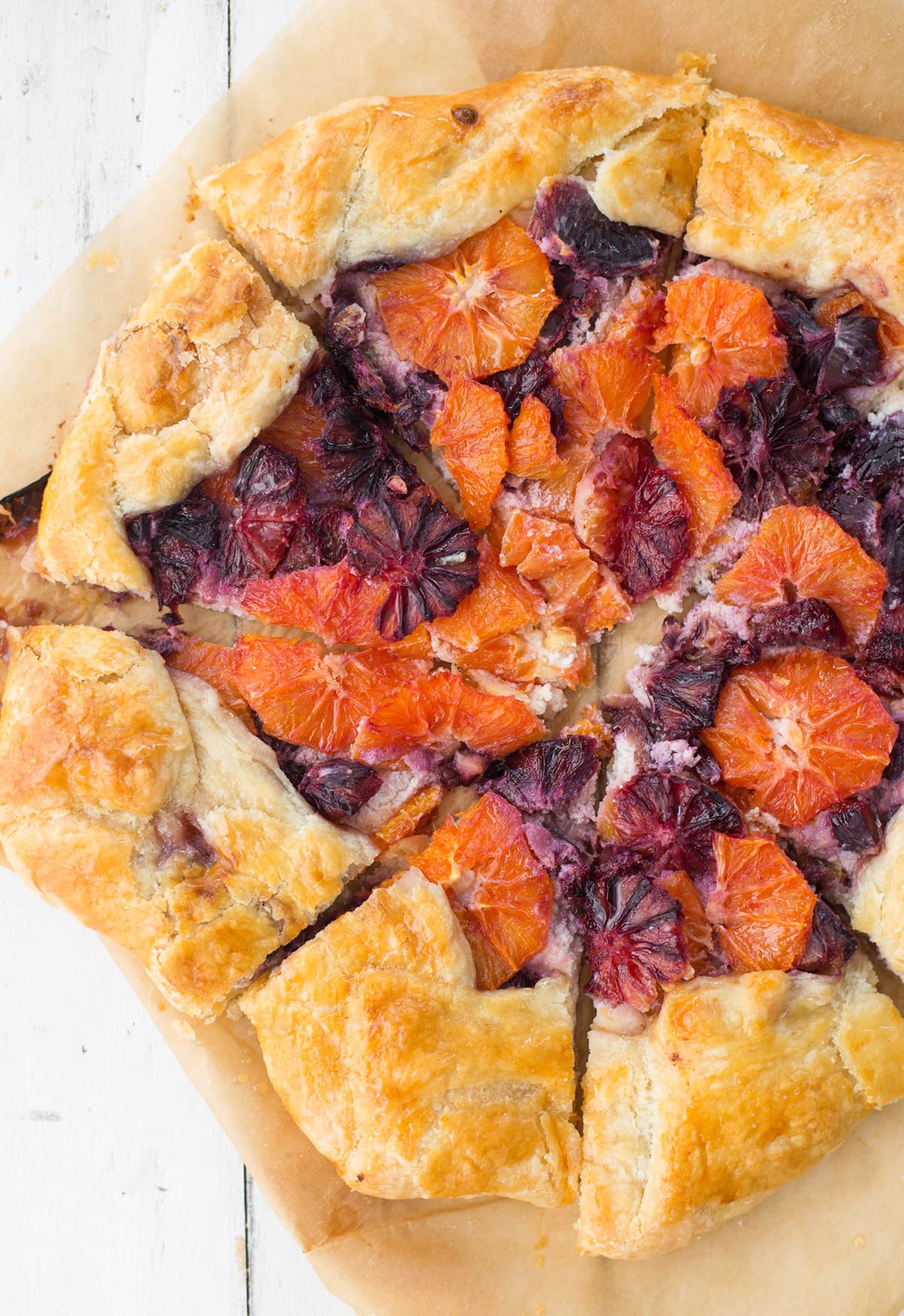 I'm a big fan of making a galette over pie since they're way easier to prepare, no matter what your baking level may be.
Galettes are supposed to be rustic. So you don't have to sweat over getting your pie dough in a perfect circle.
Slightly sloppy, off-balance tarts look homemade and rustic, only adding charm and proof that this isn't a store-bought dessert.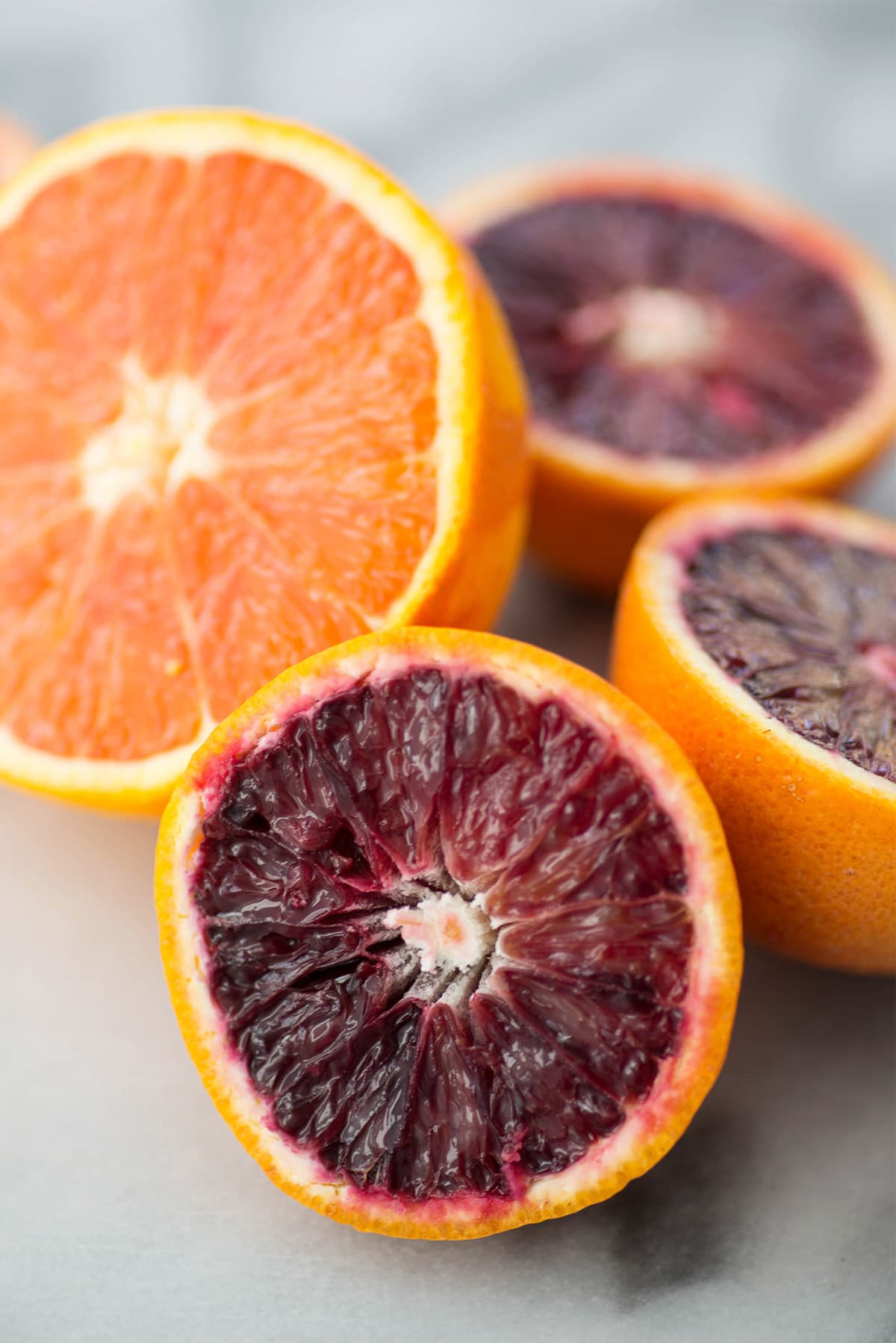 I, Alex, make the most of citrus season with this refreshing, colorful citrus galette. Perfect for brunch, showers or a sweet dessert treat.
Hint: it combines homemade crust layered with ricotta cheese, fresh citrus segments and plenty of honey. It's a flaky, creamy, tart that's just the right amount of sweet.
I've included a basic pie dough to get you started, but feel free to sub in a pre-made dough. No one will notice and I won't tell!..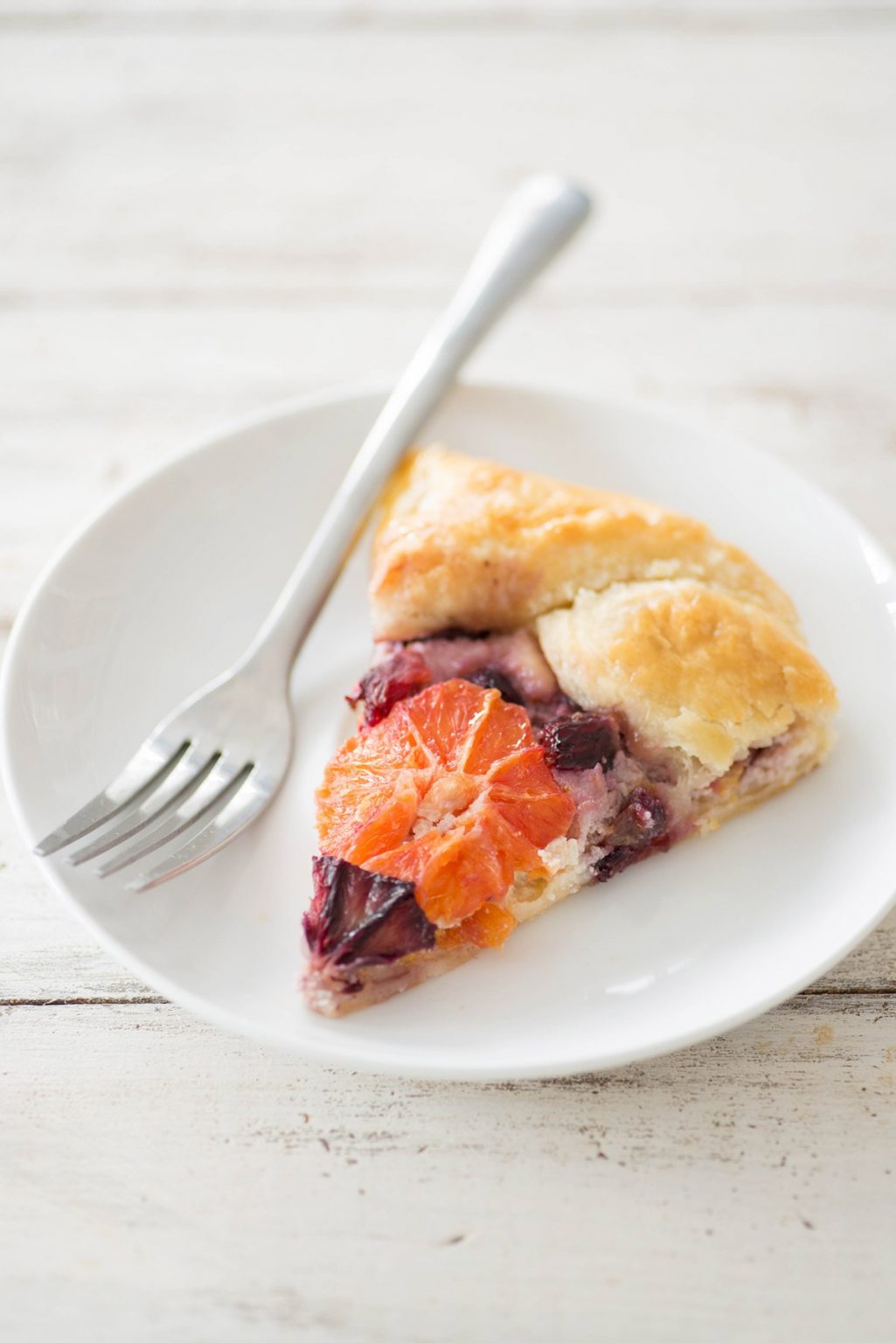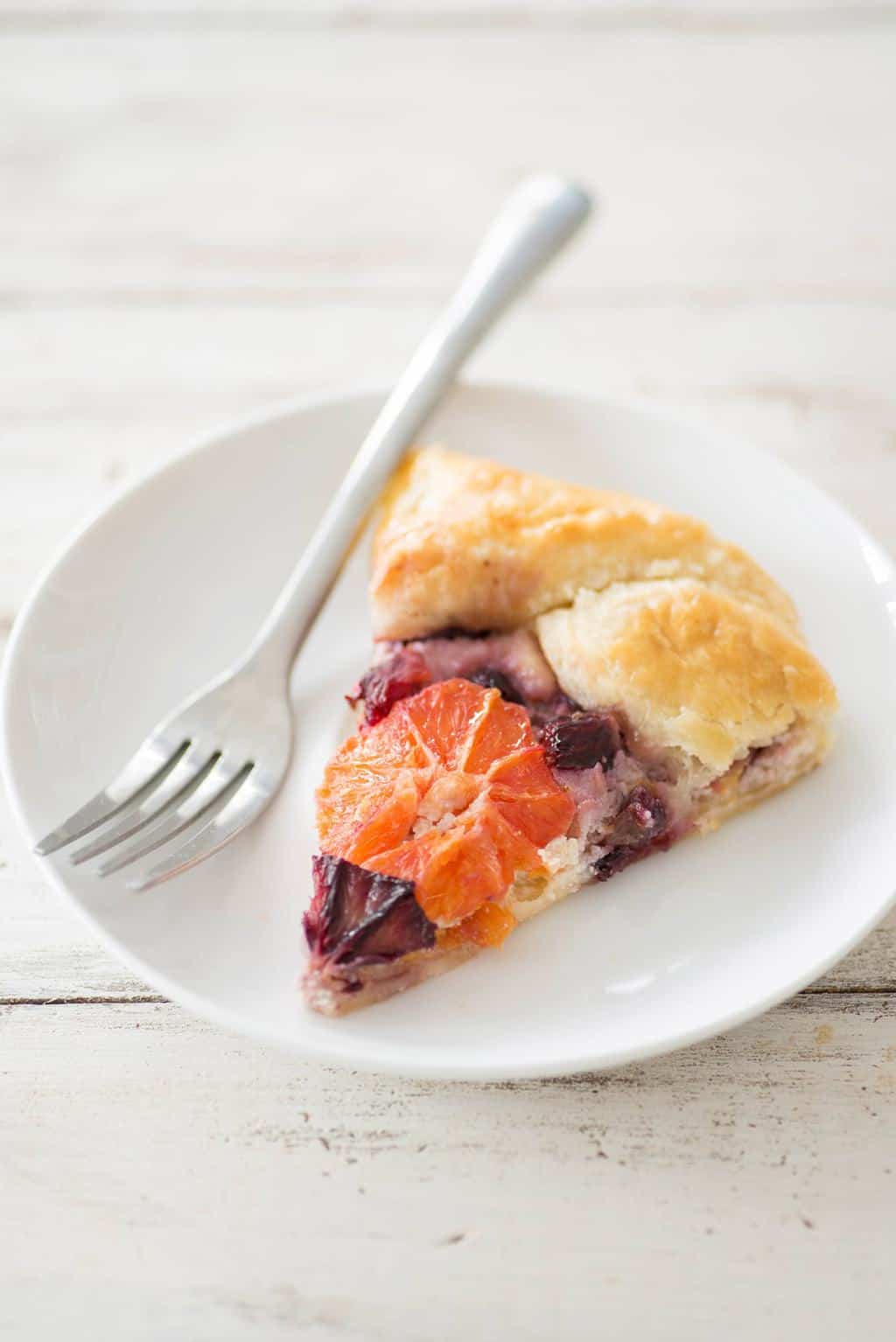 Are you a big fan of citrus?! Would love to know your go-to spring recipes…
Citrus Galette Recipe
Citrus Galette Recipe
Make the most of citrus season with this refreshing, colorful citrus galette.
Ingredients
Dough
1.5

cup

Flour

0.5

tbsp

Sugar

0.5

tsp

Salt

0.5

cup

Butter, unsalted (cold)

0.5

cup

Water (ice cold)
Citrus Galette
3

Blood oranges

3

Navel oranges

0.5

cup

Ricotta cheese

3

tbsp

Honey

1

Egg

1

tbsp

Milk
Nutrition
Serving:
1
g
|
Calories:
370
kcal
|
Carbohydrates:
44
g
|
Protein:
7
g
|
Fat:
19
g
|
Saturated Fat:
12
g
|
Cholesterol:
79
mg
|
Sodium:
227
mg
|
Potassium:
193
mg
|
Fiber:
3
g
|
Sugar:
16
g
|
Vitamin A:
791
IU
|
Vitamin C:
45
mg
|
Calcium:
91
mg
|
Iron:
2
mg
Instructions
Make the dough by cutting the butter into small cubes, you'll want to keep them cold, so store in fridge or freezer until needed. In a mixer with the paddle attachment, combine the flour, sugar and salt. Add the cold butter, a little at a time, on low-medium speed. Mix until flour and butter resembles pea-sized pieces.

Slowly add ice cold water while mixer is going, then stop when dough becomes cohesive. You may not need all of water to reach this step. Transfer dough to lightly floured surface and shape into a flattened circle.

Wrap in plastic wrap and chill in refrigerator for at least 10 minutes.

While dough is chilling, make the filling. Slice the oranges into slices; start by cutting off the ends then cut off sides in the shape of a hexagon. Once the orange has been peeled and shaped completely, slice into ¼ inch slices.  Set them aside. Mix ricotta and 2 tablespoons of honey in another bowl.

Preheat oven to 375˚ F. Take out chilled dough and place on lightly floured surface. Roll out dough into 12-inch, round circle that is approximately ¼ inch thick. Transfer to a baking sheet lined with parchment paper.

Spread ricotta mixture in the center of the dough.  Leave 1-2 inches of dough around the edges. Layer oranges over top of ricotta mixture. Alternate between blood and navel oranges.

Fold in edges of dough in a pleated fashion, leaving the center of galette open. Whisk together milk and egg to create egg wash.

Brush onto crust and bake for 30-40 minutes until golden brown. Finish with drizzle of honey and serve. This galette tastes best the same day, so to prepare in advance, make the dough, the ricotta filling and slice the citrus. Then, assemble right before serving. 
KEYWORD:
baking, brunch, citrus, crust, dessert, galette, recipe, refreshing, showers, sugar and cloth, sweet