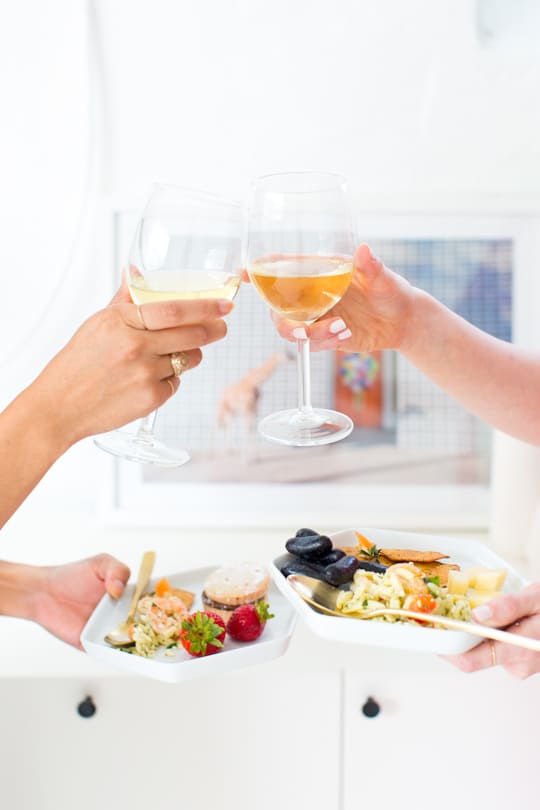 photos by Jared Smith
With the holidays just around the corner, I thought it would be the perfect chance to share my top tips for entertaining for the modern host! I do this because I love you and I don't want to see you secretly crying into your wine glass upon every sip. Plus, I'd love to hear what your tried and true tips are too! It's not quite as standard as it was back in the day when everyone owned fine china and greeted guests still donning an apron around the house, is it?!
I'm also divulging my top secret tip for hosting at home, and the Pinterest lovers may roll their eyes at me for that one! Either way, I'm excited to have partnered with Mirassou Winery for their Share the Sun campaign that's encouraging all of you modern hosts to use your new tips for entertaining, as well as a $250 Visa gift card giveaway to help get you started! I'm feeling a Fall game night coming on, how about you all?!…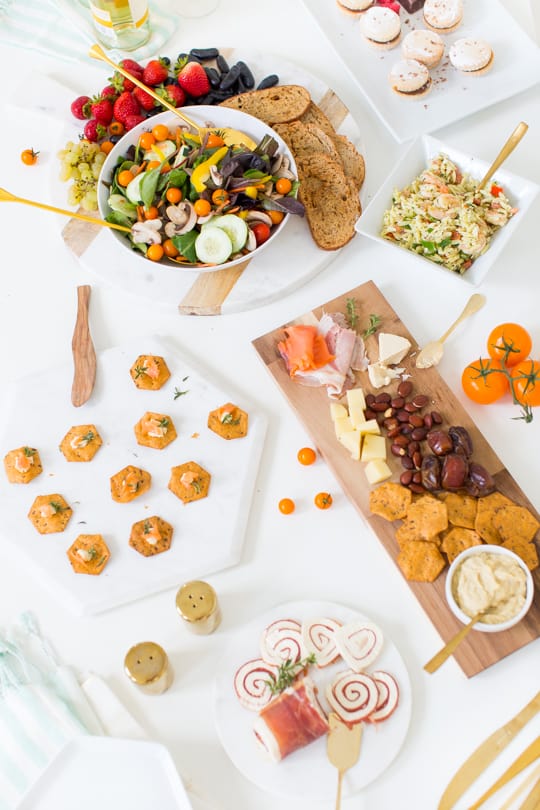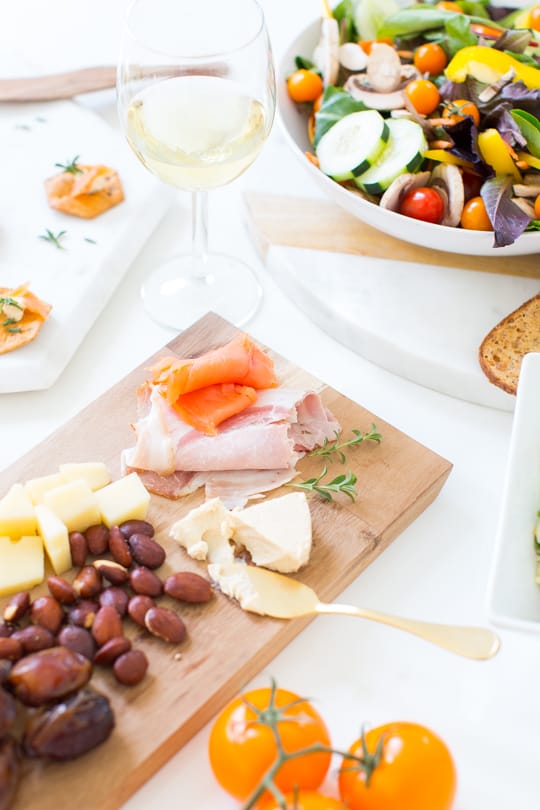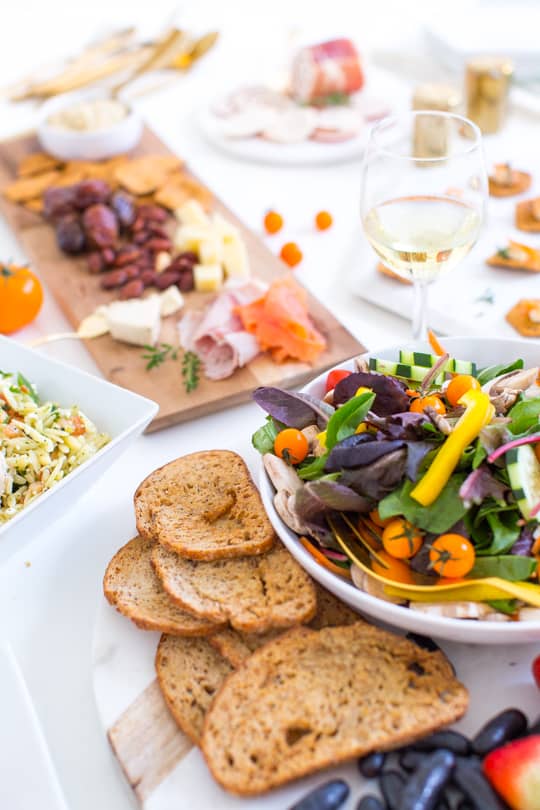 – Tip 1 –
Making Guests Feel Welcome
It's no secret that the number one party killer is an uncomfortable atmosphere, so your top priority should be making sure guests feel wanted and welcome.
I always find that making a point to greet guests individually even if just for a quick one on one hello and hug is a huge factor in creating a good vibe, especially for guests that may not know the rest of the party. A quick introduction or two also goes a long way, they didn't come up with the phrase "shaking hands and kissing babies" for no reason!
Another way to create a welcoming environment is by greeting guests with a glass of wine, or if guests are bringing a contribution to the dinner or bites tables make sure to take a second for them to know where to place the items they worked hard on for everyone to be able to try. It's a simple way for people to feel appreciated for their portion… and so they're not weirdly walking around with casserole in their hands looking confused (I've been that girl plenty of times, not fun!).
Lastly, one that's never fun to admit, but it's necessary to make sure that you, as the host, are not the one running around crying over spilled milk! If you're the type that stresses over keeping meals warm or everything being just perfect, try to choose simpler dishes that don't need served immediately or kept just so (crockpot meals are my go-to for dinners!), because if you're stressed and frantic, everyone else will feel it too! Another trick is to time things to where you have a few minutes to spare before guests arrive so that you can enjoy a glass of wine and relax after all of your hard work!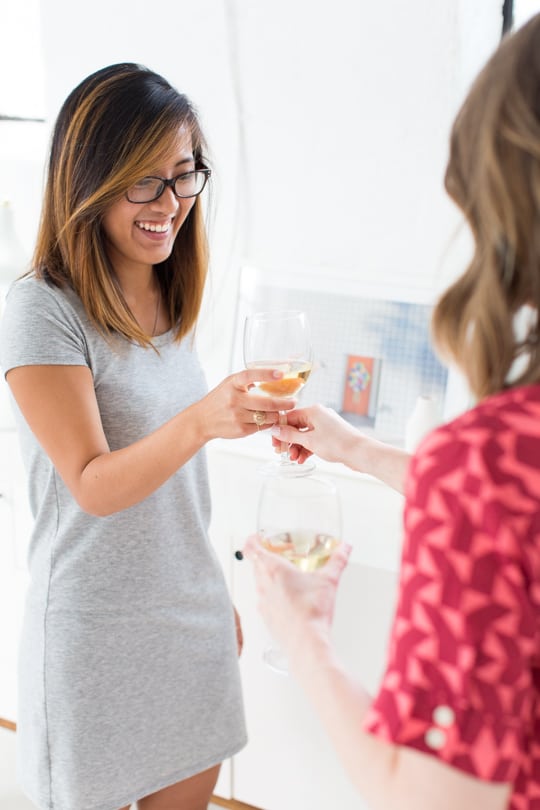 On the note of making guests feel welcome. It's important for a modern host to set the tone of the party in advance. It's kind of contradictory for guests to show up in a suit and tie for a light bites cocktail party served with plasticware, which leads me to my next tip–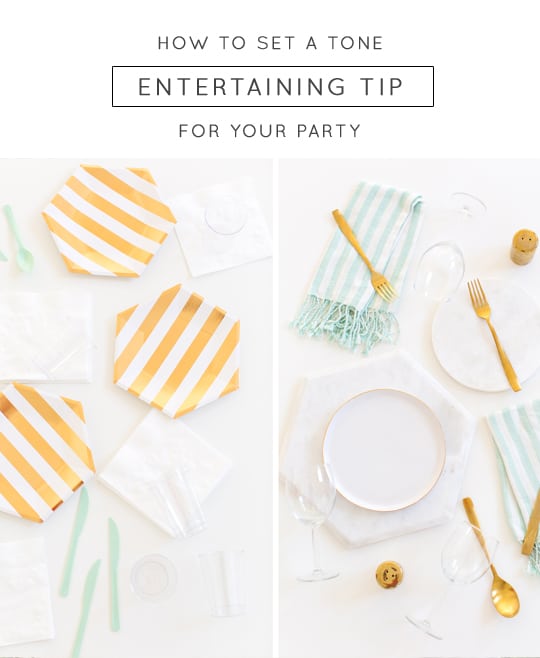 – Tip 2 –
Setting the Tone
When you're letting guests know about your event, it's important to not leave out the significant details for them to be prepared. Decide in advance what you want the tone of the party to be and be sure to convey that in the invite.
For instance, is this a casual get together, like a game night or backyard BBQ, where you'll be donning disposable utensils and bathing suits, or is this a seated dinner with linen napkins, china, and candles? Even if casual attire is fitting for both occasions, it definitely makes a difference for guests to know what they'll be walking into! Not only is setting the tone a nice courtesy to guests, but they may even offer to bring a backyard game or flowers for the table if they know in advance! Plus, you're less likely to have guests bringing a plus one without mentioning it in advance if they know it's a seated dinner or more of a come and go atmosphere.
Lastly, it also helps the host determine what's really necessary and what's not. It's easy to start going over board with dinner, dessert, and drinks, but if you determine what you want the tone to be early on, you're less likely to spend the extra money on unnecessary items!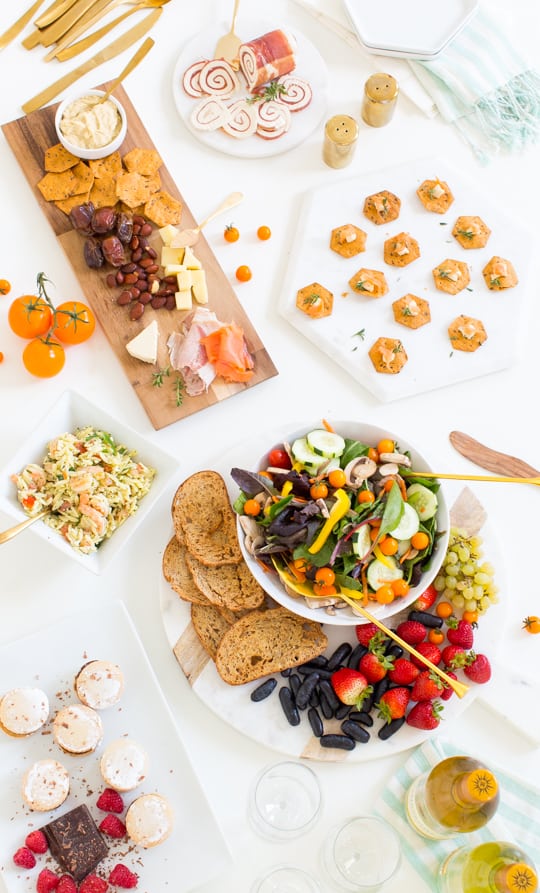 – Tip 3 –
Create a Flow for the Party
Once you've determined the tone of your event, it's time to figure out the flow that works best. For example, you're not going to want guests running inside and out in wet bathing suits from a backyard BBQ, so you should be prepared by prepping an outdoor space with everything a guest might need to be accessible.
Secondly, it's never fun for everyone at a dinner party to be hovering around one corner of the kitchen trying to squeeze by to get ice or glassware, and then squeeze back passed people to the bar area for drinks. Thinking through the layout of your space will not only make the space feel much bigger (go you!), but it will also cut down on unwanted spills or making someone who might not know the crowd too nervous to grab a glass, not to mention it takes the heat off of you if you're one of the said high strung hostess we talked about before!
When setting up a spread for a party, I try to designate a flow by placing flatware, plates, and napkins on one end, followed by light bites, main dishes, sweets, and last but not least, drinks and glassware.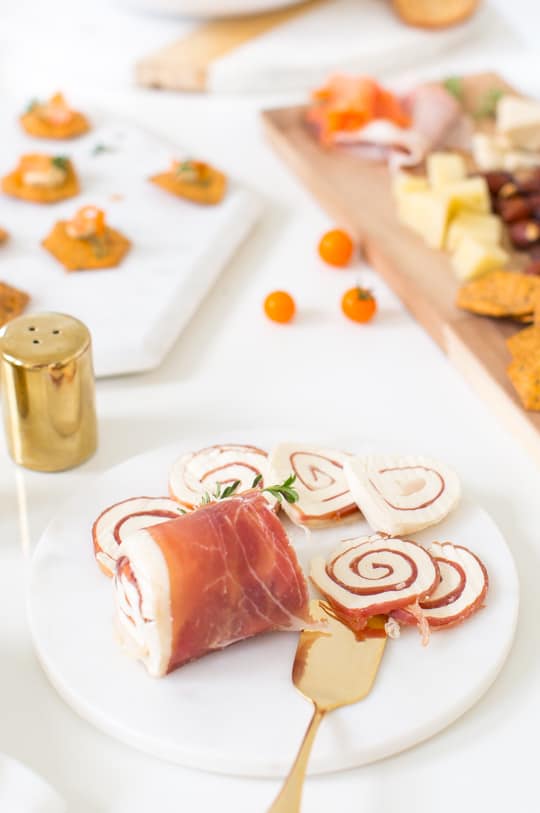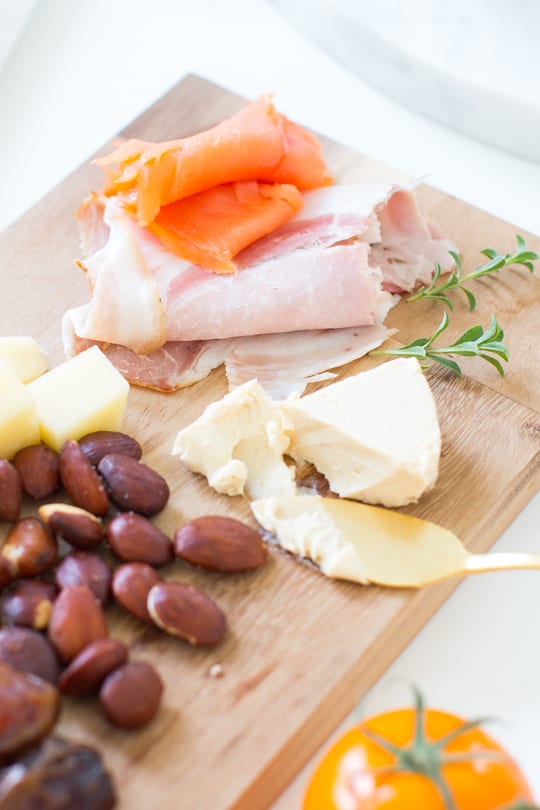 – Tip 4 –
Making Things Pretty (but not too pretty!)
When you have everything else thought out and the flow set for your party, you can now go buck wild with the styling (this is my achilles heel, you guys)! After hosting a ton of workshops and events for Sugar & Cloth, as well as plenty of get togethers at my house, I've learned one key thing about styling that no one ever really mentions, and that's that you can make things a little too perfect. Yes, my fellow Pinterest lovers, you just read that correctly!
Have you ever been to someone's house for dinner or an event with the perfect setup, but you don't want to be the first one to dig in and mess it all up? It's the same concept! The first guests to arrive (unless it's my family coming over, ha!) are likely to be hesitant to mess up your picture perfect spread until everyone arrives. To avoid this, you can still easily make an Instagram-worthy tablescape, but take a second to eat a few bites here and there before people arrive to make sure they know they're welcome to it!
I definitely have to do this with events in the studio, since everyone knows there will be a ton of photos taken, but I always make sure to also encourage guests to enjoy it as well!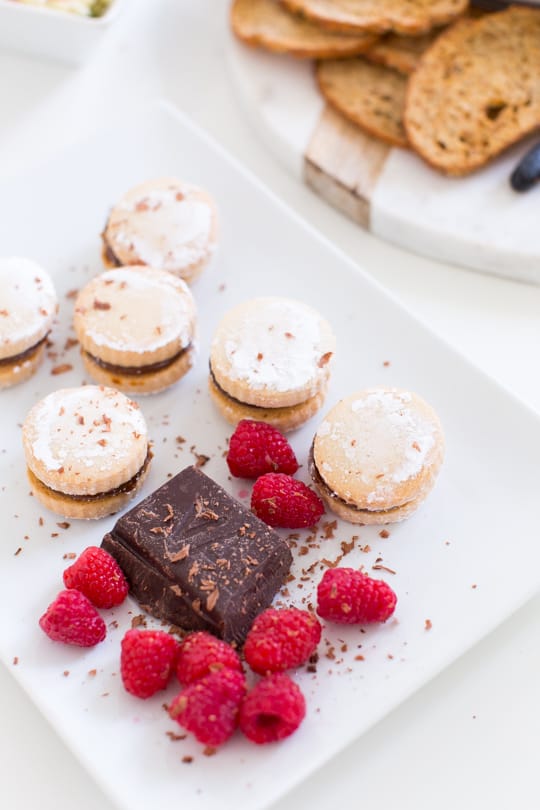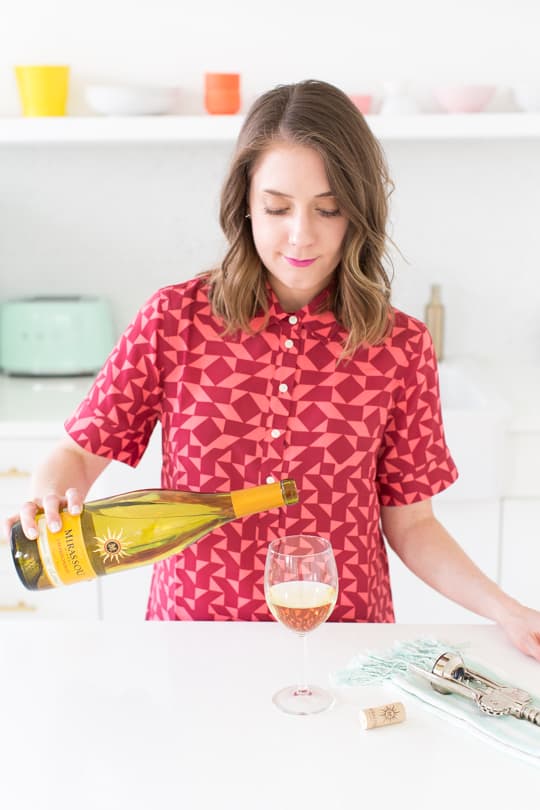 What are some of your favorite hosting tips and tricks? Did I leave out any major pieces that you always make sure are on your mental list? Be sure to let me know, and stay on the lookout for three more entertaining posts coming up for our #sharethesun partnership!
Now for the extra fun part of helping you get things going on your next get together, the giveaway!

THIS GIVEAWAY IS MADE POSSIBLE BY MIRASSOU WINERY. CONTEST ENDS 10/26/15 AT 12AM CST, ONE WINNER WILL BE RANDOMLY CHOSEN AND NOTIFIED VIA EMAIL, NO PURCHASE NECESSARY TO WIN. OPEN TO U.S. READERS, VOID WHERE PROHIBITED.
JUST VERIFY YOUR AGE AND EMAIL TO ENTER!
This post is made possible by Mirassou Winery. Thank you for supporting the brands we love that keep bigger and better DIY's and even sweeter sweets coming straight to your inbox! Learn more about Mirassou on Facebook!