Boozy Peanut Butter and Jelly Tart — This boozy peanut butter and jelly tart is no after school snack. But all of the adults will love it at your next party!
When you're younger, the end of summer means you have school to look forward to. Well, maybe not the school part, but at least the new supplies part. (Scented markers and gel pens anyone?!)
However, as an adult, there's not a whole lot to look forward to after Labor Day. And that just doesn't seem fair! So I, Alyssa decided to change that with this adult take on a kid classic, the good ole' Peanut Butter & Jelly.
I may in fact have been the only child who didn't like PB&Js growing up. But I'm more than making up for that with this Boozy Peanut Butter And Jelly Tart.
I say the kids can keep their new school supplies and PB&Js….us adults now have this decadent tart to look forward to!
Ingredients Needed A Boozy Peanut Butter and Jelly Tart
For The Crust:
3 cups peanut butter cookie crumbs (about 14-16 medium-sized cookies)
1 stick (8 tablespoons) unsalted butter, melted + cooled
For The Filling:
8 ounces mascarpone, softened at room temperature
1 cup creamy peanut butter
½ cup powdered sugar
1 ½ cups heavy cream
5-6 tablespoons hazelnut flavored liquor (I used Frangelico)
For The Topping:
3 tablespoons raspberry jam
2 tablespoons raspberry/blackberry liquor (I used Chambord)
2 tablespoons peanuts, chopped
How To Make A Boozy Peanut Butter and Jelly Tart
Preheat the oven to 350 degrees.
Grease a 9 ½ inch tart pan. Place it on a baking sheet and set aside.
In a medium-sized bowl, combine the cookie crumbs and the melted butter. Stir to combine.
Then, press the mixture firmly into the bottom and sides of the tart pan.
Bake for 7-10 minutes, then allow it to cool.
If you would like to remove the crust from the pan, I suggest freezing it for at least an hour. Then the crust should pop right out. Also, the crust can be made and frozen up to 24 hours in advance and then kept in the freezer until you are ready to fill it.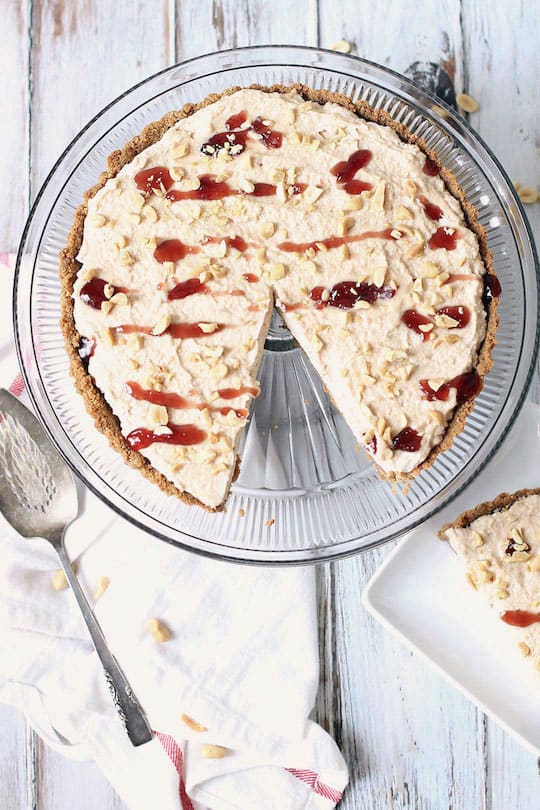 To make the filling, in a stand mixer fitted with the paddle attachment, or using a hand-held mixer, beat together the mascarpone, peanut butter and powder sugar until smooth and creamy for about 3-5 minutes.
Add in the liquor and beat until incorporated, about another minute. Set aside.
In a separate bowl, beat the heavy cream until it's whipped and soft peaks have formed.
Add in the peanut butter mixture and, using a spatula, gently fold the two together. If it's not fully mixed and there are still a few small streaks of cream throughout, that is ok.
To assemble the tart, simple spread the creamy peanut butter mixture into the crust.
Then, in a small skillet over medium heat, combine the jam and berry liquor. Stir continuously until the jam has melted down and the sauce begins to thicken. The sauce should start to bubble and boil, at which point you'll want to cook it for only about another minute.
Remove it from the heat and, working quickly (as it does harden), drizzle the sauce across the top of the tart. Sprinkle with chopped peanuts and serve.
Cover any remaining tart with plastic wrap and store it in the refrigerator. The tart tastes best eaten within the first few days of being made.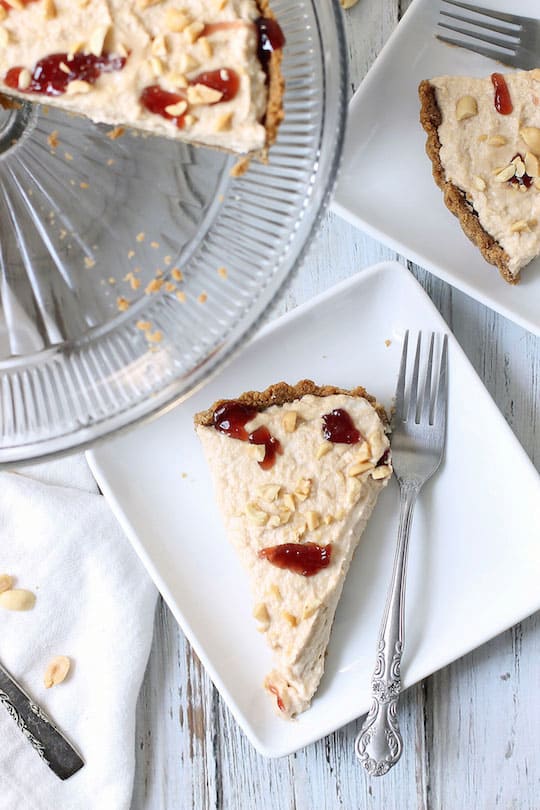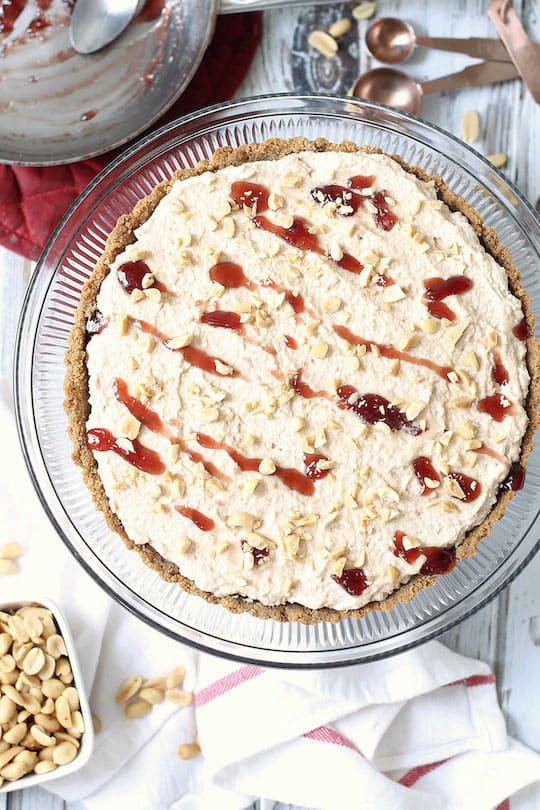 So it's not exactly an after school style snack, but delicious nonetheless, right?! It's also perfectly crunchy and filing for fall weather, too!