Love peanut butter? These peanut butter dessert recipes are for you! From cookies to cake, we've got you covered.
Peanut butter is one of the best things to come into the world.
It's creamy, chunky, and goes with chocolate, jam, and butter alike.
From vegan options to sugary desserts, peanut butter is a crave-able, healthier option when it comes to desserts.
That's why we put together some of the best peanut butter dessert recipes out there so you can have delicious healthy desserts at your fingertips.
Peanut Butter Dessert Recipes
1 — Chocolate Peanut Butter Stuffed Cookies
Why have a regular ol' chocolate cookie with peanut butter chips mixed in when you can have a chocolate cookie stuffed with peanut butter filling inside that oozes out when you take a bite?
While the cookie bakes, the peanut butter filling spreads out and creates a creamy layer that makes it.
So every bite from any "corner" of the Chocolate Peanut Butter Stuffed Cookie is filled with peanut butter and chocolatey goodness.
Soft on the inside and crispy on the outside, these cookies are dipped in sugar after baking for added texture.
2 — Boozy Peanut Butter and Jelly Tart
What's better than a classic PB&J? A peanut butter and jelly dessert!
What's better than a PP&J in dessert form? A boozy PB&J in dessert form!
This Boozy Peanut Butter and Jelly Tart is filled with mascarpone, peanut butter, cream, sugar, and Frangelico (or any hazelnut liqueur).
It's topped with raspberry jam, peanuts, and a blackberry or raspberry liqueur such as Chambord.
3 — No Bake Mini Peanut Butter Jelly Cheesecake
No-bake desserts are the best. These little Mini Peanut Butter Jelly Cheesecakes are fantastic for snacking or party appetizers.
assembled, garnish with a drizzle of jam or some crushed Nilla wafers.
4 — Peanut Butter-Yogurt Fruit Pizza
Not only is this fun to eat, but it's fun to decorate. Healthy, easy, customizable, and great for kids.
If you have a grill and want to take this recipe to another level, try grilling the fruit and making a grilled fruit pizza.
5 — Peanut Butter Cookies
A classic that never fails (unless you have a peanut allergy, of course), this 20-minute recipe will quickly become your new go-to for parties or lazy nights.
If you prefer crunchy peanut butter cookies, don't use crunchy peanut butter. A lot of that crunchiness goes away with mixing ingredients.
Instead, use creamy peanut butter and add in bits of crushed-up peanuts, your favorite chopped nut, chocolate chips, or even peanut butter chips.
When it comes to making the signature ridge marks on the cookies, use a fork and lightly press down in the middle of the cookies with the tongue part of the fork.
If you have leftover cookies and don't know what to do with them, make peanut butter cookie sandwiches.
Make the filling for the sandwich with peanut butter, cream, milk, and confectioners sugar.
Then dollop a bit onto a cookie, top with another, and voila! Another option is to have a jelly filling between sandwiches to make them a PB&J cookie.
6 — Giant Peanut Butter Ice Cream Sandwich
A cookie is cool, but a giant cookie is undoubtedly even cooler.
It's great for big parties because it can be made ahead of time, can be conveniently frozen, and is easy to whip together.
It's also easy to stray from the recipe and customize it to your liking.
For example, by adding bananas, using chocolate chips, or swirling in some jam to the ice cream for peanut butter and jelly take on it.
It can even be topped and smothered with some peanut butter dessert sauce for added deliciousness.
7 — Peanut Butter Stuffed Skillet Cookie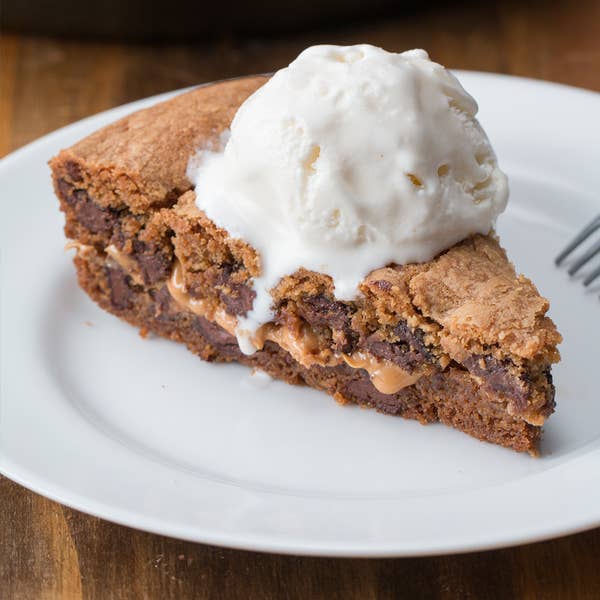 Cookie cakes meet peanut butter cups in this peanut butter dessert recipe that's filled with chocolate chips and melty peanut butter in the center.
Soft on the inside but crispy on the outside (like any good cookie), this skillet goes in the oven for 40 minutes and makes 12 servings.
Top it with a big scoop of homemade no-churn ice cream.
8 — Peanut Butter Pie
With the perfect crust, creamy whipped cream, and topped with delicious crunchy adding, what could be better?
This peanut butter pie will easily become your new family get-together pie.
Topped with chocolate syrup and crumbled peanut butter cups, there's almost nothing a bite of this pie won't fix.
9 — Chocolate Peanut Butter Pretzel Sandwiches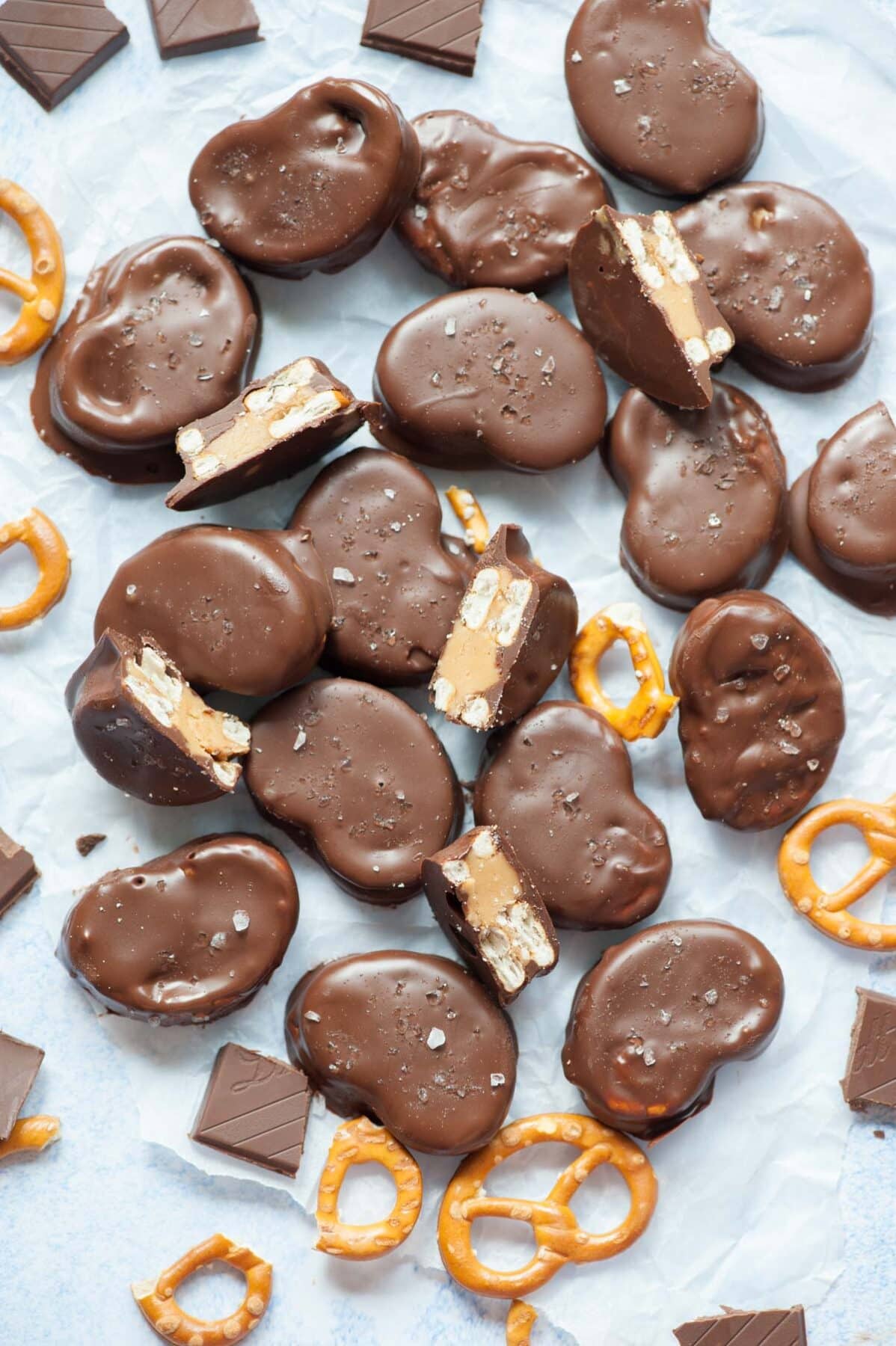 A combination that often gets overlooked, pretzels and peanut butter go together like peas and carrots.
The different textures and flavors of this recipe make it the perfect pick-me-up snack: sweet and creamy from the chocolate and peanut butter while also crunchy and salty from the pretzels.
The pretzels act like the bread of the sandwich, and between them is a peanut butter filling.
10 — Peanut Butter Fudge
Some fudge can take time, effort, and tools you may not have to make.
Luckily, this fudge has only three ingredients and doesn't require testing or a candy thermometer to whip up and serve.
Within five minutes, the peanut butter, powdered sugar, and unsalted butter come together to make a creamy and decadent fudge that melts in your mouth and will have you reaching for seconds in no time.
11 — Peanut Butter Dip
This peanut butter spread is the perfect sweet, tangy, and delicious dip to have at any party.
It's made with peanut butter, cream cheese for the tangy flavor, and whipped topping for sweetness.
Pair it with any fruits and veggies like apples and carrots or pretzels.
Looking for more dips to make? Try a super sweet funfetti cake batter dessert dip or this decadent raspberry cream cheese dip.
12 — Peanut Butter Milkshake
This four-step milkshake will have you making bigger recipes of it just for yourself to drink it all. It's creamy and easily customizable.
Top it off with cookie bits, ice cream, or whipped cream.
Love milkshakes? Try these other recipes like espresso chocolate milkshake, chocolate salted fudge truffle milkshakes, and peppermint eggnog milkshake.
13 — Peanut Butter Chocolate Banana Bread
Banana bread is a recipe that is so easy to customize it's ridiculous. Plus, it's the bread that doesn't require yeast and kneading. Win-win!
This recipe requires peanut butter powder and real peanuts to get that nutty, delicious flavor. Combine those peanut products with mashed ripe bananas and chocolate chips, and you're in business!
Sprinkle the top with walnuts, peanuts, chocolate chips, or peanut butter chips.
14 — Peanut Butter Lasagna
This lasagna is like Italian lasagna in that it's layered. Luckily, there are no tomato sauce and peanut butter mixed here.
Layer peanut butter and then chocolate pudding alternatively until the top of the lasagne dish. Add your choice of some whipped cream, chocolate syrup, peanut butter chips, chocolate chips, or even Oreos.
Can't decide? Nothing wrong with adding them all!
15 — Peanut Butter Graham Cracker Crust
If you want to take your next pie to the next level, try this peanut butter graham cracker crust.
It's simple to do and takes no time. Simply add peanut butter to a graham cracker crust, let it chill in the fridge for a couple of hours, and boom!
Not sure what to fill it with? Try no-bake cookies and cream oreo pie, caramilk cheesecake, gingersnap pumpkin pie, or a simple vanilla pudding. Whatever your heart desires will be deee-licious.
16 — Peanut Butter Cup Brownies
Brownies are a fantastic dessert on their own, but with added peanut butter cups, they're out of this world.
These brownies are topped with a three-ingredient peanut butter swirl to boot.
Add in some Nutella or cut them into hearts for another twist on the brownie, or make them vegan!
17 — Butterfinger Cookies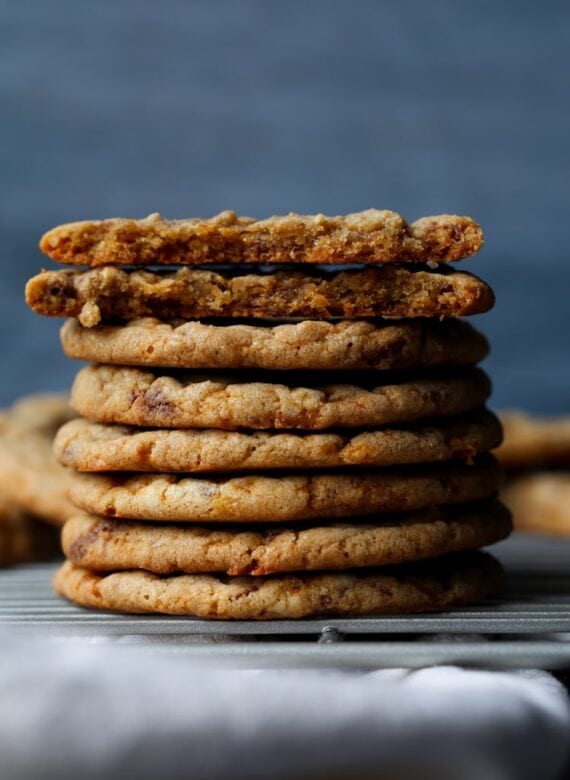 As if butterfingers weren't yummy enough on their own, these Butterfinger cookies take them up a notch. These cookies are buttery, soft, and crunchy with a classic Butterfinger texture.
They're topped with crumbled Butterfingers and are so addictive you'll have to have at least two.
18 — Peanut Butter Cream Pie with Raspberry Meringue
This cream pie isn't your average pie nor PB&J. This pie has scoops of elegant pink and fruity meringue on top of a pie filled with creamy peanut butter.
If you have leftover raspberries from the meringue, try making another delicious dessert, this easy Raspberry Layer Cake Recipe, or drink up with this Coconut & Strawberry Raspberry Frozen Daiquiri.
19 — Peanut Butter S'mores
Instead of the classic S'more with a marshmallow and chocolate smashed between two graham crackers, this new take on the infamous dessert takes peanut butter graham crackers, or peanut butter spread on graham crackers.
That S'more is then dipped in melted chocolate for an extra chocolatey dessert sandwich.
20 — Fluffernutter Quesadilla
This quesadilla is dessert Mexican meets S'mores meets peanut butter.
This ooey-gooey recipe takes only 10 minutes to make and is a soft crust filled with marshmallow fluff and peanut butter. Yum!
21 — No Bake Peanut Butter Balls
These Peanut Butter Protein Balls are the perfect energizing snack (and dessert). They're quick and easy to make. Plus, peanut butter energy balls are great to freeze and snack on as you please!
22 — Peanut Butter Fairy Bread
A riff on the popular Australian and New Zealand birthday party snack, this Peanut Butter Fairy Bread is a kid-friendly favorite that's loaded with sprinkles.
More Fun Recipes to Try
From those who love sugary breakfasts to those who can't pass up a delicious late-night dessert, these peanut butter dessert recipes will serve your every craving, any time of day.
Here are a few other recipes you might love —
More of Our Favorite Recipe Round Ups