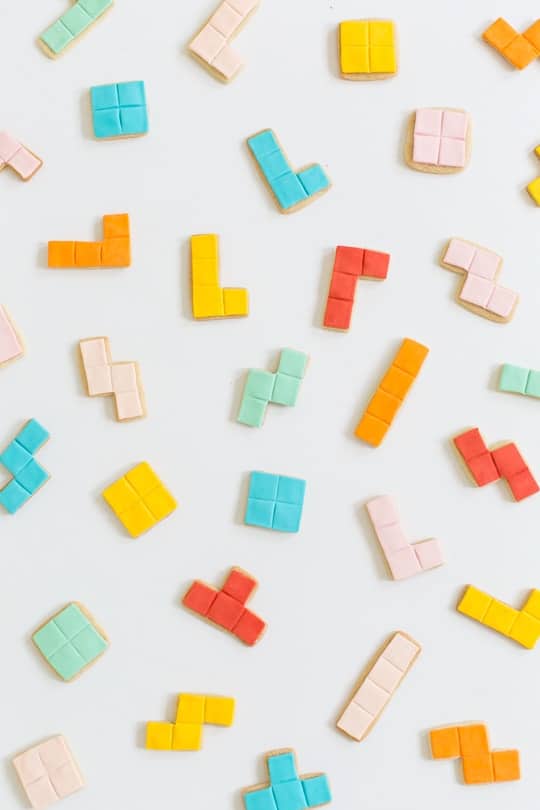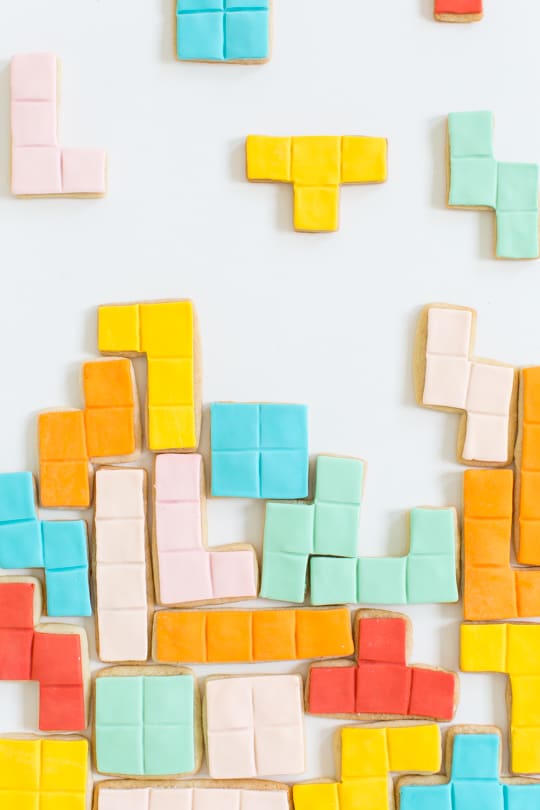 Every now and then while scouring the internet to unearth random new crafting gadgets, my inner child sometimes (most of the time) comes out and I find something I HAVE TO HAVE. It's like taking a kid to grocery store hungry, and the next thing you know they're eating a box of animal crackers when you're not looking. All of this to say that I had a similar experience a few weeks ago when I stumbled upon a Tetris cookie cutter set… which I bought… and then proceeded to make DIY tetris cookies with.
Technically there's no real occasion and we're not reinventing the cookie wheel, I just thought it would be cool to spend a few hours out of our lives making edible childhood nostalgia. You know, just the usual antics around here…
Materials:
You're favorite sugar cookie recipe
Fondant (or royal icing, but I'm terrible at royal icing so opted for the sugar clay version!)
Mini wooden dowel or toothpick
Corn syrup
First your going to make your sugar cookie batter, and roll it out into an even width. I use this rolling pin with the measuring bands to help make sure the dough is the same thickness throughout, which will make a huge difference when it comes to tetris cookie pieces fitting together!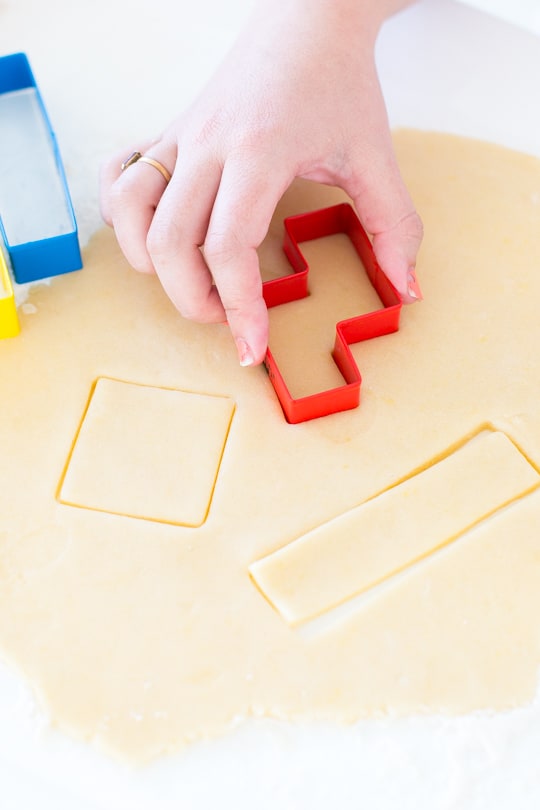 Next, use the cookie cutters to make a large variation of shapes, we made about 7 cookies in each shape, and let them chill in the refrigerator until right before placing them in the oven to help make sure the dough held it's shape.
Bake according to your recipe instructions, and then let the cookies cool completely before decorating.
You're obviously welcome to decorate these with royal icing, which is much tastier in my opinion, but I'm not nearly skilled enough to outline and flood a cookie with royal icing, so we opted for make fondant shapes cut from the same tetris cookie cutters.
To apply the fondant to the sugar cookie, we brushed on a bit of corn syrup to the back of each piece, but you can use a thin layer of icing instead, if you'd like! We then used a mini wooden dowel rod to made the little square indentions for the blocks.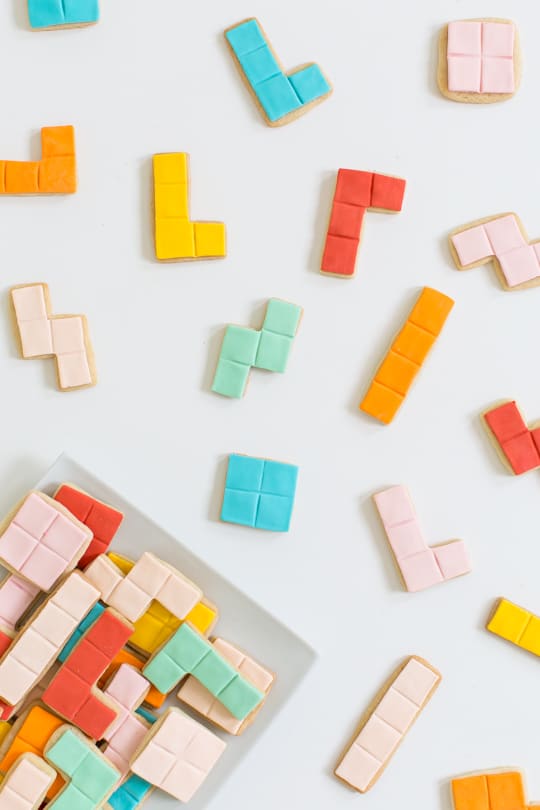 Once each cookie is finished, you can display then or keep them for up to three weeks in the freezer if you're going to be making them in advance.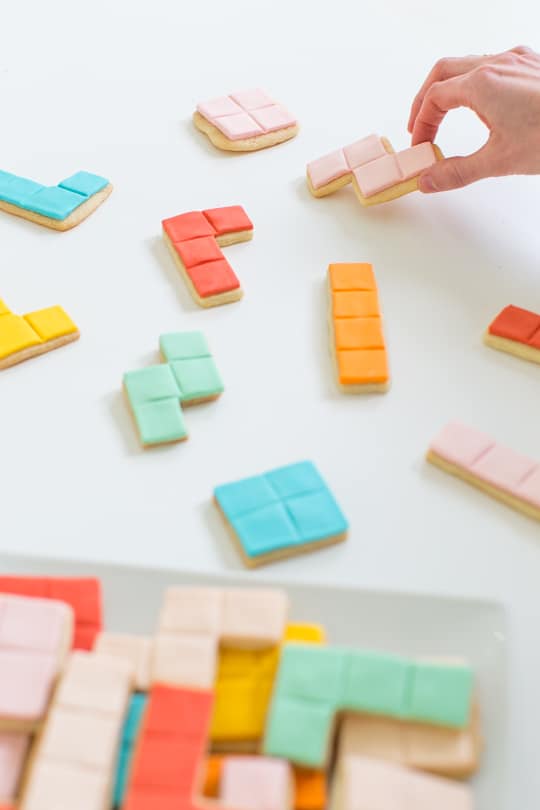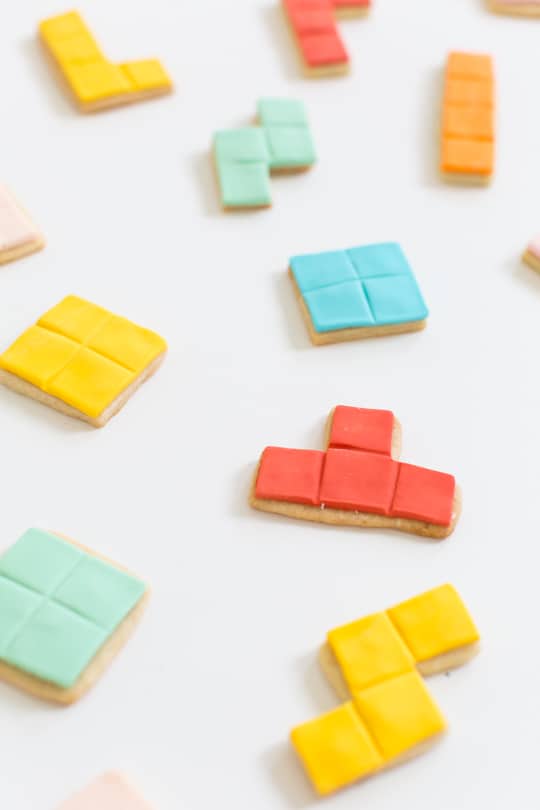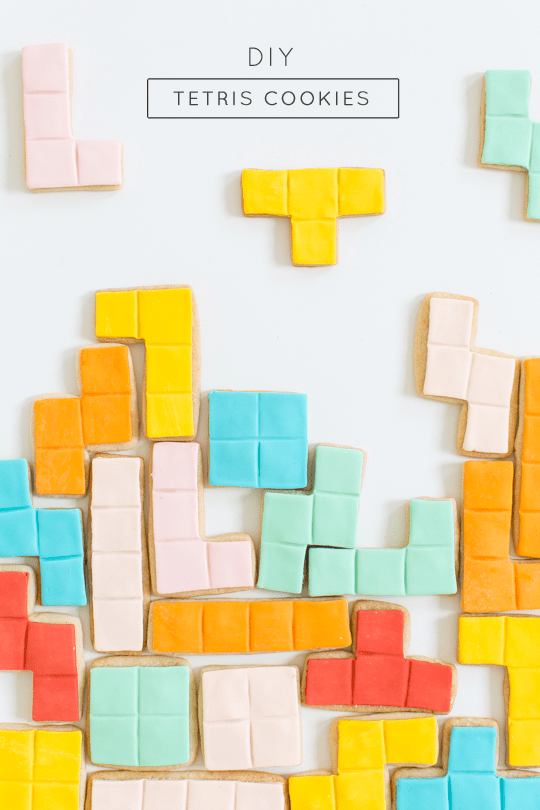 You're all welcome to judge me for this tetris nonsense, but I kind of love it! It'd make for a really cute edible puzzle for the littles, too! Who knows, I may even be the kid you see eating animal crackers in the grocery store next time. I kid, I kid..