There are several options for window trim, including color, material, and style. Find inspiration in these 20 exterior and interior window trim ideas.
Just like a tie or necklace can make a great outfit stunning, the window trim can take a beautiful window and truly make it pop.
With different colors and different materials, there are a lot of ways to enhance the exterior and interior window trim.
And with so many ways to style your trim, it's hard to decide what's the best way to go for your home or even your business (as seen with our event space, the Juliana.)
These 20 window trim ideas narrow down the options to the best and classiest ways to spice up your window.
Window Interior Trim Ideas
Having a window trim that makes the room pop is easy and can change how you feel in a room.
These window interior trim ideas will help take your next window project to the next level.
1 — Classic Interior Idea
Wood trim grounds the windows and makes the room seem bigger and taller.
It's typically with stained or painted wood (with pine, maple and red oak being the popular choices).
It is also incredibly easy to install. Simply cut some wood pieces, sandpaper it, and add a glossy finish.
2 — Colonial Style Window Trim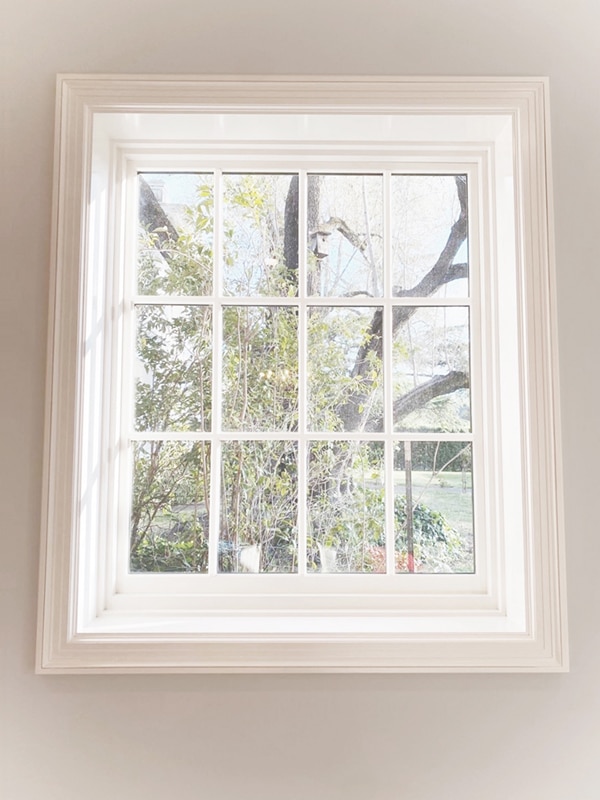 If you have an older house, this colonial-style window trim might be perfect for you.
It gives off an aged yet modern style and can work well for any room in your home.
3 — Rustic Interior Style
Ready to get rustic? Keep unstained natural wood around the windows for a cabin-in-the-woods vibe.
4 — Reclaimed Wood Window Trim
If you like feeling in nature and everything natural, this reclaimed wood window framing is definitely the way to achieve this style
5 — Painted Trim
White will never go out of style, and it's a color scheme that goes with everything.
So if you're someone who likes to change out their decor style every few years, this flat white interior window trim is a great choice to go with since you won't have to change your window style with each decor change.
By having white trim, the light from the window gets reflected and makes the room seem brighter and bigger. Definitely a great style tip for a tiny space.
White window trim also keeps it simple and feeling uncluttered.
Pair this flat white interior window trim with a darker wall (likes in our emerald green bedroom) to keep a stunning contrast.
Window Exterior Trim Ideas
It's essential that you feel good about how your home looks from the outside.
After all, everyone sees it, especially the front porch.
Make your house pop and style with these window exterior trim ideas.
6 — Classic with White
White windows are a classic and clean exterior window trim idea for most homes.
White trims look great on any colored home to make the windows pop.
7 — Dark Trim Colors
Dark colors are bold and bold trim is meant to be seen and heard.
Dark trim comes in various colors and creates a contrast with your house's siding.
It's an inexpensive way to make your home's colors stand out.
8 — Layered Trim
Layered trim is more expensive than other similar-styled trims.
But it's a great option for homes with bay windows or multiple colors on the outside (to coordinate with different layers on the trim).
9 — Flared Angles Exterior Window Trim
Not all exterior window trims are created equal.
Flared angles (especially when painted white) are great on buildings with unique angles, edges, and colors because the shape helps show the art in the architecture.
10 — Simple Monochrome
There is no written rule that trim should contrast with the paint color of the house.
Try using a simple monochrome style that blends slightly darker shades with lighter shading in the same color palate.
11 — Classic Brown Wooden Trim
Brown wood trim around windows is a classic way to give off a woodsy and natural look to a home.
However, it's not a low-maintenance option since the wood is outdoors and will need to be primed and painted regularly to prevent rot, thanks to the outdoor elements.
Modern Window Trim Ideas
Modern styles are all the rage, so keep up with the design and look with these modern window trim ideas.
12 — Grey On Grey
Jazz up your gray house a bit with some colorful grey trim to give off a creative and artsy vibe and style.
This is a great way to get a modern and monochromatic theme.
13 — Flat Stock Trim
Flat trim is classic, and one of the most common window trim types. It's slim, comes in a variety of colors, and works for those on a budget who want a clean finish.
14 — Black Trim Ideas for Interior Windows
If you're into edgy design, try the black trim interior windows. It's great for many modern decor styles and, like white, goes with everything. Match a black window trim with white walls and soft, neutral-colored furniture to allow the black trim to stand out but not look harsh.
If you're not sure you'll like a dark wall, try making the window trim dark first to test it out.
Minimalist Modern Window Trim
Sometimes keeping it simple is the best (and easiest) way to go. These minimalist modern window trim ideas will make your home look put together and decorated while not being overbearing.
15 — Black Bay Windows with a Crisp White Trim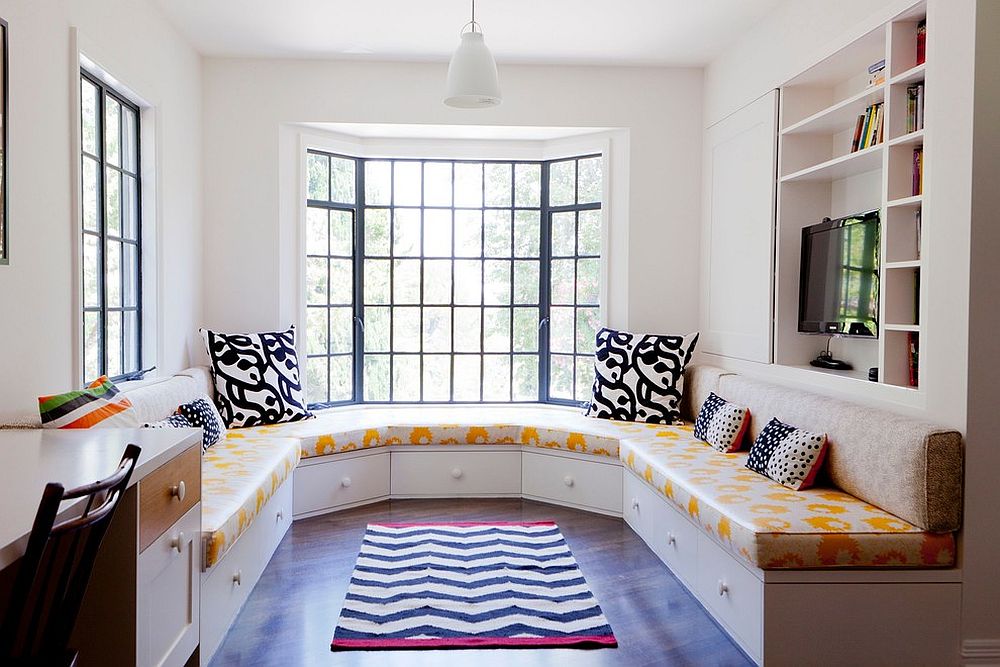 Minimalism is in, and this modern minimalist window trim takes the complication away from window trimming.
The trim is designed to be stylish without compromising how simple and plain it is.
16 — Simple Trim and Dark-Hued Brackets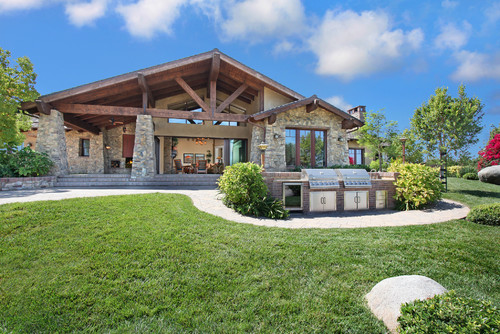 When it comes to home design, a simple trim with a dark-hed bracket look can bring boldness and perfection to any room.
The idea of offsetting the window trim with color from the wall or exterior is a great way to give a space personality without needing a lot of expensive furniture in the process.
Plus, if you have a beautiful view, it makes the window a focal point. This works just as well on the inside of a house as it does on the outside.
17 — Sophisticated Window Trim and Subtle Brackets
Want to show off your trim? Try a trim that takes up space.
Styled to harmonize the architecture and geometry of any home — inside or outside.
Farmhouse Window Trim
If you have narrow windows, try the farmhouse window trim since it makes windows look wider and more precise than they actually are.
However, farmhouse window trim works perfectly for homes with wide, large windows too.
Customize the traditional look by adding colorful shutters or window baskets of flowers.
18 — Vaulted Ceiling With White Trimmed Windows
If you're lucky enough to have vaulted ceilings, use white window trim to create a focal point in the room – the architectural features.
You can also try using different neutral colors and furnishings to add depth to the interior design of the window.
19 — Rustic, Wooden Window Trim and Casing
Rustic window trim is a great way to give off a cottage or farmhouse feel.
The natural grain from the wood is exposed (be sure to prime it, though), which makes this trim perfect for any house wanting to look more natural or blend in with surrounding nature.
20 — Modern Farmhouse Black Window Trim Ideas
Using black on thinly-layered windows is a great way to draw the eye up and out the window.
Rather than dominating and taking over the space, the thin black window trim allows a great calm backdrop to enjoy eating or relaxing in.
More Home Decor Ideas