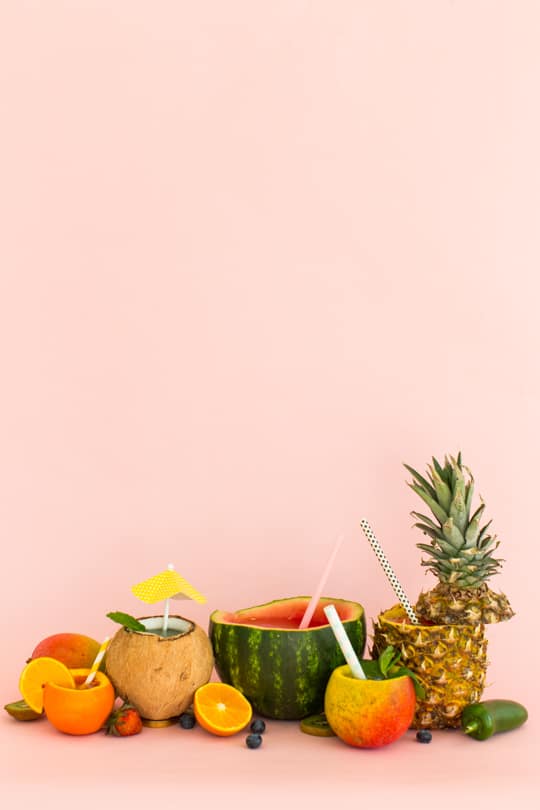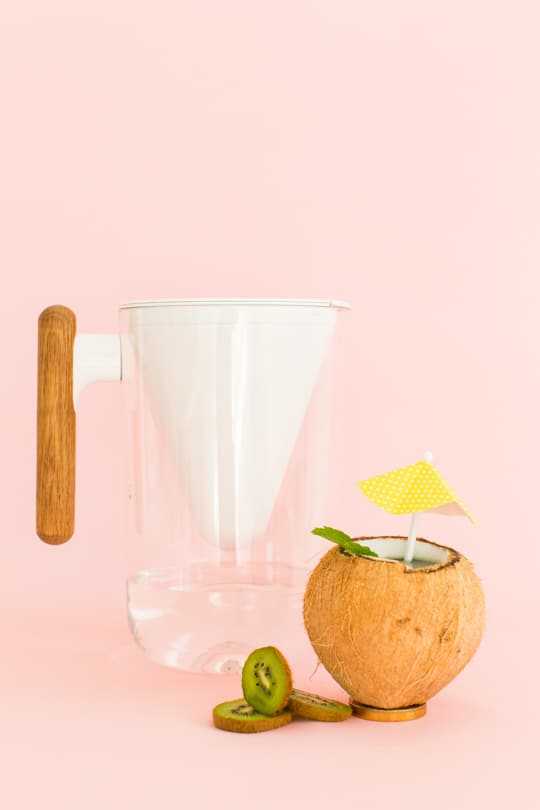 You know how I sit you guys down at least once a week while we have an honest discussion about buying things solely for the packaging and how we shouldn't get too carried away? Well, I've found an exception to the rule of not getting too carried away and I'm hereby giving you full permission to go buck wild and buy and ALL THE Soma things. Seriously. They're just as pretty as they are practical (aka all of your summer gatherings will thank you for this all natural, white oak handled beauty at the table), plus they donate to clean water charities with every purchase, which is a cause worthy of buying for in my book! If all of that doesn't make you want to turn and hug a friend, I don't know what will.
I think I may have mentioned it before, but I don't drink any sodas (or "pop" to all of my North eastern friends! #shoutout), so my drink choices are seriously lacking when it comes to summer months. I'm usually downing flavored soda water left and right, which as it turns out after a few friends letting me down not-so-gently, doesn't constitute replacing all of my regular water intake (we won't even get started on Jared's habits!).
Thus, all of this to say that I've become newly obsessed with Soma, which is perfect for fulfilling my need for an intentional plan to keep something on hand that hydrates, works fast (sooo much faster than regular filter pitchers!), and tastes crisp too. It's basically going to be the sole reason that Jared stays weened off of coke cans, and me away from iced chai's. But you know me, I have to have some flair to it, so I'm bringing you five flavored water recipes & DIY fruit cups to add a little pizazz to my new found hero…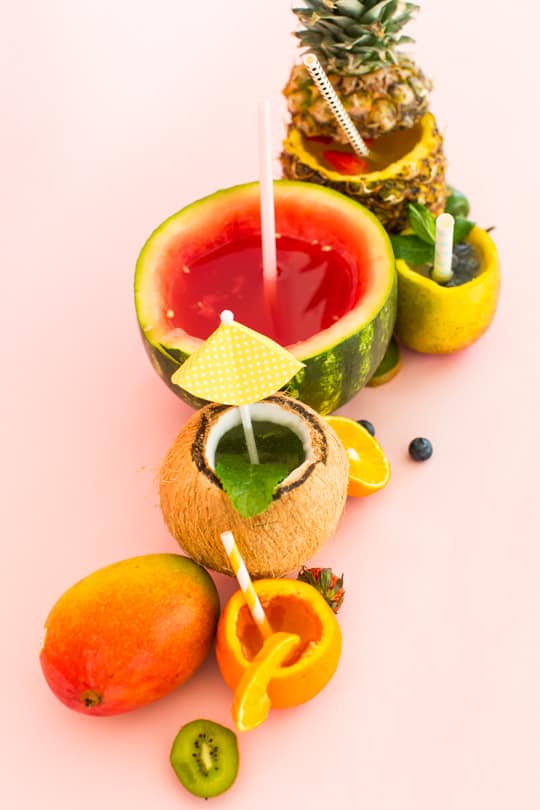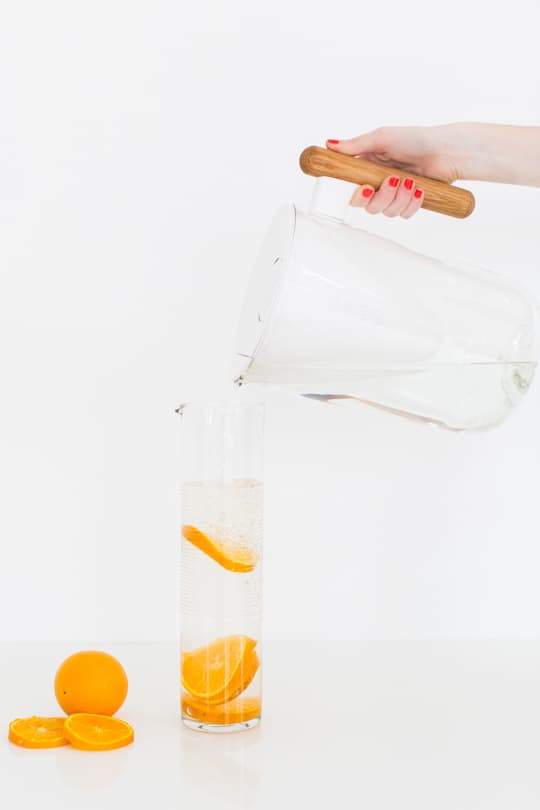 All of our tried and true flavored water recipes are super simple to make, like literally easier than cereal after you account for dicing the fruit, because you're basically just compiling all of the ingredients into the Soma purified water and letting it sit. You can serve however you'd like with ice, striped straws, no straws, two umbrellas, fruit boats, mint sprigs… you get the idea.
DIY Fruit Cups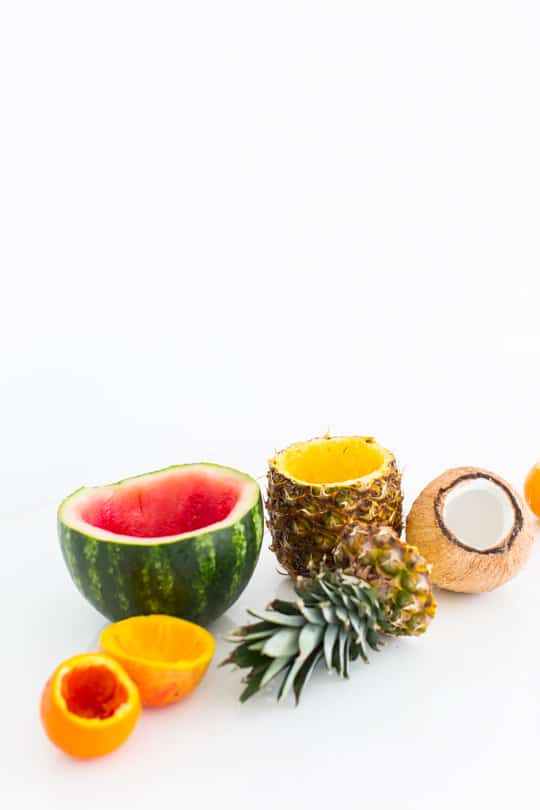 You can be as simple or as complicated as you'd like, but we're going to use our DIY fruit cups which are as easy as cutting a large fruit in half, scooping out the middle (which you'll likely end up repurposing for flavoring the water), and then serving chilled.
Keep in mind all of our recipes are fresh with no preservatives so drink them up quick, they'll only stay fresh up to three days in the refrigerator.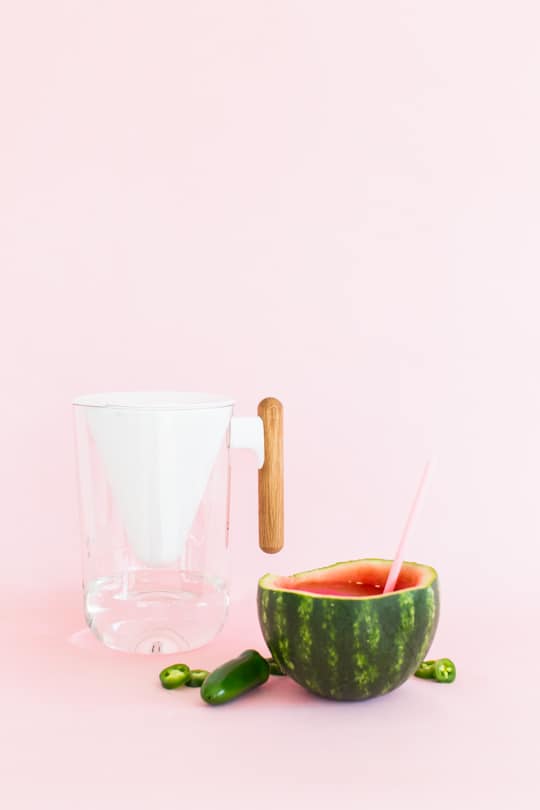 Jalapeño Watermelon Infused Water
1/2 cup purified Soma water
6 tsp. of Stevia (keeping with all natural theme, of course)
1/2 Jalapeno stemmed and seeded
5lbs Seedless watermelon (equivalent to one whole, small watermelon)
Add the jalapeno to your purified water into a separate pitcher and let it infuse for 6 minutes (or longer depending on how spicy you want it to be). Remove the jalapeno and set the infused water aside. Blend watermelon in a blender until very smooth, then add to your water and serve cold over ice. For an added touch, serve in watermelon cups.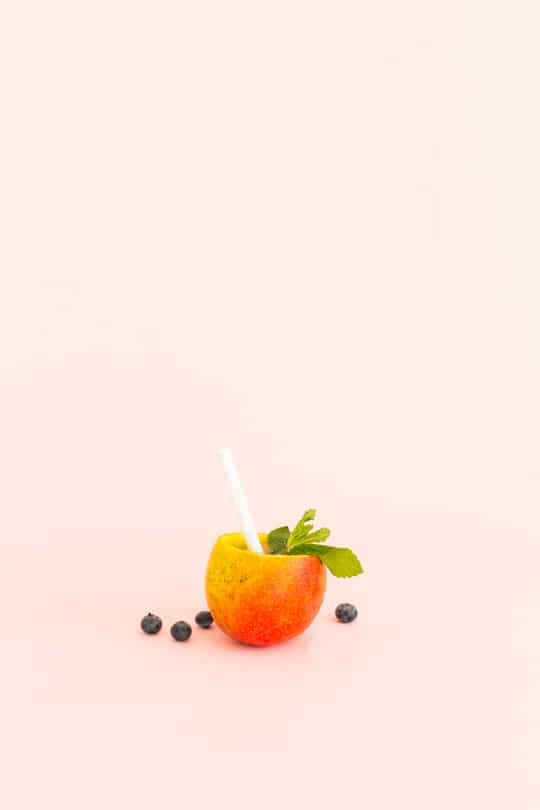 Blueberry Mango Mint Infused Water
1 full pitcher of purified Soma water
10 or more chopped mint leaves (your choice for how minty you'd like it to be!)
1 cup fresh blueberries
1 sliced mango
Add all of your ingredients together in a separate pitcher and let it infused overnight, then serve cold in a mango cup.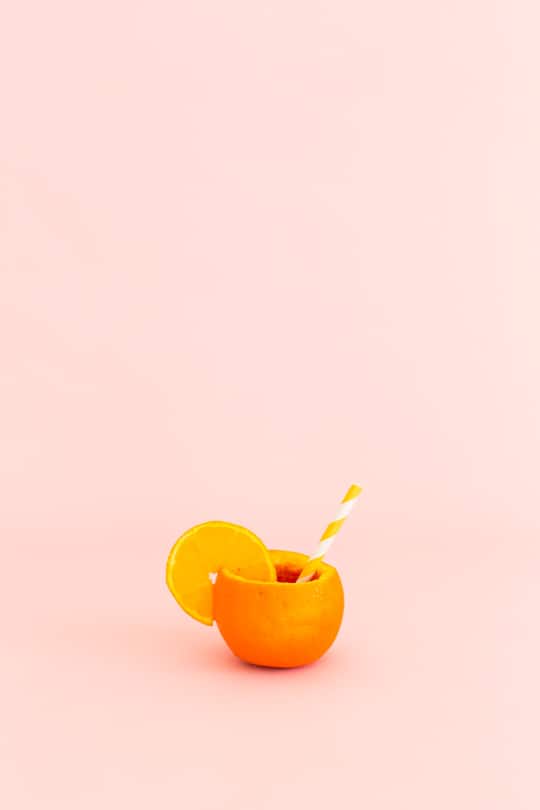 Orange Vanilla Bean Infused Water
1 full pitcher of purified Soma water
2 whole oranges peeled and sliced
1/2 teaspoon vanilla extract or 1 scraped vanilla bean
Combine all ingredients in a separate pitcher and let it infused overnight, then serve in an orange cup. (do you see the theme here, okay excellent!)

Coconut Kiwi Mint Infused Water
3/4 full pitcher of purified Soma water
2 whole peeled and sliced kiwis
10 chopped mint leaves
Water from one whole fresh coconut
1 tsp. of Stevia
Combine all ingredients in a separate pitcher and let it infused for about two hours, then serve chilled in coconut cups.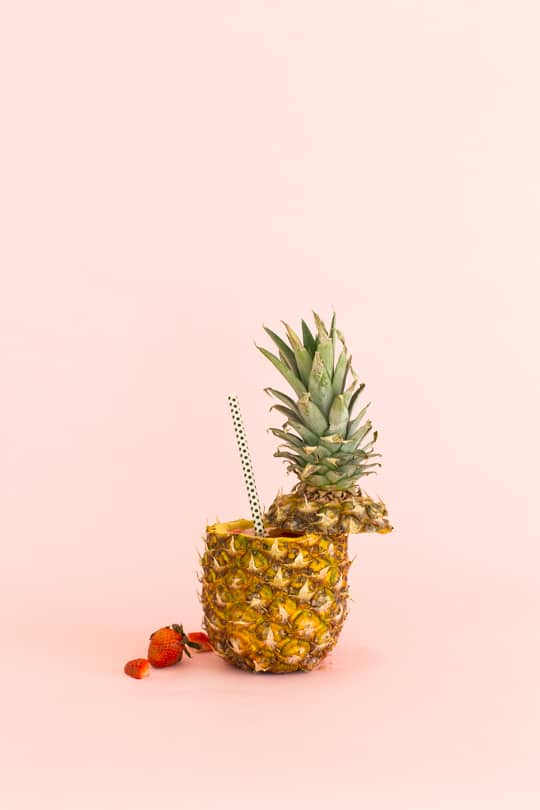 Strawberry Pineapple Infused Water
1 full pitcher of purified Soma water
8 fresh strawberries
1/2 cup (or one half of a) sliced, fresh pineapple
Combine all ingredients in a separate pitcher and let it infuse overnight, then serve cold in a pineapple cup.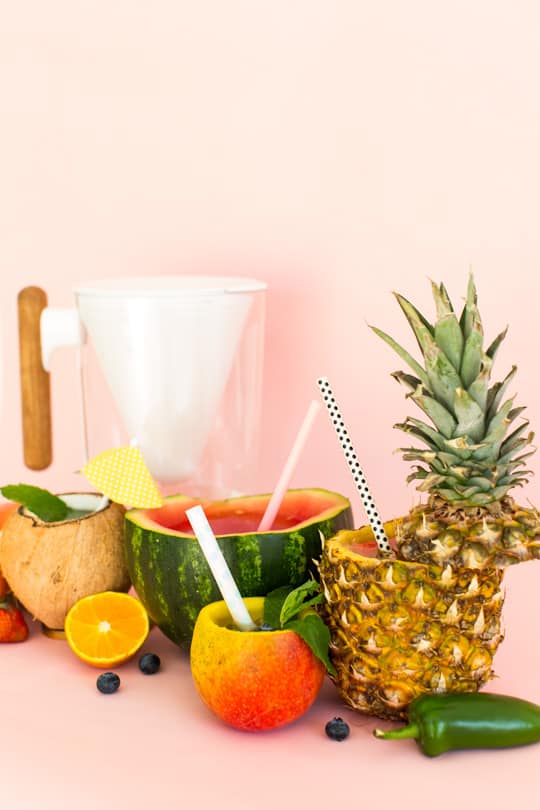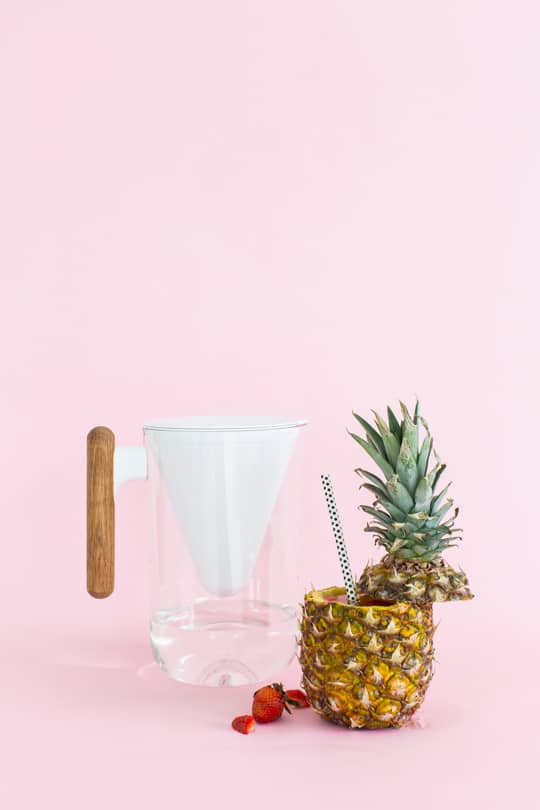 Look at that white oak wood handle, isn't she a beauty?! Where is the sighing face emoji for blogging when you need one?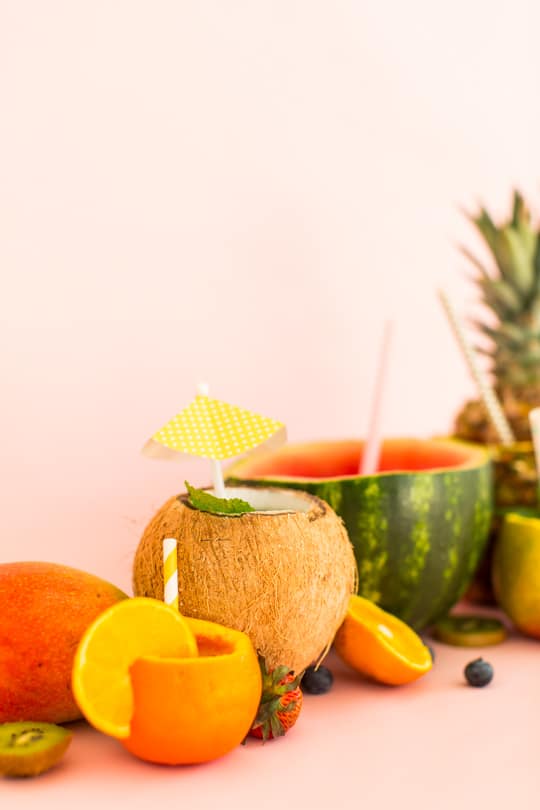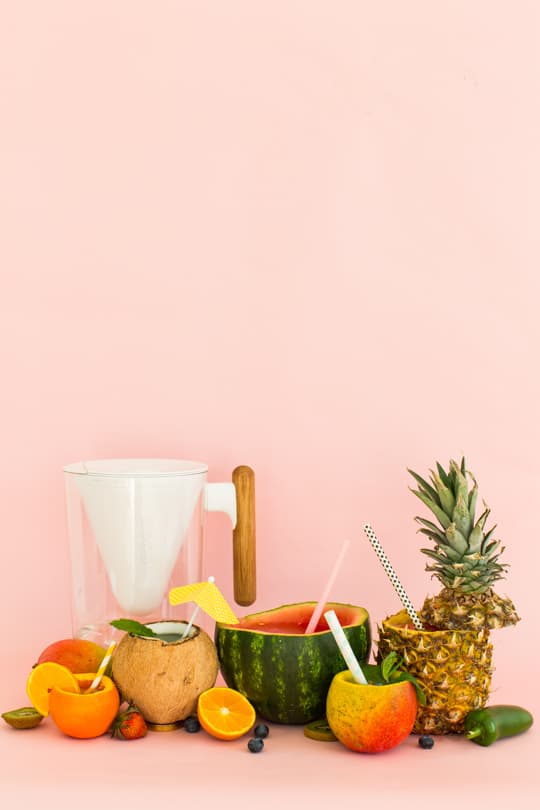 Do you all have any tricks for staying hydrated in an enticing way during the summer heat? I hear carrying around a water bottle at all times is a good reminder for a lot of people, but mostly I just hate the sound of it sloshing around in my bag! Crazy, I know. Don't judge me. I'll just be the girl walking around with a small watermelon cup.
I really love that Soma was 1 of 16 brands chosen this year to be included in the exclusive Made to Matter—Handpicked by Target program that highlights products that promote wellness. You can find the entire Soma family at Target or drinksoma.com. And the good news is: the first 50 readers to use the code SANDC1FREEFILTER (which you can grab yours here) will receive 1 free filter ($12.99 value) off their first Soma order… which means I'm stocking up!
This post is made possible by Soma, the newest and coolest water filter around (I came up with that tagline myself, what do you think?!). Thanks for supporting the brands we love that keep bigger and better DIY's and sweet recipes coming straight to your inbox!