This weather is all about cozy sweaters, gathering with family and friends, and, well, let's be honest, lots and lots of desserts. I, Brandi, absolutely love this time of year and look forward to the yummiest flavors of the season.
One of my favorite holiday treats is a Chai Spice Latte, and making this into a delicious dessert was like a dream. Combining the rich, spicy flavors of chai tea, with a hint of vanilla, and a dollop of whipped cream and caramel, I couldn't resist.
As always, I like to add a splash of bold color whenever I can. So, a cascade of edible rainbow colored leaves will make this cake the centerpiece of our dessert table. The Falling Leaves Chai Spice Cake will surely make your guests swoon too…
For the Wafer Paper Leaves & Decor
2.5 pounds white fondant
Black gel food coloring
Wafer Paper
Petal Dusts, in a variety of colors
Food dedicated paint brushes
2 tbl vegetable oil
2 tsp water
Now for the fun part! From your wafer paper sheets, cut out your favorite fall leaf shapes. I cut out a variety of shapes, as well as a couple different sizes. If you have a craft cutting machine you can use that to make this process a little easier (I used the lowest setting and a new blade with my cutter).
To color your leaves, dip your paintbrush in the vegetable oil, you just need a little bit, then dip in your first petal dust color and brush on your leaf. If the petal dust becomes too hard to paint with, you can dip your brush in a little more oil.
Repeat this process for all of your leaves. I made about 30 leaves, that was more than enough to play with, but honestly, they're kind of fun to make and I could have made them for days.
To add dimension, brush a very small amount of water on your leaves and allow to dry before using. Make sure not to use too much water, as your wafer paper will begin to melt.
Let's put it all together!…
After your cakes have cooled completely, level and split your cakes. If you like bigger layers like I do, you can bake a double cake recipe for four thick layers. Fill your piping bag fitted with the plain round decorating tip with the Chai Buttercream and pipe a ring of buttercream on your bottom layer. Next evenly fill buttercream ring with caramel whipped cream and add your next layer. Fill each of your layers and crumb coat your cake with buttercream.
If you've made a double barrel cake, measure your boba straws, mine were 7", and insert into your cake. You'll want about five straws to support your cake layers. Place cake in the fridge to allow filling and crumb coat to harden.
While your cake is in the fridge you can prep your fondant. Measure the height and circumference of your cake, mine was 7 ¼" x 22 ½". You'll be rolling out two rectangles of fondant ¼" thick, one for each half of your cake (divide the circumference of your cake to get the length of each of your fondant pieces). Remove your cake from the fridge and frost with an even layer of buttercream, then gently wrap each fondant piece around your cake, trim fondant with a sharp knife if needed. For the top fondant piece cut an 8" circle from your rolled fondant and place on top of your cake, again, trimming where needed. Smooth fondant around your cake. To finish, you can paint your fondant with polka dots using black gel food coloring and a clean food only paintbrush.
Finally, decorate your cake with your fall leaves, attaching them to your cake with a little buttercream. Whew! We're done and it looks amazing. When you're making your cake don't forget to set aside a little piece of snack cake from the scrapes so you can get a preview of all the yum flavors. This is the most important part, you've worked hard and the baker should always get the first taste!
The Chai Spice Cake is so my new favorite and I can hardly stand it. The flavors taste amazing for sure, but those colorful fall leaves are definitely the show stopper. I'm in love and kinda want to put them on everything!
I know this cake might look too pretty to eat, but cakes are meant to be eaten, because, you know, it's cake and your guests will ooh and ahh all day.
Brandi Van Leer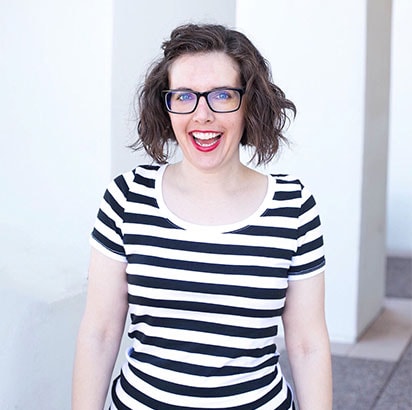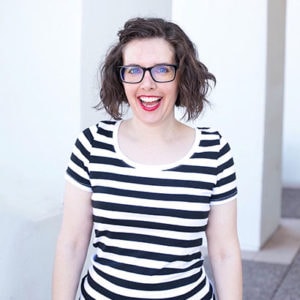 Brandi Van Leer is a self-taught baker who loves putting her own twist on classic confections.
She has been baking since high school and has a passion for sharing her sweet treats and travel, and believes anyone can bake a show stopping dessert. Get inspired to bake and see how Brandi is creating happiness on her Instagram at Real Life Crafter.