photos by Inked Fingers
Recently, at the hands of some well-meaning girlfriends, I, Carly, succumbed to what some might call the "I'm-pushing-30" peer pressure to join a local bootcamp. So, every morning I now wake up before 5am, stumble into my kitchen, drink my coffee with my eyes still closed, and head off to camp. There I spend the next hour of my life running, jumping, lifting, and lunging until I can lunge no more, all in the name of fitness. Sounds exciting, right? Well, I honestly have no reason for telling you about any of it, except to help you fully understand just how much I've been thinking about cake lately, so this DIY abstract floral pattern cake is no coincidence as far as timing!
Lucky for me, these same girlfriends of mine like to regularly host fabulous dinner parties. Ones where we all gather around bottles of wine while we cook each other all sorts of delicious foods and eat to our hearts' content. It's wonderful, for so many reasons, but it also affords me the perfect opportunity to make (and eat) some truly amazing cake.
Now of course, for nights as special as these, I can't just show up with any old cake. But let's be honest, who has the time, energy, or talent to make a show-stopping cake worthy of television show glory? Well I'm glad you asked, my friend, because YOU do, and I'm going to show you how…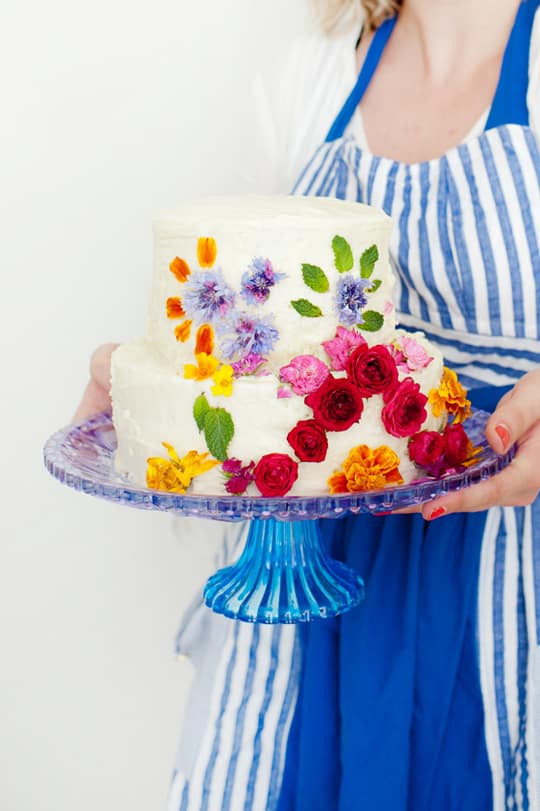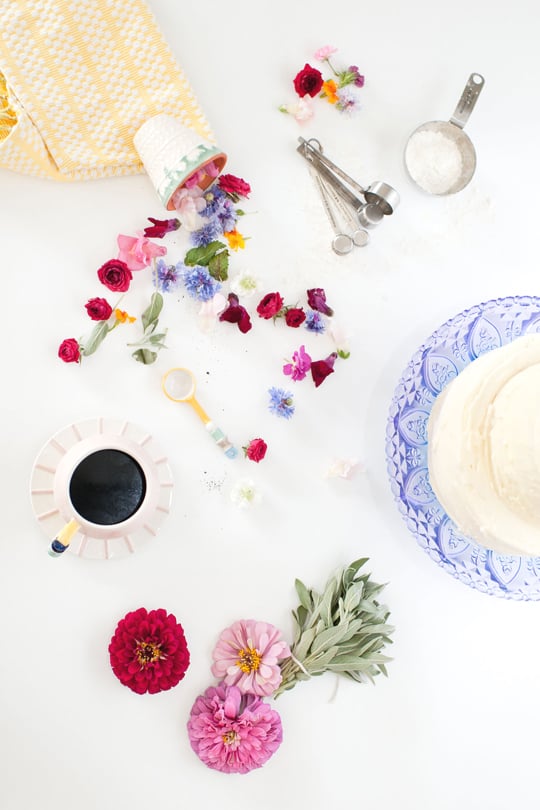 Materials:
a 2-tiered layered cake (my tiers were 6" and 8")
2 packages of edible flowers / Fresh herbs (available at most specialty grocers)
Tweezers
Cake stand (mine is from Anthropologie!)
First things first, find yourself a cake. You can source some really great recipes online, or you might decide to work with the one your mom always used. But I'll tell you a little secret — I didn't make this cake. I'm a working girl! So I went to the bakery and bought two layered cakes, one 6" and one 8". I put a few bamboo skewers through the center of the bottom cake for stability purposes, stacked the smaller cake on top, and voila.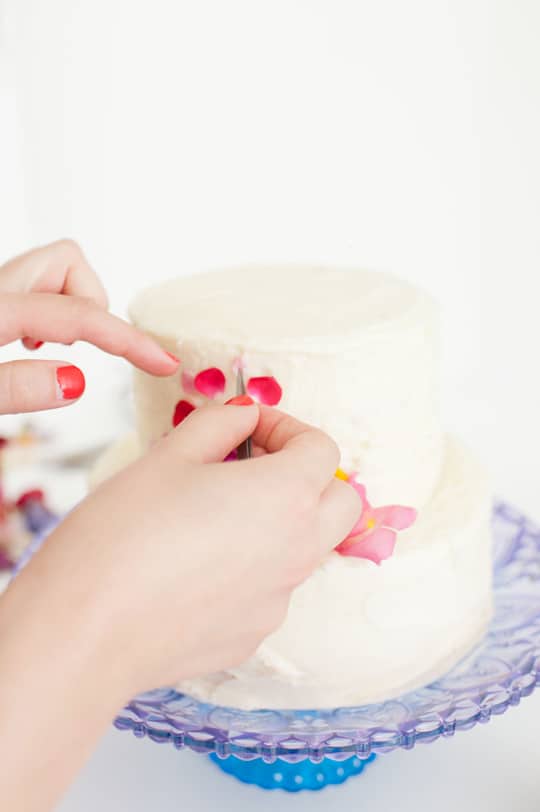 After you have your cake all set up, now it's time for the real fun to begin! Go ahead and dump out your packages of edible flowers and sort through them to see what you're working with. Once you do this, you can start to devise a plan of where to place the flowers to make a pattern to suit your mood, there are no rules here!
Once you get an idea of where you want everything to go, begin to place the flowers directly into the icing, using sanitized tweezers to put the more intricate details into place.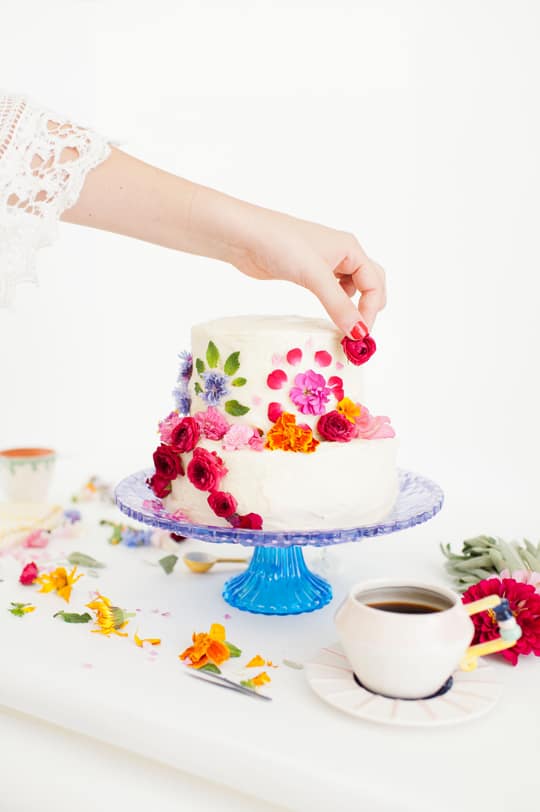 One word of caution: The bigger flowers that still have their stem base attached will leave holes in the cake if you decide you want to move them. So, maybe don't do that if you can at all avoid it. After I placed the flowers, I went through and accented with small mint and sage leaves, just to give the cake that extra pop of color.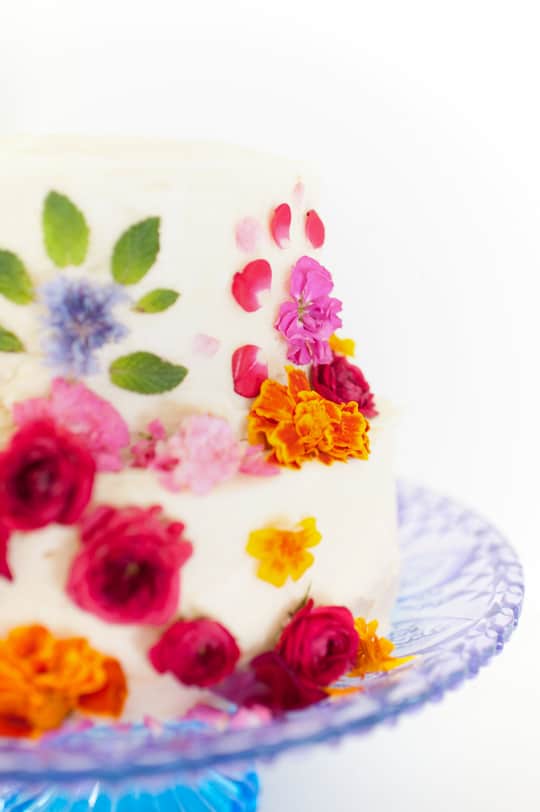 Now, up until this point, the steps of this how-to have been pretty simple. But here's where you'll want to really pay attention, because we've come to the most important detail of this whole process… Eat the cake!
Carly Blair is the owner and Creative Director of Margot Blair Floral, an art-inspired flower studio based in Austin, TX and available for travel worldwide. It is her firm belief that an awakening of the imagination happens when a life is well lived, and that adventure and laughter are key to keeping her work on the leading edge.