DIY Watercolor Cake — A modern and colorful cake decor idea, this Abstract DIY Watercolor Cake can be customized to any occasion or color theme.
Last weekend we hosted my lovely friend, Davina's baby shower at the studio. So I felt like I could take it upon myself to make whatever kind of crazy cake I wanted to go along with it.
After all, sugar is in the name and I only need half a reason to bust out my next Picasso of cakes anyway!
Plus, Davina and Kyle decided not to find out the sex of the baby early. This left me no choice but to use every kid-friendly color there ever was just in case.
All of that to say I ended up making this DIY abstract watercolor painted cake as a result. I also had at least five people at the party ask me if it was edible.
And yes, of course it is. (It's practically criminal if it's not!)
Plus, it takes almost no artistic skills whatsoever to decorate this baby. So you can line all of your big kids up and just let them have at it for their next party or occasion too!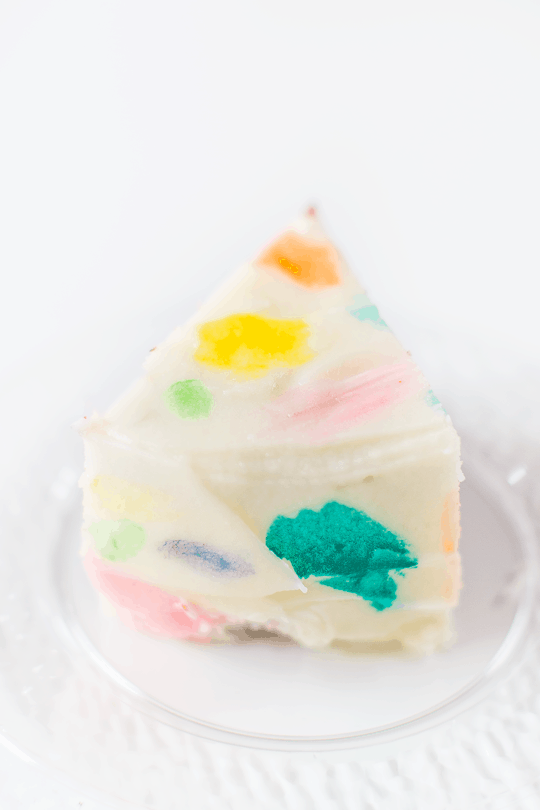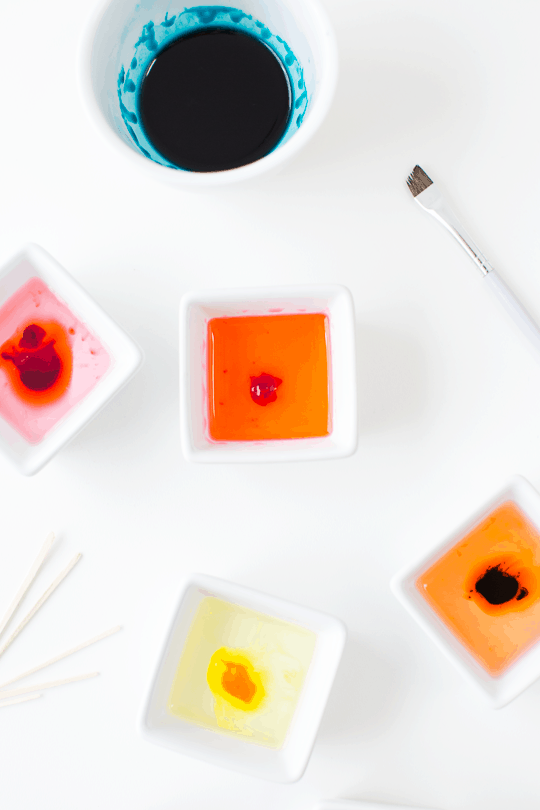 Materials Needed To Make A DIY Watercolor Cake
Clear vodka/liquor or clear flavored alcohol based extract like almond extract
Toothpicks
A food dedicated paint brush — This means any unused strictly for food brush.
Plain white iced cake — Any flavor will do. Just make sure the icing has hardened a bit.
Small bowl with water and paper towel
Can I Substitute the Clear Vodka Ingredient?
Rubbing alcohol can be used in place of vodka or clear flavored alcohols if you choose not to use such items.
A lot of bakers and how-to's use the rubbing alcohol trick of the trade. Rubbing alcohol should NOT be consumed by mouth.
But when rubbing alcohol is used is very small quantities and mixed in with gel food coloring, it actually evaporates so quickly that it doesn't cause harm when used correctly.
Please note that with all projects seen on Sugar & Cloth, you assume full responsibility when recreating tutorials at home.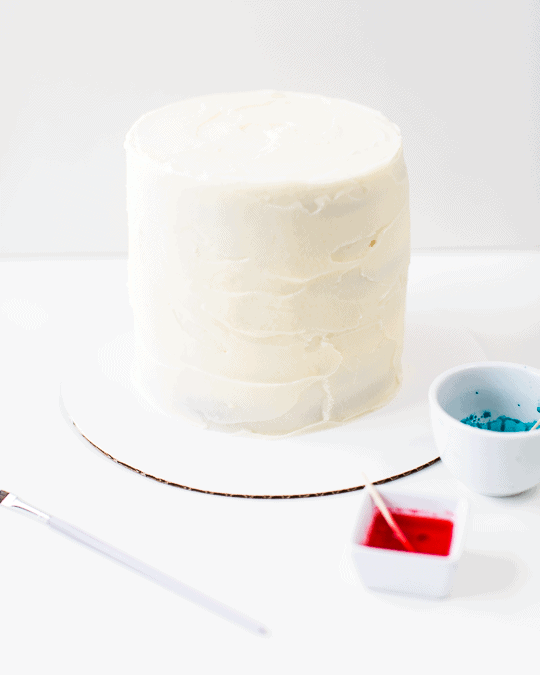 How To Paint On Cake | How To Make A DIY Watercolor Cake
1 — Use several small bowls to prep for each color you plan to use, and fill them each with about a quarter inch of vodka or alcohol base.
2 — Use a tooth pick to drop a small dab of gel food color into each cup and use the pick to stir the color well.
The more gel coloring you add the stronger the color will show up. The less you add the more transparent the color will be.
Adding too much also makes the food coloring stay a bit shiny so try to avoid excess if you can.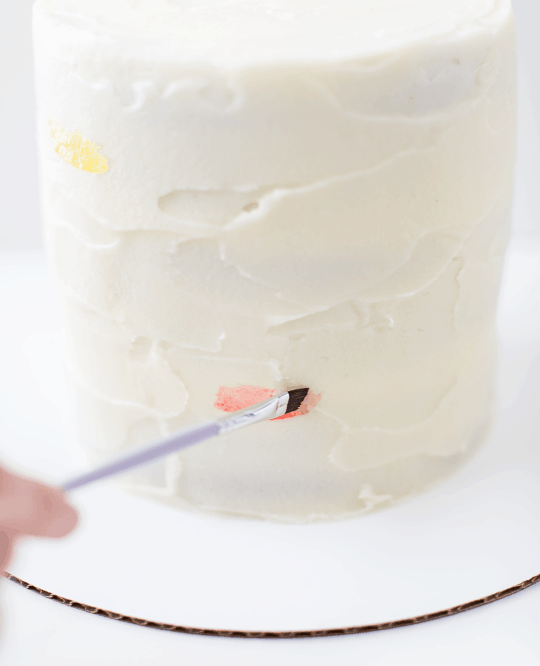 3 — Use a food dedicated painted brush to paint on each color sporadically over the iced cake. Continue to do this until it's as colorful as you'd like.
Just make sure to dip your brush in the bowl of water to rinse before each color. Be sure to wipe the water from the brush with the paper towel. Putting plain water on icing will make a sticky mess!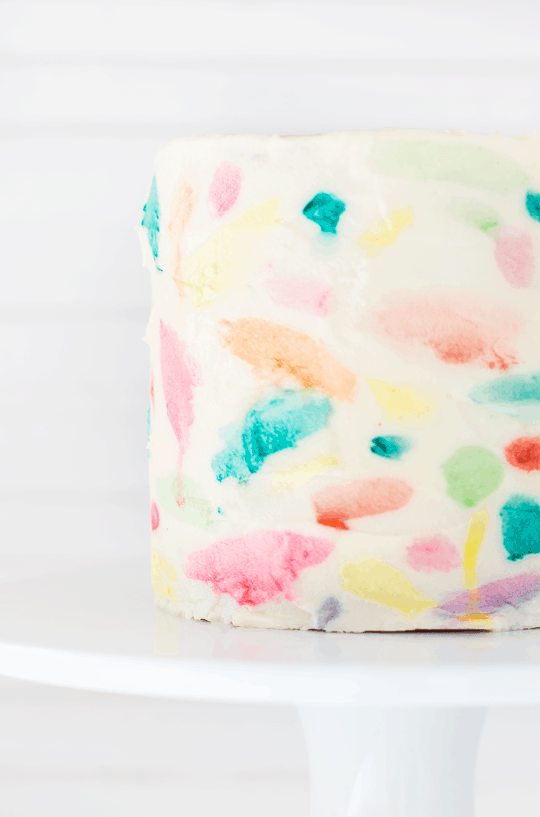 For even more unique colors, try painting a quick run over another color like pink and blue to make a rainbow purple.
Inevitably, kids will get this going right away, but I actually had to talk myself into letting the colors touch about.
Not OCD at all, you guys! Nothing to see here…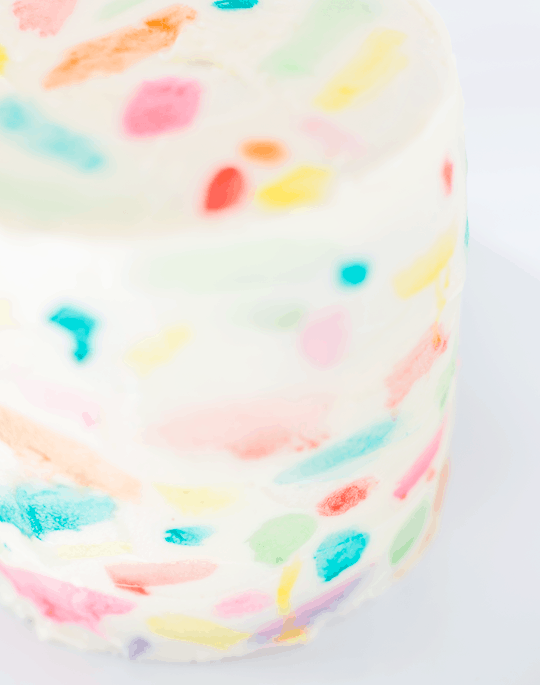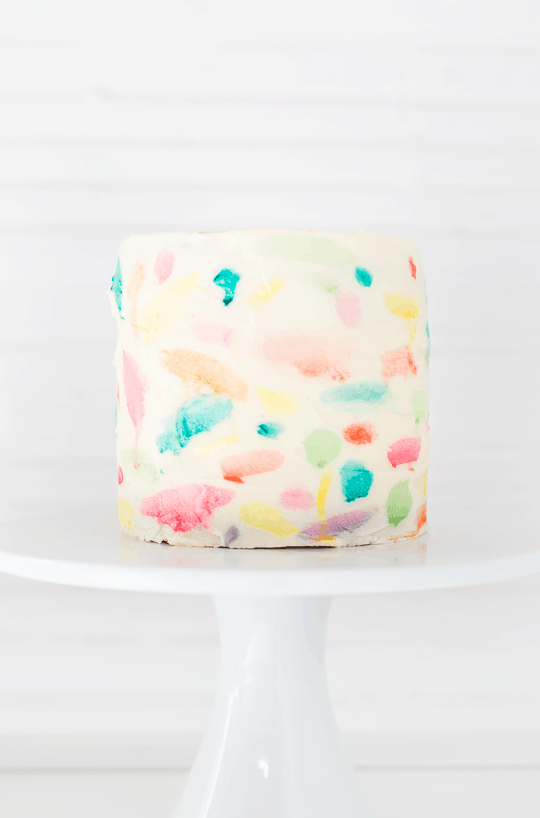 I really love how it turned out. And now I'm just deciding on what other things I can paint edible watercolor on!
I tell ya, when I get on a kick I really like to run with it, you know?! Have you all ever painted anything totally random on your desserts? Let's hear it!
The glitter cake topper letters are from The Bannerie // Cake stand from World Market
Cake Painting Tips And Tricks
Make sure you don't overmix the colors while mixing them – this will give you a watery color and it won't stick on the cake. Also, use just one brush at a time – don't keep switching colors as this will also cause bleeding of colors.
Always clean your brushes with water in between to prevent the colors from mixing.
Paint in smooth strokes – never has harsh jerky movements as they will leave ridges on your cake.
If you want a smooth finish, go over the paint once or twice with a damp sponge to blend the colors well.
More DIY Cake Designs