We're celebrating all things rainbow with this easy unicorn cake made from a classic strawberry cake recipe and all of the colorful sprinkles and decorations you can think of…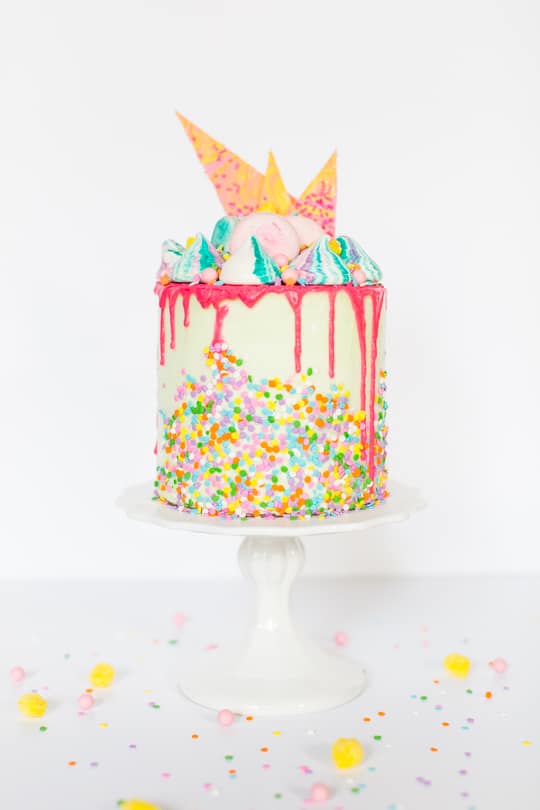 You may be asking yourself, "how in the world is this a unicorn cake, and why would someone make that?".
Well, that's a great question, and technically there's no real reason other than the fact that it looks like unicorn food!
So naturally one should just roll with that, right? To bring it back down to earth a bit I am sharing a classic strawberry cake recipe with coconut buttercream icing to go with, so don't judge me too much! Or do, and I'll just eat my feelings in unicorn food in the meantime.
But seriously though, who wouldn't love a cake with a little bit of everything on it?
I think if you made one of these bad boy's and sat it in front of your kid for their next birthday they might actually pass out from excitement.
Plus, macarons on top are always a good idea…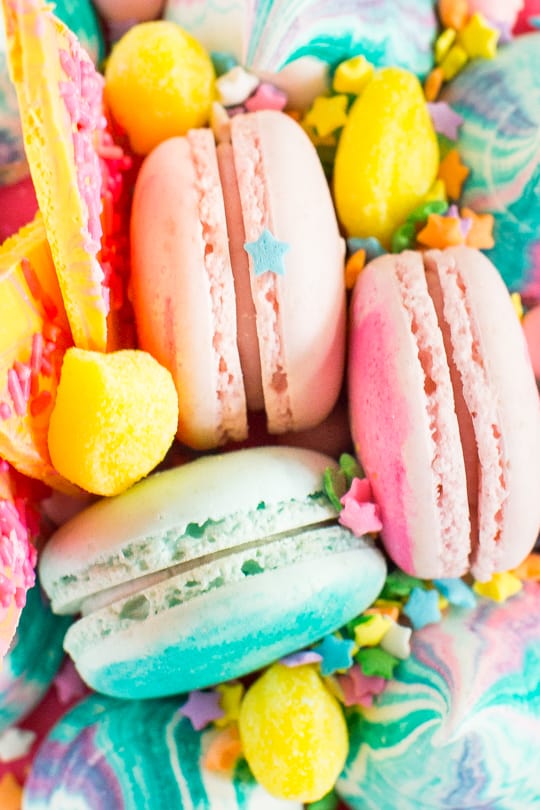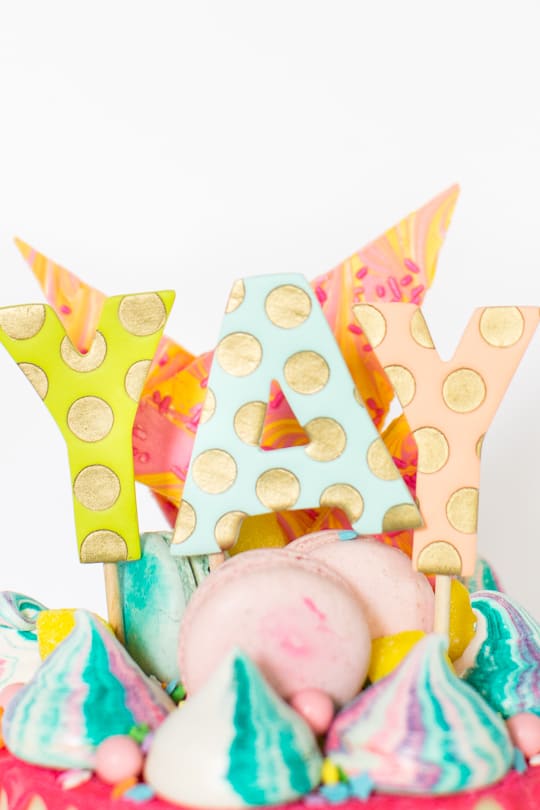 Ingredients To Make An Easy Unicorn Cake
3/4 cup butter, softened
1 1/2 cups sugar
3/4 cup strawberry preserves
4 large eggs
1 teaspoon strawberry extract
2 1/2 cups cake flour
11/4 teaspoons baking powder
3/4 teaspoon salt
1/2 teaspoon baking soda
1/2 cup whole buttermilk
1/4 teaspoon liquid red food coloring Strawberry Icing
Preheat oven to 350° and spray 4 (6-inch) cake pans with nonstick spray.
In a large bowl, beat butter, preserves, and sugar at medium speed with an electric mixer until fluffy, then add in eggs one at a time, beating well after each. Once the eggs are mixed, beat in strawberry extract.
In a medium bowl, sift together cake flour, baking powder, salt, and baking soda. Add flour mixture to the butter mixture, alternating with the buttermilk. Beat in the food coloring until well mixed, and divide batter equally among prepared pans.
Bake for 20 to 25 minutes (or until a wooden pick inserted in the center comes out clean). Let cool in pans for 10 minutes, then remove cake from pans, and let cool completely on wire racks.
Icing Ingredients for a Classic Strawberry Cake Recipe
1 cup butter at room temperature
5 cups powdered sugar
¾ cup Cream of Coconut
½ tsp coconut extract
1-2 drops of green food coloring for the mint green icing
How To Make An Easy Unicorn Cake
Beat butter until smooth. Then, add in powdered sugar and cream of coconut. (Make sure cream of coconut is well mixed first!)
Next, beat the mixture at medium speed for 1-2 minutes until smooth. Add in coconut extract and green food coloring, and continue to blend until the color is even.
Once fully mixed, lightly frost in between each of the four cake layers, then covering the rest of the cake.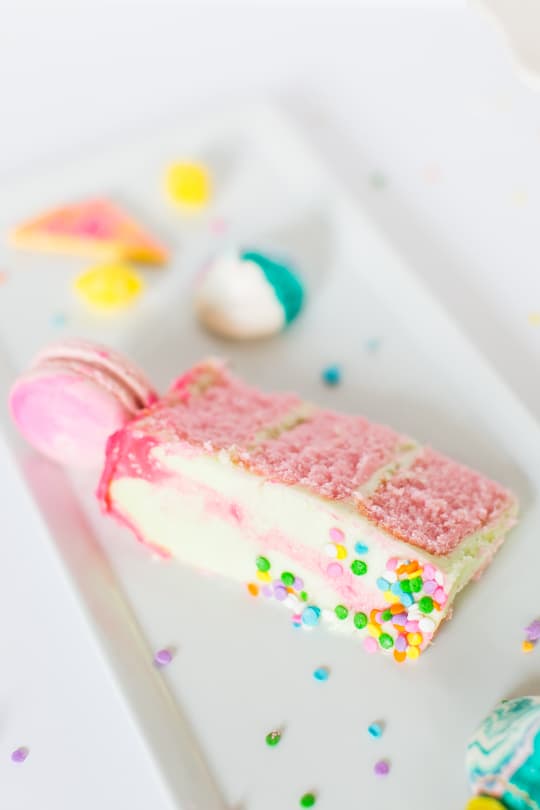 How To Decorate An Easy Unicorn Cake
For the toppings, we used pink ganache made with hot pink melting chocolates and heavy cream (or you can use this tutorial), poured it over the top.
Then, add multicolored meringues, macarons, star sprinkles, chocolate shards, lemon drops, and pink chocolate perils.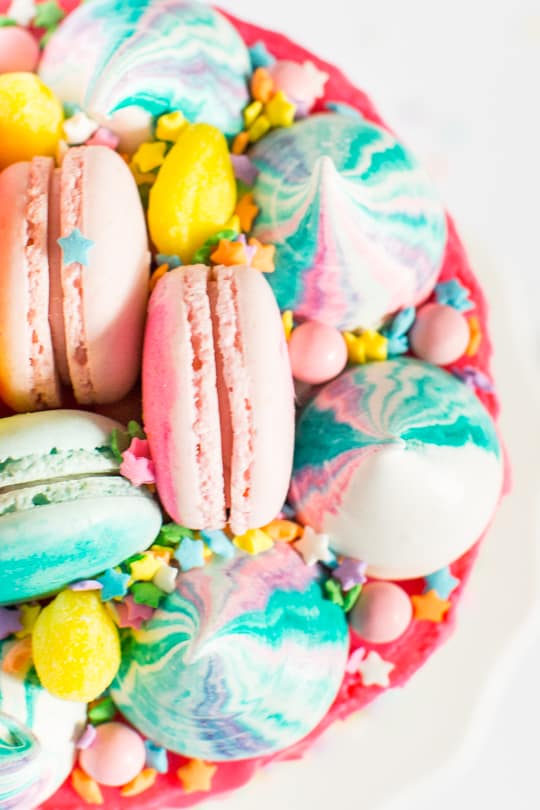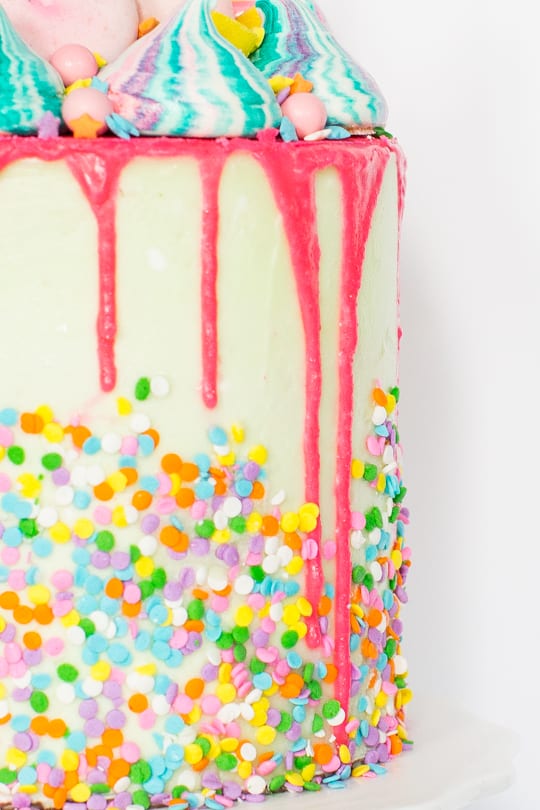 We created this easy unicorn cake color concoction with Monica from Paper Flour Ink, and if you're in Houston, be sure to call her up to snag one of these beauties!