Frozen Chocolate Chip Cookie Dough Sundaes — We froze chocolate chip cookie dough to mimic ice cream, covered it in chocolate, and topped it off with whipped cream and a cherry for the best summer treat!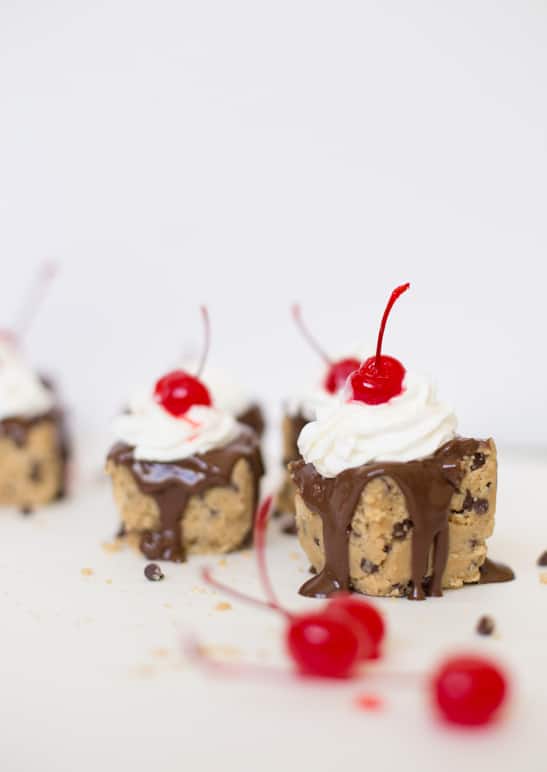 I have a cookie confession to make to you, dear friends. Sometimes… well, sometimes I'd rather just eat the cookie dough than actually bake it.
While I know there are other cookie dough devourers like me, I'm also afraid to eat too much since most cookie dough recipes call for raw eggs.
And lord knows I don't need to add any raw eggs in my diet.
So it was in the middle of the 90 degree heat wave in California when the idea struck. "How about homemade cookie dough that's meant to be eaten raw?!"
And voila, out came these frozen chocolate chip cookie dough sundaes. It's frozen to mimic ice cream, covered in chocolate and topped off with whipped cream and a cherry.
Cause really, it doesn't get much better than that. Enjoy!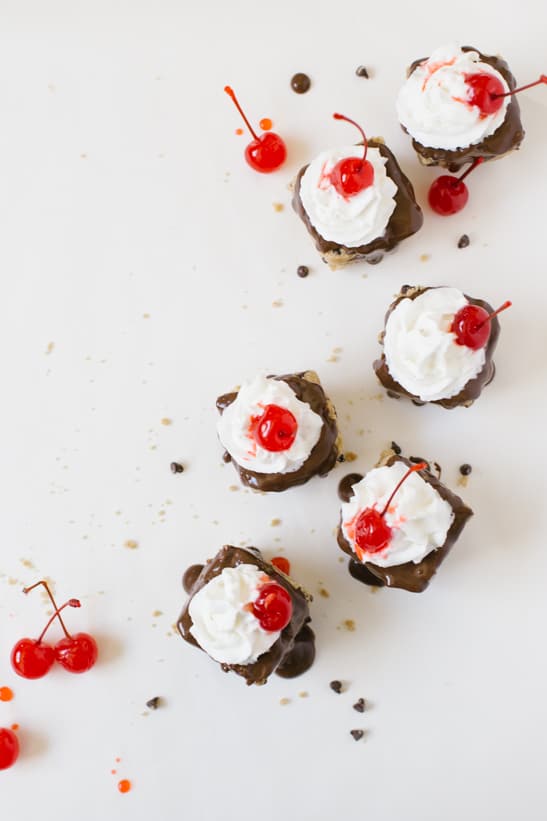 Ingredients & Tools Needed To Make Frozen Chocolate Chip Cookie Dough Sundaes
1/2 cup butter, softened
3/4 cup brown sugar
1 tsp vanilla extract
1 tbsp water
1 cup all purpose flour
1/2 cup mini chocolate chips
1/2 bottle Smucker's chocolate shell
Whipped cream and cherries
Tools: silicone ice cube tray
How To Make Frozen Chocolate Chip Cookie Dough Sundaes
Start off by creaming together the butter and sugar.
When fully blended, thoroughly mix in the vanilla extract, water, flour and chocolate chips.
At this point, it might look crumbly.
If this is the case, mix and mold the dough mixture with your hands to make it less crumbly. If it still doesn't gel together, add a little bit of water.
Stuff the mixture in a squared ice cube tray, and then, freeze for at least two hours.
Pour the magic shell over the top to create a scrumptious drip effect.
Then, top with whipped cream, cherries, and nosh on!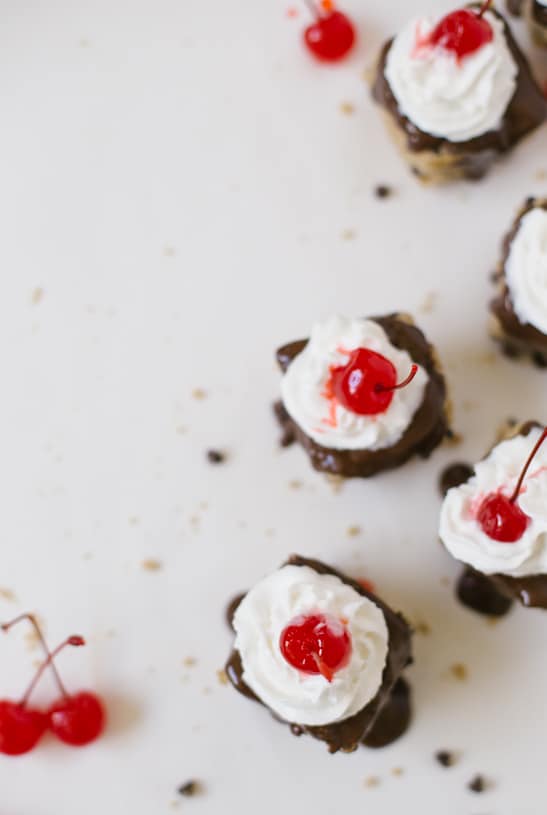 Do You Need To Heat-Treat The Flour?
Heat-treating is process of heating flour to kill the bacterias. This process is typically done when making edible cookie dough.
Because our recipe does not call for any raw eggs, we did not heat treat the flour. However, you can take this extra step for safe measures.
How To Heat-Treat Flour In The Microwave
Heat-treating flour in the microwave is the easiest method.
Place the flour in a microwave safe bowl and heat for 30 second intervals.
Stir with a spatula in between. Make sure none of the ingredients have harden or burnt. This can quickly happen with flour.
Make sure the flour has reached 165°F throughout.