Guest Bathroom Design Ideas — Last week was our master bath and this week it's all about our guest bathroom design ideas! Check out the before photos and plans…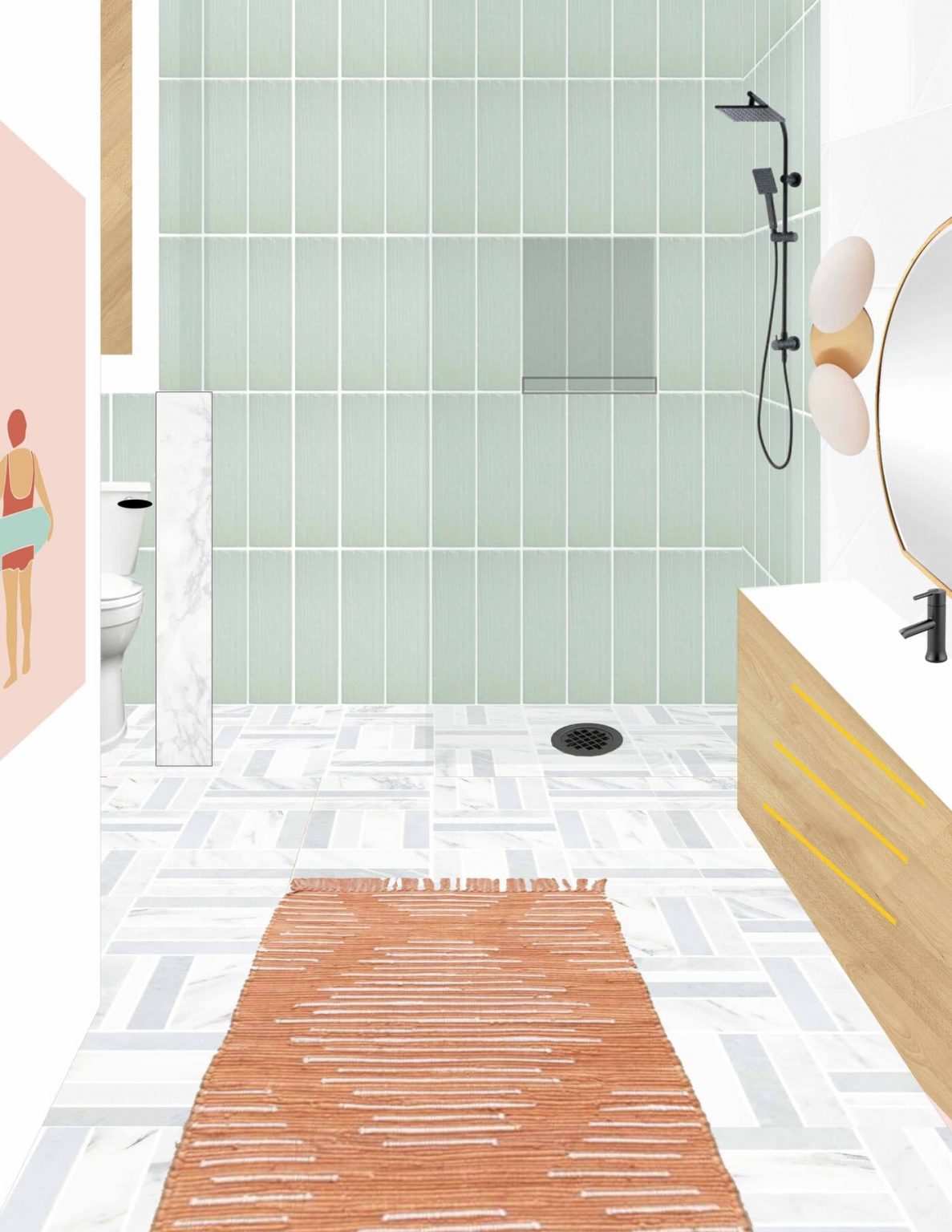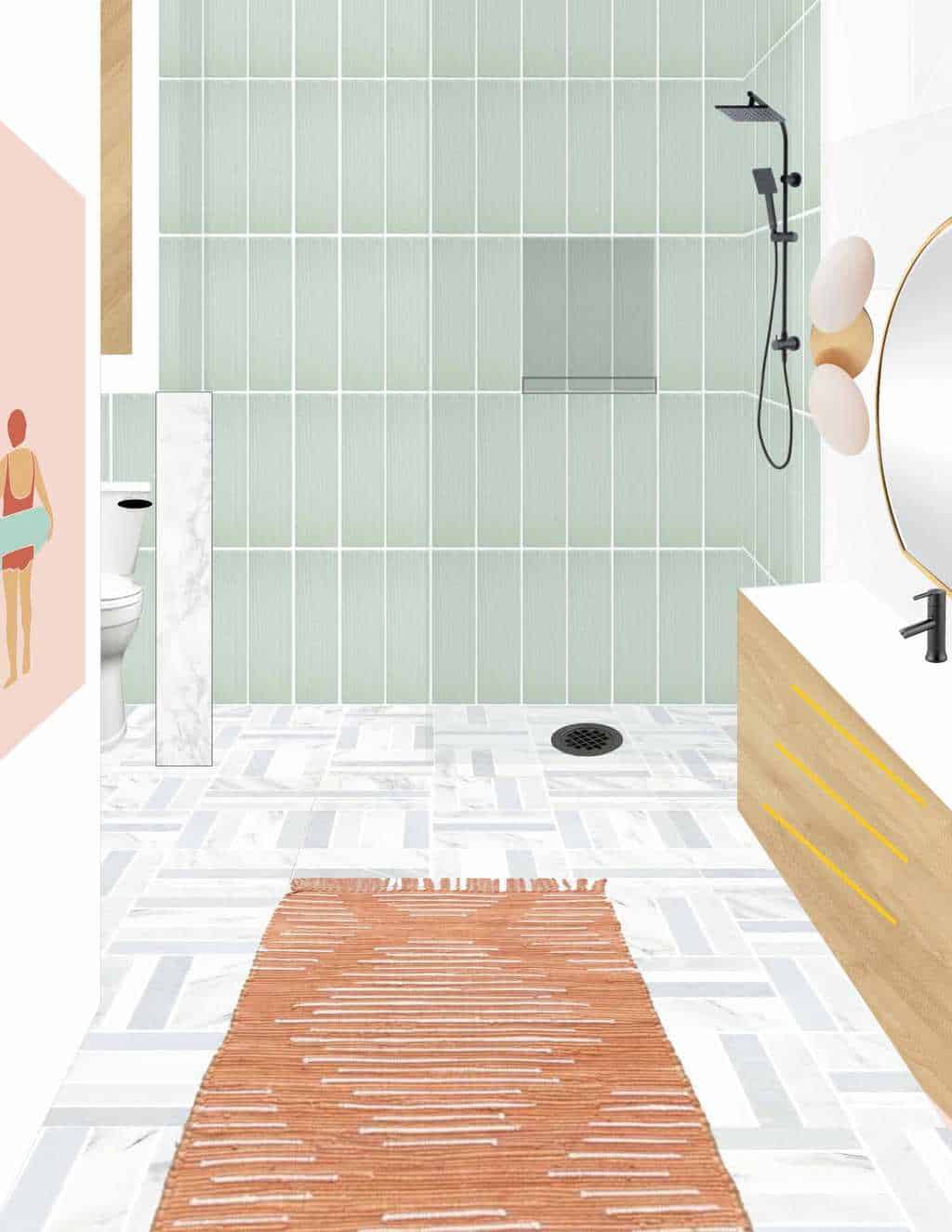 I'm just full of remodeling plans these days, aren't I?! I shared our master bathroom plan last week and this week it's all about our guest bathroom design ideas.
Here's a dose of real-life renovation for you: we started our guest bathroom remodel SEVEN months after our initial construction (and our master bath demo) and it's actually completed before our master!
It just goes to show that you never know what you're going to get into when it comes to gutting a room in your house and sourcing all of the good stuff.
One of the biggest lessons learned when it comes to a remodel is to never trust an estimated ship when on uncommon items, haha!
For our guest bathroom, we kept things much more simple than the over-sized porcelain slabs and custom items from our master bath.
We opted for all matte black Peerless Faucet Precept® hardware instead of going gold, and got to touch and feel our tile samples in advance thanks to moving to a house that's five minutes away from The Tile Shop!
For the decor, we snagged almost everything from easy-to-shop local stores and Ikea…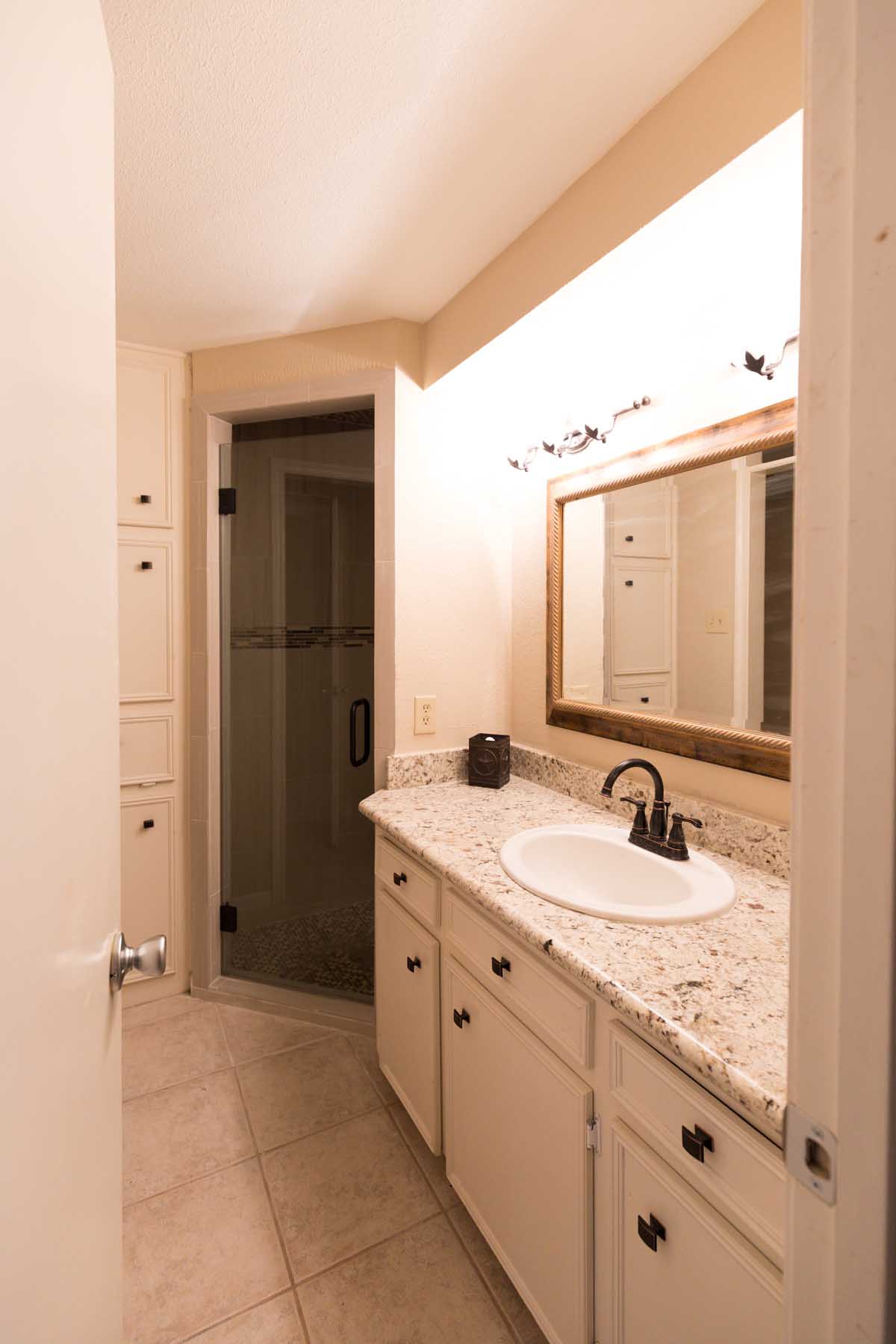 Guest Bathroom Before
This is what the guest bathroom looked like before we started the demo process. All of the cabinetry, fur down, and weird cubbies are from the original 70's design. We really wanted to open the space up and get rid of the strange angles.
This meant fully gutting the whole space and updating the electrical to include recessed lights, change the plumbing of the shower, and reworking the main floorplan.
I shared what the original floorplan of the first floor looked like right here, which also shows you how the floorplan of this bathroom got opened up.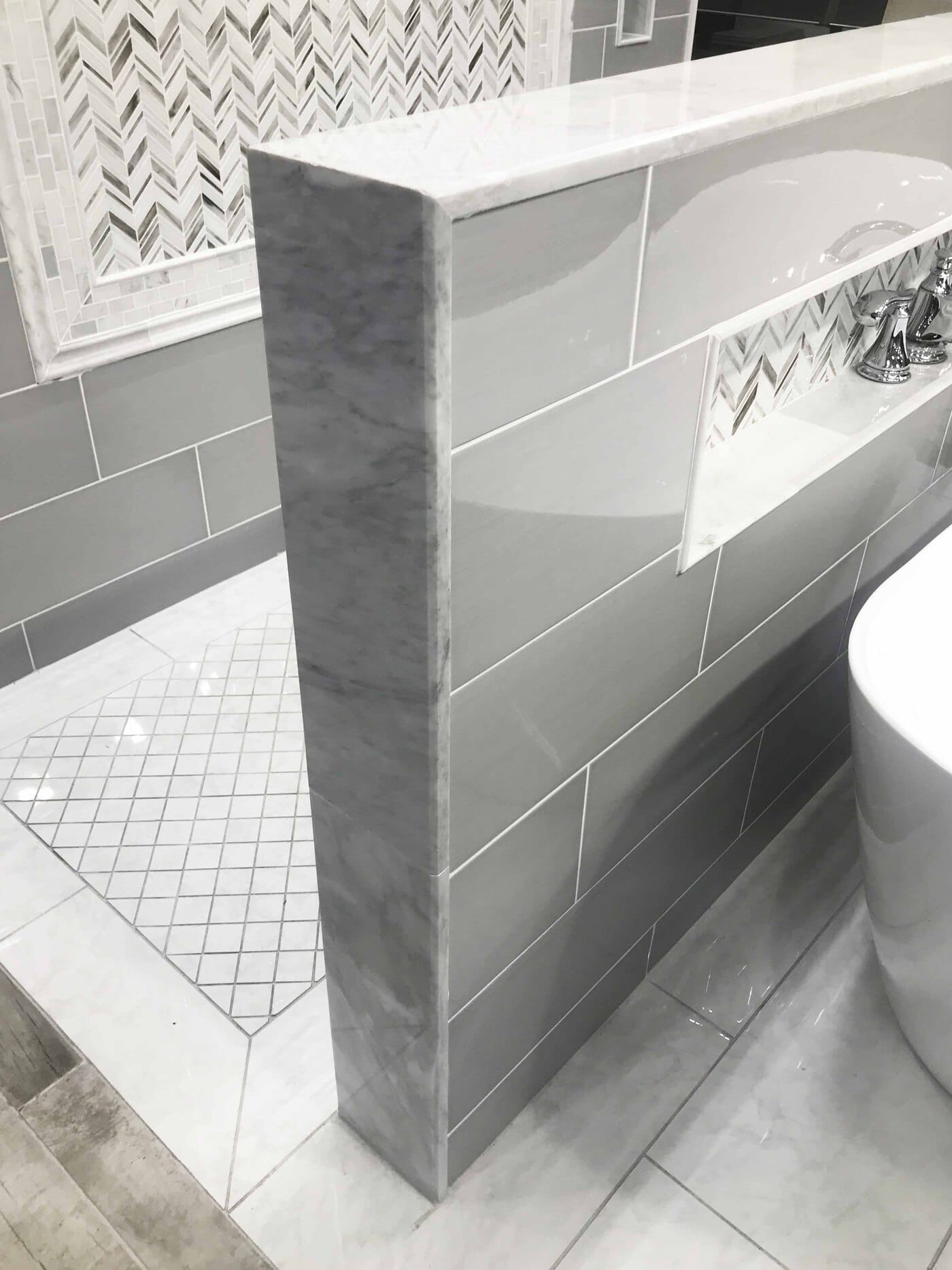 I had my eye on this Aquamarine subway tile from The Tile Shop and this marble mosaic to go along with it. When we visited the showroom it helped give us a better idea of how to handle the wall divider between the toilet and shower.
Originally we weren't planning to create a wall but ended up going with marble trim pieces for a short pony wall after seeing the above example in their showroom.
I also had a TINY moment of regret with this flooring combined with the wall tile. For some reason, the mastic made the dark grey color in the mosaic substantially darker than the uninstalled version. See this photo for a comparison!
Once we added white grout, shower walls, and vanity, it now looks much lighter but still a substantial color difference. You'll have to check back next week to see the full reveal!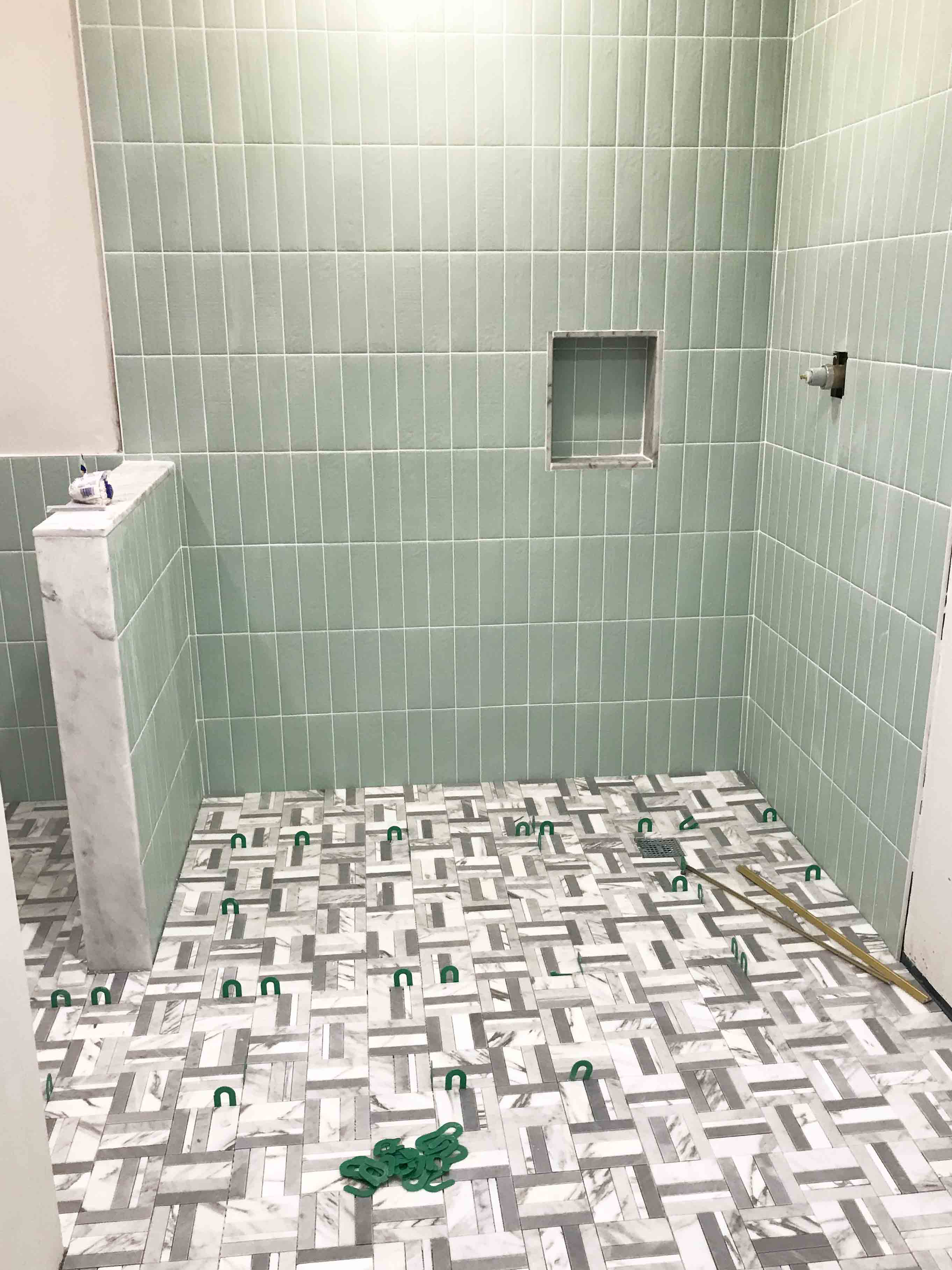 Guest Bathroom Design Idea Room Sources
And in case you're on the before and after photo train, you can see more of our room reveals and design plans for the new house below!