Surprisingly I'm not actually the pyro-fiend between Jared and I, but hey, I'm always happy to come up with a DIY that he can spend hours lighting until his heart's content.
Considering this rainbow DIY taper candle is about three feet long and full of about 50 taper candles, he'll be good for a while!
In all seriousness though, I don't condone fire hazards so I'd recommend only lighting a few at a time, but it looks just as pretty unlit if you ask me!
For those of you that are big romantic lighting fans that also have a special place in your heart for rainbows, prepare to freak out over your next dinner party table (plus, my trick for getting pretty melted candles without the wait!)…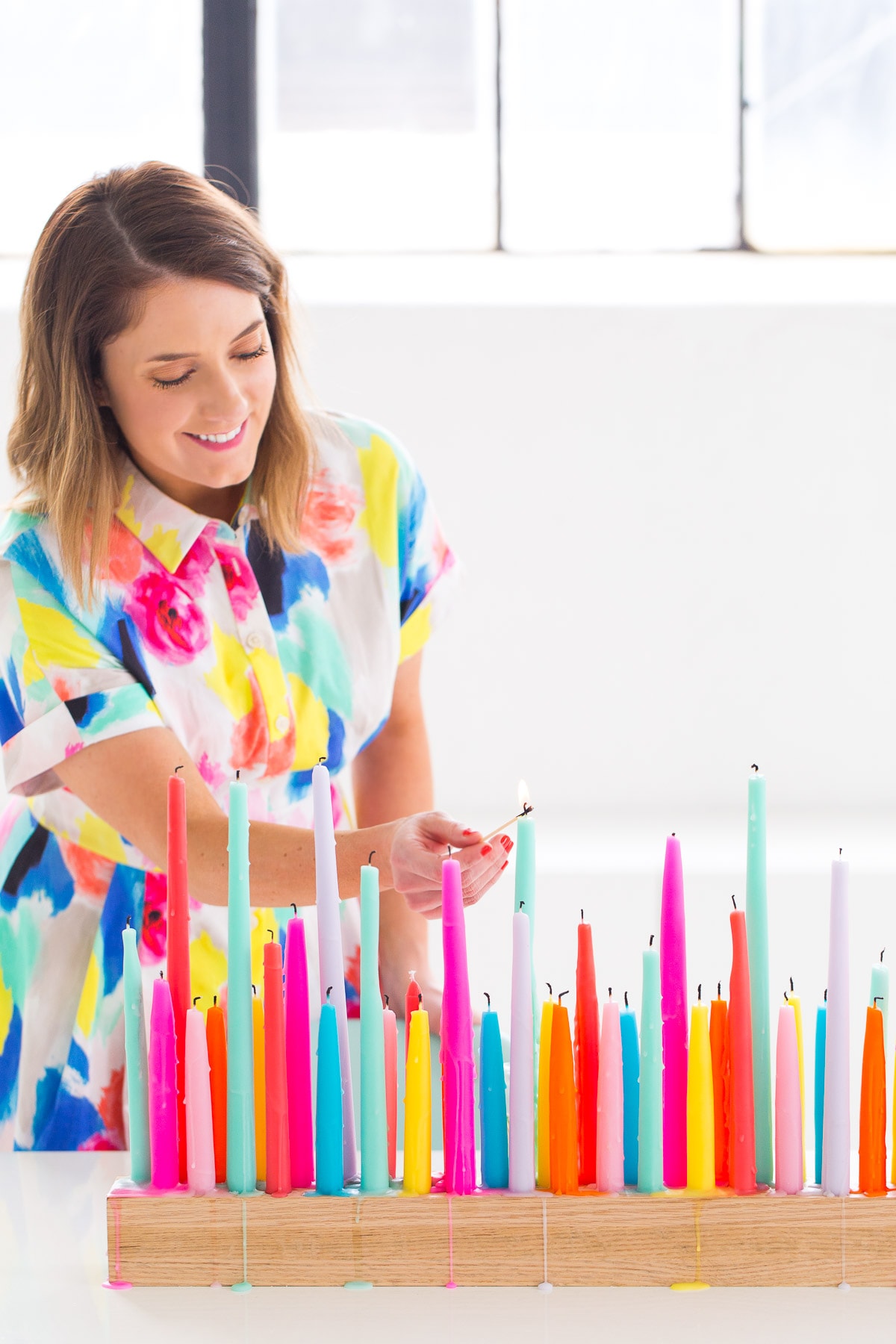 Naturally had to match my new Kate Spade watercolor dress (sold out but how fun is this dress I just spotted?!), to the Indre By Design Eames dining chairs, to the colorful candles, to the table legs… because I clearly have no life. So let's get started!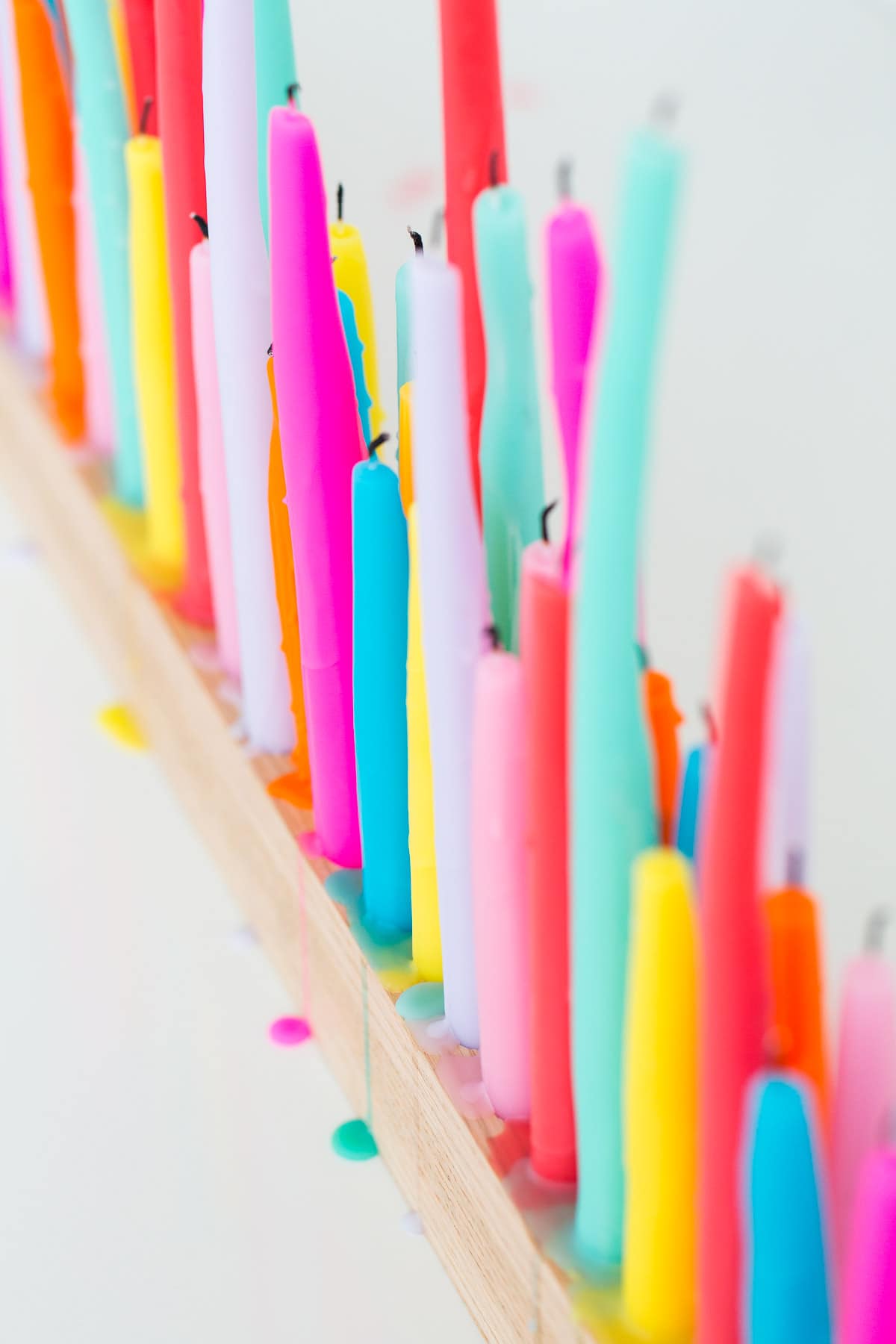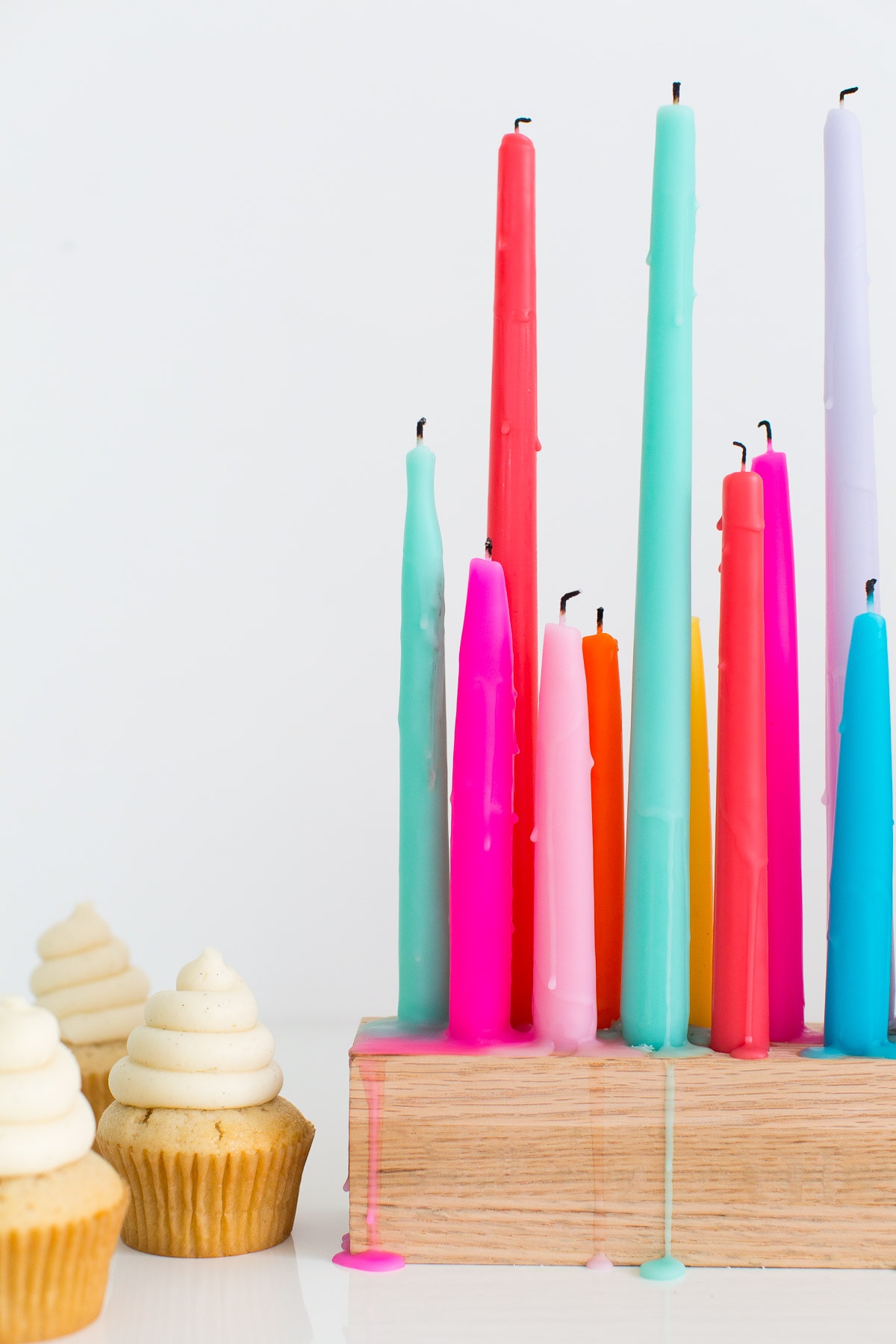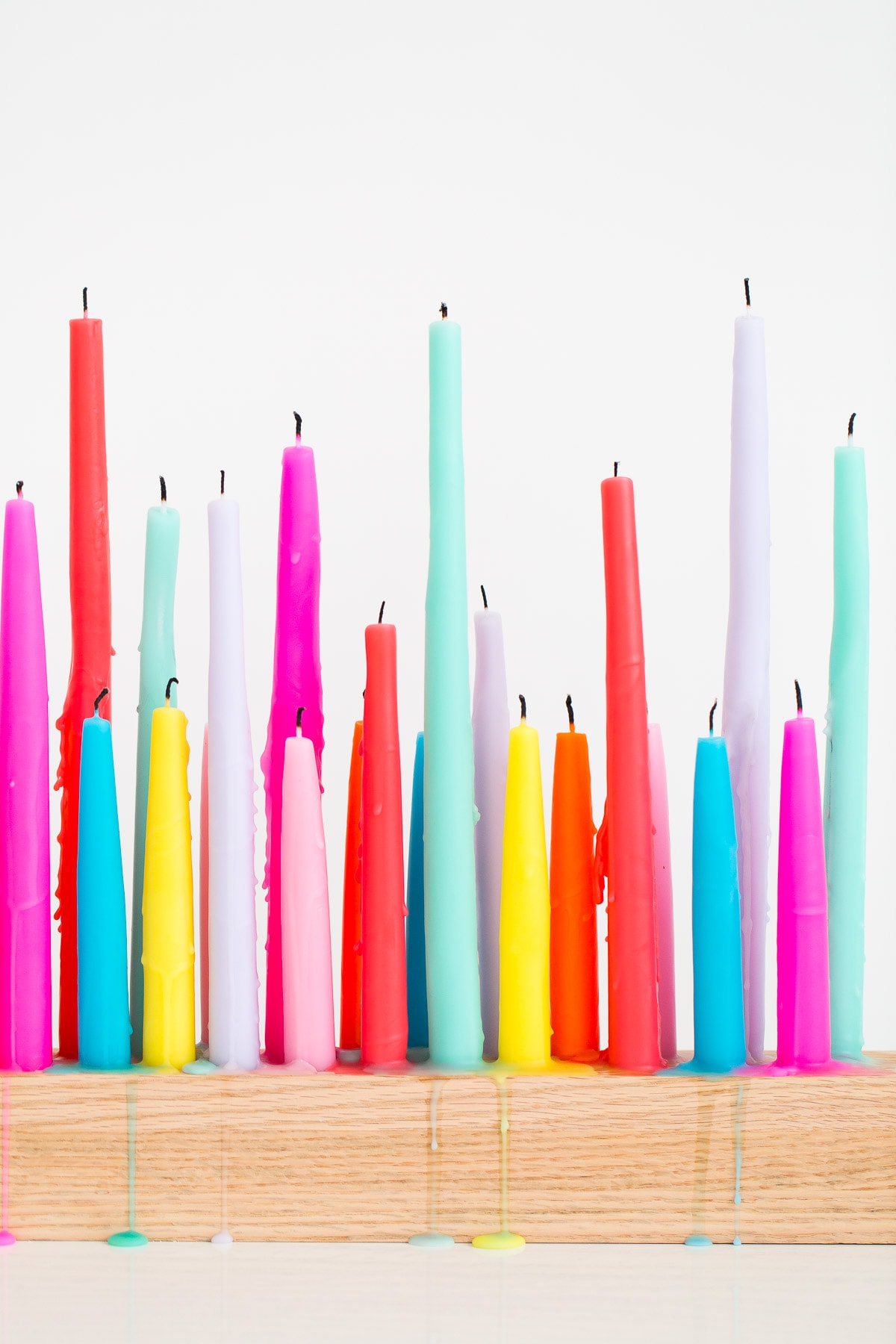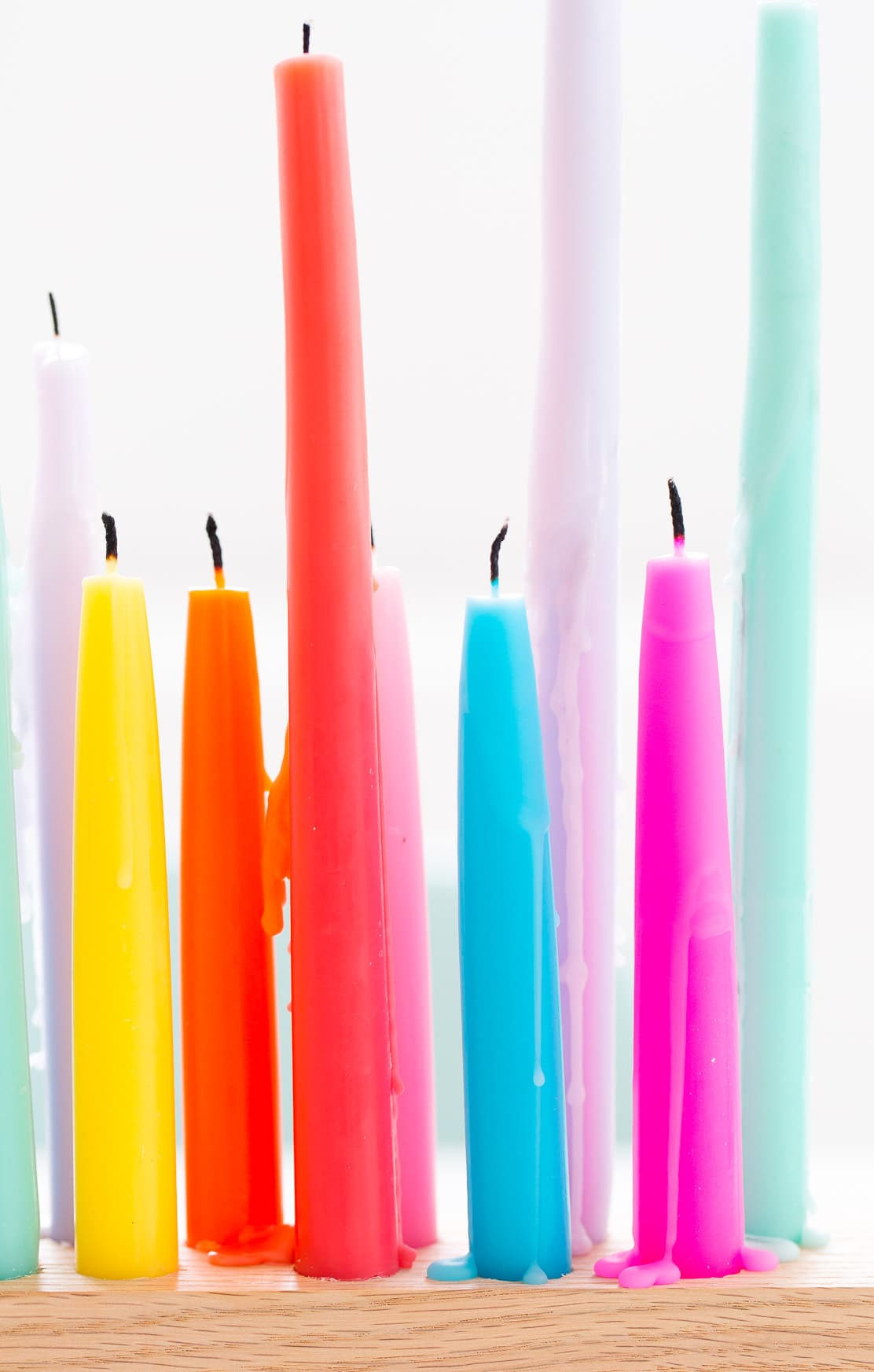 BEFORE WE GET STARTED: I'd like to preface that don't condone playing with fire and/or making fire hazard DIY's, so be careful when lighting this little centerpiece!
Also make sure your holes are drilled far enough apart that the candles don't touch once the wicks are lit. I also recommend only lighting a few at a time to make it a safer environment.
So really this project is as simple as drilling holes into a piece of wood, but to get a little technical about it, you'll need a 3/4 inch spade drill bit (or one just big enough for your candles) and a thick piece of wood.
Start drilling holes in a staggered motion all the way down the wood, making sure to keep them far enough apart that the candles won't touch.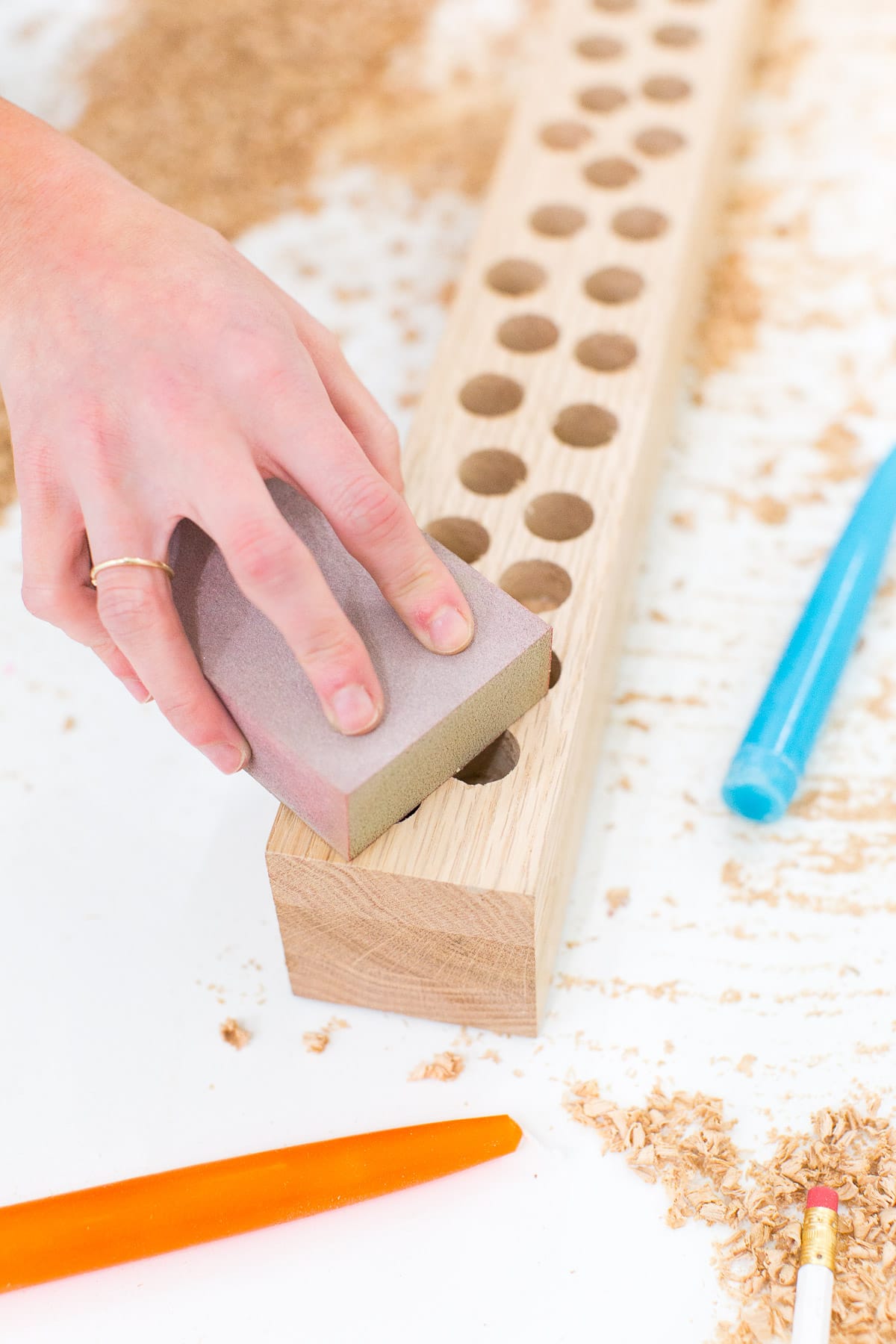 Once you've drilled all of the holes you need, use a super fine grit sand paper to smooth the edges of the holes for a finished look before inserting the candles.
Now to get the cool melted look without having to wait a million years for each candle to burn down enough, I used a butane (or culinary) torch instead of lighting them each individually. All you have to do is run the torch along the candle a handful of times and you get the full look in seconds. Easy peasy!
I hope all of my fellow color lovers everyone enjoy this one! I have to say it might be on repeat it some upcoming posts for styling because I love it so much!
Be sure to share your versions with our hashtags so we can follow along, too! #sugarandcloth and #mysugarandcloth
In case you're looking for a few other candle and aromatherapy DIY ideas, here are some of my favorites from the archives —