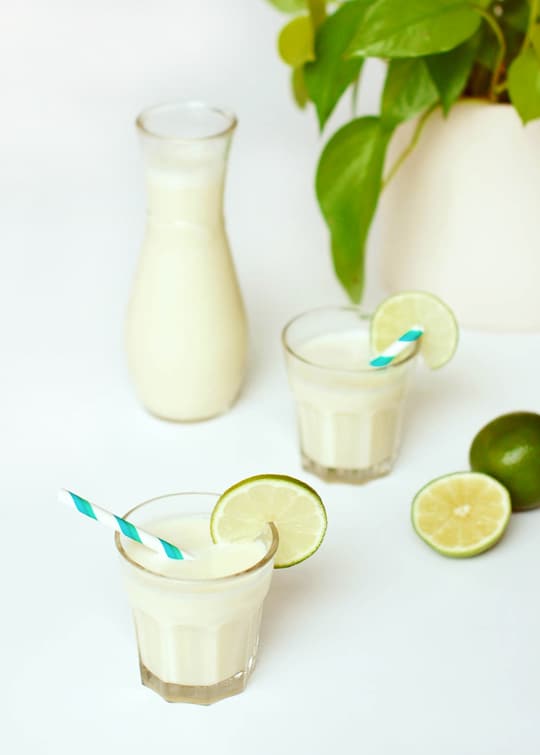 Summer is basically here. Hooray! Once Memorial Day hits, I, Ashley, am ready to break out my bathing suit and sit pool side with a drink in my hand! Who else is with me on this?! During the Dog Days of Summer, I want no-fuss drinks that are easy to whip together, and definitely I don't want to have to spend valuable beach time cooking syrups, bottling bitters, or roasting fruit.
After I kept seeing Brazilian limeade (lemonade) pop up here and there, I just had to make it. After blending up a batch, I proceeded to immediately down almost the whole thing (don't judge until you've tried it!) This, to me, is a good sign of a great recipe, and the best thing is it only takes a few ingredients to make your own spiked brazilian limeade recipe!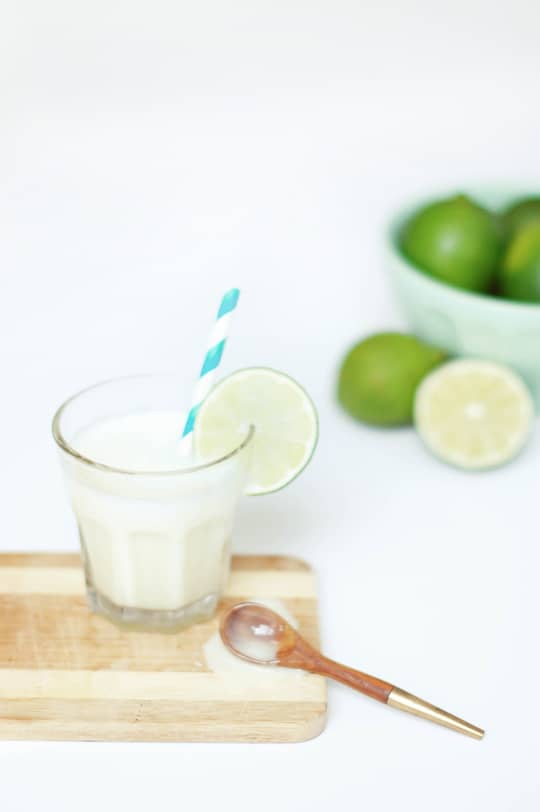 It requires 3 ingredients- limes, sugar, and the secret ingredient to elevate a simple limeade to the next level: sweetened condensed milk. This stuff is liquid gold! If gold was sweet, creamy, and oh-so-tasty that is! What could possibly make this tart, creamy limeade even better? Booze, my friends, booze. Since this is called Brazilian Limeade, I choose a spirit that hails from the same country: cacacha.
Ingredients:
Makes 4 drinks
4 large limes (It's important to use fresh limes here as the skins of older limes can become too bitter to use)
3/4 cup sugar
3/4 cup sweetened condensed milk
6 cups cold water
8 oz cacacha
Cut the limes in half, juice them, and place the juice in a separate bowl.
Chop up the juiced limes (skin and all) and add water, then blend in a blender for 10-15 seconds until most of the large chunks are gone.
Strain through a fine mesh strainer, then put them back in the blender with the reserved lime juice, sugar, sweetened condensed milk, and cacacha, and blend again, then pour and serve over ice.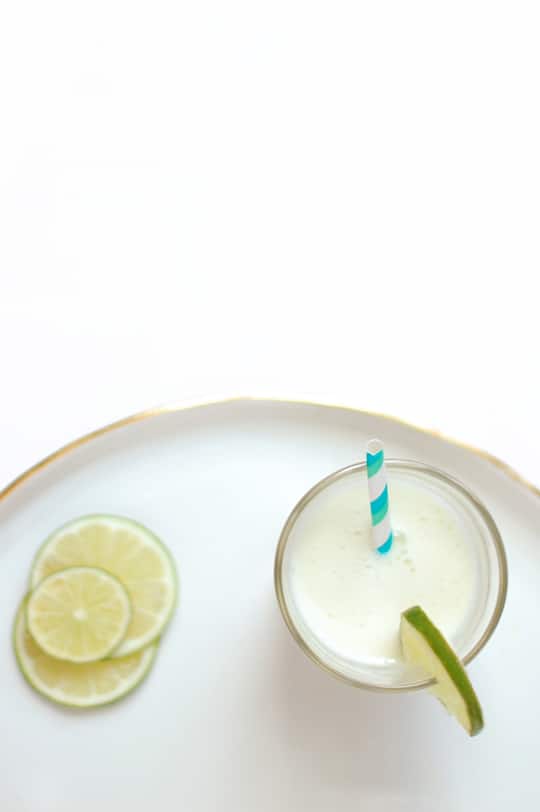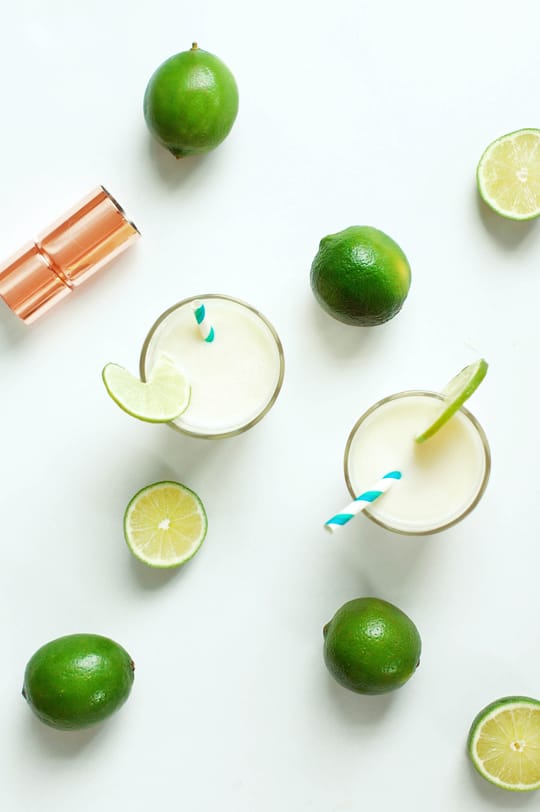 Although cachaca is made from sugar cane juice like rhum agricole, it is not considered a rum. It has a similar flavor profile to some white rums, but with more earthy notes. Play around with it in your favorite rum drinks by replacing the rum called for with cacacha to mix up your Summer cocktail go-tos.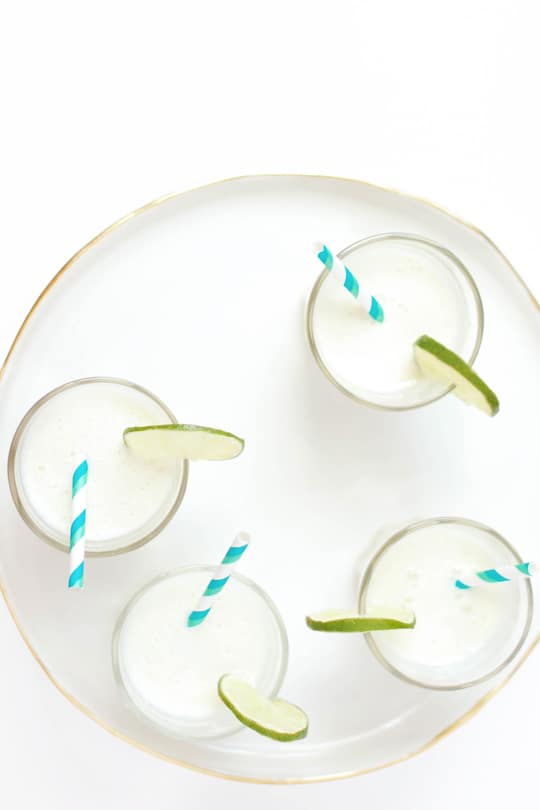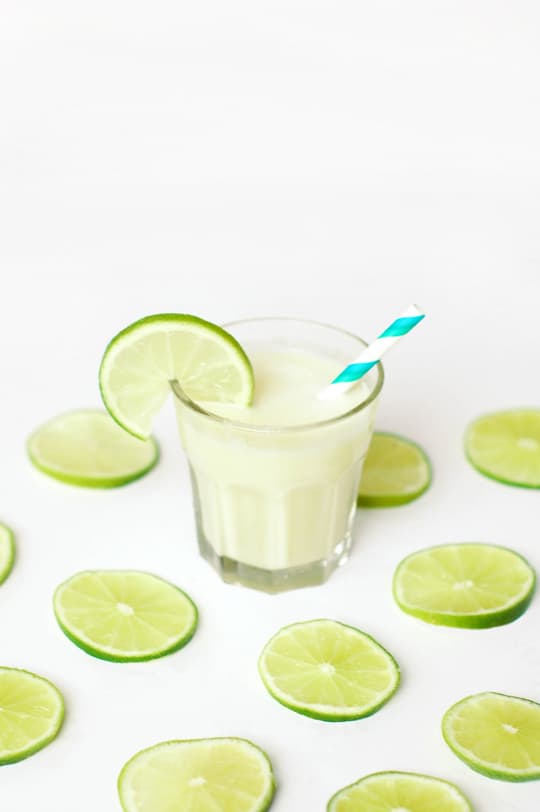 Blend up a batch of this cooling cocktail, add hammock, and get ready for pure Summer bliss… and of course and lime wheel for garnishing!
Ashley Rose Conway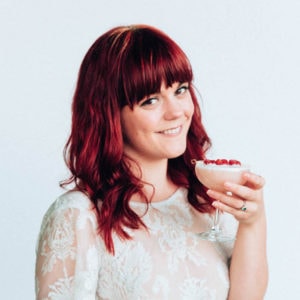 Ashley Rose Conway is head cocktail shaker, recipe developer, stylist & photographer over at Craft + Cocktails, a site devoted to the art of making & shaking.