Cherry Watermelon Frosé Recipe — Nothing says summer quite like cherries and watermelon. Kick up this perfect pairing with a refreshing and fun Cherry Watermelon Frosé Cocktail.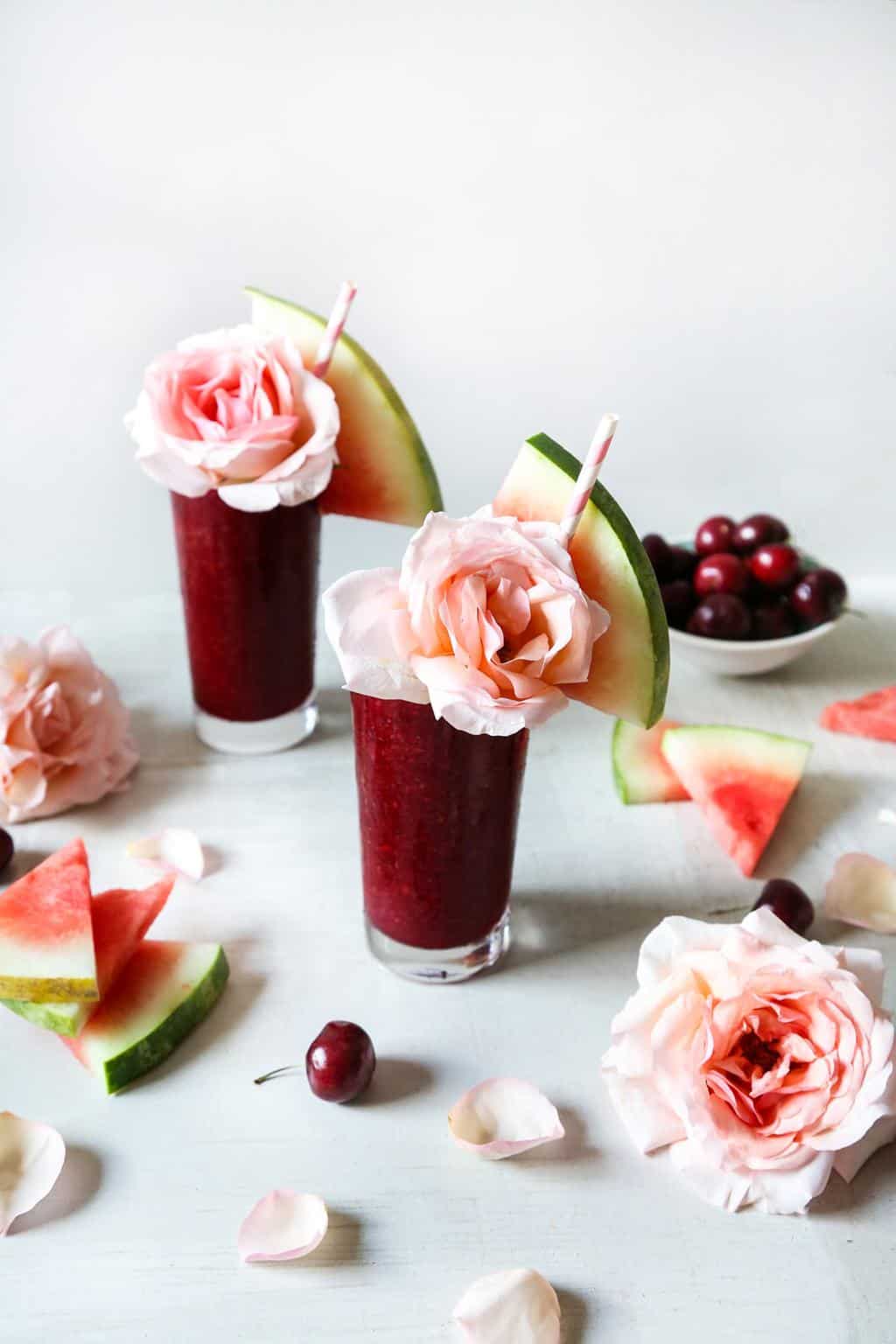 I don't think there is a drink that signifies summer more than frosé does. I mean, rosé blended into a slushie on a hot summer day/night? Obviously, yes way frosé!
I've ordered more frosé while out than I care to admit. But somehow making it at home always felt like it would be far too intimidating of a task.
I, Alyssa can blend smoothies like a pro. But give me the task of creating a frozen cocktail that isn't too icy or too watery, and I'm running out of the kitchen faster than I can drink a glass of frosé.
That was until now I realized my how much summer drink-of-choice was costing me a pretty penny at the bar. I knew it was time to start making my own.
A few days (and several bottles of rosé) of testing out allllll kinds of frosé creations, and I knew I'd finally found the perfect blend.
I tried everything from making simple fruit syrups to adding lemon or lime juice. I even compared using frozen fruit to fresh fruit.
But this frosé recipe that came out on top was the simplest of them all. So simple, in fact, that I almost feel silly calling it a recipe.
Needless to say, since getting the basics down, I haven't stopped blending up all different flavors since.
My favorite? Cherry Watermelon Frosé…
The watermelon is sweet and crisp. Plus, the cherries add just a touch of tartness. It's really a perfect combo and it couldn't be more refreshing.
But the best part about this cherry watermelon frosé recipe? You don't need a fancy machine or any special syrups and ingredients to make them.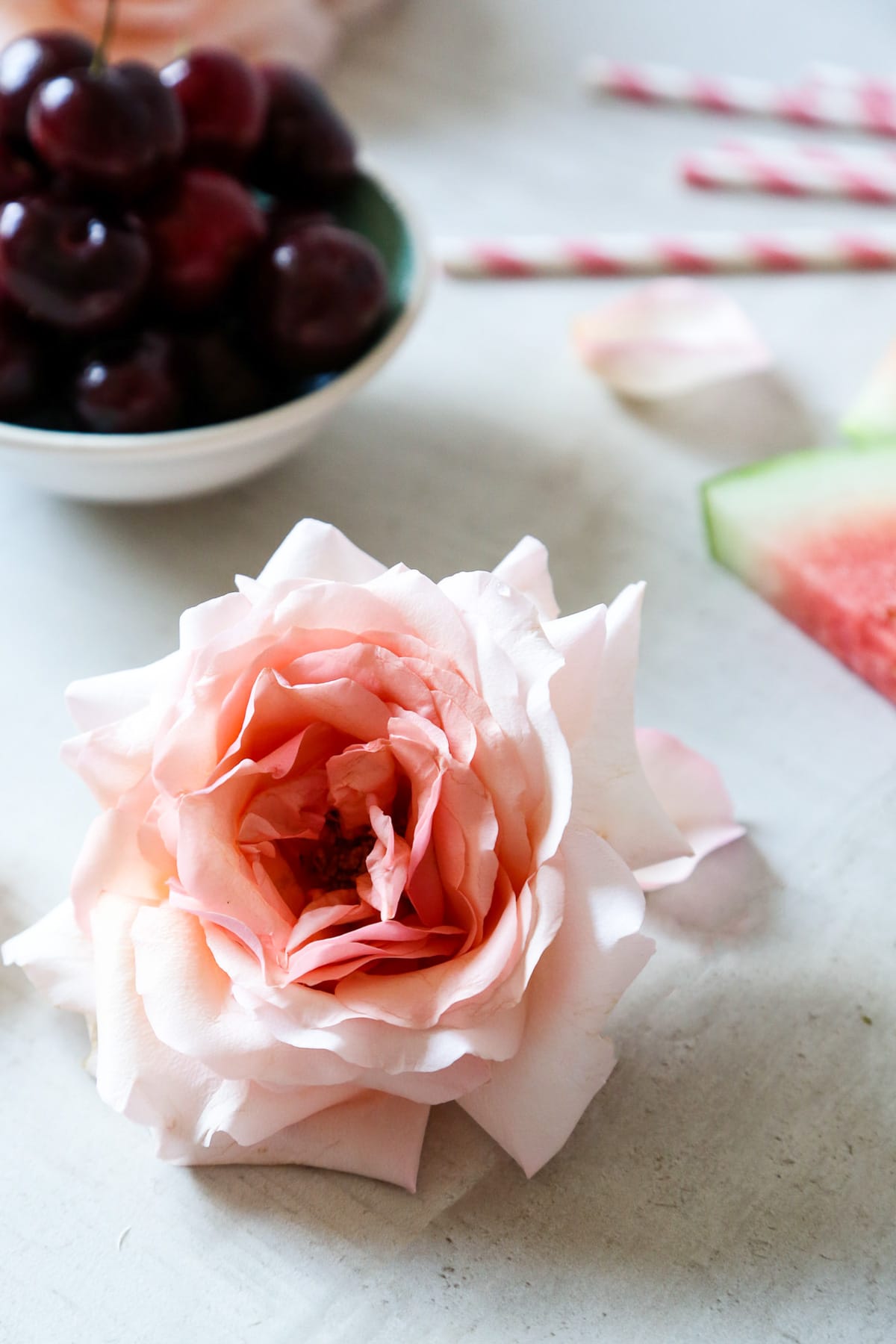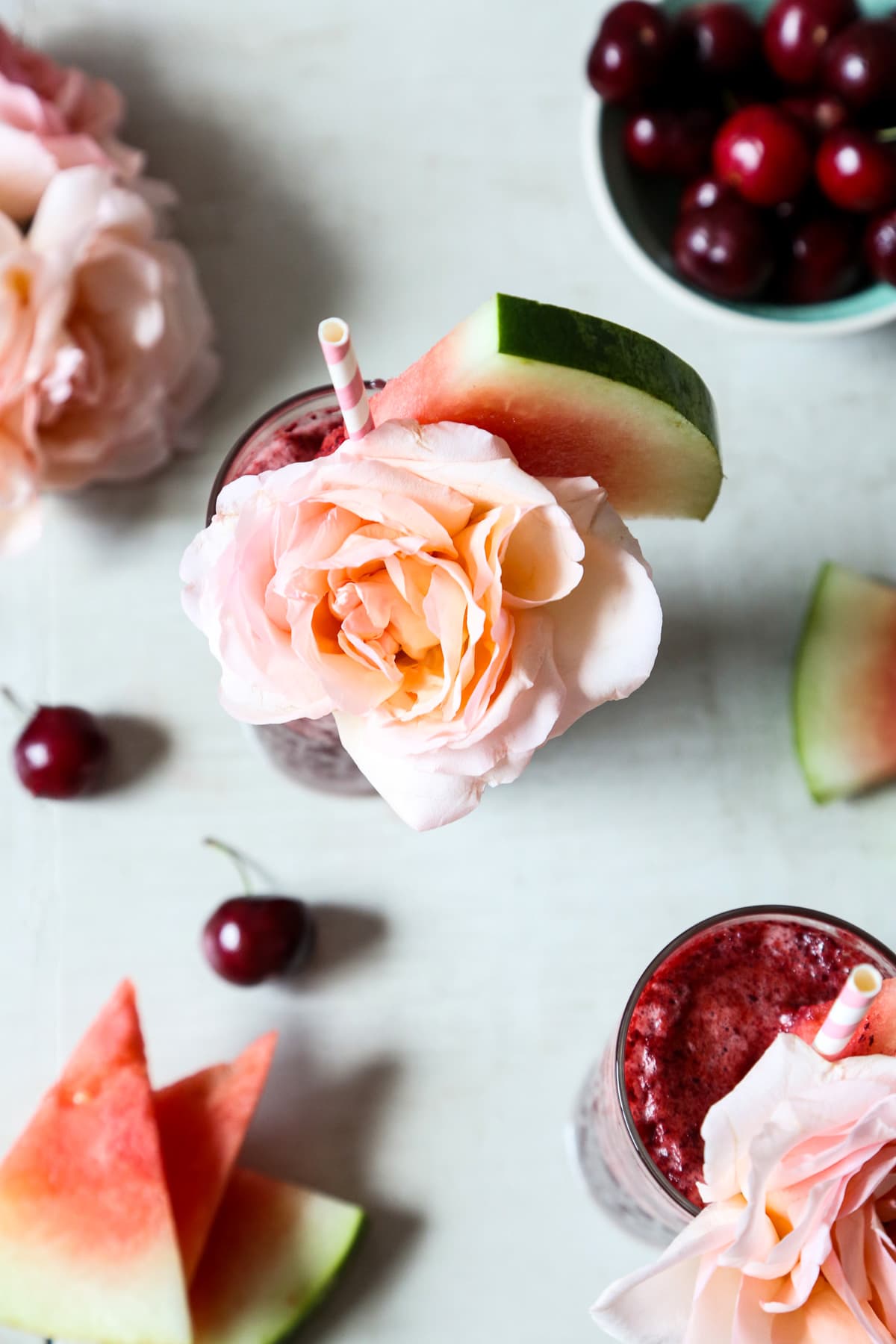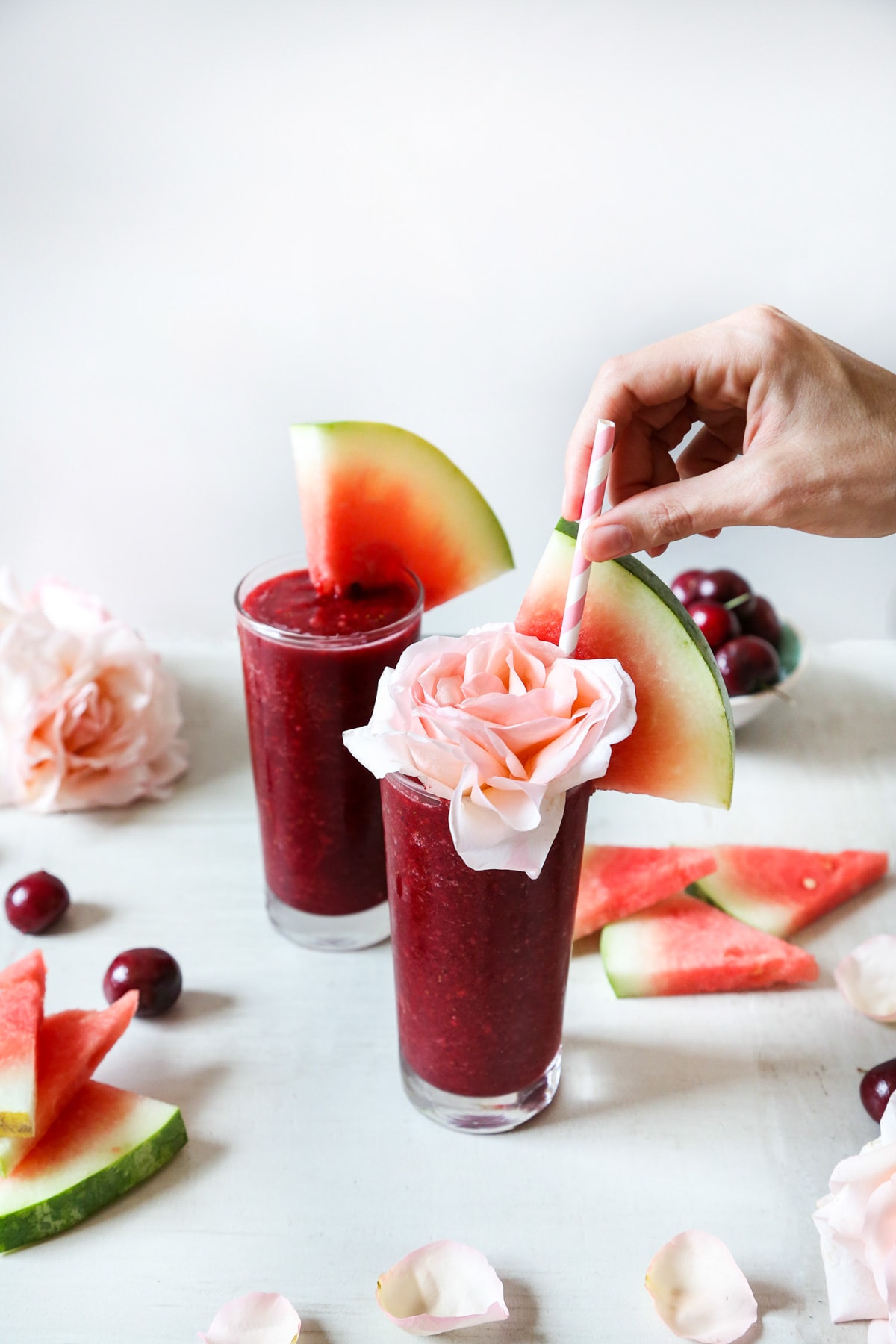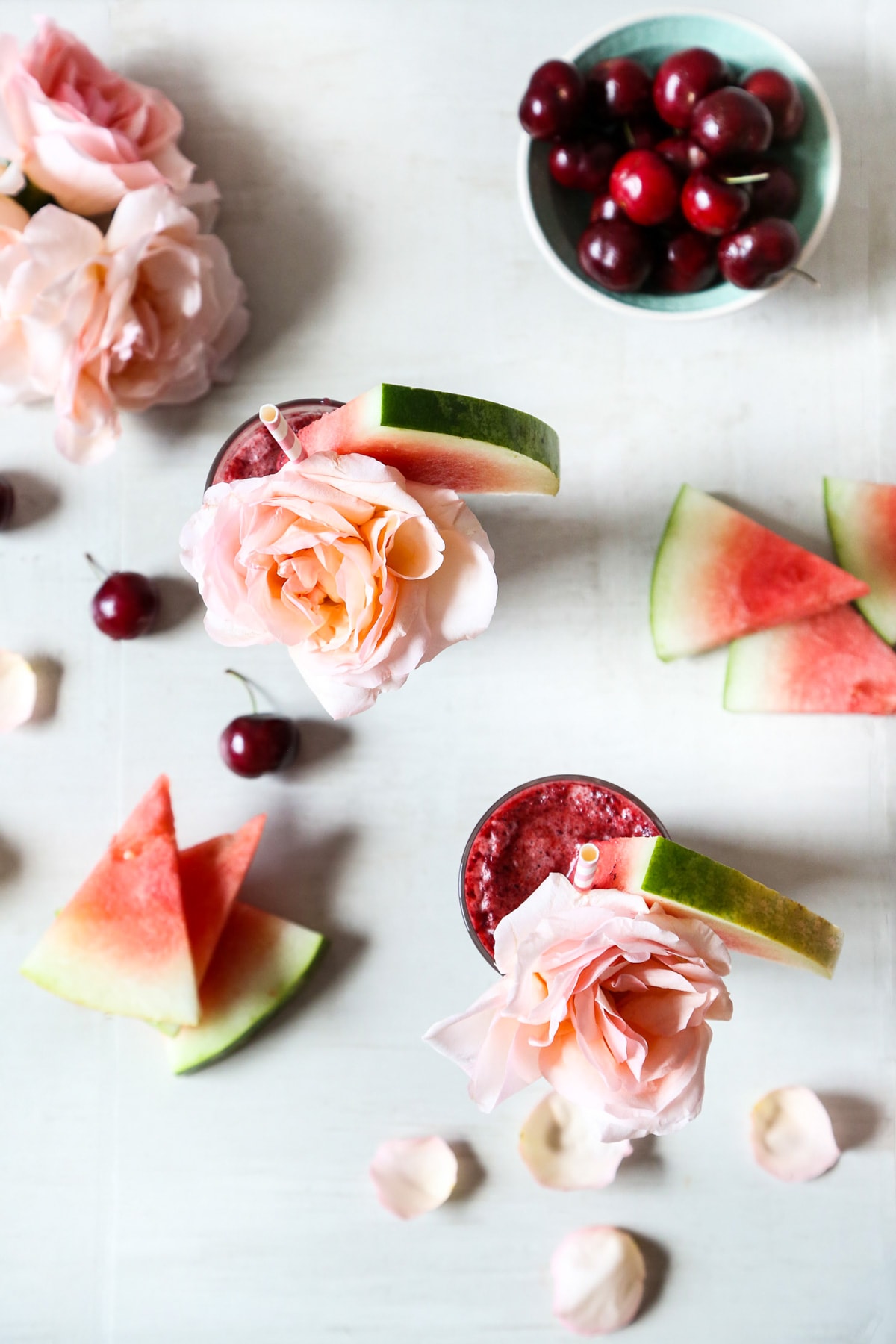 More Summer Cocktails To Try
Here's to a refreshing cocktail that tastes more like a slurpee than a cocktail! You can also consider this your daily serving of fruit, ha! Yes, yes, yes way frosé, indeed!
Who else is planning on sipping these all summer long? When it tastes so good AND it's packed with so much fruit, it's almost impossible to want to drink anything else!
PS – If you can't get enough frozen cocktails this summer, check out this Piña Colada Snow Cone!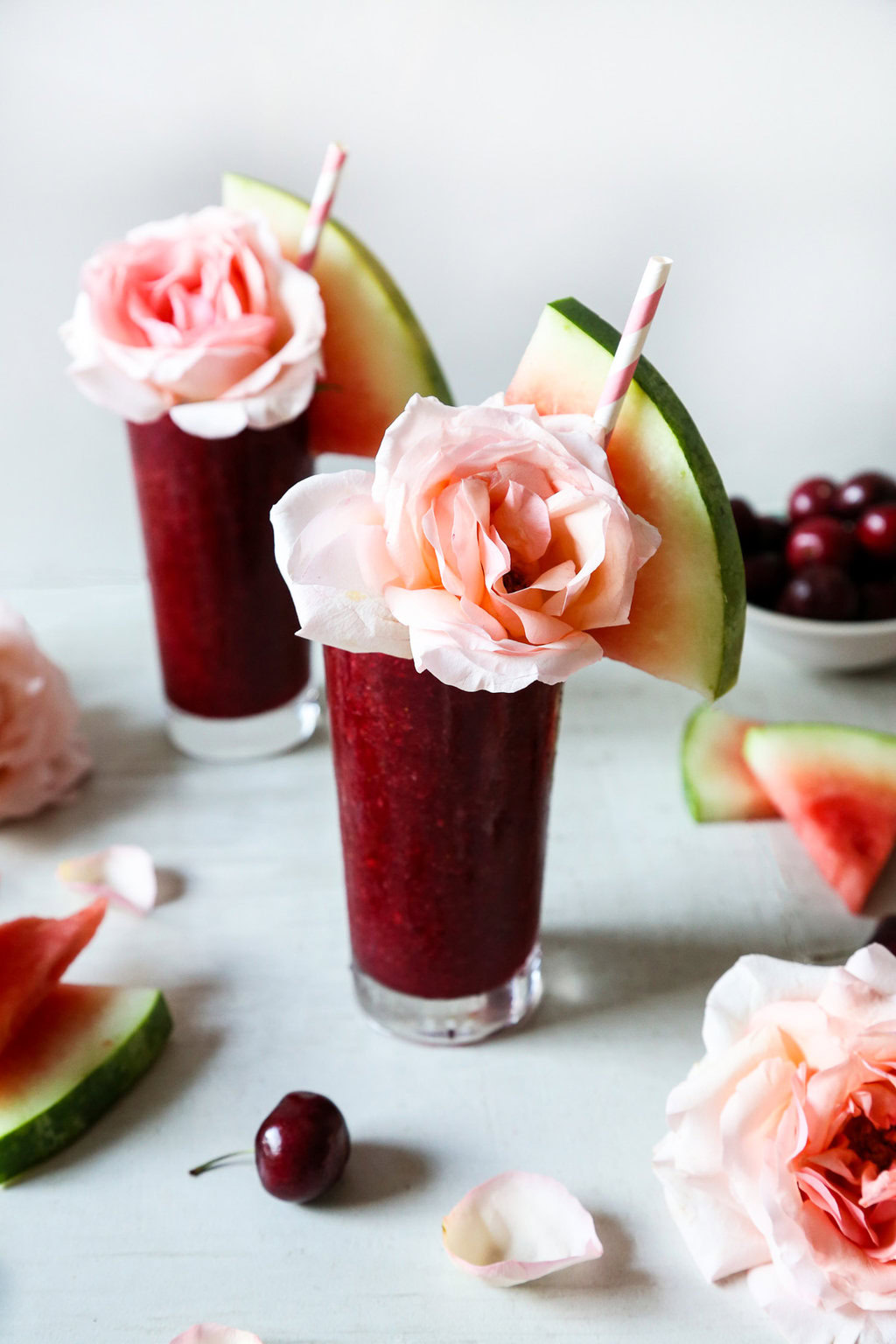 Cherry Watermelon Frosé
Cherry Watermelon Frosé Recipe
Cherry Watermelon Rosé blended into a slushie.
Ingredients
1

bottle

rosé

1

cup

triple sec

4

cup

fresh watermelon cubes

4

cup

frozen cherries

Fresh cherries, watermelon slices and roses

for garnish
Nutrition
Serving:
1
g
|
Calories:
406
kcal
|
Carbohydrates:
55
g
|
Protein:
3
g
|
Fat:
1
g
|
Saturated Fat:
1
g
|
Sodium:
19
mg
|
Potassium:
659
mg
|
Fiber:
4
g
|
Sugar:
48
g
|
Vitamin A:
953
IU
|
Vitamin C:
22
mg
|
Calcium:
45
mg
|
Iron:
2
mg
Instructions
Pour the wine into ice cube trays and freeze it for at least 6 hours or overnight. Please note, that it won't freeze into a completely solid state, but the wine cubes should still be relatively hard when they're ready.

To make the drinks, place the watermelon and triple sec in a blender and blend on high for 10-15 seconds, or just until the watermelon has liquefied.

Add the wine cubes and the cherries, and blend for 45-60 seconds, or until smooth, stopping to stir as is necessary. If you'd prefer the drink to be thicker, you can add more frozen cherries, and if you'd like the drink to be thinner, you can always add more triple sec.

Pour into glasses, garnish and raise it up for a toast.
KEYWORD:
ashley rose, cherry, cocktail, drink, frosé, frozen, frozen drinks, recipe, sugar and cloth, summer, watermelon