Cilantro and Mango Coconut Sorbet Recipe — this homemade sorbet recipe is as easy to make as it is delicious!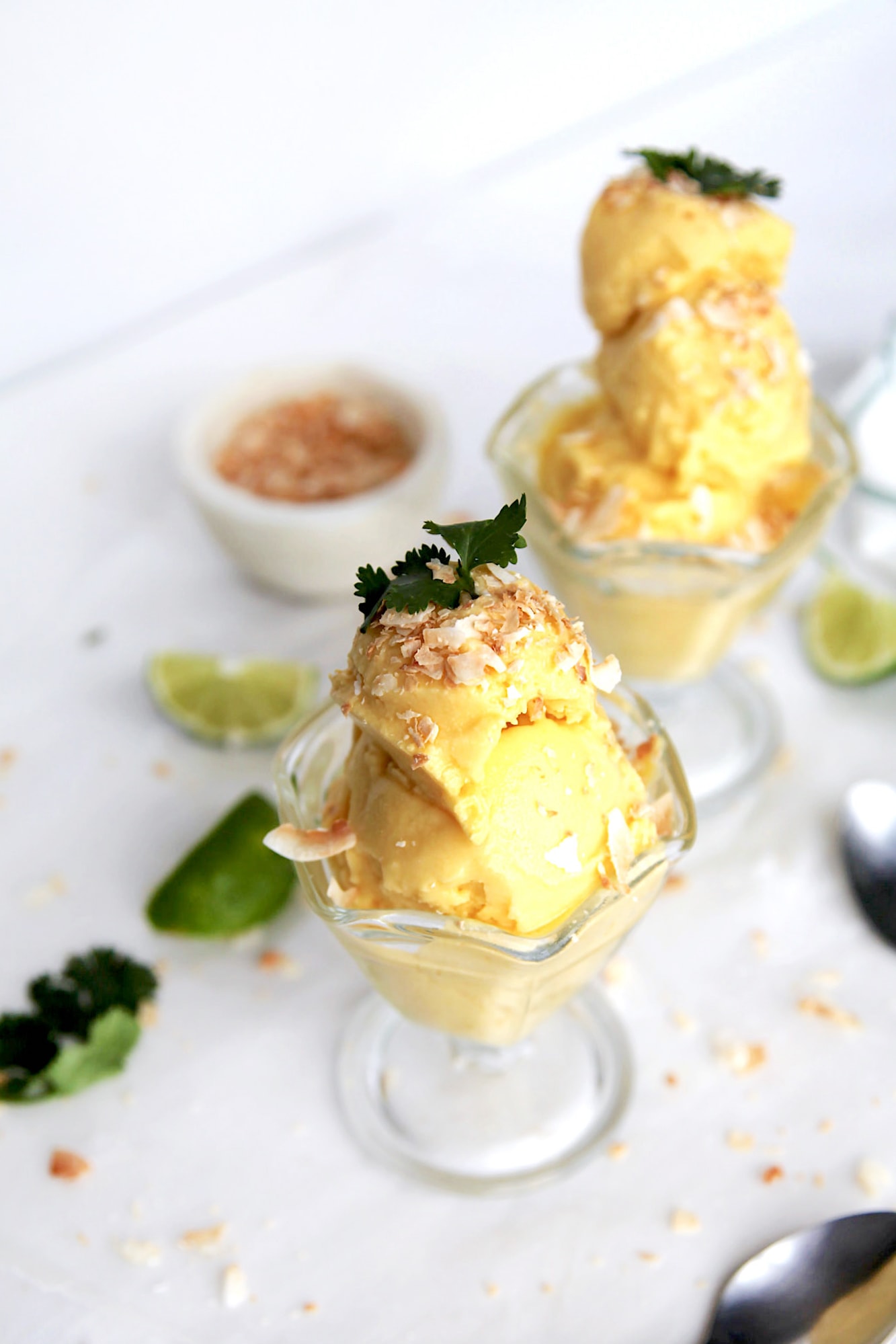 Ice cream, sherbet, sorbet, granita, popsicles…when it comes to refreshing summer treats, there are no shortage of options!
And while I make it my personal mission to indulge in each type at least once a week come summer, I have a particular fondness for anything that is extra creamy.
Yes, I'm looking at you sherbet and ice cream. Hence this easy, homemade cilantro and mango coconut sorbet recipe!
When I, Alyssa, was recently churning over ideas (pun totally intended) for some new frozen treat flavors, I stuck on the idea of adding herbs into the mix…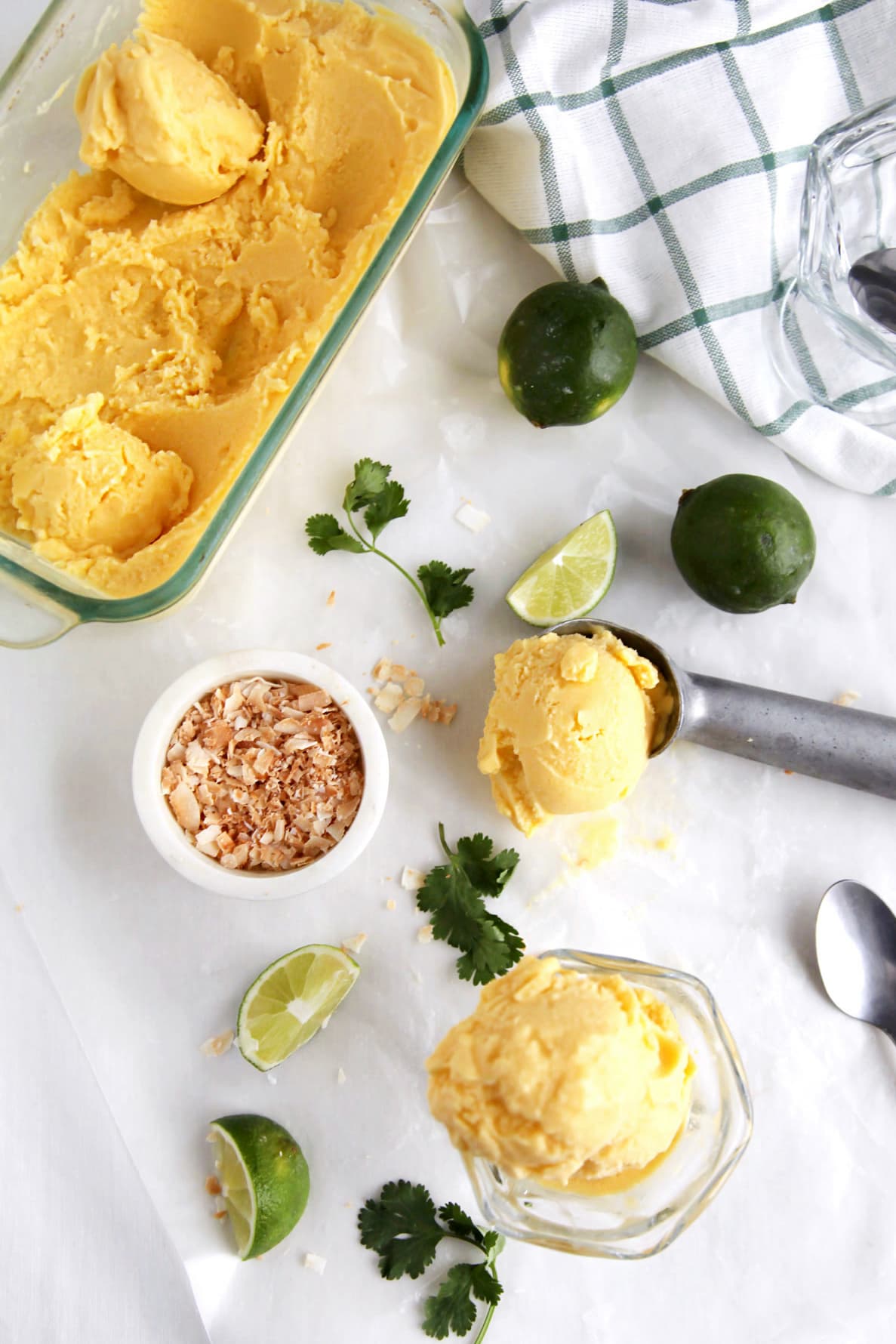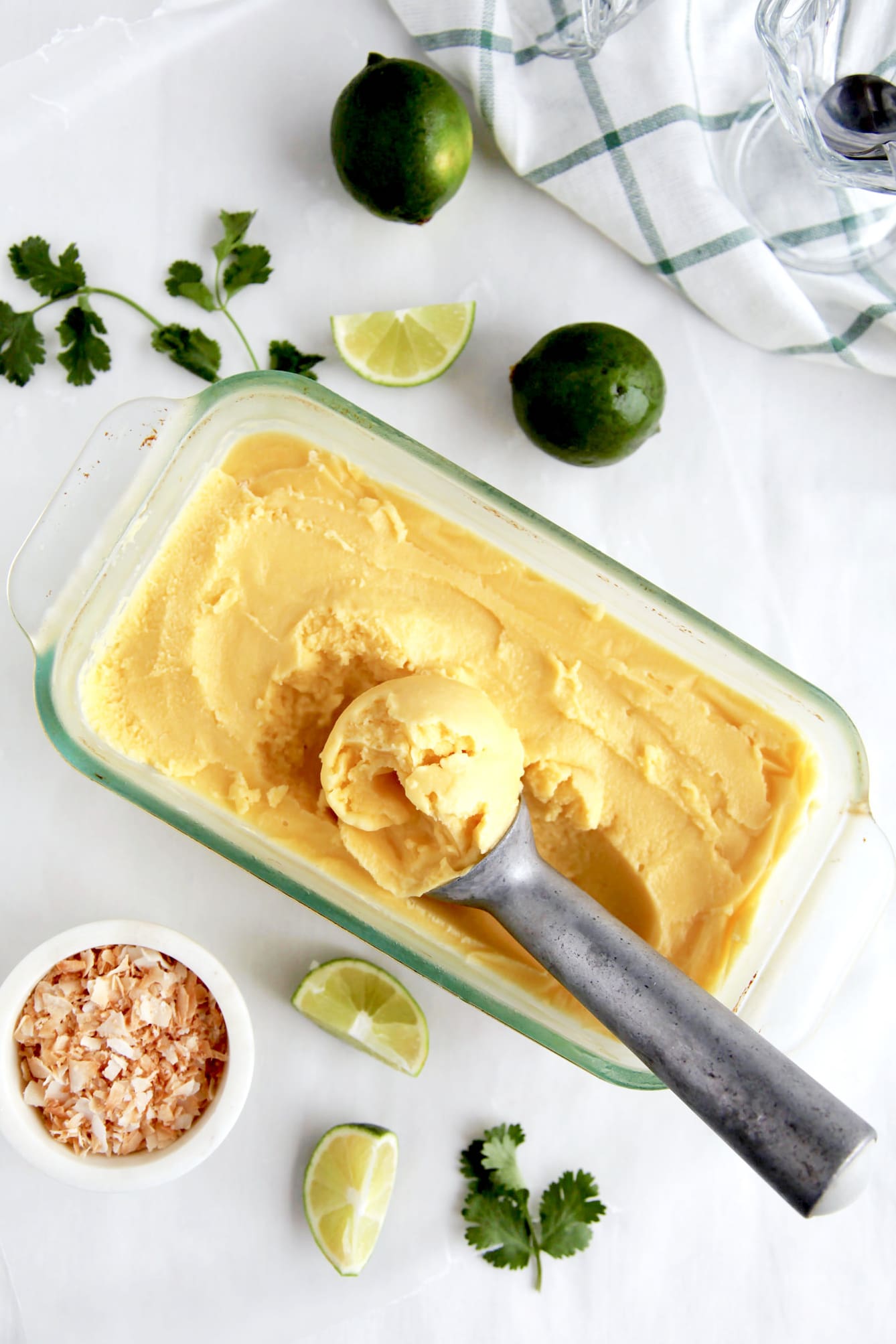 It seemed only natural because, once my herb garden starts popping up in the spring, there isn't a single dish that doesn't get an extra sprinkling of flavor on top.
I immediately stuck on the idea of a cilantro and mango sherbet (Nothing like a good tropical flavor in the summer heat, right?!).
Of course, I couldn't help but take the flavor a step further by using coconut milk in place of regular milk. You won't notice any difference.
In fact, I think the coconut milk actually makes it creamier than regular milk. And besides, it's way healthier.
If you caught my recipe last month you know I'm all about finding super indulgent, but totally healthy treats, for swimsuit season…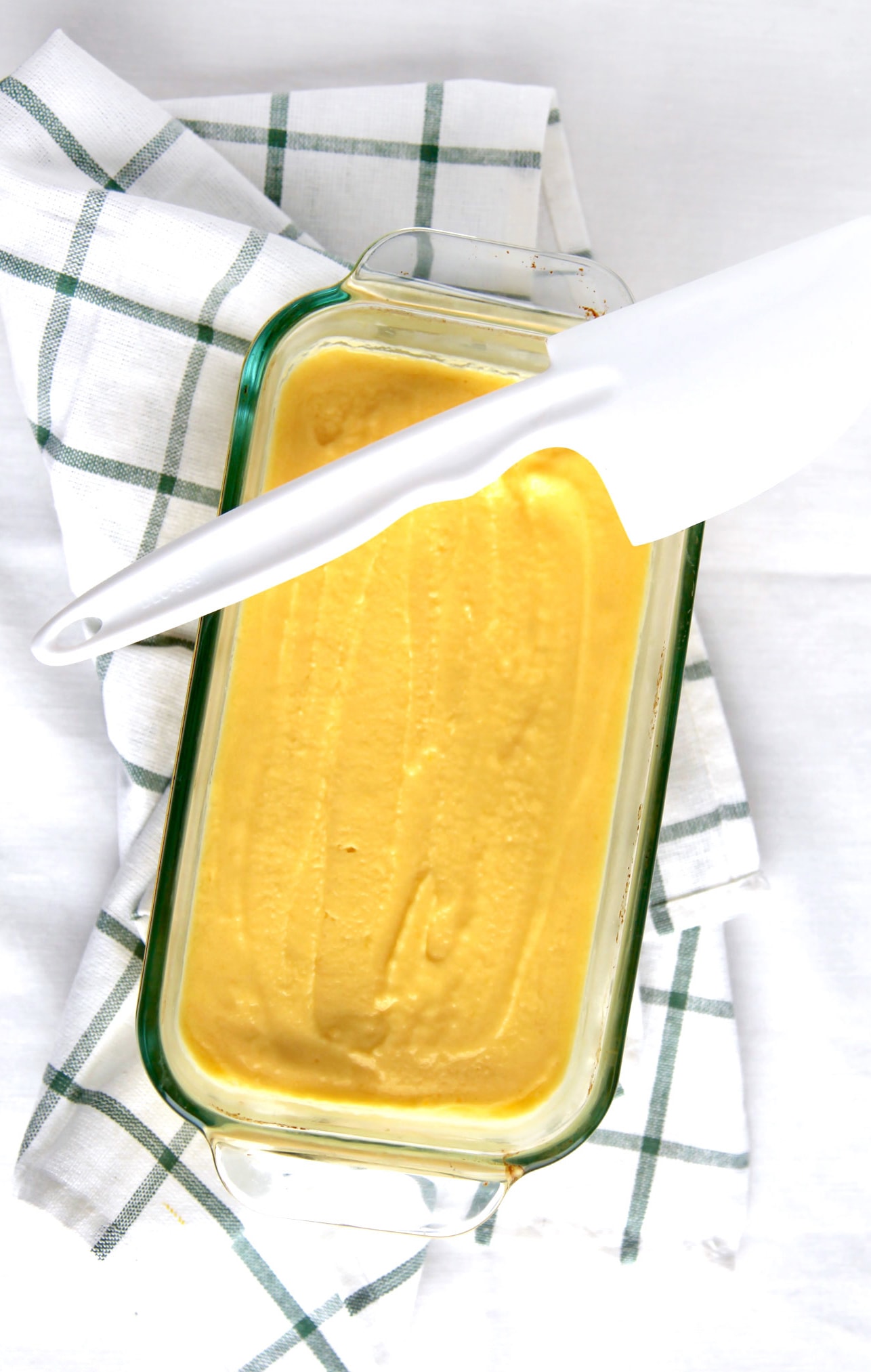 I know cilantro isn't everyone's cup of tea (er, herb of choice), but the flavor is so subtle you'll barely even notice it.
That, or you'll just get so lost in a creamy, dreamy, refreshing bowl of this cilantro and mango coconut sherbet that you won't even care. Not that it's hard to get lost in a bowl of this stuff.
I mean, it's so good, I thought I was going to have to hide all the spoons just so I would stop eating it.
Then I realized I'd just find another eating utensil….hands, card board, a ladle…basically whatever would get this sherbet from the container to my mouth. Seriously. It's just THAT darn good!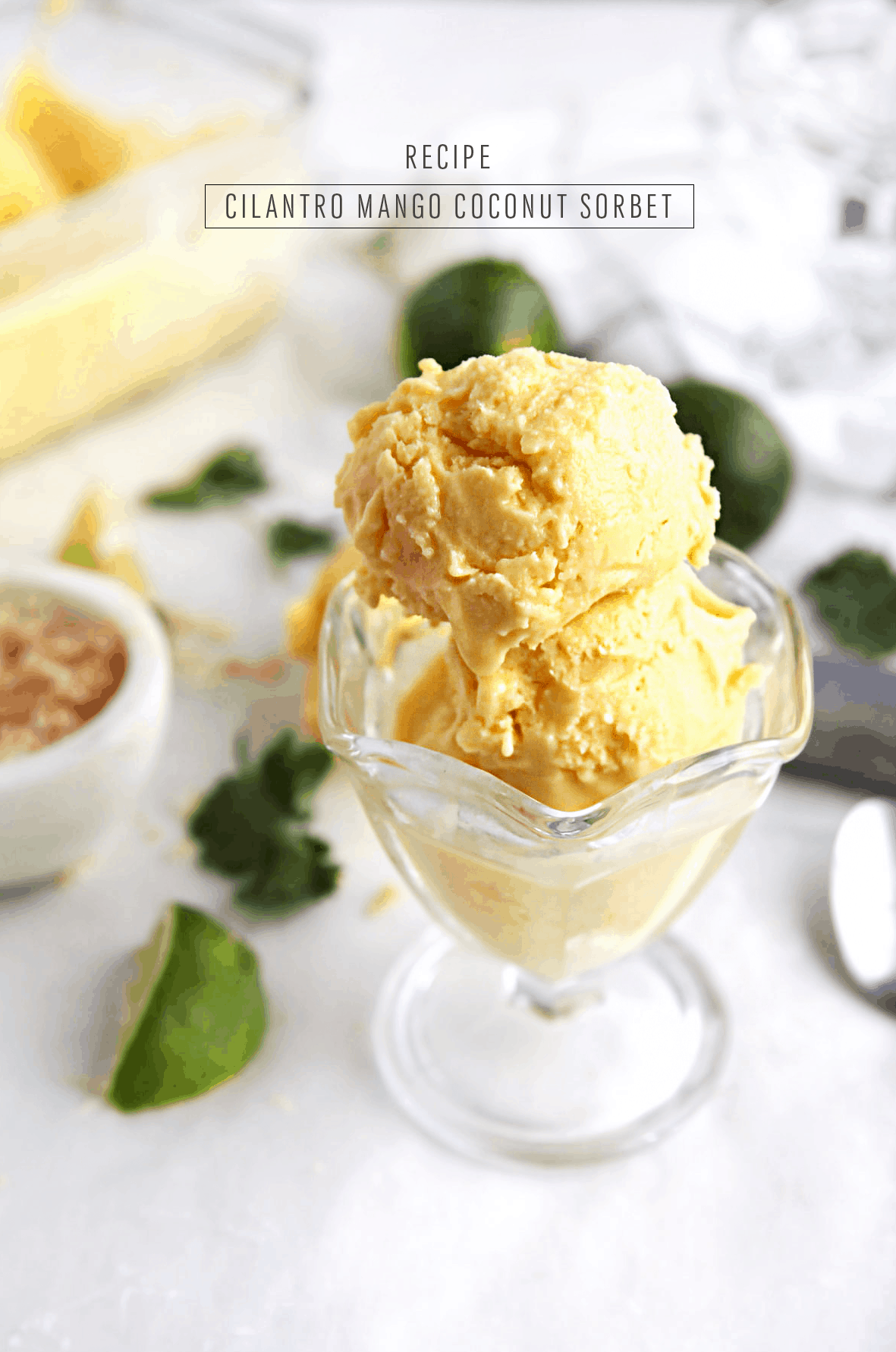 So you know I'm partial to creamy frozen treats, but what about you? Do you have a favorite go-to treat or flavor, or will you eat them all?
Easy Cilantro and Mango Coconut Sorbet Recipe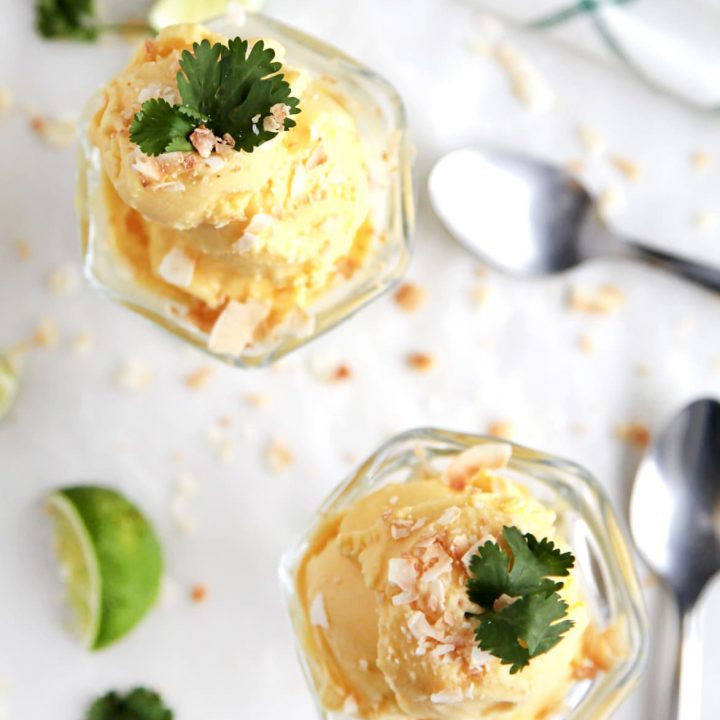 Print Recipe
Easy Cilantro and Mango Coconut Sorbet Recipe
This homemade sorbet recipe is the perfect quick and easy recipe for a summer dessert...
Ingredients
2/3

cup

Water

2/3

cup

Granulated Sugar

1

cup

Fresh cilantro

2.5

cup

Frozen mango cubes (let sit out and defrost for about 5 minutes)

1

13.5 Can of full fat coconut milk

juice of one lime

1

pinch

salt

Toasted coconut flakes for garnishing

Extra cilantro for garnishing
Instructions
In a small saucepan, set on high heat, bring the water and sugar to a boil, stirring constantly. Remove from the heat and add the cilantro.

Set aside and allow to steep for 15-20 minutes. Drain through a fine sieve and toss the leaves. If the syrup still feels warm, pop it into the fridge or freezer for a few minutes. Otherwise, proceed to the next step.

Add the cilantro syrup, mango, lime juice, coconut milk and salt to a blender. Puree until smooth (about 60 seconds). Pour into the bowl of an ice cream maker and churn according to the manufacture's manual.

Once you have finished churning the sherbet, transfer the mixture to a loaf pan. Use a spatula to smooth the mixture out, then cover with plastic wrap (press the wrap down so it's completely touching and covering the surface of the sherbet).

Place the pan in the freezer until the mixture is solidly frozen, at least 2 hours. Scoop and serve.

Transfer leftovers (if you manage to actually have any) to an airtight container and store in the freezer.
Nutrition
Calories:
192
kcal
|
Carbohydrates:
49
g
|
Protein:
1
g
|
Fat:
1
g
|
Saturated Fat:
1
g
|
Sodium:
15
mg
|
Potassium:
194
mg
|
Fiber:
2
g
|
Sugar:
47
g
|
Vitamin A:
1386
IU
|
Vitamin C:
39
mg
|
Calcium:
14
mg
|
Iron:
1
mg