As much as I love entertaining, there's something so relaxing about allowing other people to host for a change! And since I myself have experienced the stress that is organizing game night for the entire family (cue the crying over cupcakes references here), I'm extra thankful when someone returns the favor with an invite.
Being that we typically resort to liquor based gifts as a good fall back, I thought it was time to start thinking a bit more out of the box during this holiday season. Of course there's nothing wrong with a great wine or the occasional bottle of absinthe (I kid.. I kid!), but sometimes it's nice to walk in with something a bit more unexpected and thoughtful. Thus, I spent a good bit of time this week looking for relatively inexpensive and unique gift ideas for the modern hostess under $20! Overall, I'm pretty excited about bringing some of these along to the next party I go to — rosé gummy bears, anyone?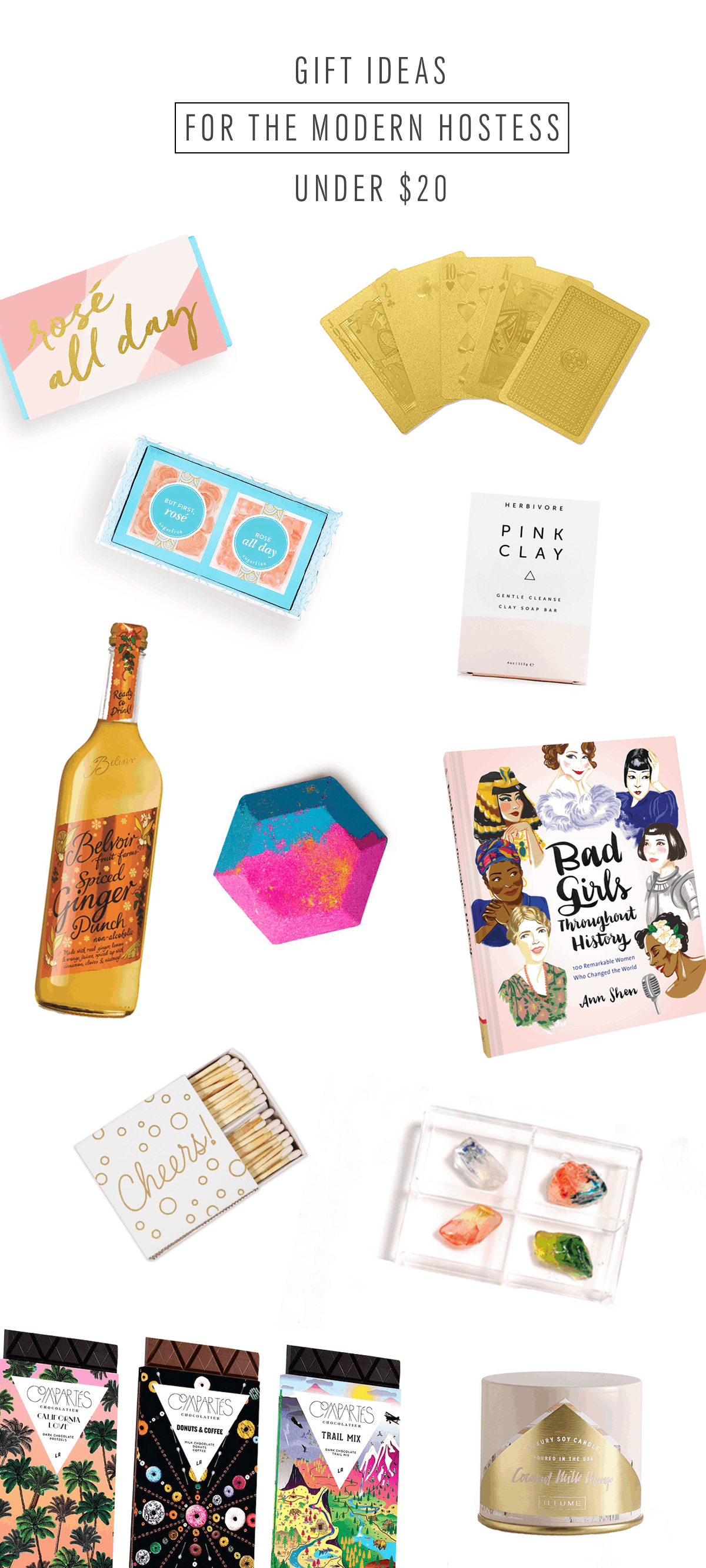 These rosé gummy bears are the perfect mix of fun and classy.
It's fair to say that everyone needs a deck of gold cards.
Fine, I'm totally a sucker for cute packaging. But your host will love this soap!
Did someone mention spiking the punch?
I've actually tried this bath bomb and loved it! Spoiler alert: it won't leave you looking like a colorful smurf (which I legitimately was nervous about..)
The cutest book about game-changing women that will leave anyone inspired.
Matches that as practical as they are cute.
Really obsessed with these glittery and colorful candy crystals. They're basically art.
I'll never stop being a Compartes chocolate fan.
This coconut and mango candle smells so good!
Did you have a favorite? I really can't pick! I may have to just buy them all and use this S&C throwback fresh flower DIY to wrap them up for a special someone..