Check out this list of unique, inexpensive hostess gift ideas that won't break the bank. Perfect for anyone with a sense of style and fun!
As much as I love entertaining, there's something so relaxing about allowing other people to host for a change!
And since I myself have experienced the stress that is organizing game night for the entire family (cue the crying over cupcakes references here), I'm extra thankful when someone returns the favor with an invite.
Since we typically resort to liquor-based gifts as a good fallback, I thought it was time to start thinking a bit more out of the box this holiday season.
Of course, there's nothing wrong with a great wine or the occasional bottle of absinthe (I kid.. I kid!), but sometimes it's nice to walk in with something a bit more unexpected and thoughtful.
Thus, this week, I spent a good bit of time looking for relatively inexpensive and unique gift ideas for the modern hostess for under $20!
Also, for your favorite lady in life, may it be your mom, aunt, or sister, check these unique gifts idea for women.
Overall, I'm pretty excited about bringing some of these along to the next party I go to — rosé gummy bears, anyone?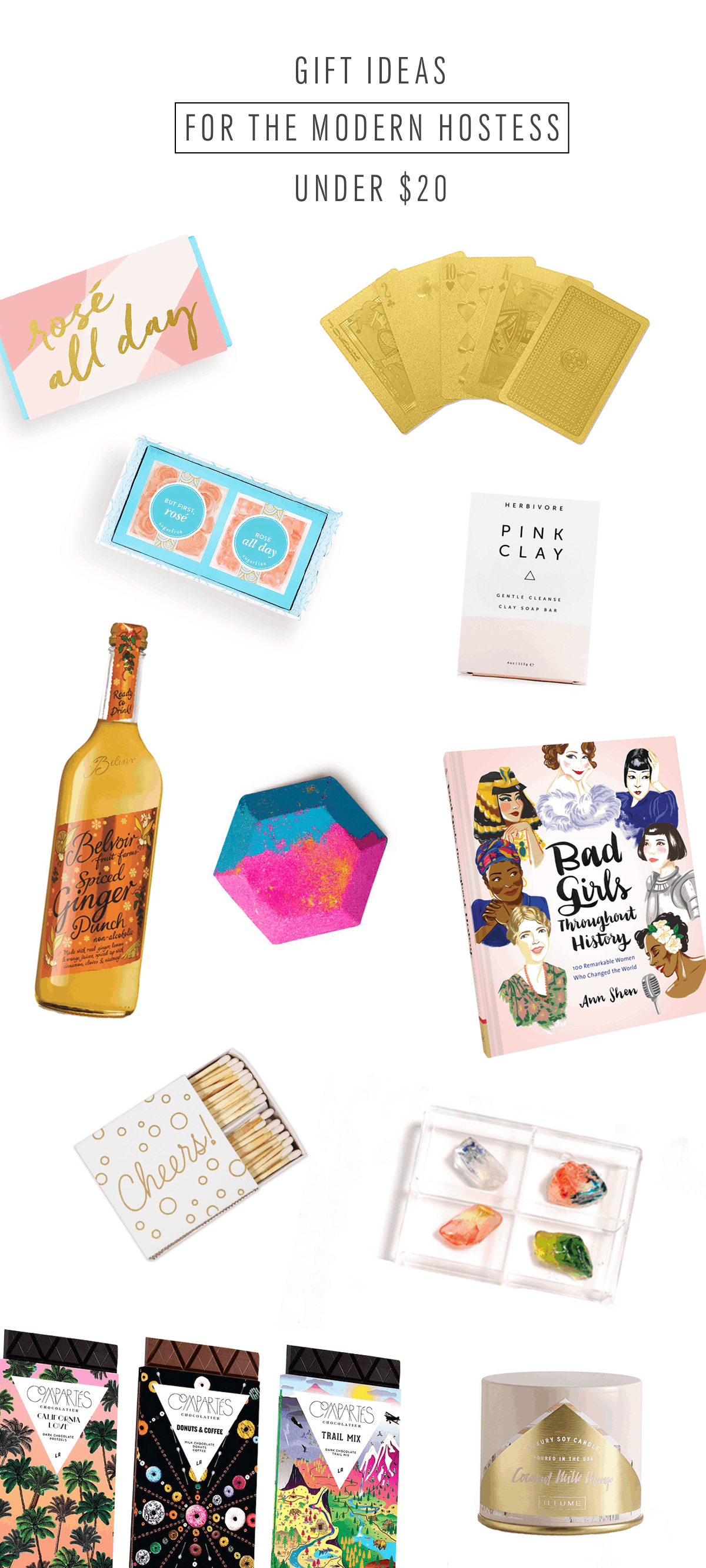 10 Best Inexpensive and Unique Gift Ideas for the Modern Hostess Under $20
1 — Rosé Gummy Bears
These rosé gummy bears are the perfect mix of fun and classy.
They're sure to please any Rosé lover, the perfect blend of sweet and tart. Best of all, they're easy to make and only require a few simple ingredients.
2 — Gold Playing Cards
It's fair to say that everyone needs a deck of gold cards.
Plus, they add a touch of luxury to any game night. So whether you're looking for a last-minute gift or just want to treat your host to something fun, gold playing cards are a perfect choice.
3 — Soap
Fine, I'm totally a sucker for cute packaging. But your host will love this soap!
It is easy to find at most drug stores or supermarkets, and it can be customized with different scents, colors, and designs to suit the tastes of any recipient.
Whether you prefer classic bar soaps or luxurious body washes, there are countless options to choose from when it comes to picking out a soap gift.
Match it with this simple & cheap DIY felt-covered soap, which is almost too pretty to use.
4 — Punch
Did someone mention spiking the punch?
5 — Bath Bomb
I've actually tried this bath bomb and loved it! Spoiler alert: it won't leave you looking like a colorful smurf (which I legitimately was nervous about..)
6 — Cute Book
The cutest book about game-changing women that will leave anyone inspired.
7 — Matches
Matches that are as practical as they are cute.
Matches can be used in a variety of ways, from lighting candles to starting fires and making a great addition to any home.
They also come in a variety of colors and styles, so you're sure to find the perfect match for your needs.
8 — Glittery And Colorful Candy Crystals
Really obsessed with these glittery and colorful candy crystals. They're basically art.
These fun treats are simple to make and can be customized in any number of ways, making them a perfect option for any occasion.
9 — Compartes Chocolate
I'll never stop being a Compartes chocolate fan.
With an array of delicious flavors and beautiful packaging, this chocolate makes the perfect gift for your host.
Whether you're looking for a sweet treat or a unique stocking stuffer, Compartes Chocolate has something for everyone.
10 — Coconut and Mango Candle
This coconut and mango candle smells so good!
This fragrant candle is perfect for adding a touch of tropical paradise to any home, and it is sure to be appreciated by any busy hostess.
Whether you are looking for a simple thank-you gift or something extra special to show your gratitude, a coconut and mango candle is sure to be appreciated.
Did you have a favorite? I really can't pick! I may have to just buy them all and use this S&C throwback fresh flower DIY to wrap them up for a special someone…
For more gift ideas, you might want to consider the following articles –