The Martini Spritz is a classic aperitif cocktail, a bubbly cocktail that never fails to refresh and impress.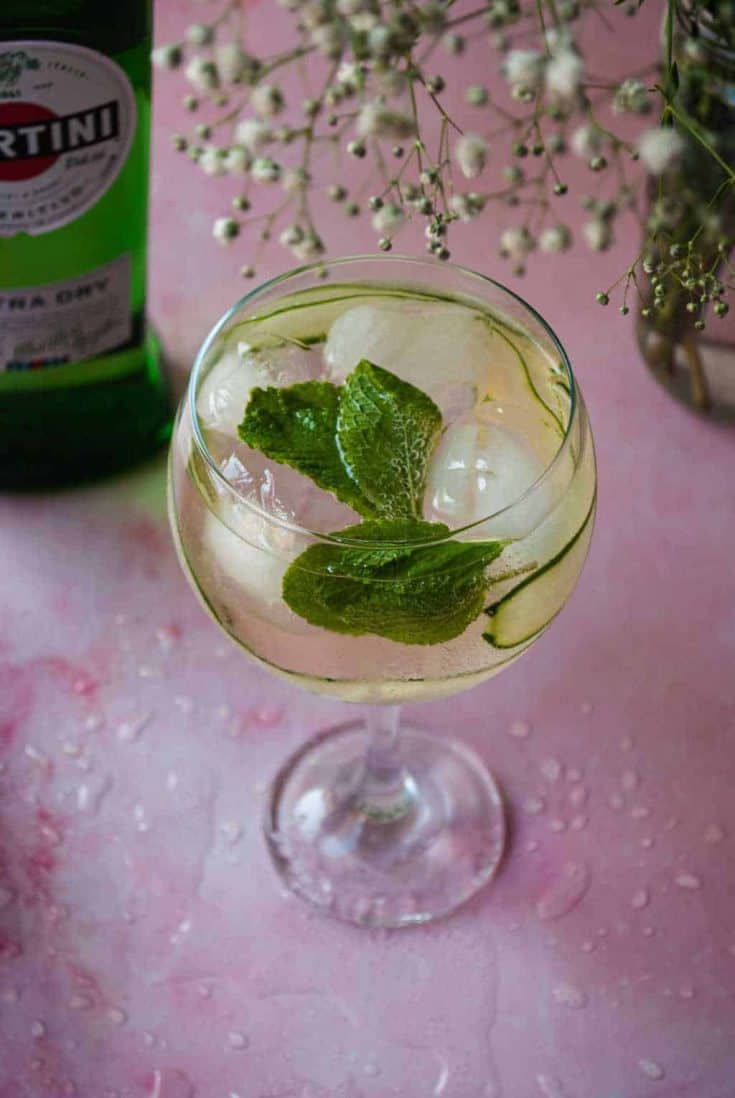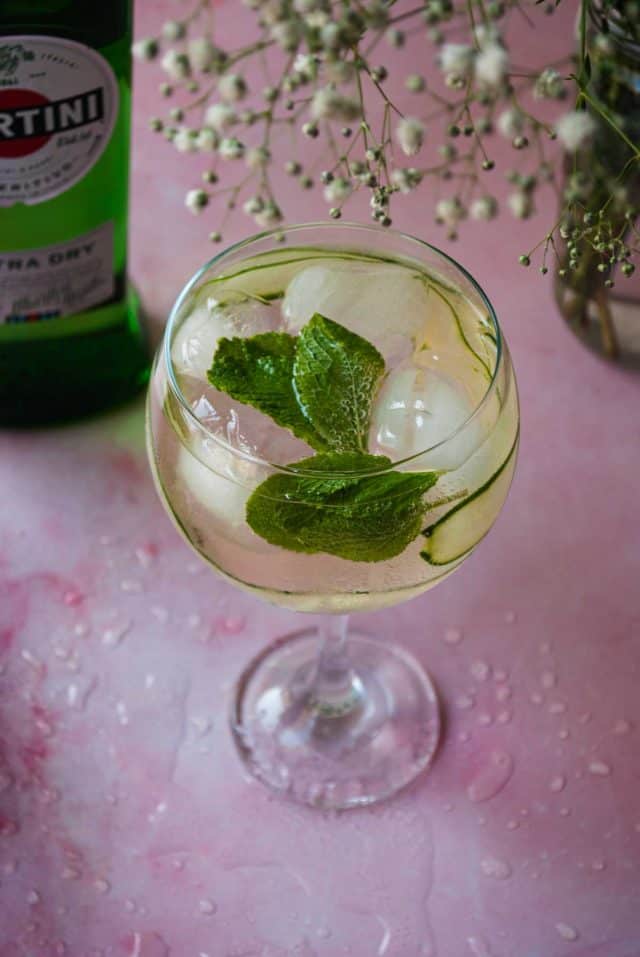 The Martini Spritz is an aromatic and refreshing cocktail, with very interesting floral notes.
It's an aperitivo style drink, like the Martini Fiero (but more bubbly). Both are perfect to enjoy before a meal, alongside some small bites and a good conversation.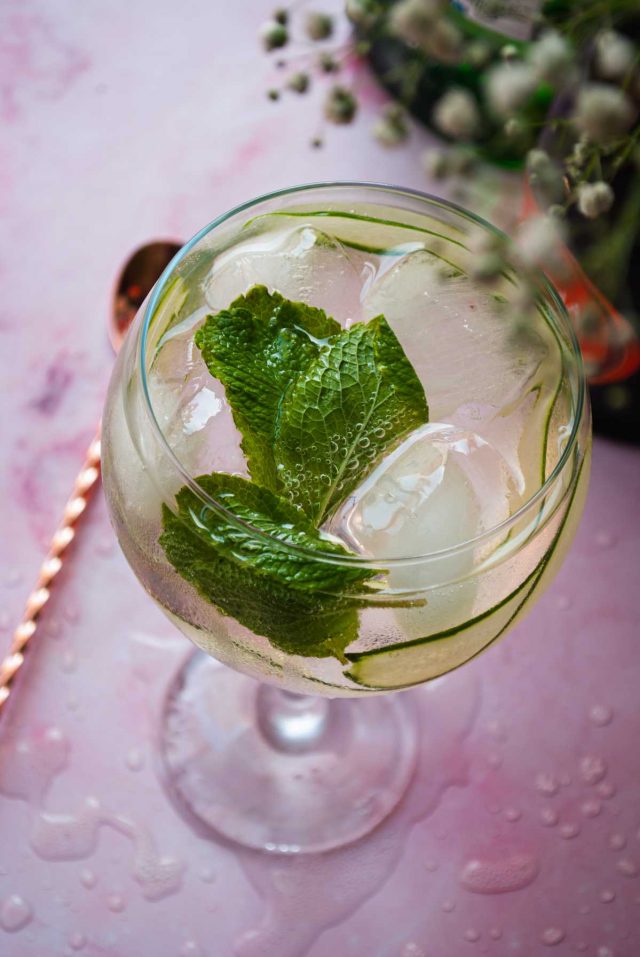 But First, What Is a Spritz?
A Spritz (pronounced "Spriss") is a cocktail style that originated in Northern Italy, in the Veneto Region. Another example of a spritz is the Elderflower Aperol Spritz Cocktail.
They are refreshing and not too high in alcohol content. Both are ideal to working up your appetite before a meal.
A Spritz cocktail is usually composed of Prosecco wine and Amari-style liqueurs. Prosecco is a dry sparkling wine from the North of Italy. Amari-style liqueurs include Campari's or vermouths like Martini.
Sometimes a splash of soda is added to tie everything up for more bubbles.
Amari liqueurs and vermouths are very similar. Both are infused with aromatics. However, their liqueur bases differ.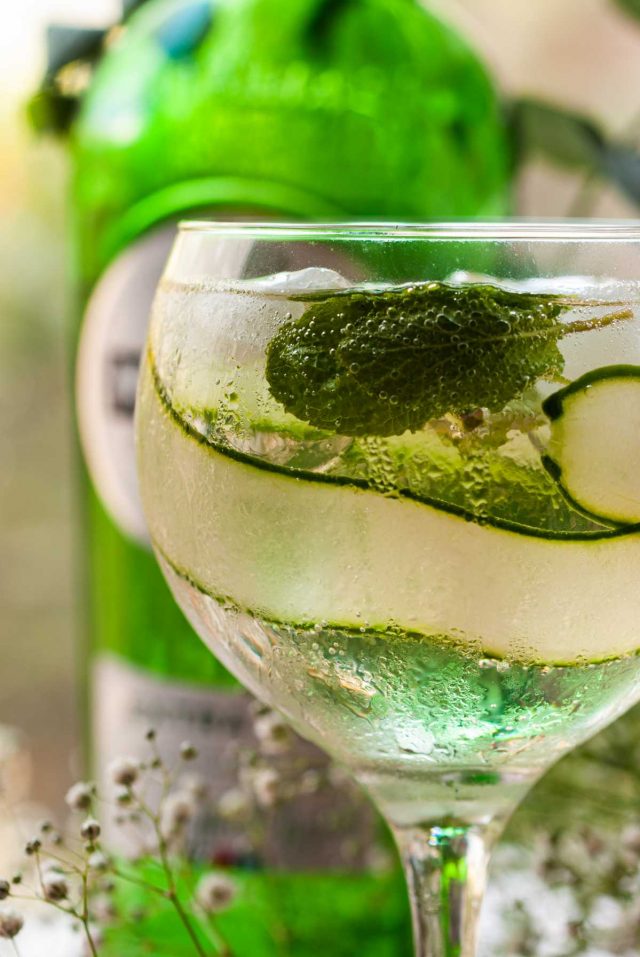 The Difference Between Martini Liqueur and a Martini Cocktail
Is there a difference between martini liqueur and a martini cocktail? No, Martini liqueur and a martini cocktail are the same.
Martini is a brand of Italian liqueurs that specialize in vermouths and sparkling wines. Vermouths are red or white wines infused with all kinds of aromatics like herbs or fruits.
The famous Martini cocktail showcases a cocktail made with gin and white dry Martini (or any vermouth of the same characteristics).
What Goes Into This Martini Spritz?
Martini Extra Dry — Martinis feature a unique blend of flavors and aromas that range from wood, herbs, and flowers (the main tartness comes from Florentine Orris roots, a type of iris flower), to hints of citrus and raspberry.
Prosecco wine — I opted for a Gancia Prosecco Brut, which is a dry Prosecco. However, feel free to choose a sweeter brand. The different dryness levels go from "brut nature" being the driest, "extra brut", "brut", "extra dry", "dry" (or sec), "semi sec" and "dolce" (or sweet).
Don't go extra dry when selecting your Prosecco for this particular cocktail. Otherwise, the drink will be too sweet and defy its "aperitivo" spirit.
Cucumber and mint— Not only for garnishing, but they both add an aromatic flavor profile that compliments the martini liqueur.
Club soda — Optional for an additional final bubbly splash.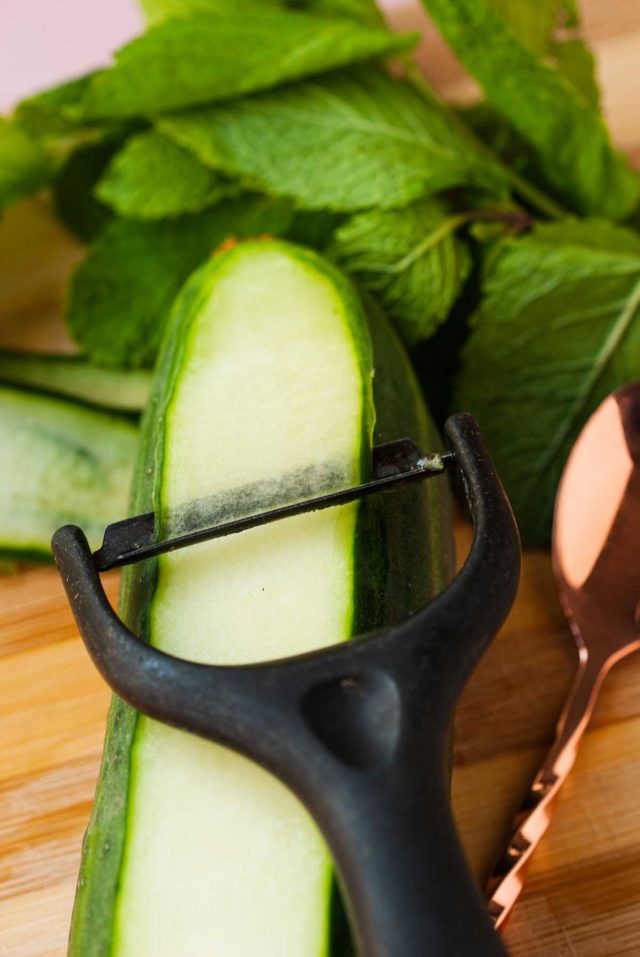 Useful Equipment to Make This Martini Spritz Cocktail
Balloon glass — If you don't own any, it's best served in big glasses.
Potato peeler or mandolin — To make the cucumber ribbons.
Cocktail spoon — To stir (no cocktail shaker required)!
See Our Other Cocktail Drinks!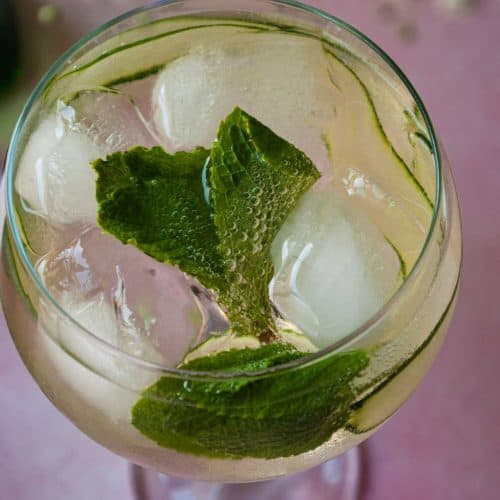 How to Make the Martini Spritz Cocktail Recipe
The Martini Spritz is a refreshing and delightful aperitivo cocktail that you need to try!
Equipment
Balloon glass or big glass

Potatoe peeler or mandolin

Cocktail spoon
Ingredients
1/2

cup

Martini Extra dry

2/3

cup

prosecco

1

splash

club soda

optional

2

Cucumber ribbons

for garnish

2-3

mint leaves

for garnish

Ice cubes
Nutrition
Calories:
246
kcal
|
Carbohydrates:
20
g
|
Protein:
4
g
|
Fat:
1
g
|
Saturated Fat:
1
g
|
Polyunsaturated Fat:
1
g
|
Monounsaturated Fat:
1
g
|
Sodium:
24
mg
|
Potassium:
966
mg
|
Fiber:
4
g
|
Sugar:
10
g
|
Vitamin A:
517
IU
|
Vitamin C:
20
mg
|
Calcium:
103
mg
|
Iron:
2
mg
Notes
You could substitute Extra Dry Martini with the sweet white Martini, but have in mind it will tremendously affect the sweetness. My recommendation, in this case, is to lower the Martini quantity a bit.
This cocktail is best consumed right after making it.
Instructions
Fill a balloon glass with 3 or 4 ice cubes (about 3/4 of the glass).

Cut a few cucumber ribbons lengthwise with the potato peeler.

Add the cucumber ribbons to the glass. You can also press them into the glass walls

Add the prosecco and mix gently with the cocktail spoon.

Garnish with the mint leaves.

Add a splash of club soda for extra bubbles.
KEYWORD:
martini spritz recipe

Don't forget to share your Martini Spritz cocktail with us on Instagram using the hashtag #sugarandclothloves. We always love seeing all of your creations! Looking for more quick and delicious recipes? You can find them all right here with a few snack ideas to go along with them!
More Sparkling Drinks To Try