Tired of your shoes taking up space on the floor? Check out these clever under bed shoe storage ideas that will help you declutter in no time!
Live in a small place, have a ridiculously small closet, and/or do you just own a lot of shoes?
Trust us, we've dealt with all these issues (especially the small closet dilemma with our current bedroom).
We know how troublesome it can be when you just need to find a matching pair, need to organize your shoes, or simply need all your shoes in one place.
A great advantage to storing your shoes underneath the bed instead of deep in a suitcase or in difficult-to-reach places is that there's always a designated spot to easily grab them.
And you don't have to downsize your shoe collection (because that's no fun) or put your off-season shoes in your garage or storage unit.
So here are the the best way(s) to organize your shoes in your own home with these under-bed shoe storage ideas.
1 — Under Bed Shoe Storage Organizer
If you have a lot of flip-flops, sandals, flats, or sneakers, this is a great option for you.
This set of 2 organizers fits a total of 24 pairs of shoes!
And if you're a boot lover, fear not because there's also an option for one 12-slot organizer and one 4-slot organizer for boots.
Considering how clunky and difficult boots can be to store, this organizer is definitely not a bad way to go when it comes to storing your shoes.
Made from breathable fabric, handles on the side allow for easy grabbing and a clear plastic cover easily lets you know what's inside.
And because this is so lightweight and flexible, we feel like it's more of a structured storage bag than a box.
2 — Clear Under Bed Storage Box
Clear plastic storage boxes are handy to have around and using them for under the bed storage is no exception.
Plus, if you ever find another way to store your shoes, this clear storage box can be repurposed to store other items (like winter coats and sweaters).
We actually used these exact boxes in our craft closet.
They're stackable too. So depending on how large your under the bed storage can handle, you can stack two on top of each other.
While this clear under bed storage box has a lot of perks, keep in mind that it doesn't have any handles.
3 — Under the Bed Trunk with Wheels & Lock
Want to make sure your under-bed storage looks as classy as can be?
This under the bed trunk with wheels and lock is a great way to go, making it perfect for dorms, colorful rooms, and kids alike.
This bed shoe storage trunk comes in multiple colors and is perfect for people who live with others who like to "borrow" their shoes (roommates… for example).
With its push-key lock latch that requires two keys to open, your shoes are safely tucked away until you want to wear them.
4 — Under Bed Boot Storage
Boot storage is not easy, and it's an art if you can do it well.
This under the bed boot storage helps you keep your tall boots organized in these plastic, heavy-duty, and clear storage boxes.
Measuring 20.5″ x 12.0″ x 4.5″, these boot storage boxes are easy to assemble and easy to lay flat and tuck away when not needed.
Vent holes keep the boots fresh smelling and aired out while the boxes keep out moisture and dust at the same time.
They are easy to wash out in case of dirt coming off the shoes and can fit most bulky and tall boots.
If you use these for your boots, get some plastic boot shaper inserts, as well to help your boots keep the shape and not crease while in the box.
5 — Under Bed Mesh Shoe Rack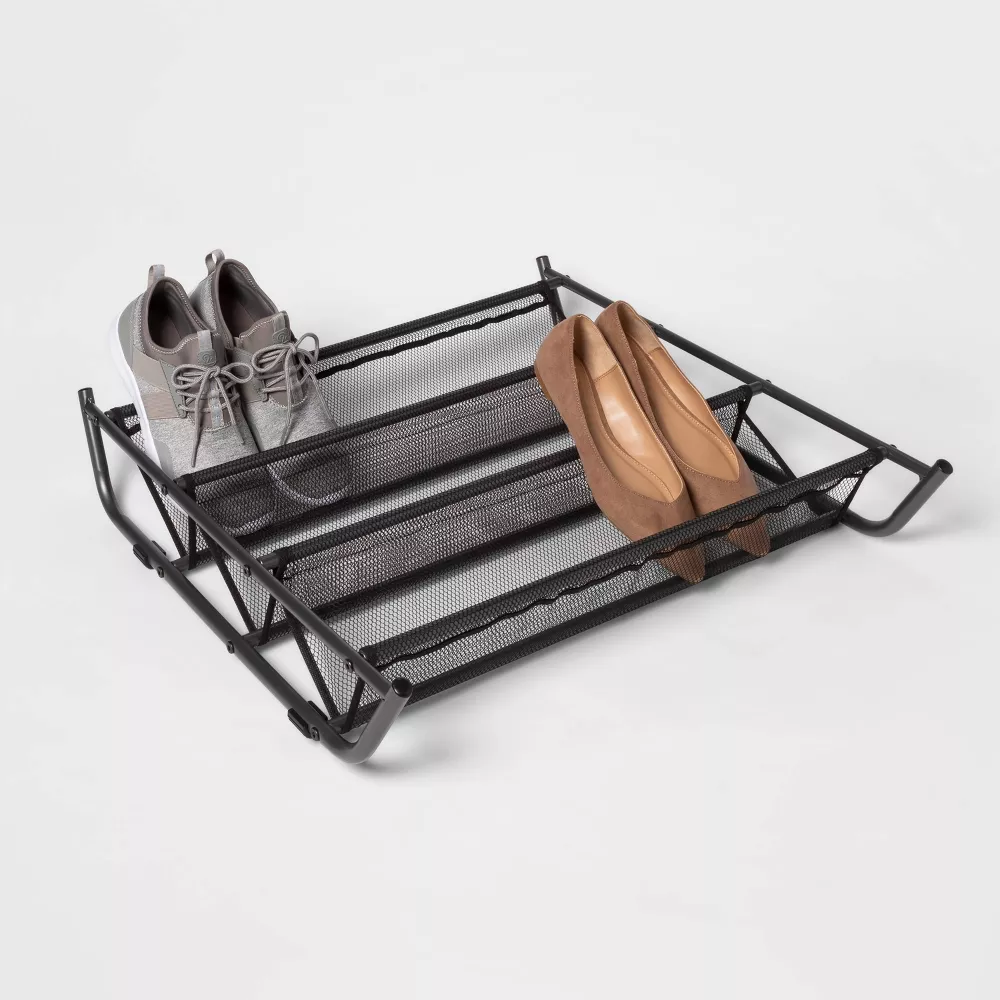 If you want your shoes accessible and out in the open (not in a box with a lid) but also don't have room for a shoe rack in your closet, this under bed mesh shoe rack is a fantastic option.
Being only under 5 inches in height, this rack is perfect for low-lying beds or couches.
And it is very durable thanks to the metal frame.
This under bed mesh shoe rack fits up to 6 pairs of shoes.
6 — Long Under Bed Box With Wheels
If you have to hide your shoes from naughty kids or dogs that love to chew, this long under bed box with wheels is for you.
This shoe-storing box is virtually unbreakable thanks to the polypropylene material and its easy-to-open, locking lid features.
Wheels make it easy to take the box in and out from under the bed without scratching the floor.
Get ready to store up to 30 pounds of shoes in this great bin.
7 — Under Bed Storage Cart
Contain your clutter under the bed with this under bed storage cart with an open face.
You can easily grab and replace items without having to mess with a lid.
Made with a heavy-duty steel grid frame, this cart won't break regardless of how much weight is put on it.
(So don't worry about those six steel-toed boots.)
8 — Under Bed Drawer
Built to be classy, these under bed drawers from the Container Store containers are 6 inches in height and have an opaque-clear finish on the drawer.
So you can hide your personal items without having a solid white drawer.
You can easily stack them on top of each other too.
Pro tip: Line the drawers with cedar liners or moth-repellent balls to keep out moths and pests.
9 — DIY Rolling Storage Drawers
The wonderful thing about DIYs is that you can make things to match your specific style or color scheme.
These rolling storage drawers are made from plywood, and you only need wheels, a drawer knob, and paint in addition to power tools and hardware supplies.
They're a great option too if your bed height is weird.
10 — Rolling Wooden DIY Storage Boxes
If you like a natural wooden look, these DIY rolling wooden storage boxes are an easy home project.
The black etching door design can work with any decor style.
Depending on what type of wood you would like to work with, you can easily customize the wood type, coloring, and size.
11 — DIY Under Bed Shoe Organizer
If you want to make your own under bed storage box but want a cover, then try this DIY under bed shoe organizer.
It uses a plexiglass lid. So you can still see which shoes are where inside all while keeping dust and bugs out.
This tutorial offers you a step-by-step way to complete this difficult-look-but-easy-to-do project to keep your shoes organized.
If your shoes start to get smelly, grab a couple of dryer sheets or some essential oils to drop in the sole of each fragrant shoe.
12 — DIY Under Bed Storage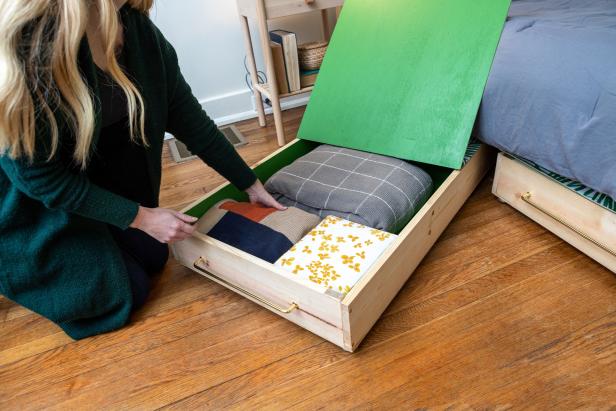 Prefer watching how-to videos to reading instructions?
Check out this tutorial video on how you make your own DIY under bed storage.
For in-depth details, the video description underneath offers a closer look at how to complete this beautiful project.
13 — DIY Under Bed Storage Bins from Plywood
Made with kids in mind, we love the mobility of these DIY under bed storage bins.
Though they were meant for a girl's or boy's bedroom, we think they would still work for any bedroom.
The wheels allow for the boxes to easily be pulled out and pushed in, despite not having handles.
However, you can still add in a hand pull or fingertip hole when constructing the front of the box.
Since the boxes are made from plywood, they are cheaper to make at home than purchasing thicker-wooden drawers.
Yet, they'll look just as great when painted.
More Easy Bedroom Projects
For more DIY projects for your bedroom, check out a few of our favorites from the archives below —