Whether you've been married for years or just starting married life, get ideas from our list of Valentine's Day gifts for your husband.
Valentine's Day can be intimidating when it comes to finding the perfect gift for your significant other, particularly when it comes to your husband.
Allow us to relieve some of that stress by providing you with our list of the 32 best Valentine's Day gifts.
From tech gadgets he's been wanting to try to the gourmet food baskets filled with all his favorite snacks and even quirky socks that will make him smile, there are plenty of options that will show that you care.
Make your loved one's special day even more extraordinary by choosing a thoughtful Valentine's gift (that's thoughtfully wrapped).
Because, at the end of it all, it is genuinely the thought that counts!
Valentines Day Gifts for Husband
1 — Jerky Heart Box
As they say, the way to a man's heart is through his stomach.
And what better way to show your love than gifting him something to snack on?
This Jerky Heart Box is the perfect gift for a husband who loves good food!
It's filled with 5 different flavors of artisanal beef jerky from across the globe, including classic teriyaki and BBQ flavors to more unique options like ginger-garlic and Mexican chili lime.
2 — Coffee Mug Warmer & Mug Set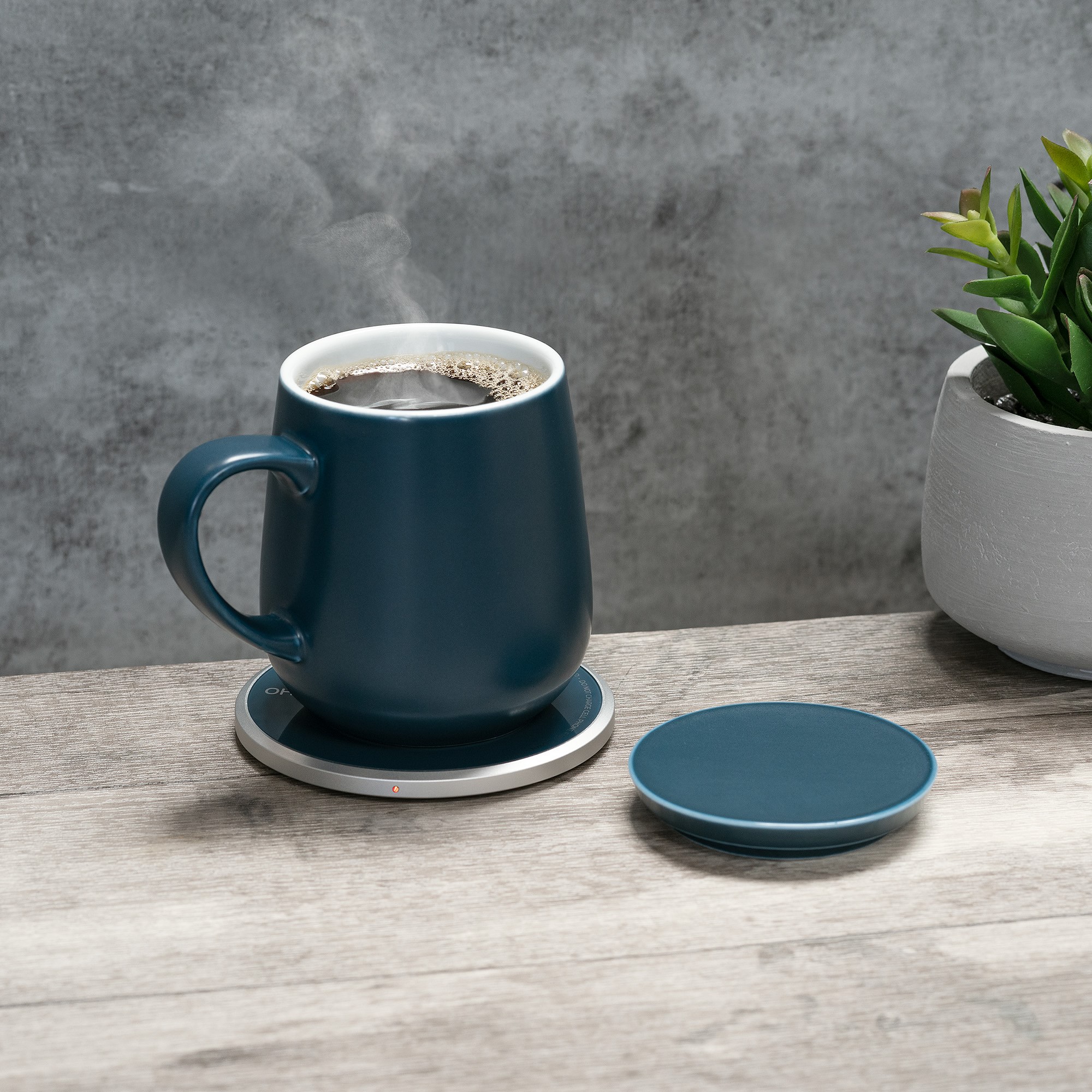 For the coffee or tea lover in your life, this self heating mug is an ideal gift.
This handcrafted ceramic mug comes with a lid and spill resistant charging pad to keep your beverage always at hot at 130°F.
So it's not just a warmer, it can boil your beverage if needed!
3 — Fellow Stagg Kettle
There's a reason the Fellow Stagg Kettle is so popular, and it's not just because it's so sleek and pretty.
Its signature gooseneck is designed precisely for the perfect steady flow, and its unique handle allows for a balanced pour.
It also features a built-in thermometer.
The Fellow Stagg Kettle is also the preferred go-to kettle for professional brewers and baristas.
4 — Personalized Toiletry Bag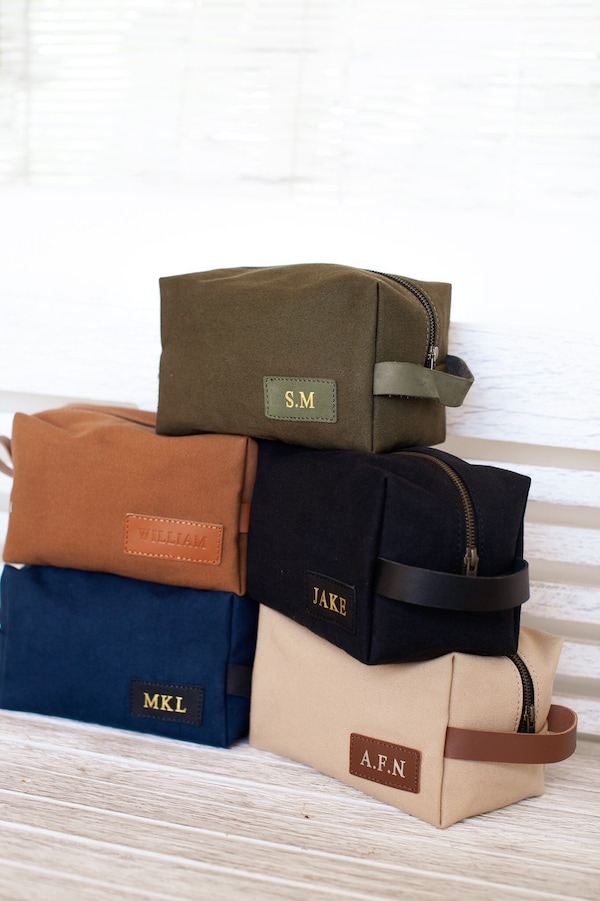 When he's traveling or at the gym, he's going to need a toiletry bag for all his things.
A side handle allows for easy carrying with interior pockets for him to stay organized.
Add his name or initials for a personal touch.
5 — Moon Landing Lamp
Express your everlasting devotion with this moon landing lamp.
It's the perfect way to tell someone, "I love you to the moon and back".
This moon landing lamp emits a soft, calming light that will create an intimate atmosphere.
It's perfect for any room in his home, from his man cave to his office or bedroom.
6 — Engraved "I Love You" Universal Socket
If your husband loves carrying out DIY tasks and you've been hearing a fair amount of drilling coming from the garage recently, why not surprise him with this engraved universal socket?
This one tool alone has the potential to replace an entire set and complete tasks with ease, speed, and efficiency.
With its gripping power and ability to fit all standard-sized nuts, bolts, and other accessories, it is a must-have item for any DIY enthusiast.
Give this tool to your husband and let him remember you every time he uses it.
7 — Picture Wallet Card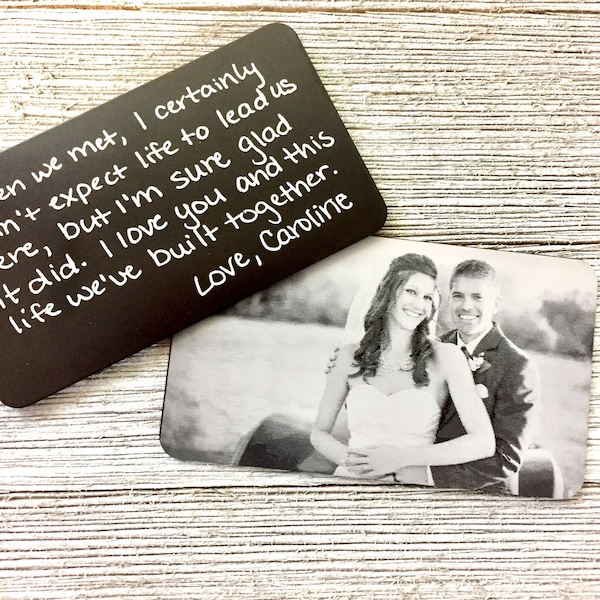 Show your husband how much you cherish him with this picture wallet card.
This wallet card includes a pocket-sized photo of your choosing and an affectionate message written on the backside.
Your wallet card is laser engraved so the marking is permanent. It will never fade or wear off.
He can keep it close to his heart so he feels your adoration even when you're apart.
8 — Espro Travel Coffee Press
If your husband can't get enough of his coffee, show him just how much you care with this travel coffee press.
This stylish and practical travel press is designed to make exceptional coffee wherever he goes.
Its ultra-fine filter and double micro-filter technology brew full-bodied espresso without any sediment.
Perfect for adventurers, this travel press prepares a delicious cup of coffee in minutes and fits snugly into any bag or backpack.
9 — Flashlight Gloves
When there's no one around to hold a light, he'll truly appreciate these flashlight gloves.
It's a practical item to have around when he's outdoor camping, fishing, cycling, climbing or even for taking the dog out for a nightly stroll.
The gloves are battery powered and adjustable for all.
10 — Chanel Bleu De Chanel Eau de Parfum
Give your husband a scent-sational surprise with the alluring aroma of Chanel Bleu De Chanel Eau de Parfum.
Refreshing and invigorating, this unique fragrance is certain to be appreciated by everyone in his presence.
It features a woody combination of fresh citrus notes, vetiver, and incense that are all perfect for any occasion.
11 — Neck and Back Massager
If your husband works long hours and often complains of aches and pains in his back or neck, then show him how much you care about this neck and back massager.
This massage tool is designed to provide his body with intense relief and profound relaxation through deep tissue work.
Its adjustable straps make it effortless to use, allowing for a personalized experience depending on the area of focus.
12 — Whiskey Chilling Coaster Set
His fine spirits will never be watered down if he has whiskey chilling coasters.
Plus, his drink won't get knocked over nor will the tabletop be scuffed.
The set includes a pair of eco-friendly granite and aluminum coasters.
It's definitely a bourbon gift every whiskey lover should have.
13 — Leather Message Cuff
Display a love note within this handmade leather cuff bracelet.
Choose from 65 messages that range from romantic, inspirational, funny, religious and more.
The cuff arrives in a jewelry box that's ready to be gifted.
14 — Hooded Fleece Bathrobe
Spoil your husband with a gift of ultimate relaxation, a hooded fleece bathrobe.
This luxurious bathrobe is crafted from plush, 100% polyester fleece fabric which will provide a heat-retaining barrier while still permitting the skin to breathe.
Its customized fit guarantees that your spouse can comfortably wear it for hours on end and remain warm throughout.
15 — Engraved Docking Station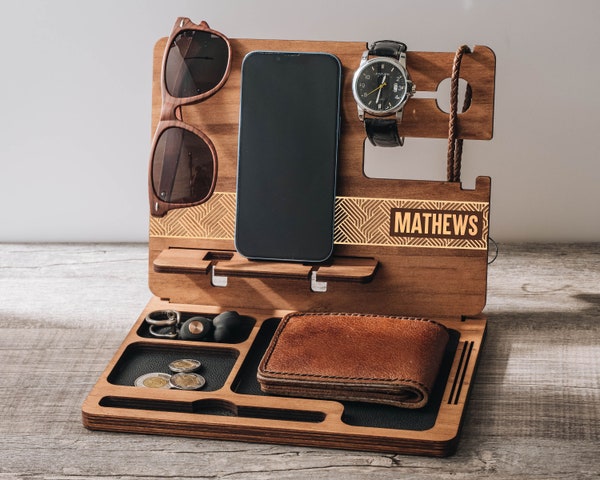 Gift him with a personalized docking station to organize all his things.
This keepsake docking station has room to store his wallet, keys, change, phone, sunglasses, jewelry and more.
16 — Bath Bombs for Real Men
Pamper your special someone with a luxurious spa night using this indulgent Bath Bombs for Real Men Gift Set.
This luxurious set includes 8 all-natural bath bombs, each with its own unique blend of essential oils, minerals, and fragrances like sandalwood to create an unforgettable experience.
Soaking in a hot bath with one of these bath bombs will help him to relax, revive, and rejuvenate his muscles after a long day.
17 — The Art of Shaving Travel Kit
Ensure your partner maintains his grooming habits wherever he goes with The Art of Shaving's Travel Kit.
No matter the destination, this convenient kit has everything your husband needs for a perfect shave.
This kit includes all of the essential items he needs for a complete shave, including pre-shave oil, shaving cream, after-shave balm, and a pure badger shave brush.
All of this is packed inside a convenient travel bag, making it the perfect gift for any man on the go.
18 — I Love You Built-In Greeting Card Box
Fill up this built-in greeting card box with his favorite beer, snacks, golf balls or candy.
And then leave him a love note for the perfect Valentine's Day gifts for husband care package.
19 — The Office Dundler Mifflin Socks
Surprise your husband with the gift of comfort, warmth, and laughs with The Office Dundler Mifflin Socks.
The trio includes Micheal Scott's iconic Office quote, Dwight's beloved beet farm and our favorite paper company logos.
20 — Custom Family Portrait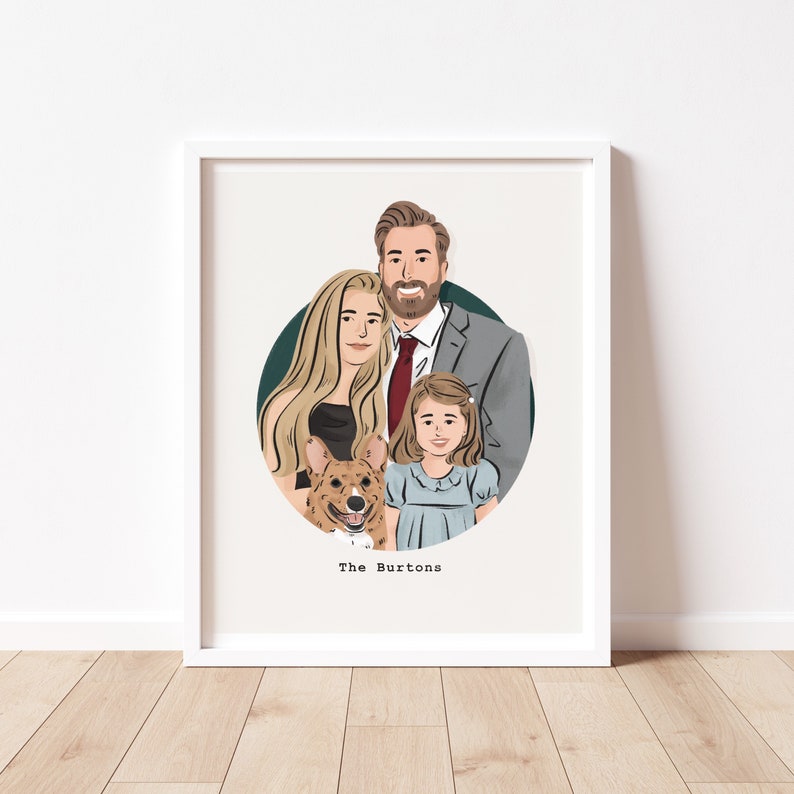 Give your husband a Valentine's Day gift he won't soon forget with a custom family portrait.
Whether you choose to have it digitally illustrated or hand-painted, this one-of-a-kind personalized gift idea i is sure to make an impression that will last forever.
Make this year extra special by gifting something unique, meaningful, and timeless.
21 — Burn Massage Candle
Burn Massage Candle is the perfect gift for any man who likes to relax and unwind with his loved one.
This candle melts into a luxurious warm massage oil that can be used to soothe away the stress of his day.
With a blend of natural ingredients, the massage oil creates a tranquil atmosphere.
22 — Memory Foam Massage Mat with Heat
Perk up his day with a Snailax Memory Foam Massage Mat with Heat.
This mat not only has an ultra-plush memory foam cushion, but it also comes with six massage motors that can be controlled via its remote.
Your husband will love the way this mat helps to reduce fatigue, as well as tension and stress.
Plus, it has a heating function that can help to soothe sore muscles.
23 — Bourbon Infused Coffee
Wake up your man's taste buds with some bourbon infused coffee.
This deliciously unique blend combines the warm flavor of bourbon whiskey with rich coffee beans.
It will give your husband a smooth, balanced flavor that he can enjoy any time of the day.
He'll love the way this coffee adds a little something extra to his morning routine or even to his Coffee Old Fashioned.
24 — Pint Glass with Real Golf Ball
Make this Valentine's Day extra special by gifting your man a BenShot Pint Glass filled to the brim with his favorite beer.
Not only is it crafted from resilient, top-tier materials, but its unique design featuring an embedded golf ball adds an element of intrigue and excitement.
Any dude who loves both golf and suds will surely appreciate such thoughtful presents.
25 — Personalized Cufflinks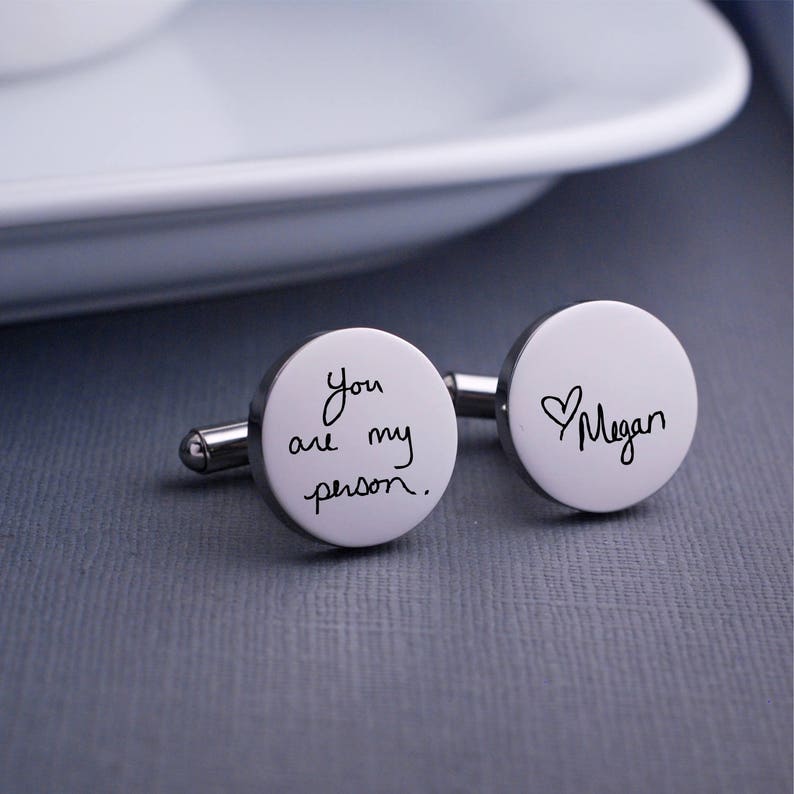 Elevate his look with a set of personalized cufflinks.
Not only are these timeless and classic cufflinks stylish, but they can be customized with your husband's initials on one cuff link, as well as an endearing phrase such as "you are my person" for an extra special touch.
Your special someone will feel extraordinary when wearing these cufflinks and knowing that your love is in each one of them.
Every time he wears these unique pieces, it's sure to bring out a smile on his face as the thought of you enters his mind.
26 — Trophy Husband Shirt
Add a Trophy Husband Shirt to his closet.
This funny tee for any husband sports a vintage retro design and is available in 5 different color ways.
27 — Custom Video Game Console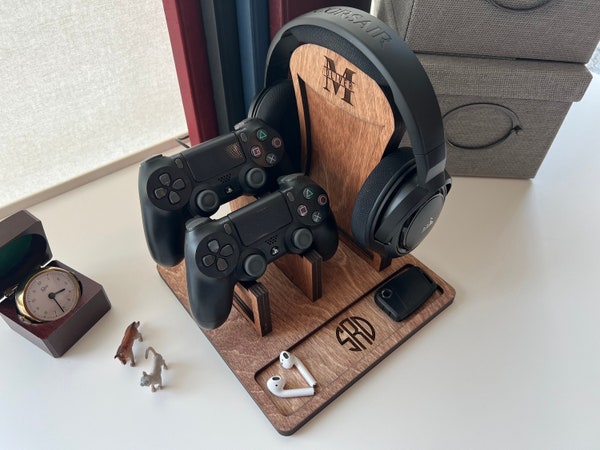 Have a gamer in your life?
The custom controller stand neatly and nicely holds all their controllers and headphone.
It is handmade from high-quality natural birch plywood and can be engraved with your husband's name or initials.
28 — Personalized Comic Book Cover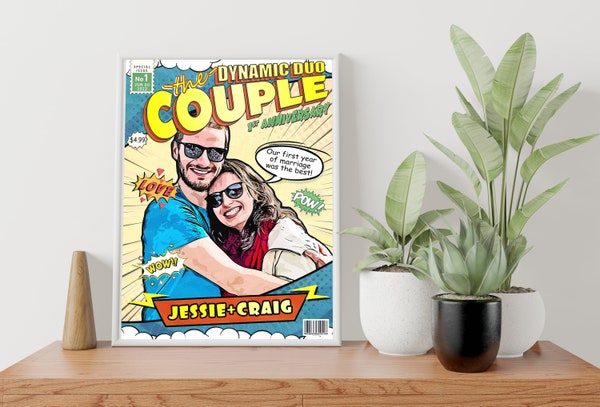 Your comic book fan or superhero enthusiast will love being illustrated into a comic book cover.
All you need to do is provide photos and your own desired text and a professional artist renders your image into your very own comic cover.
29 — Portable Tabletop Fire Pit
This tabletop fire pit provides warmth and ambience anywhere indoors and outdoors outside on the deck, on the coffee table in the living room and more.
We love that it's portable and light enough to take around and move around anywhere.
The best part is that it has a clean burn with iso-propyl alcohol so that you don't get that burning wood campfire smell lingering around.
30 — Apple Watch Ultra
If you really wanna splurge and spoil your husband, then gift him with an Apple Watch Ultra.
It has all the features of the basic Apple Watch, but it is built for endurance athletes, outdoor adventurers, and water sports enthusiasts.
The band is corrosion-resistant and fitted around a titanium case (that will be pretty hard to break).
It's also slightly larger with more accessible buttons for when your husband is on the go.
31 — Husband Valet Tray & Keychain
This husband valet tray and keychain makes for a lovely home addition that can sit on his drawer, desk, nightstand, dresser or entryway.
32 — Date Night Ideas Scratch Off Box
Spice up your date nights with the Date Night Ideas Box.
It includes 35 exciting date challenges and 2 scratchers for easy scratching.
It's a great gift alone or as an addition to a date night basket idea.
More Valentine's Day Gift Ideas
For more Valentines Day gifts for husband ideas, check out a few of our other gift guides below —
Our Favorite Gifts for Guys