Cloud Bread Recipe – A zero carb gluten-free alternative bread for those following a keto diet or who just want a healthier option!
Are you or someone you know trying the keto diet? It's become a common dietary lifestyle, appealing to many for it's low-carb, grain free guidelines. But that does make things tricky when the craving for bread strikes.
What's to be done when a sandwich craving strikes? That's where this recipe for cloud bread comes in. I (Rebecca) think that they're a pretty great substitute for regular bread, and they're super simple to make.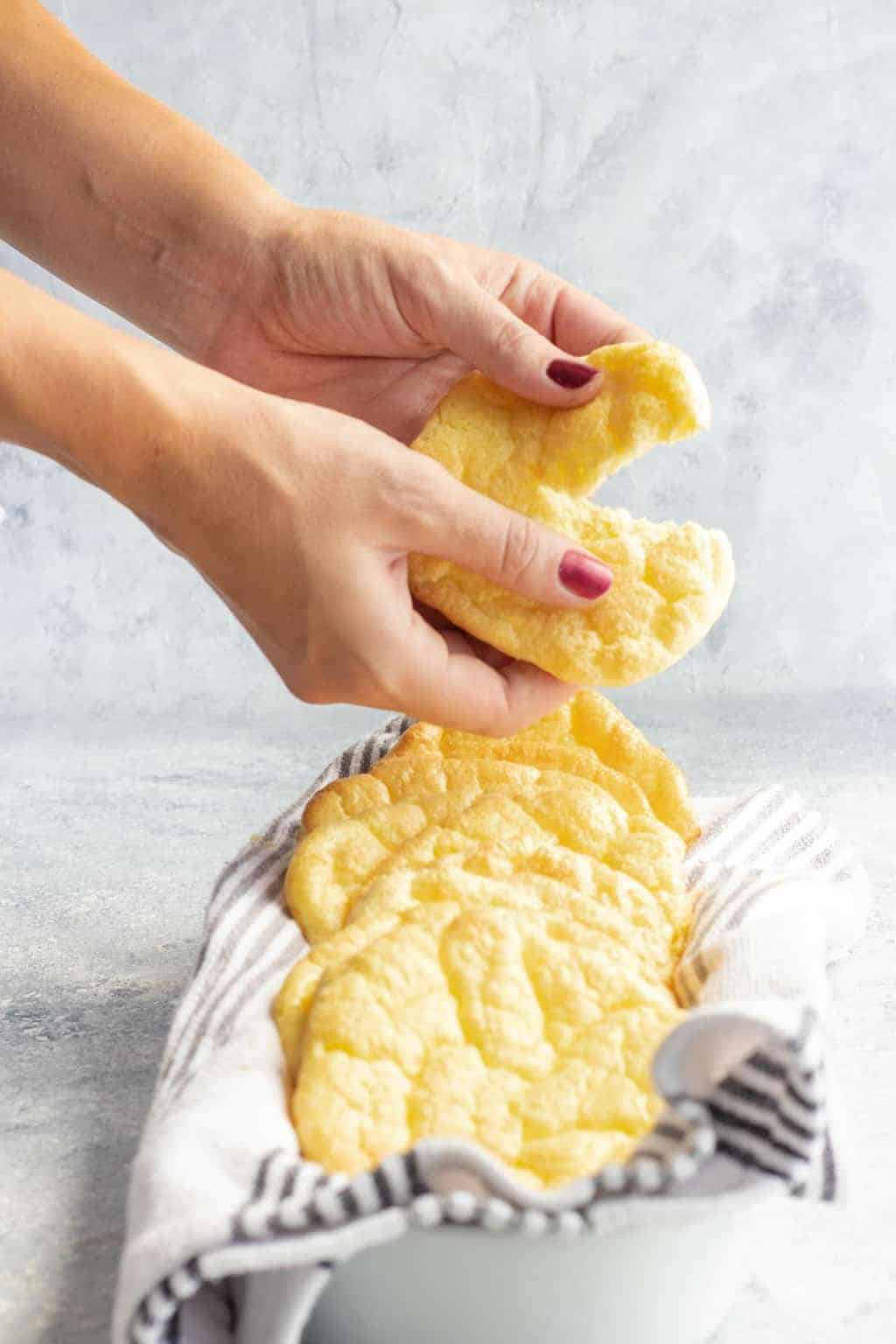 What is Cloud Bread
Cloud bread is a low carb alternative bread for those following a ketogenic diet. It's the perfect way to make sandwiches if you're trying to avoid eating carbs, grains, or gluten.
What Is The Keto Diet
The ketogenic diet is a very low-carb, high-fat diet similar to the Atkins diet.
It requires you to drastic reduce your carb intake so that your body is in a metabolic state known as ketosis. Once you body runs out of the fuel (sugar), it will start to break down fat for energy. And this results in weight loss.
The health benefits is that the keto diet reduces your blood sugar and insulin levels. Plus, when your body burns fat for for energy, the fat also turns into ketones in the liver. These ketones give your brain energy.
How is Bread Carb Free
Technically, it's not bread in the traditional sense — it's beaten eggs, mixed with cream cheese. It may sound strange, but it really does work!
And it's the perfect way to get those classic turkey, ham or peanut butter sandwiches back on the lunch menu, all while sticking to your low carb keto diet.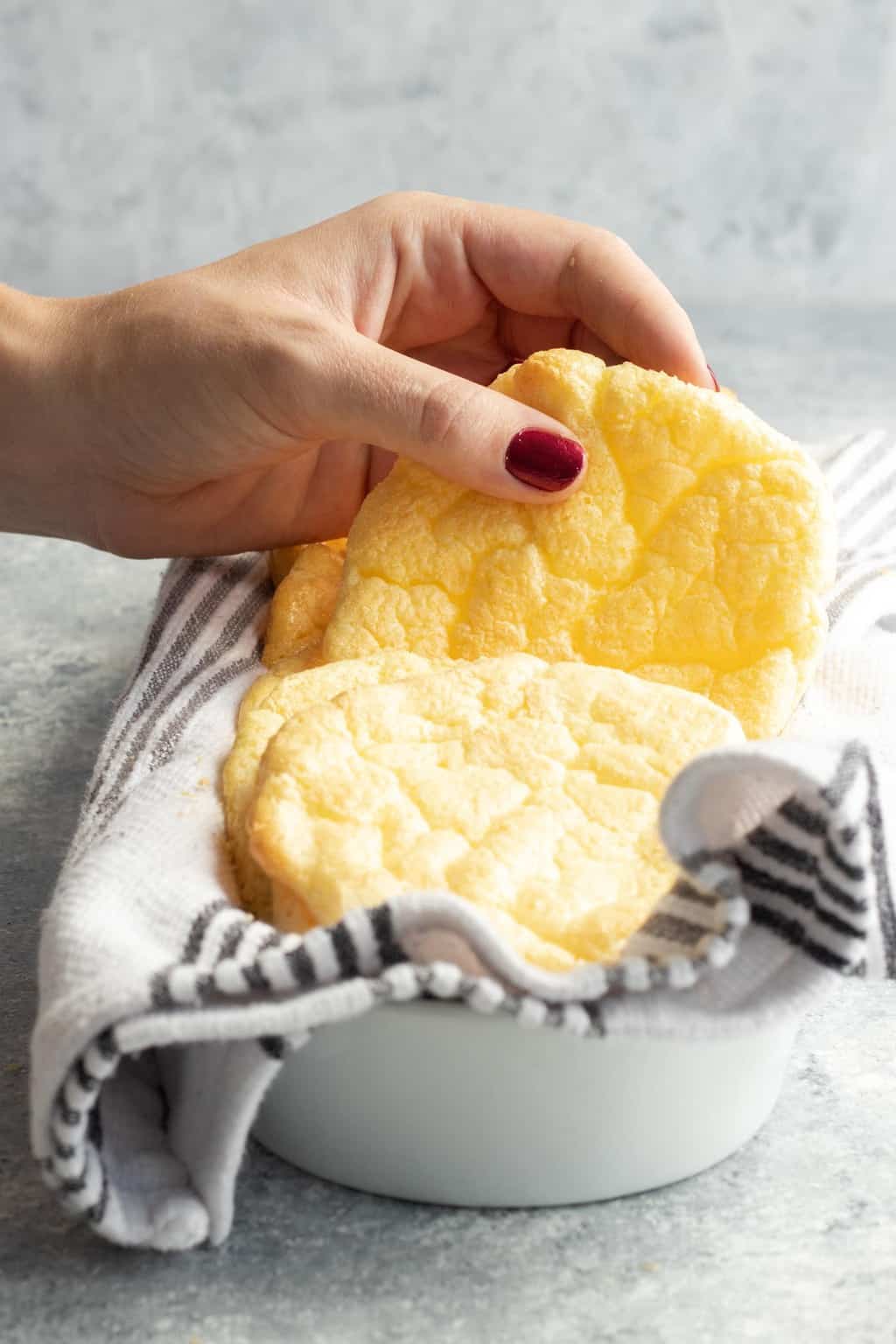 What is Cloud Bread Made From
Cloud bread is made from eggs, cream cheese, cream of tartar, and a bit of salt. If you'd like, you can also add seasonings — a bit of garlic powder adds some flavor, or any herbs you prefer.
Some loaf version of cloud bread also incorporate almond flour or coconut flour, but we're keeping it super simple and easy with these little rounds.
Alternatives For Cream Cheese
Cream cheese is the most common ingredient in cloud bread. But if you're not a fan cottage cheese, other options include:
Ricotta cheese
Cottage cheese
Sour cream
Mascarpone
Greek yogurt
If you're also watching your fat intake, greek yogurt is a great substitute for cottage cheese.
Mascarpone is one of my favorite alternatives since it's less tart than cream cheese. So you can think of it as a buttery croissant like version of cloud bread!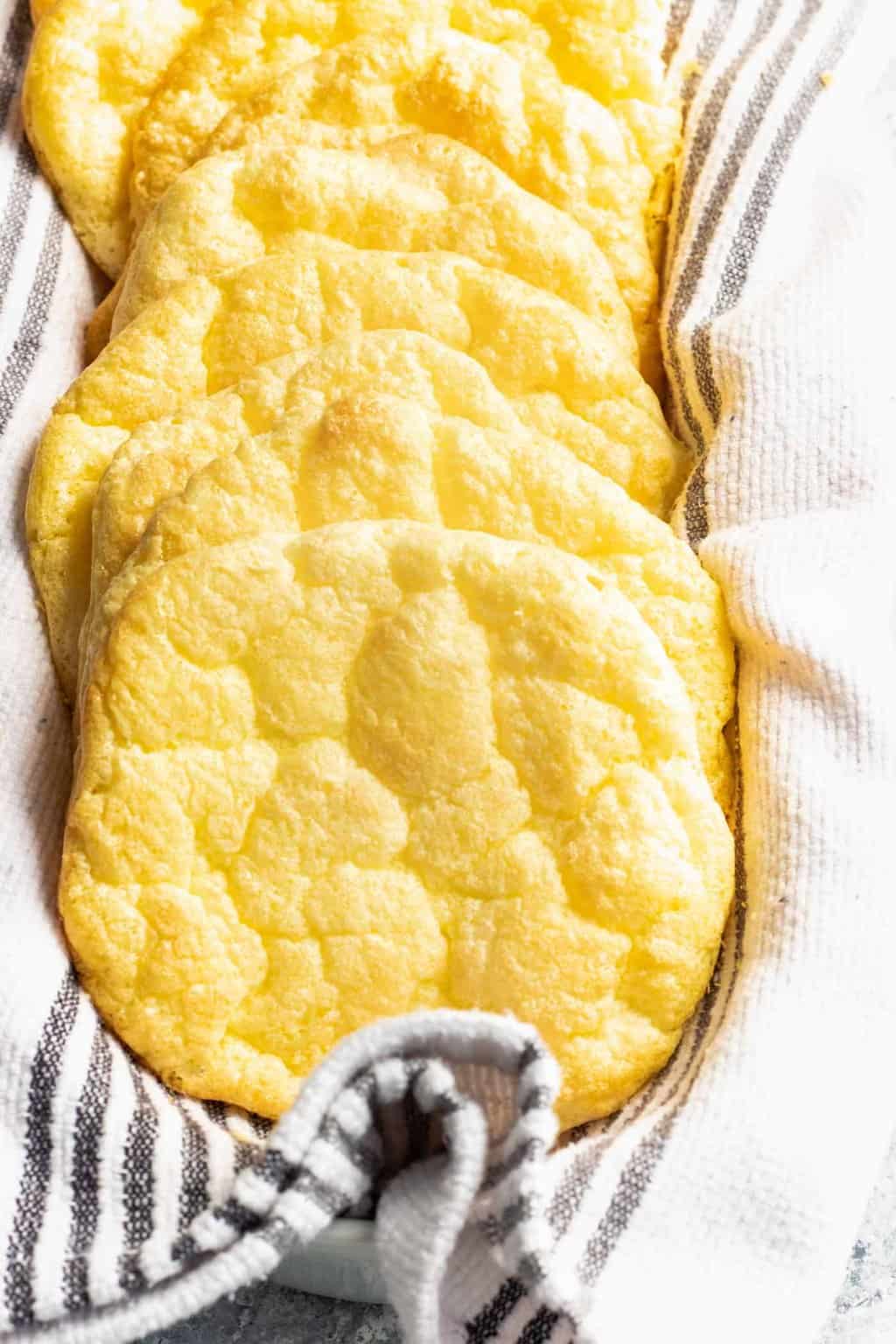 How To Make Cloud Bread Dairy Free
If your diet doesn't allow cream cheese or yogurt and you want a dairy-free option, you can use a can of coconut milk instead! First, chili the can overnight. Don't shake it because you want a thick cream to form. The next day, scoop out the thick cream.
Tools Needed To Make Cloud Bread
Stand mixer: I recommend using a stand mixer if you have it. A hand mixer will do the job too. It's absolutely doable by hand with a whisk, but it will take quite a while. Consider it arm day, and you've got that covered for the next month.
Parchment paper: This is definitely a baking essential for all recipes! Plus, parchment paper makes storing the bread easier so that the slices don't stick together.
Baking sheet: Another baking necessity to always have around in the kitchen!
Check out our shop page for all our cooking essentials. The great thing about this Cloud Bread recipe is that all the tools required should be your basic baking tools.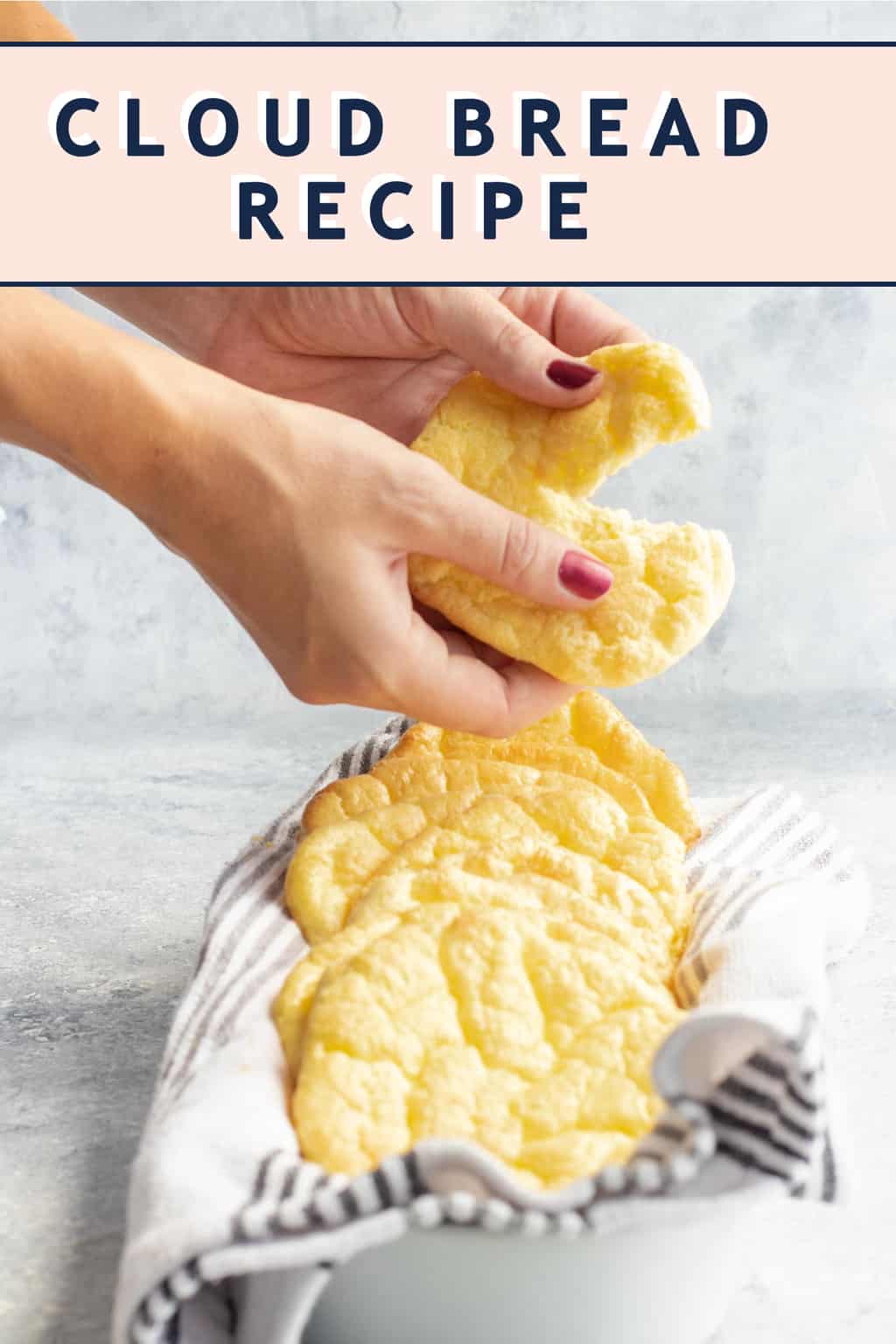 How to Make Cloud Bread
Start by lining a large baking sheet with parchment paper and preheating the oven to 300F.
Next, you need to separate the egg whites and yolks. I like to use the egg shells to do this. Gently pass the yolk from one half of the split egg shell to the other to allow the white to fall into a bowl underneath.
After that, you'll want to beat the egg whites to stiff peaks. What are stiff peaks? That means that they are completely fluffy and stiff. If you pull the beater out of whip egg whites, the peak that is left behind stands straight up.
Once stiff peaks formed, next beat the egg yolks and softened cream cheese together in a large bowl. This is a little bit easier to do by hand, though you can absolutely use the mixer if you'd like to!
You want it to become a creamy, smooth egg yolk mixture, without any lumps of cream cheese showing.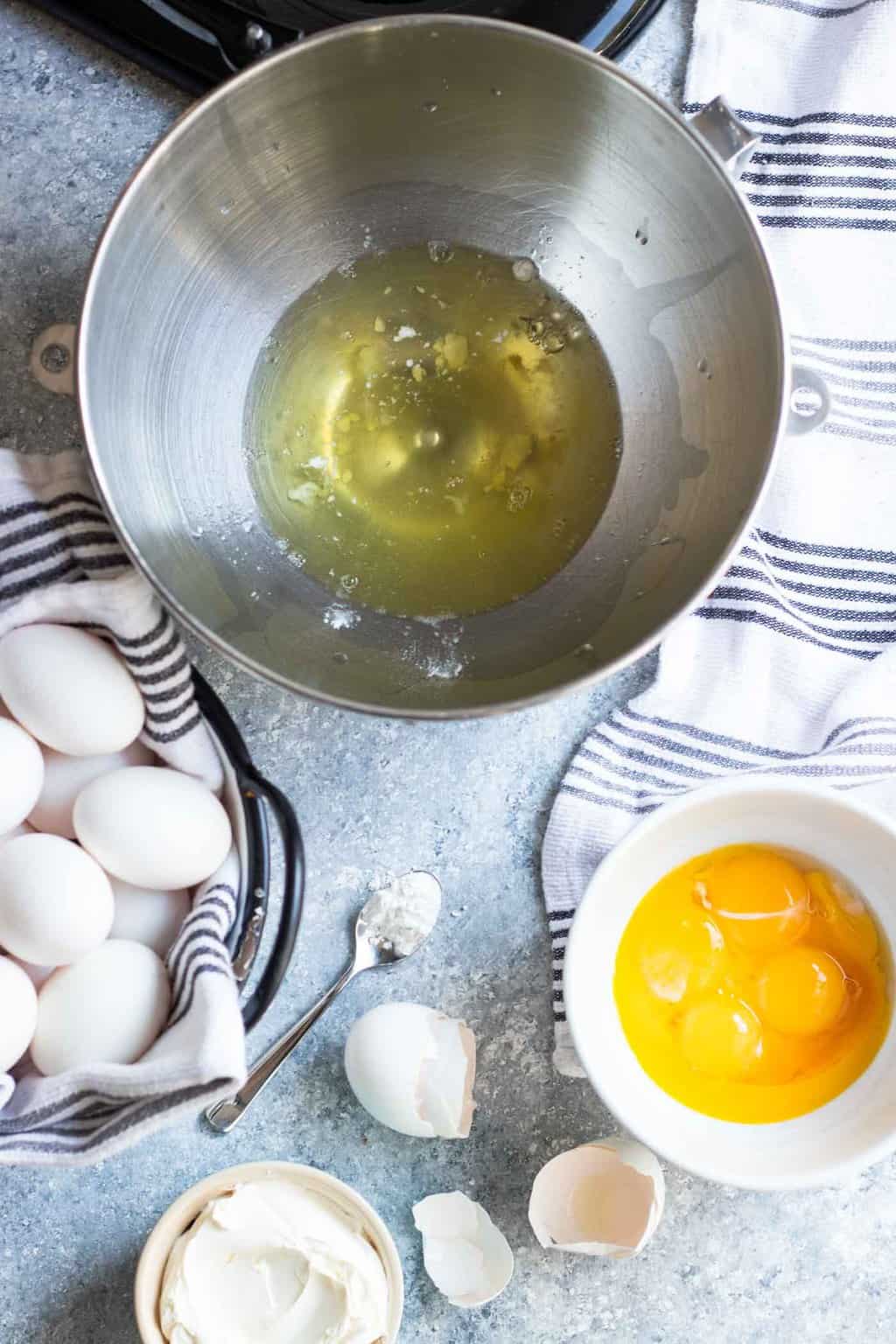 Add the salt, as well as any other seasoning you would like. Then, use a rubber spatula to stir in a third of the beaten egg whites.
Add the rest of the egg whites and gently fold them in, stirring just until mixed to not deflate all of the air that you've beaten into them.
At this point you should have a light, fluffy, yellow egg whites and cream batter. While it will flow, it shouldn't be runny or liquid — if it is, the air has probably gone out of the egg whites.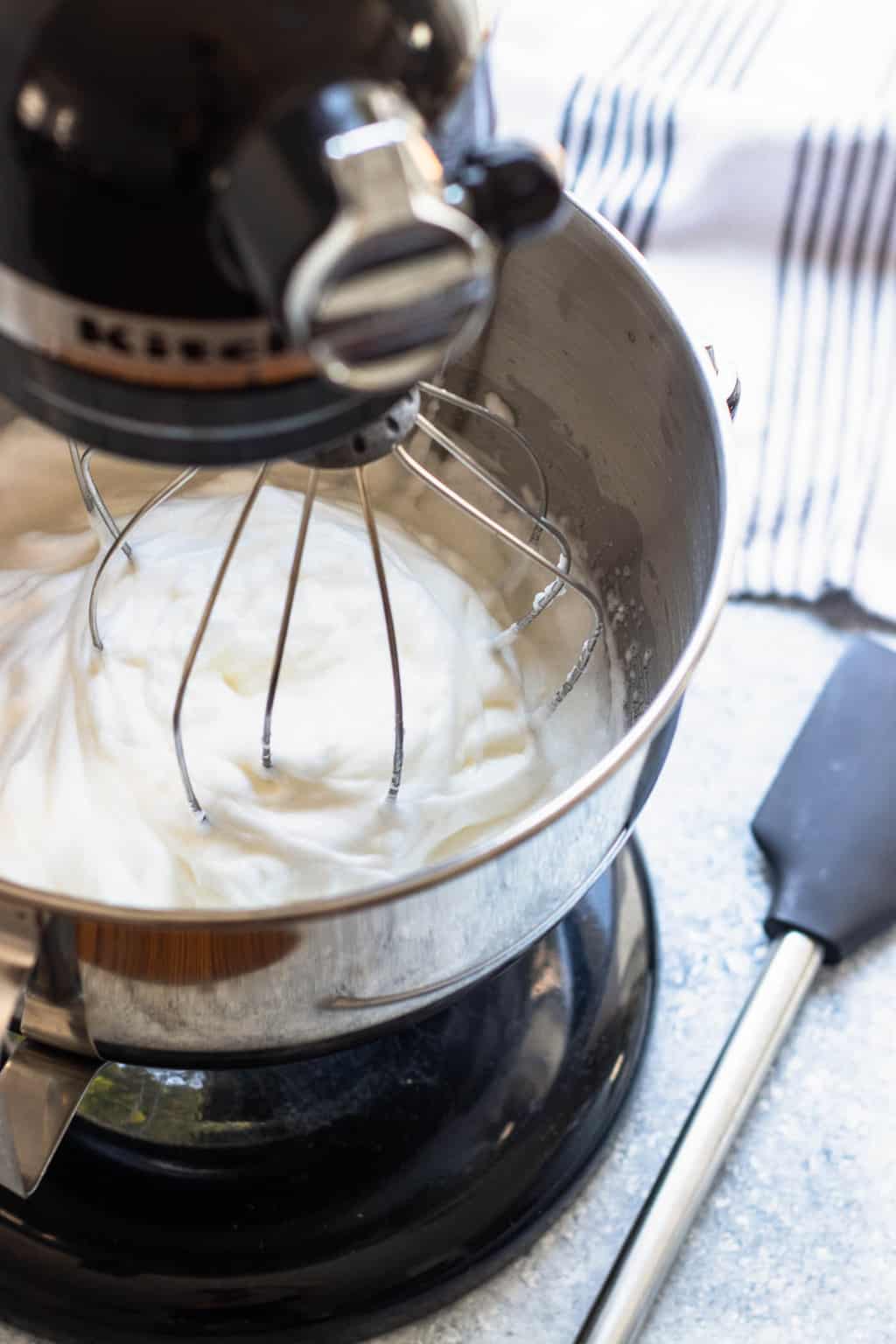 Use a large spoon or ladle to divide the batter into six rounds on the parchment-lined baking sheet. Spread it into circles, but not too thin since they will spread a bit more during baking.
Bake for 30-35 minutes, or until they are puffy and golden brown around the edges. You don't want to take them out too soon, or they'll deflate and become soggy.
And now you've got the perfect sandwich bread!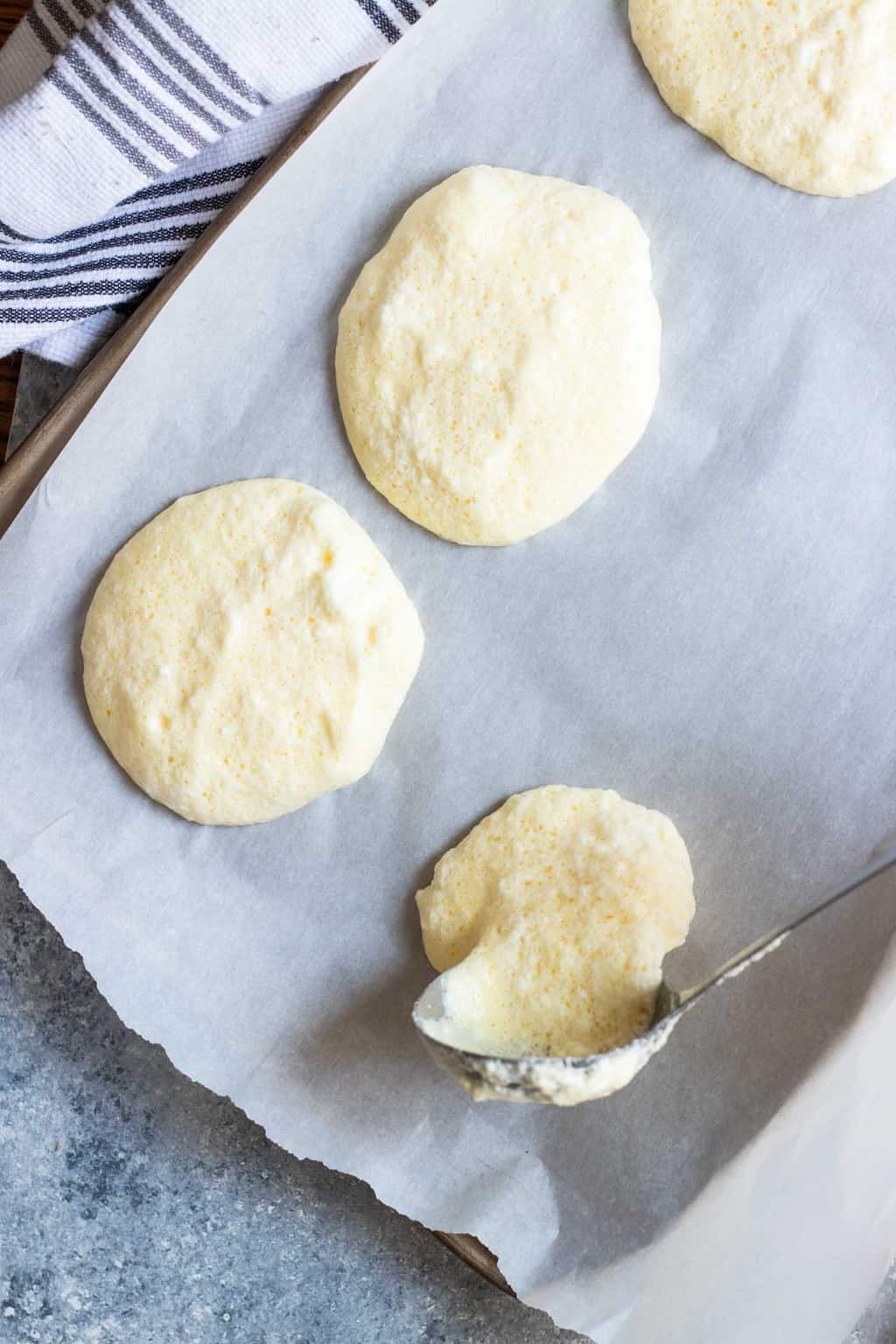 How To Store Cloud Bread
Cloud bread is best eaten the day they are made. But if you have leftovers, wait until the cloud bread cool completely to room temperature. Then, store them in an airtight container or plastic bag. They will keep for 3-4 days in the refrigerator.
If you want to freeze them, line parchment paper or paper towels between each slice. This prevents the slices from freezing together.
Thaw the frozen cloud bread in the fridge first. Then, toast and serve them again!
Is Cloud Bread Ketogenic
Yes, cloud bread is ketogenic! Because it doesn't have carbs and is high in fat and protein, this recipe is perfect for your carb diet.
Is Keto Bread Healthy
While I'm no dietician, this is definitely something to feel good about eating! The ingredients are all wholesome and simple, and because it doesn't have carbs or sugar it shouldn't cause any blood sugar swings.
Cloud bread is gluten free! However, you should be aware that people with dairy or egg allergies can't eat cloud bread.
In case you're looking for more easy bread recipe ideas, here are a few of my favorites from the archives —
Gluten Free Keto Cloud Bread Recipe
Print Recipe
Cloud Bread Recipe
A zero carb gluten-free alternative bread for those following a keto diet!
Ingredients
3

eggs

separated

3

tbsp

cream cheese

1/8

tsp

cream of tartar

pinch of salt

1/4

tsp

garlic powder, rosemary, Italian seasoning, or any other herbs you like

optional
Instructions
Line a large baking sheet with parchment paper, then preheat the oven to 300F.

Separate the egg yolks and whites, placing the white in the bowl of a stand mixer. Using the whisk attachment, beat the egg whites on medium speed until they form stiff peaks.

In a separate large bowl, whisk together the egg yolks and cream cheese until smooth. Add the salt and any other seasoning you wish and mix well.

Stir in about a third of the beaten egg whites until smooth. Add the rest of the egg whites to the bowl and fold them in just until they are combined. Spoon the batter out into six even circles, then bake for 30-35 minutes, or until the edges are golden brown and the centers are set. 

Remove the cloud breads from the oven. They will deflate as they cool. Cool them completely before storing in an airtight container in the refrigerator. They will keep for 3-4 days, but are best eaten the day they are made.
Nutrition
Calories:
57
kcal
|
Carbohydrates:
1
g
|
Protein:
3
g
|
Fat:
5
g
|
Saturated Fat:
2
g
|
Cholesterol:
90
mg
|
Sodium:
55
mg
|
Potassium:
51
mg
|
Sugar:
1
g
|
Vitamin A:
216
IU
|
Calcium:
19
mg
|
Iron:
1
mg
Don't forget to share your cloud bread with us on Instagram using the hashtag #sugarandclothloves. We always love seeing all of your creations! And if you're looking for more quick and delicious recipes you can find them all right here with a few cocktails to go along with them!
Other Bread Recipes To Try
Rebecca Neidhart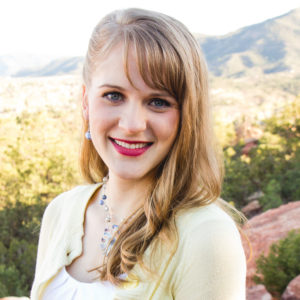 By day she's a crime-fighting, baby wrangling super mom, and by night (and nap-times) she uses her experience cooking for 9 siblings and passion for cookbooks to create the beautiful recipes and photos behind Good Things Baking Co.