DIY Watercolor Candy Ribbon Place Card Holders — Channeling my new obsession over candy ribbon into these DIY Watercolor Candy Ribbon Place Card Holders for your table setting!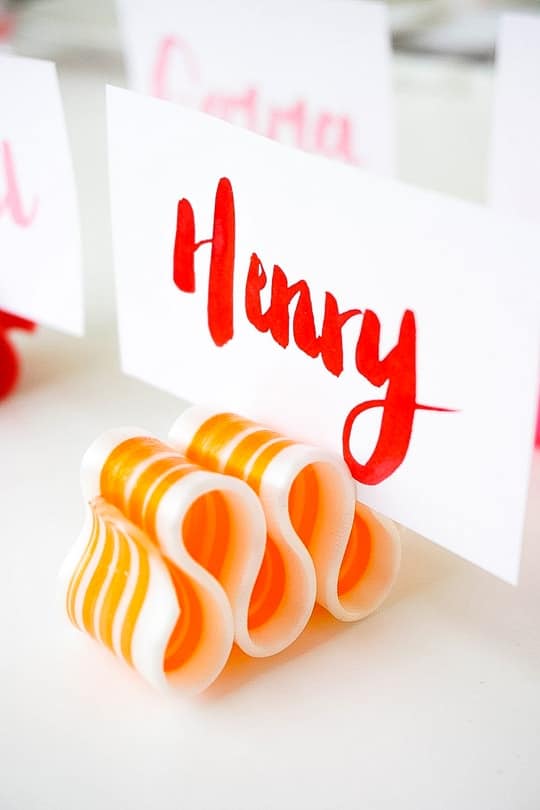 Though holiday traditions are the mainstay of our seasonal repertoire, I, Erin, still look forward to trying new recipes, decor, wrapping ideas, etc. to keep things fresh and interesting around here.
This year, ribbon candy is my jam! Where have you been all my life, ribbon candy?!
I'm tempted to sprinkle the sweet confection everywhere like jubilant pixie dust. But in these moments of weakness I have to remind myself that less is usually more.
Thus, I've channeled that energy into this DIY Watercolor Candy Ribbon Place Card for the win. They literally come together in a snap, and will rock the holiday socks off all your guests!
DIY Candy Ribbon Christmas Place Card Holders
Watercolor Paints
Small round paint brush — I used a size No. 3.
Paint palette or plate
Cup of water
White 2″ x 3.5″ paper cards
Practice paper — Optional
Ribbon Candy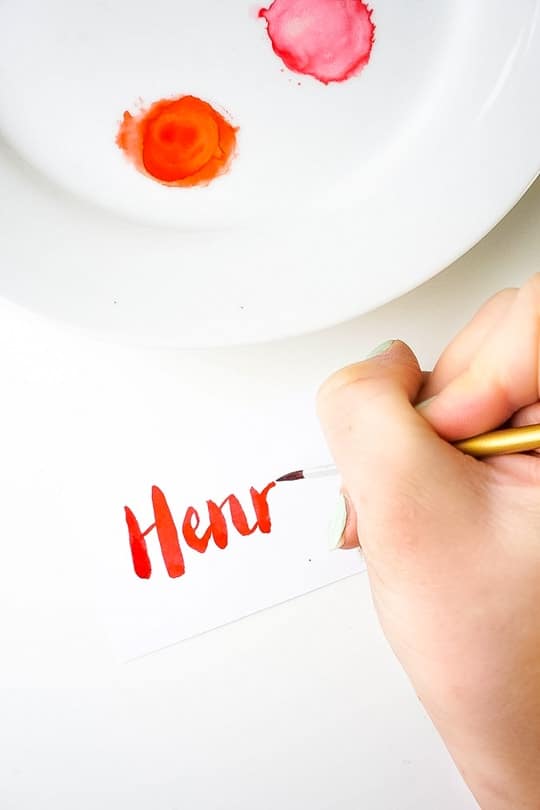 How To Make DIY Candy Ribbon Christmas Place Card Holders
Begin by brush lettering the names of your guests on the place cards so they'll have time to dry before it's time to top the ribbon candy.
The lettering style I'm using here is this: heavy lines for downward strokes (more pressure is applied on the brush) and thin lines for upward strokes (less pressure is applied on the brush).
If you're new to hand lettering take a moment to practice both thick downward and thin upward strokes on a separate sheet of paper as well as the names of the folks you'll be writing out. I promise it's easier than it looks!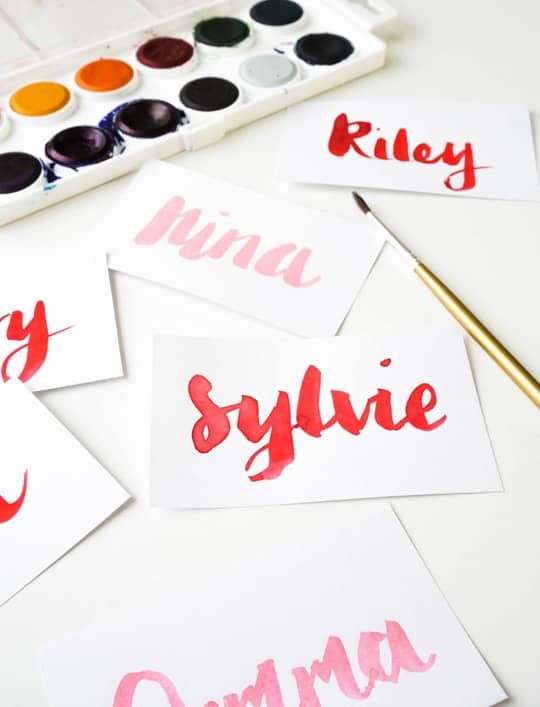 Wet your brush with water and swirl in the color of your choice to activate the paint. If you'd like, swirl a few colors together on your paint palette creating a new color, all the while mixing in water until you reach the translucency of your liking.
Then move to your white place cards for the real thing! If it's helpful, lightly write out the names in pencil first, so you'll have a spacing guide as you begin brush lettering.
Allow place cards to dry and if need be, erase any visible pencil lines, but don't erase over the watercolor!
Break the ribbon candy pieces in half, so there are three loops or "humps," if you will, at the top of each piece.
Place the name cards atop the ribbon candy pieces in between the 2nd and 3rd "humps."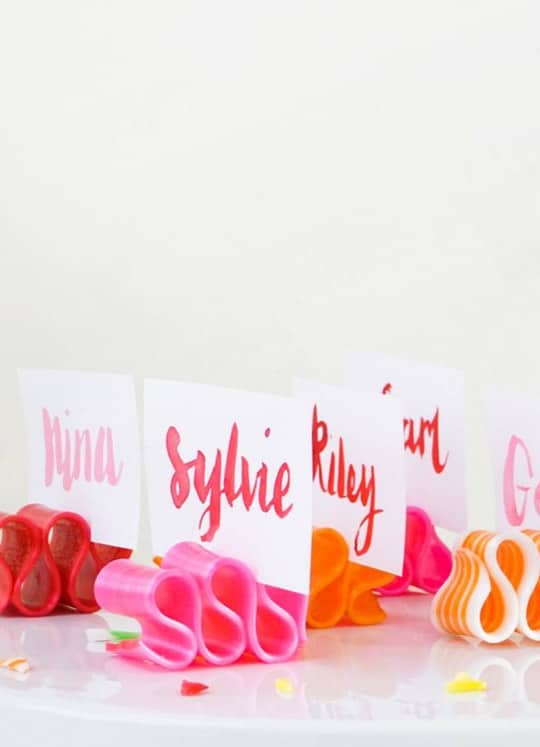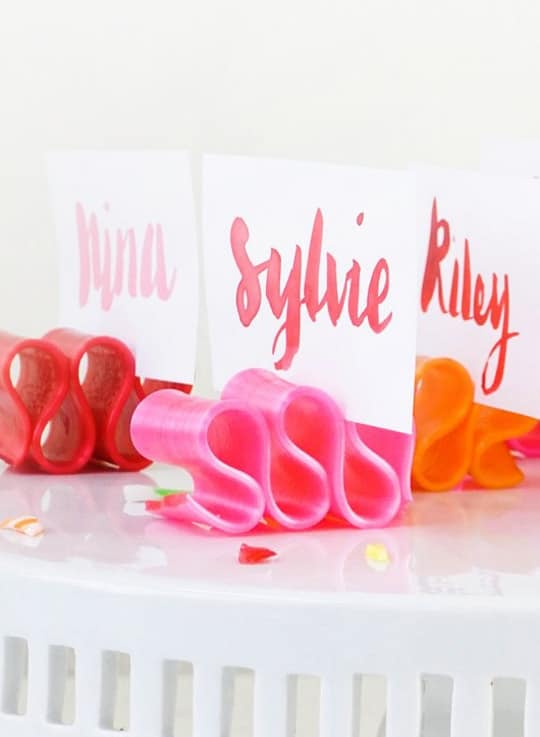 Easy Ideas for DIY Name Card Holders
With the amount table settings we put together around here, we're definitely no stranger to place card holder ideas!
These are endless ways to create your own DIY versions or repurpose unexpected items to use as name cards, like we did with these ribbon candy holders!
Here are a few of my favorite past projects —
Fair warning: some of those are oldies, but goodies!
It's kind of crazy to think that I've been blogging for so many years that old photography methods look ancient to me now!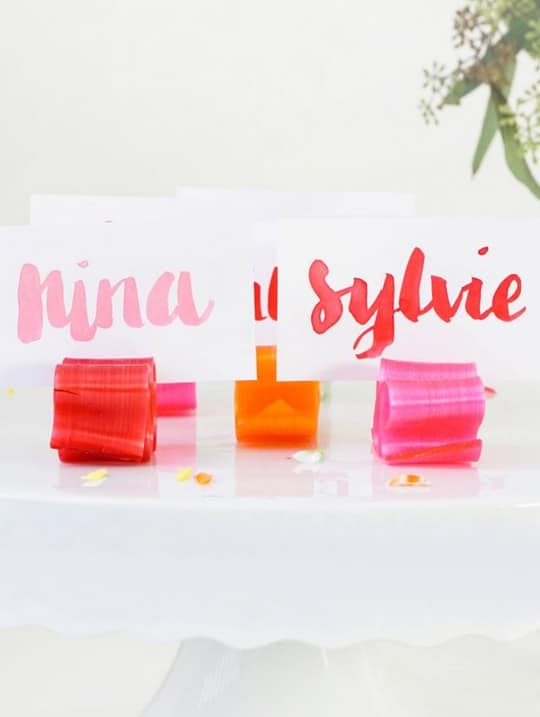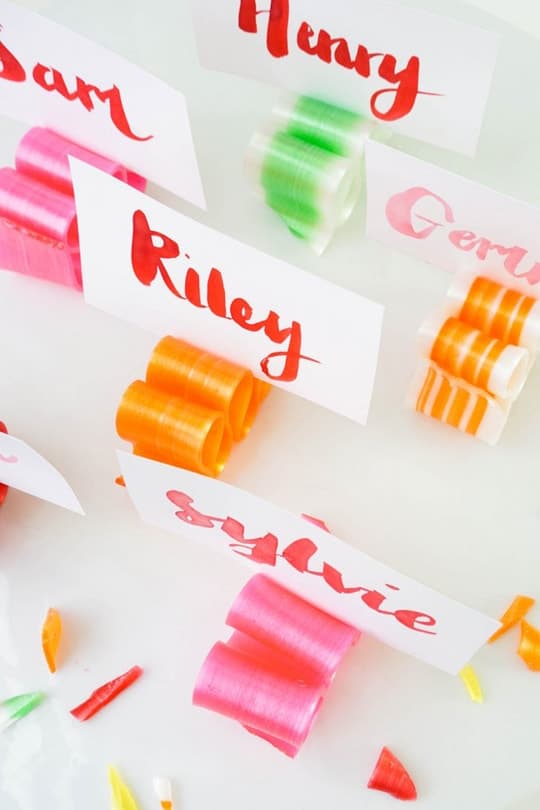 Set the place cards at each seat or on a cake stand at the sideboard for guests to choose their own spot as they arrive. Not only are the place card holders pretty and functional, but they're a sweet, nostalgic treat too!